The Week That Was In Running: May 21-27, 2012
To read last week's LRC Week That Was, click here.
By LetsRun.com
May 30, 2012
Last week, the world and even Usain Bolt himself panicked when he ran 10.04, but we start things off by telling Bolt there is likely little to worry about. However, there is plenty for fans of Nick Symmonds to worry about, as well as fans of Robby Andrews, Matt Centrowitz, Leo Manzano, Alan Webb, Andrew Wheating and Nick Willis. Along the way, we tell Pamela Jelimo she can't quite start celebrating yet. Plus hope for Kenenisa Bekele fans, a geography lesson on Djibouti, the world is confirmed to be round, and we introduce you to Ayanleh Souleiman - the world's new mid-d star? And we take a look at some fast junior times at 800 and before you can call them age cheats, we remind you what Jim Ryun did some 46 years ago.
****
Usain Bolt Struggles - Or Does He?
Last week, the 2012 Ostrava meet was held. The biggest story internationally was that Usain Bolt "only" ran 10.04 for the win. Afterwards, the message board was full of people wondering what went wrong. MB: Bolt 10.04!!! Is He in Trouble
Even Bolt himself was under the impression that something went wrong as he said, "It's hard to explain. I don't really know what went wrong."
Our take? Nothing was wrong at all. The cool conditions (and headwind in Bolt's race) didn't make for fast times across the board. Check out what some of the other men's winning times in Ostrava were:
Men's 200: Wallace Spearmon - 20.14. Has run 19.95 this year.
Men's 400: LaShawn Merritt - 45.13. Has run 44.19 this year. (Luguelín Santos was 2nd in 45.76 here, 3 days later he ran 44.45)
Men's 800: Adam Kszczot - 1:44.90. Ran 1:43.83 two days later.
It just wasn't a good day to run fast (we think mainly due to cooler temperatures but some sprint expert can give us another explanation).
The facts are that Bolt beat the World Championships bronze medallist from last year, Kim Collins, by .15 in Ostrava. Well, guess how much Yohan Blake beat Collins when he won Worlds last year? .17.
Also, later in the week, former drug cheat Justin Gatlin, who has run 9.87 this year, raced Collins in Morocco and he "only" ran 10.12 and beat Collins by just .05.
We do know one thing for sure. Even if you don't agree with our analysis, there is no point in worrying too much about Bolt as the whole world will have a real good idea how he's really doing on Thursday when he races Asafa Powell in Rome.
More: *Bolt 10.04 "It's hard to explain. I don't really know what went wrong." *Bolt Still Looking For Answer On 10.04 In Ostrava, Will Race Powell In Rome On Thursday
*Rome Diamond League Start Lists *Usain Bolt Wants 9.7 In His First European 100m On Friday In Ostrava
****
The Guy Who Last Week Beat Kenenisa Bekele By .66 Runs 12:59.28
Speaking of bad weather, we just wanted to ask the people who wrote off Kenenisa Bekele after his 13:13.89 5th-place showing in the rain in Shanghai if they noticed who set the 2012 outdoor world lead of 12:59.28 in the 5,000 in Rabat, Morocco over the weekend.
None other than Vincent Chepkok - the guy who beat Bekele by only .66.
    1 Chepkok , Vincent Kiprop         KEN   12:59.28                
More: LRC Mohammed Aman Beats Leonard Kosencha In 1:43.58 Vincent Chepkok won the 5,000m in 12:59.28, Justin Gatlin the 100m in 10.12.
****
Pamela Jelimo Trounces Caster Semenya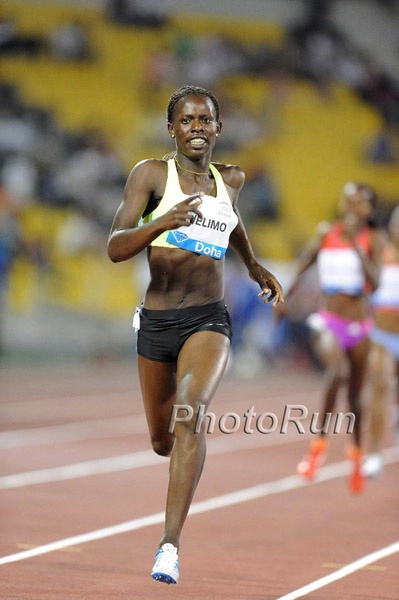 The big event in Ostrava from a LetsRun.com mid-d perspective was the matchup between 2008 Olympic champion Pamela Jelimo and 2009 world champion Caster Semenya. Back when they were champions in 2008 and 2009, both runners were utterly dominant and seemingly unbeatable. Well, so far this year, both were undefeated - so who had the edge?
The answer was Jelimo. The world leader trounced Semenya with a 1:58.49 to Semenya's 2:00.80.
    1 Jelimo , Pamela                  KEN    1:58.49
    2 Semenya , Caster                 RSA    2:00.80
                                                                                                
What does it mean?
Jelimo is clearly the world #1 right now. Her 1:56.94 seasonal best is nearly a second better than everyone else in the world, which is a ton in the 800. That being said, Jelimo shouldn't be given gold just yet as there are a number of potential challengers, including two lightly-raced Russians, and the sport certainly has an ugly past with lightly-raced mid-d Russian women.
2011 world champion Mariya Savinova, who ran 1:55.87 last year, hasn't made her outdoor opener yet. Additionally, three other women have broken 1:58 so far this year - including two last week. Kenya's Janeth Jepkosgei, who has medalled at the last four global championships outdoors, ran 1:57.79 in Hengelo and the largely-unknown Irina Maracheva won the Russian Club champs in her outdoor opener with 1:57.82 - a big improvement for the 27-year-old from her previous PR of 1:58.71.
Previously, Ethiopian teen Fantu Magiso had run 1:57.90.
As for Semenya, she certainly seems to be a shadow of her formerly dominant self. That being said, she shouldn't be written off just yet. Semenya ran in the back for most of the race and then kicked by everyone to finish second. It was one of her bizarre races she often runs, where she looks like she is not giving her best effort.
It should be remembered that last year, Semenya ended up running 1:56.35 to get the silver at Worlds. She didn't break 2:00 until the Pre Classic on June 4th and only went into Worlds with a 1:58.61 seasonal best. This year, she's already run 1:59.58.
****
Nick Symmonds' Medal Chances Don't Get Any Easier

Nick Symmonds Hope: Rich Kenah Won
An Unexpected Bronze In 1997
One of the things we've done on a consistent basis all spring is incessantly remind you, our faithtful reader, how tough of a task Nick Symmonds faces as he goes for a medal this summer in the 800 in London (another reminder here).
Our main thought on the matter has been something along the lines of, "Symmonds is kind of screwed as there seemingly are a lot of great young 800 men coming into their own right now."
That belief certainly was reinforced last week.
Heading into last week, we already knew that the world record holder David Rudisha is only 23 and seemingly on top of his game. The only man to beat Rudisha last year, Mohamed Aman of Ethiopian, is just 18 and has already run 1:43.51 this year. Also 21-year-old Job Kinyor, who was 4th at the Kenyan Trials, had previously already equalled Symmonds' PR of 1:43.76 in Doha.
Well, last week, two other young guys dipped under 1:44 on the year.
The man who beat Aman at World Youths last year, 17-year-old Leonard Kosencha, had a really nice race last week and set a new Kenyan junior record of 1:43.60 in Morocco in a race won by Aman in 1:43.58.
Additionally, the man who finished one spot behind Symmonds last year at Worlds, 22-year-old Adam Kszczot of Poland, opened up outdoors last week in impressive fashion as he picked up two wins, with the fastest being a 1:43.83 win in Hengelo. This is after a nice indoor season during which he became the third-fastest man in history indoors at 1:44.57.
Is there still hope for Symmond' fans? Absolutely. He seems to be in good form as he split 1:43.9 at Penn and ran a 1,500 PR already this year. Additionally, the silver and bronze medallists from last year's World Championships in Abubaker Kaki and Yuriy Borzakovskiy have yet to make their outdoor debuts at 800 this year.
****
Nor Does It Get Any Easier For The US-Based Guys In The 1,500 (Willis, Wheating, Manzano, Centrowitz, Webb, Andrews, Etc.) / Let Us Introduce You To Ayanleh Souleiman
In the history of the world, 22 men have broken 3:30 in the 1,500, including 10 from Kenya, as 21-year-old Nixon Chepseba ran 3:29.90 to win in Hengelo last week.
More important than having ten all-time under 3:30 for the 1,500 is the fact that three Kenyans have already done it in 2012, as Chepseba's 22-year-old compatriots in Asbel Kiprop and Silas Kiplagat had already done it this year in Doha (Chepseba was in Doha and finished 4th).
And Kenya isn't the only country with some good young talent.
Have you ever heard of Djibouti or Ayanleh Souleiman? We didn't think so (unless you remember the country's surprising marathon corps from the 1980s).
Djibouti is a tiny country in the Horn of Africa that is surrounded by some good running countries - Eritrea to the North, Ethiopia to the West and Somalia to the Southeast. Ayanleh Souleiman is Djibouti's 19-year-old star track and field athlete who finished second last week in Hengelo to Chepseba in a stellar 3:30.31. He may be soon one of the sports biggest stars as his progress over the last calendar year is remarkable.
A year ago, last May, he showed up in the African U-20 championships and ran PRs of 1:51.78 for 800 (eliminated in heats) and 3:46.51 in the 1,500 (9th in the final). In June, he lowered his PR to 3:42.70. By December, he was the Arab Games champ in 3:34.32 (video below right). Earlier this year indoors, he was 5th at Worlds and now he's run 3:30.31. So in 54 weeks, he's gone from 3:46 to 3:30. That's scary.

Souleiman's Come-From-Behind Arab Games Win
Fans of the US-based 1,500 runners can take heart, though - the Olympic 1,500 is often a tactical affair with a big last lap. The Olympic record in the event is Noah Ngeny's 3:32.07 from 2000, but the results from the last five global outdoor championships reveal the winner normally runs in the mid-3:30s to win.
2011 - 3:35.69
2009 - 3:35.93
2008 - 3:33.11
2007 - 3:34.77
2005 - 3:37.88
****
Fast Juniors at 800m
In case you didn't realize it, Kosencha's 1:43.60 was a new Kenyan junior record. Before you say, "There is no way that's Kosencha's a junior. 17 or 18 year olds simply don't run that fast." Please remember that the US's Jim Ryun ran 1:44.90 for 880 yards back in 1966 as a junior.
But Kosencha wasn't the only junior to run fast last week. There were some fast juniors 800 meters put up across the globe. In Canada, Canadian youth 400 and 800 meter record holder Brandon McBride took the scalp of Olympian Nick Willis by running 1:47.14 in Windsor (You can watch the race at the bottom of this segment).
In Japan, Sho Kawamoto set a new national junior record of 1:46.89 as he almost took the scalp of their overall national record holder Masato Yokota in the process.
Which was the most impressive? We guess we'd go with Kawamoto's as the overall Japanese national record is just 1:46.16.
Below, you will see the national junior records of Ethiopia, Kenya, USA, Canada and Japan.
Ethiopia: 1:43.37 - Mohamed Aman 2011
Kenya: 1:43.60 - Leonard Kosencha 2012
USA: 1:44.30* - Jim Ryun 1966 *Converted from 1:44.90 for 880yards
Canada: 1:46.60 - Nate Brannen 2001
Japan 1:46.89 - Sho Kawamoto 2012


Brandon McBride Beating Nick Willis
More: *Nick Willis and Will Leer SCALPED by Canadian high schooler *Sho Kawamoto Sets New National 800 Jr. Record In Japan (1:46.89)
****
Quote Of The Week (That Wasn't Quote Of The Day)
2008 US Olympian Leonel Manzano Talking About His Parents Knowing The Earth Is Round:
"My parents had never really been outside of the U.S. besides Mexico. They had never been on a plane before, so my parents had an opportunity to go to China (to see me compete in the 2008 Olympics).

They were just, what is the word, almost like in disbelief. Everything just happened so fast... My parents, you know, they know that the earth is round, but it's one thing to actually experience it."
- Manzano's quote comes from a profile of him in USA Today as part of the newspaper's "100 Olympic hopefuls in 100 Days" series.
More: Track's Leo Manzano ready to improve on '08 Olympics
****
High Schooler Tyreek Hill Runs 20.14, We Won't Tell Him Where to Eat
We only cover the truly outstanding high school marks and thus you need to know about Tyreek Hill.
At the Golden South Classic, the Georgia high schooler Hill, lowered his prs from 10.44 to 10.19 and from 20.94 to 20.14. The 20.14 is totally incredible and only .01 off or Roy Martin's high school record. Afterwards in the interview here, Hill was asked about being invited to the "Dream 100" at the adidas Grand Prix in New York, and what it would be like to visit the Big Apple. Hill said he was excited to see a bunch of tall buildings and a bunch of McDonald's in New York City.
The McDonald's reference immediately made us think of high school record holder Roy Martin who was a legend in the DFW area where we grew up and had a penchant for Mickey D's. Don't believe us? Read this Sports Illustrated article on him.
Personally, the founders of this site are huge fans of fast food and McDonald's. When training to try and make the Olympics, string bean, site founder, Wejo was occasionally stopped by women and asked what he ate to be so skinny. He remarked he ate whatever he wanted, he just exercised a lot, which was the truth.
However, now officially for the record the Brojos want to warn Tyreek that he can't eat at McDonald's for every meal. Back in 2002, they met British junior sprinter sensation Mark Lewis Francis (MLF). Francis and the Brojos were both seeing in Ireland Gerard Hartmann, the famed physiotherapist of Paula Radcliffe. MLF was fresh off his 9.97 the year before as a junior athlete. When athletes go and see Hartmann they stay together at apartments above his practice. Well one day the Brojos returned with McDonald's. 19 year old Mark Lewis Francis remarked something along the lines of, "You guys eat that? My coach says I need to watch my weight." The Brojos remarked truthfully that they ate McDonald's all the time. Well, since then Mark Lewis Francis has been putting on the weight and never matched his junior success. The guy looks like a tank now. Granted he does have a 2004 Olympic gold medal from the relay, but the rest of his career has not lived up to the high expectations. The Brojos feel a little bit of guilt. So their advice is Tyreek, 'Don't let their the permission to eat McDonald's all the time cause you too eat many calories.'
High School
Golden South: Tyreek Hill Runs 20.14 To Miss Roy Martin's High School Record By .01 In one day, Hill dropped his PRs from 20.94 fo 20.14 and from 10.44 to 10.19. Crazy. And Hill probably didn't know it, but he paid homage to Roy Martin by saying in this interview when he goes to New York for the adidas 100m, he hopes to see tall buildings and a bunch of McDonald's.
****
Recommended Reads
LRC: Hungry Wallace Spearmon Talks About Usain Bolt, Justin Gatlin, and Pick Up Games with NBA Stars Wallace Spearmon has a ton of talent. He used to hate it when people reminded him of that. Now after a career-threatening injury last year, Spearmon accepts the talent, and has added even more hard work to the mix. Pickup basketball with Usain Bolt and NBA stars will have to wait until after the Olympics, as first Wallace is focused on the 200 in London.

*Follow-Up Story On University of Alaska Anchorage Kenyan Runner Who Lost His Feet In A Blizzard
*Two Years Ago, Joey Stoltz Almost Died And Today He Is A Marathoner "Less than two years ago, I was at the hospital and the doctors told me I wouldn't run again so those last two miles [of the marathon] were so emotional."
****
Other News Of Note From The Last Week
Toronto: Geoffrey Mutai (27:41), Lindsey Scherf Win Ottawa 10ks It's ridiculous that Mutai, the Kenyan XC Champion and the best runner on the planet in 2011, won't be at the Olympic Trials next week or the Olympics in the 10,000m. *Results
*Former Harvard Standout Lindsey Scherf Wins Women's Race
NCAA Regionals Complete Results: *East *West *DII National Results *DIII National Results
High School
Golden South: Tyreek Hill Runs 20.14 To Miss Roy Martin's High School Record By .01 In one day, Hill dropped his PRs from 20.94 fo 20.14 and from 10.44 to 10.19. Crazy. And Hill probably didn't know it, but he paid homage to Roy Martin by saying in this interview when he goes to New York for the adidas 100m, he hopes to see tall buildings and a bunch of McDonald's.
*Video Of 200m Race *100m Race Video & Interview He credits his new adidas spikes.
Hengelo *Results *Live Thread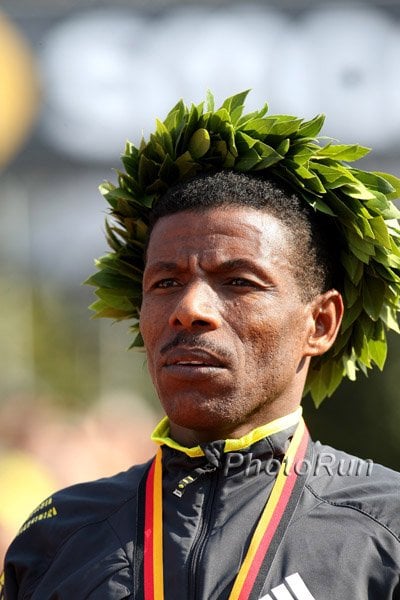 LRC Haile G's Olympic Days Come To An End As Tariku Bekele Wins In 27:11.70 As Geb Gets Smoked On Last Lap, Ritz Misses "A" Standard updated The Ethiopian selection race came down to a kick on the final lap and there was no way the 39-year-old Gebrselassie was going to outkick his younger rivals. Afterwards, Geb said, "That's life. I am not disappointed." Dathan Ritzenhein missed the "A" standard of 27:45 on a warm day (78 at the start). In other action, Nixon Chepseba won in 3:29.90, Nate Brannen got a PR and an "A" standard, Janeth Jepkosgei ran 1:57.79, Hannah England won the 1,500, Adam Kszczot ran 1:43.84 for his second win in 2 days, and 18-year-old Luguelín Santos ran 44.45. *IAAF
Rabat: LRC Mohammed Aman Beats Leonard Kosencha In 1:43.58 Vincent Chepkok won the 5,000m in 12:59.28, Justin Gatlin the 100m in 10.12.
****
Quotes Of The Day From The Week & Last Week's Homepages:
Note: To see a particular day's homepage, click on the hyperlink of the date on the left. The quote's hyperlink will take you to that particular article - not that day's homepage.
Monday 5/28: "The Games in London, is over for me. I ran a good race till the last lap. I felt good but I manifestly didn't have the speed to compete against my rivals. That's life. I am not disappointed. The 'spikes,' it is finished for me. I am 39. I have failed to qualify for the Olympics. And there is a very strong younger generation in Ethiopia now. I tried to qualify for my fifth Olympics. And I don't regret trying to do so. I simply came up against stronger rivals on Sunday. ...I gave all that I had. It is why I am not sad or disappointed. I am always happy to run. These next months, I will devote solely to marathons and half marathons."
- Haile Gebrselassie admitting that his London Olympic dreams are done after failing to qualify at the Ethiopian Trials in Hengelo. This was his last track race and he will now focus on the roads. He also says he may pursue a political career in 3 years.
---
Sunday 5/27: "I run twice a day every day, except if I run 22 miles or longer in the morning, I'll reward myself with the afternoon off."
- Kara Goucher in an article on her and Shalane Flanagan being in Boulder for the Bolder Boulder expo but not running the race on Monday. Team USA does have Deena Kastor, Magdalena Lewy-Boulet and Janet Cherobon-Bawcom on it with Sara Slattery on Team Colorado. For more on "twice a day every day," click here and here.
---
Saturday 5/26: "Honestly, I know how to race the 800 a little better, but I have a stronger PR in the 1,500."
- US mid-d star Andrew Wheating talking in a Runnersworld article where he admits he doesn't know what event he's best at. Because of that (and because the schedule makes it easy), he'll attempt the 800/1,500 double at the Olympic Trials.
---
Friday 5/25: "I had no idea what I was doing."
- US sprint star Wallace Spearmon on his first Olympic Trials as a 19-year-old in 2004. In 2005, Spearmon was the silver medallist (behind cheat Justin Gatlin). 7 years later, Spearmon's still looking for that elusive Olympic medal, but healthier and faster? than ever. LRC profile in advance of his European track debut at 200m Friday in Ostrava.
---
Thursday 5/24: "When you visualize your last race ... I think most runners, they think about how they're going to go out on their career. Storybook ending where you PR by 50 seconds and qualify for nationals. Go on to be an All-American and everyone had written you off. And I was like 'Yeah, that's what's going to happen to me.'"
- Fifth-year senior steeplechaser, Jake Hojnacki, who was made famous by this epic steeple fail, talking in a LetsRun.com interview about the end to his collegiate career and his thoughts going into his last race.
---
Wednesday 5/23: "If there's virgins out there, I'm going to let them know, it's the hardest thing I've ever done in my life - harder than training for the Olympics, harder than graduating from college, has been to stay a virgin before marriage."
- Lolo Jones, talking in an HBO documentary that aired Tuesday night about her life and struggle to remain a virgin before marriage. She says she's even "had guys tell me, 'You know, if you have sex, it will help you run faster.'"
---
Tuesday 5/22: "Every one of us used to be a long-distance runner."
- The late Micah True of Born to Run Fame, in a lengthy, full, multiple-page NY Times profile on True's life and death. And it's not too late (Wejo's reading it now) to read Born to Run.