Week that Was: Genzebe Dibaba's 3:57.77, Galen Rupp's 1500m Tactics, Hs Star Nick Hartle and More
The Week That Was In Running: May 14-20, 2012
To read last week's LRC Week That Was, click here.
By LetsRun.com
May 24, 2012
Last week was certainly full of a lot of action and surprises. After all, it's not a normal week when two Ivy Leaguers get NCAA leaders and at least one American collegiate record. But we don't want to get accused of Ivy League bias, so we largely ignore the runs by Donn Cabral and Kyle Merber in our look back at last week's action.
As a result, this week's weekly recap begins with a funeral for the dream of American-born distance or mid-distance runner winning gold in London. But then we take hope as the dream of an American-born mid-d or distance male medalling in London is resurrected thanks to Galen Rupp. Along the way, we introduce you to Nick Hartle, get free coaching advice from Nick Willis, and quotes from Kyle Merber, Jordan Hasay, Peter Elliott and Juan van Deventer.
****
The Dream Of An American-Born Female Mid-D/Distance Gold Medallist For London 2012 Takes a (Fatal?) Blow
The biggest development for US distance fans last week happened in Shanghai, China, where only one American (Stephanie Garcia in the women's steeple) competed in a mid-d and distance event.
So what the hell happened, you ask?
In Shanghai, American fans' dream for an American born athlete winning gold in a mid-d or distance event in London took a big blow.
In this day and age of African-born distance running domination, the uninformed may not have realized the dream existed at all. But the best country in the world at 1500m last year was the good ol' USA. Jenny Simpson won the gold at 1,500 and Morgan Uceny ended up ranked #1 in the world.
The American dream took a kidney punch last week as THE SENSATION of the 2012 indoor campaign, Genzebe Dibaba, made her outdoor debut last week in Shanghai and it was much more remarkable than her undefeated indoor campaign, as she ran 3:57.77 to get the win. 3:57.77 is fast as hell, since people just don't run under 3:58 much at all anymore.
And those that do normally end up with a positive test.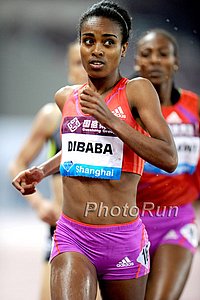 In the last 10 years, only six women have run faster than Dibaba's 3:57.77 and of those six, five of them have been later exposed as drug cheats. Take a look for yourself:
The 6 Women In The Last 10 Years Who Have Run Faster Than 3:57.77
3:55.33 Süreyya Ayhan-Kop - TUR - 2003 - banned for doping (lifetime)
3:55.68 Yuliya Fomenko - RUS - 2006 - banned for doping (2 years)
3:56.18 Maryam Yusuf Jamal - BRN - 2006 - not banned for doping
3:56.43 Yelena Soboleva - RUS - 2006 - banned for doping (2 years)
3:56.91 Tatyana Tomashova - RUS - 2006 - banned for doping (2 years)
3:57.65 Anna Alminova - RUS - 2010- Banned for doping (3-month ban)
We encourage you to take a look at women's all-time list for 1,500 as it is really amazing to look at. It's a who's who list of women from China/Eastern Europe/former Soviet Union - many of whom were almost certainly drug cheats whether they were busted or not.
One of the thing about sports is that theoretically performances continually get better and better. Well, that's not the case in many women's events as the drug cheating really helped exaggerate their performances as compared to the men.
Let us ask you a question.
Even though Dibaba is one of the seven fastest performers of the last decade and presumably the second-fastest clean runner of the last decade, guess where she stands on the all-time 1,500 performers list.
Go ahead and guess.
Number 42. Yes that's right - 41 women have run faster.
Unbelievable.
Now, we probably shouldn't totally take the dream for an American born mid-d/distance gold off of life support quite yet.
First, the 1500m is so difficult to win at the Olympics. Because of the tactical nature of the race, the best runner doesn't always win.
Secondly, American Suzy Favor Hamilton did run faster than 3:57.77 during her career (she ran 3:57.40 back in 2000), so maybe Uceny or Simpson can get down to that level. And the American record is Mary Decker Slaney's 3:57.12 from 1983. Now as we always point out, and many of you write in and complain, Mary Slaney later served a drug suspension.
****
The Dream Of An American-Born Male Mid-D/Distance Medal For London 2012 Officially Rises
The dream for an American-born female gold medal in London 2012 in a mid-d/distance took a big hit last week but there was some good news for American fans as the law of averages came through.
The dream for an American-born medal in the men's mid-d/distance events got a nice boost last week as Galen Rupp ran 3:34.75 for 1,500 at Occidental. That is a big PR for the 10,000-meter man and bodes well for his chances to do something that was nearly unthinkable a few years ago - close well enough to medal in the 10,000 in the Olympics as an American born male, in an age of African born domination.
Earlier in the year, a discussion had taken place on LetsRun.com, after Rupp's coach Alberto Salazar said the goal was to get Rupp to 12:45 in the 5,000, where Rupp's speed was discussed. Some argued that given his 1:49 800 personal best, Rupp had great speed for a 5,000 meter man. We argued that we don't care about his 800 PR; let's compare 1,500 PRs and pointed out that Rupp's 1,500 PR paled in comparison to the four men who have run 12:46 or faster.
Remember, Rupp is a guy who didn't break 4:00 in the mile (or the 1,500 equivalent) until 2009 and had a trouble winning Championship races as a result. Heading into last weekend's race at Occidental, his 1,500 best was 3:39.14 and his mile PR was just 3:56.22.
Well, now he's run 3:34.75.
As for Rupp's new found "speed", Rupp may work on sprinting, but more than anything else he's stronger than he ever was, so he can finish races faster. American collegiate 10,000m record holder Chris Derrick had this nice observation on ESPN radio a few weeks ago, "There's never going to be a race, well there has never been a race yet, that closes faster than I actually can physically run a 400m circuit. So it really is a matter of being in enough shape to bring that speed at the end."
How does Rupp's 3:34.75 that compare to the top 5,000 men?
He's certainly getting closer.
1500 PRs Of Top 4 5,000 Men In History
12:37.35 Kenenisa Bekele - 3:32.35
12:39.36 Haile Gebrselassie - 3:31.76
12:39.74 Daniel Komen - 3:29.46
12:46.53 Eliud Kipchoge - 3:33.20
****
Let Us Introduce You To Nick Hartle
If we told you about a high school senior that won three events over two days at his state meet in 1:53.53, 4:18.03 and 9:28.27, you'd be moderately impressed, right?
A nice triple, but there is nothing too earth shattering about those times. But if we added in that his PRs are 1:49.91 from his junior year, 4:10.23 from his junior year, and 9:25.45 from this year, you'd be a little bit more impressed.
But what if we added in the fact that he also won the 400 in the state meet in 47.79? If that doesn't immediately make you think, "Wow, what a talent," then you need to keep coming back to LetsRun.com more often to get educated at the LRC School of Distance.
UCLA bound senior Nick Hartle pulled off the amazing quadruple above at the 2012 Nevada State meet last week.
The performance resulted in a massive message board thread: HS Runner wins 4/8/16/32 at state meet. 150 posts and counting.
Most message board posters were very impressed with Hartle but some said the quadruple wasn't all that hard given it was over two days. We agree with the "haters" that a several of the 800 HS talents would also be able to win all four events in a weaker state like Nevada, but what impressed us the most is the fact that Hartle ran 47.79 open. That and the fact that Hartle even ran the two mile at all. A lot of talents with that much raw speed won't even contemplate putting in the work required to be good at the 3,200. Clearly that isn't a concern for Hartle, who by the way is the reigning state cross-country champion.
Want to learn more about Hartle? Read the links below or watch this YouTube channel which has a bunch of Hartle's races - everything from a few from the recent state meet to his very first race ever when he ran 5:18 for 1,500 in middle school.
More: MB: HS Runner wins 4/8/16/32 at state meet. *UCLA-bound Nick Hartle eyes national 800 mark at Arcadia Invitational
****
Weekly Free Coaching Advice - You Have Two Moves In A 1,500 (But Only One That Really Matters)
One of our favorite sayings about the 800 is simple: "You only have one move in an 800 so you'd better use it wisely." Far too often, we see inexperienced runners making a big move to get into a better spot, say, before the bell in an 800 and then when the real racing begins at 650 or 700, they have nothing left.
So remember LRC told you - there is only one move in the 800.
But we'd never really thought about the 1,500 in a similar fashion. Thankfully, Olympic 1,500 silver medallist Nick Willis has, as explained from the following excerpt from a www.stuff.co.nz feature on Willis:
As Willis notes there really are only two moves in a 1,500m race - the first 100 and the last 100.
After the start, Willis explained that in 2008 Olympic final, he basically did what we advise all 800 runners to do - relax, waste as little as energy as possible and wait to make your move in the last 200.
Willis "saved" his move for the end and "mowed down" most of the field - as a good portion of his competitors tired themselves out with pointless moves mid-race. As Willis explained:
"... as the race unfolded I could see the panic of the Olympic final was getting to them. The tendency of the Africans is to be near the front - if they're back it's almost an insult to their tradition. But there can only be two or three guys in the ideal positions, so when eight were all trying to squeeze in, fighting and shoving and the pace was a fair clip, I knew that would eventually catch up to them. It was my responsibility to be patient and wait for them to finally fade."
Speaking of 1500m Tactics, last month the Washington Post had an excellent multimedia feature on Matt Centrowitz and his strategy in the 1500m and how it helped get him bronze in the 1500. Click here to read it if you hadn't seen it. As we discussed above with Dibaba, the tactical nature of the 1500m, gives a lot of runners hope.
More: *Nick Willis running all the way to London
*Centrowitz Profile on Speed
****
5 Quotes Of The Week (That Weren't Quote Of The Day)
#1 Kyle Merber Disagreeing With Peter Gambaccini Of Runnersworld, Who Said Merber Was A Different Guy Than He Was 24 Hours Before When His 1,500 PR Was 3:42 And Not 3:35
"I think the realization that not too much changed was when I came home and realized that my room was still a mess. Not everything will be different."
More: A Brief Chat With Kyle Merber *Columbia's Kyle Merber Sets American Collegiate Record Of 3:35.59 *Instagram Proof If You Don't Believe Talk about your dreams becoming reality. Merber pulled a Brian Hyde and beat a stellar field and lowered his PR nearly seven seconds!!! A guy who was recently 14th at Stanford in 3:42.49, got outkicked by Donn Cabral at Penn, and has never scored a point at NCAAs, is the NCAA American record holder. Unbelievable. But Merber is legit, as he was a former Millrose champ in HS who missed all of last year with an injury. He may have just missed the Olympic "A" of 3:35.50 but we bet he doesn't care as he likely started the race hoping to not embarrass himself. Merber was in 9th with a lap to go. Nick Willis paced for 1,300 before dropping out. Jordy Williams 2nd (3:36.74), Nate Brannen 3rd (3:36.77). Will Leer and Lee Emanuel were back in last and second to last. *MB Thread
*Video Of Merber's Race
#2 Jordan Hasay Explaining To The Register Guard What Caused Her To Have A Change Of Perspective And To Just Enjoy Running & Competing Instead Of Worrying About Fulfilling Everyone Else's Expectations For Her
Obviously, my season hasn't been going like I would have hoped. ... Mostly it's a change of mindset. Having fun with it and enjoying every moment ... I saw this lady in the grocery story earlier this week, and she asked me, 'Are you the runner?' and I said, 'Yeah' and she said, 'Just do it for me. I can't run. I wish I had your legs. Just go out there and run.' That kind of put things in perspective for me because there are people who would love to be out here. It's such an honor to wear the Oregon uniform and help win a conference title."
More: After Disappointing Start To Season, Jordan Hasay Is Having Fun Again With Running
#3 Peter Elliott - The Last British Man To Medal In A Mid-D Event (1988 Olympic Silver In 1,500) - Explaining To The BBC That Today's Western Athletes Have It Tougher Than He Did - But Then Wondering If That's Really A Valid Excuse
"It's very different now because when I stood on Olympic start line I would be up against maybe three Kenyans and two Moroccans.
"But now all British athletes in an Olympic Games could be up against seven Kenyans, three running for Kenya and the others running for Doha, Denmark and places like that. That has made a difference between getting into the final or not.
"But they still have to run the times. I ran 1 minute, 42.9 secs [over 800m] way back in 1990 and nobody has come close to that since. And it's not as if the support isn't there."
Elliott makes a great point. Yes, with prize money, there is a lot more African competition now than there was 20-30 years ago. But any athlete today that was running as fast as, say, a Coe was in 1984 or Elliott in 1988 would certainly be in the hunt for medals.
More: Last Brit Medal To Medal in Mid-d - Peter Elliott 1988 - Hopes Britain's 24-Year Wait Comes To An End
#4 HS Star Nick Hartle Talking To Maxpreps.com About How He Got Involved In Running In 8th Grade & What Happened When His Parents Dropped Him Off At Track Practice After Seeing An Ad In The Local Paper
"(The coach had us go for a twenty minute run and) I lapped the entire group and instantly fell in love with track. The coach told me I was a distance runner and I felt pretty good about that until I got home and almost fell trying to get out of the car. Then I knew I had to build up."
More: *UCLA-bound Nick Hartle eyes national 800 mark at Arcadia Invitational
#5 South African 1,500-Meter Man Juan van Deventer (3:34 PR - 6th At 2008 Olympics) Talking About How He Was Lucky When He Was Hit By A Car Last Year
"(The car accident that broke my kneecap in two) could have been worse. There was no cartilage or ligament damage. I was lucky because I don't know if I would have run again. ... (As for the driver), he didn't see me and I didn't see him. He's been really good, he's always phoning to see how I'm doing."
We certainly wish the snake-bitten Juan the best and love his attitude (and that of the driver). Instead of suing as one might be inclined to do in the US, van Deventer realizes that accidents happen in this world. van Deventer certainly has had some tough things happen toh im the last few years. In addition ot the car accident in 2011, he had a stress fracture in 2009 and an ankle fracture in 2010.
More: South African 1,500 Star Juan van Deventer On Comeback Trail After Car Crash
****
Recommended Reads
*A Fantastic & Informative Read: Learn All About 9-Time Olympic Gold Medallist Paavo Nurmi A fascinating read. Nurmi was an absolute machine. Did you know that in 1924 that after winning the 1,500 and 5,000, he was mad he wasn't named to the 10,000 team so he ran a 10,000 on the practice track faster than the winner of the 10,000 at the same time of the race just to show he should have been selected to the event? He also divorced his wife because his son was born with feet too small for a runner.
*ESPN The Magazine's Shaun Assael Writes 5,122-Word Epic On Sammy Wanjiru's Life And Death From his start as a schoolboy to details as to why his mother claims he was murdered, Assael leaves no stone uncovered. He also points out that many other successful Kenyans before Wanjiru have also struggled with fame, including Paul Kipkoech, Richard Chelimo and Benson Masya, who all died young. Sadly, Wanjiru was going to train in San Diego to get away from it all but couldn't because of a gun charge. *Interview Of Author On Right Column
*50 Stunning Olympic Moments No. 30: Zola Budd In 1984 Do most people remember Budd was just 17 when she set the WR in the 5,000 at 15:01 and when she collided with Mary Slaney? The article reveals that Budd's family disintegrated after she left South Africa to compete for GBR and it also reveals Mary Slaney to have been unbelievably rude to rip a 17-year-old. *Zola Budd - In Pictures
*Wall St. Journal Profile Nails Abdi Abdirahman's Personality Perfectly!!! "Going for Gold - or Whatever The Secret to an Aging Olympian's Endurance: Don't Let Training Get in the Way of Fun" Is Abdi's love of life (ohers might say laziness) an asset?
*What Really Happened At 1st Olympic Women's 800 In 1928? Despite what was reported, 5 of the 11 runners didn't drop out with another 5 collapsing at the finish. The only person collapsing at the finish that year was Paavo Nurmi, but women's mid-d and distance running would be banned for years nonetheless.
*LRC Ethiopian Olympic Marathon Team Announced And Tsegaye Kebede Is Not Even An Alternate Kebede, Ethiopia's best marathoner the last four years, wasn't even named to the team as an alternate as Ethiopia went solely off of times people ran in races in 2012 and did not factor in courses or fields. 21-year-old sensation Ayele Abshero leads the men's team and 2:18 perfomer Tiki Gelana leads the women's.
*Discuss
*LRC Rojo Speaks: Is Kenenisa Bekele Done?
****
Other News Of Note From The Last Week
Columbia's Kyle Merber Sets American Collegiate Record Of 3:35.59 *Instagram Proof If You Don't Believe
Mo Farah & Bernard Lagat, Are You Paying Attention?
Isiah Koech Edges Paul Kipsiele Koech In 1,500 At Kenyan Police Champs As Double World Champ Vivian Cheruiyot Drops Down To 1,500 & Wins The men's 1,500 was very hotly contested as the 18-year old I. Koech, who was 4th at Worlds in the 5k last year, won over P. Koech, who ran 7:56 last week in the steeple, 3:39.01 to 3:39.07 as both beat 3:31 1,500 man Nicholas Kemboi.
BUPA Great Manchester Run
Haile Gebrselassie Wins In 27:39, Thinking Olympic 10,000m The Great One turned back the clock in Manchester on Sunday with a comfortable win 27:39 over Tsefaye Kebede, Patrick Makau and Ayele Abshero. After the race, Geb turned his attention to making the Olympic team next weekend in Hengelo at the Ethiopian Olympic Trials, saying, "I am not surprised to run that fast. I wanted to run under 27 minutes."
*BBC Interview With Geb After Race *Top Results *IAAF
On The Boards: Great Manchester 10km - Gebrselassie DOMINATES!

Manchester City Games Street Meet: Wallace Spearmon, Sanya Richards-Ross, Jessica Ennis All Got Wins In Cool Conditions Ennis beat Olympic champ Dawn Harper in a PR, but afterwards they found out there were only 9 hurdles instead of 10. She was understandably very annoyed. Spearmon looked great in his 14.87 150m win. *IAAF
*Dwain Chambers Admits He Was Worried How The Crowd Would Greet Him He got 2nd to Spearmon.
Bay To Breakers: Sammy Kitwara Wins Over Allan Kprono; Meb Keflezighi 6th Deriba Merga was 4th.
*MB: LinkedIn Centipede Breaks Record At Bay To Breakers
Kara Goucher Runs 1:13:05 At Rock N Roll Portland Half Marathon
Sad News: Jogger "Randomly" Gunned Down In Broad Daylight *MB Thread
Craig Miller And Heather (Dorniden) Kampf Take Titles At 2012 USA 1 Mile Road Championships *Results Kampf will always be a LRC heroine for winning one of the most amazing races we've ever seen.
****
Quotes Of The Day From The Week & Last Week's Homepages:
Note: To see a particular day's homepage, click on the hyperlink of the date on the left. The quote's hyperlink will take you to that particular article - not that day's homepage.
Monday 5/21: "Many people have come up with theories that Kenyans run better because of a special gene in us. I don't know what gene they are talking about because we have reached where we are as a result of hard work. If such genes existed then I presume there is one among Brazilian footballers."
- World Champion marathoner Edna Kiplagat, discussing the reason for Kenyan distance running success in an interview with her and Mary Keitany on their chances for Olympic gold.
---
Sunday 5/20: "I wish to take part in the Olympics because it's London."
- Haile Gebrselassie before Sunday's BUPA Great Manchester Run, not ruling out competing at 10,000m for Ethiopia in London.
---
Saturday 5/19: "Compared to any time I have (ever run) in May, I'm light years ahead of where I've been in May," said Ritz, whose previous best 5,000 in May was 13:22.23 in May of 2005. "To tell you the truth, I'm so far ahead of where I've been before that I feel some 12:56s coming this summer - God willing."
- Dathan Ritzenhein talking talking after running 13:14 to end a wild night of men's action at the 2012 USATF Occidental HP meet.
---
Friday 5/18: "A lot of people, especially on the Internet message boards, get worried about college runners overdoing it or being over raced. I recognize that as a risk, but also, I joined Stanford to race in this uniform and represent the university. I have a bargain to uphold with them, and I don't want to be afraid to lay it on the line."
- Stanford's Chris Derrick talking about why he's going to do the 5,000 and 10,000 double at NCAAs, even though the 10,000 will be his focus for the Trials.
---
Thursday 5/17: "The reason this field is superior to anything you'll see at the Olympics or World Championships is that we have no limits on the number of entrants per country. So, if seven of the top 15 milers are Kenyans, we get the seven best. That's when you say, Tthis is something you won't see in London. It will be better.'"
- Meet director Tom Jordan, talking about the stacked mile field for the June 2nd Prefontaine Classic, which he has deemed the "greatest field of milers ever assembled on American soil." See the full press release and start list here.
---
Wednesday 5/16:


Sammy Wanjiru: Nov 10, 1986 To May 15, 2011
- Wanjiru, the 2008 Olympic marathon champ, died tragically just over a year ago and won't be forgotten, particularly after an epic piece in ESPN The Magazine. Photo courtesy of Wikipedia.
---
Tuesday 5/15: "I don't know what happened, I, I, I just didn't get tired."
- Kyle Merber's supposed comments (according to a message board poster) after her lowered his PR by nearly 7 seconds and running 3:35.59 to set the new American collegiate record for 1,500. 7-second PRs don't happen in the year 2012, but one just did. CONGRATS KYLE - YOU ARE DA MAN.