US News
Scientific Study Finds That Your Body Will Release More Pain-Killing Chemicals When You Believe The Pain Is Good For You So pain tolerance increases when pain is believed to be beneficial.
Results/Upcoming Races
More 2012 In Review
Random International news
Olympics-Related News
Kim Conley Enjoying Her First Christmas As An Olympian And Talks About How Things Have Changed "I called myself a professional runner before the Olympics, but it's hard to call yourself a professional if you don't make any money."
Athletics Illustrated Interview With Canadian Heptathlon NR Holder Jessica Zelinka, Who Is Ranked 7th In The World In Both The Heptathlon & 100 Hurdles However, despite being ranked 7th in the world in two events, Athletics Canada recently dropped her from funding. Adding to her bad luck, she got a strike for missing a drug test while she was delivering a speech to the Canadian Olympic Committee.
Watch A Different Christmas Movie This Year: "The Man Who Saved Christmas" Is A 2002 Film About 1908 PV Olympic Champ And Toymaker Alfred Gilbert Gilbert set two pole valut WRs and invented the Erector Set.
The Media Reacts To Suzy Favor Hamilton
Mid-Saturday Update:
Definitely Not Politcally Correct: Chicago Sun-Times Columnist: SFH isn't alone - lots of female distance runners are total nut jobs SFH had "a glint of ferocity in her eyes, of suppressed danger. I saw the look in many of the Wisconsin middle-distance and long-distance female runners. In my book, I made special note of them, of their lapses into near insanity, of their successes and crashes and eating disorders and dependence on their controlling German head coach, Peter Tegen."
*Foot Locker Midwest Head Says Hamilton Can't Even Work As Volunteer At Its Event - Doubts She'll Keep Any Running Jobs "There is not a person in my opinion who has given more back to the sport of distance running than she has. That's why it's so tragic. We're losing Suzy." The UW-Madison School of Education, and the Wisconsin Potato and Vegetable Growers Association also are re-considering.
*FBI Might Be Interested
*The Daily Beast Examines How Escort Services Work (link fixed)
Usain Bolt Gets Dumped And Other Random News
Previous SFH News
*Husband Reacts With Compassion "Yes, I knew. We were essentially separated the past year. We are trying, with help, to see if we can make it work. Suzy is a good person who went down the wrong path, obviously."
*AP Knocks On Hamilton Door Gets No Answer, Finds Psychologist Who's Not Surprised "She needed to have some way to express some other side of herself that didn't feel as clean or wonderful or upstanding as she appeared to be."
*Seduction Author Not Surprised Either "I believe at least fifty to sixty percent of all single women are Wholesome Pretenders. ... The vast majority of women are taught and brainwashed to behave as 'innocent, wholesome good girls.' For most women, that is not the reality of their inner sexuality."
*Fox Sports.com: Sex scandal not funny, just sad.
*Colin Cowherd (Chris Lear And Rojo's Favorite Sports Radio Guy) Leads ESPN Show With SFH Talk - *Listen As He Says Her Actions Probably Aren't As Rare As You Think
*SFH Lands On Cover Of Daily News
*SFH Banned From All Disney Sporting Events
*runDisney Drops SFH As Event Speaker
*Competitor Group Drops Her As Well
*Bleacher Report: Former Olympian Deserves Privacy To Handle Personal Issues
Unbelievable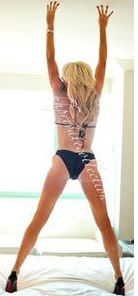 The Smoking Gun.com: Suzy Favor Hamilton Has Been Working As $600/Hour Escort For Last Year SFH, the 3-time Olympian, has been one of the hottest commodities in the escort business over the last year as she jumped up to a #3 ranking and got rave reviews for her runner's body and for providing the "full GFE (girlfriend experience)." One client raved, "I would do anything to protect her. ... She is worth every penny. I will go bankrupt before I stop seeing her. I hope no one else goes to see her, because I want her all to myself. ... I never thought I would find anyone in this hobby like her."
*Suzy Favor Hamilton Issues A Statement
*MB: Suzy Favor-Hamilton: Vegas Escort

Reaction From Across The Globe:
*NY Times: 1,176 Words On SFH: Former Olympian Cites Depression For Taking Job As Escort
*NY Daily News On Hamilton
*RRW: Suzy Favor Hamilton Admits To Double Life As $600 Per Hour Escort (link fixed)

*Hometown Reaction: Wisconsin State Journal: Suzy Favor Hamilton cites depression as reason she led "double life" as high-priced prostitute
*Milwaukee Journal-Sentinel: Olympian Suzy Favor Hamilton admits she worked as escort
*Milwaukee Journal Sentinel Profile On Hamilton In July Where She Talked About Battling Depression
Suzy Favor Hamilton TV Report In Chicago
US Collegiate Athletes Of The Year Are Announced
The Bowerman: LSU's Kimberly Duncan And S. Utah's Cam Levins Win The 5k and 10k champ Levins won on the men's side over the 100 and 110H champ, but there was even more intrigue on the women's side. Duncan had an incredible season as she won two individual NCAA crowns in the 200, was runner-up in the 100 and was on LSU's winning 4 x 100 and runner-up 4 x 400 teams, but one LRC visitor at a minimum is irate that Arizona's Brigetta Barrett didn't win. How do you top being being undefeated for the collegiate season and then winning an Olympic silver?
*MB: So an undefeated collegiate woman who won an Olympic silver medal isn't the NCAA track AOY - a non Olympian is?
The BBC Interviews Alberto Salazar & He Doesn't Hold Back In His Assessment Of Mo Farah's Place In History
A MUST Read - One Of The Greatest Races Ever Run - The US Women's Version Of The Billy Mills 10,000 Win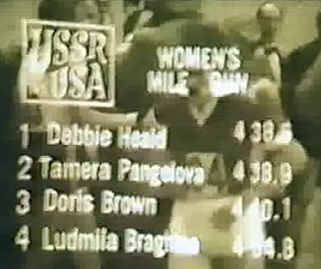 RWorld Reintroduces The World To Debbie Heald, Who 40 Years Ago Incredibly Ran The US HS Indoor Mile Record Of 4:38.5 Steve Friedman's piece on Heald is moving to say the least. Heald, whose father had committed suicide, who had been molested and who was always battling injury (13 different running-related surgeries), somehow at the US vs. USSR meet at age 16 in 1972 beat the greatest runners in the world, including the indoor 1,500 record holder and that year's eventual Olympic 1,500 champion, by running an a 8.5-second PR of 4:38.5. She came from way back to win thanks to a ferocious kick and she was known for having no kick. Her life since then has been full of struggles with schizophrenia but her HS indoor record still stands.
MB: Debbie Heald article in RW

Heald's Incredible 1972 Race

More On Heald:
*2002 LA Times Feature
*1972 Sports Illustrated
*1967 Faces In The Crowd At Age 11
From The MB:
*16-year-old Debbie Heald takes down the Russians, sets AR in 1972
*No Wikipedia entry for Debbie Heald ...
*1972 USA vs. USSR: 16-year-old wins the women's mile in a national record. (still standing)
*1972 Video Of Debbie Heald
Weekly Recap
LRC Biomechanics Are The Key? 2012 The Year Of The 800? Mo Farah The GOAT? SFH > Galen Rupp & Leo? Usain Bolt's Love Life, Wisdom From Pfaff & Salazar, And More This week we spend a lot of time wondering, "Was Mo Farah's double win really by far the greatest Olympic distance double" as Alberto Salazar claimed? (No). We also wonder if biomechanics are the key to success in T&F, wonder if this was the greatest year ever in the men's 800, compare the amount of pub generated by Suzy Favor Hamilton as compared to Galen Rupp, give you great coaching insight from Dan Pfaff (and Salazar), tell you how some coaches are never satisfied, and remind you to yawn before your next race. Plus Usain Bolt's ex-girlfriend kisses and tells, and why the best thing about altitude training may have nothing to do with altitude.
Upcoming: Defar Racing XC On Jan. 5th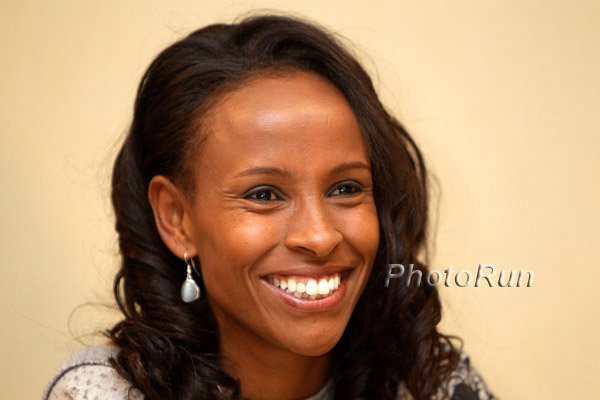 Olympic 5,000 Champ Meseret Defar Will Race Bupa Edinburgh 3k XC Meet On January 5th It was also announced that former World 100m champ Kim Collins will race an indoor meet in Scotland as well.
2012 Year-End And Olympic Reviews
US News
Not Much Happened The Day After Christmas
Christmas/End Of The Year News
From Monday: Mercy Kibarus Won Shoe4Africa Women's Road Race In Iten With A 16:45 Valentine Kibet finished second in 16.57.32.
IAAF Preview Jan. 6th Campaccio Cross-Country: Italy's Andrea Lalli Will Be Up Against Olympic 5,000 Bronze Medalist Thomas Longosiwa & Leonard Komon Also includes Ethiopia's World Junior 5,000m champ Muktar Edris. Priscah Cherono leads women's field. *EA Prevew
Patrick Makau Reveals That He Ran Frankfurt Instead Of Berlin This Year Because Race Organizers Weren't Willing To Pay Him Enough Makau: "For someone to attempt a world record is not easy. Last year, I used a lot of effort to make the world record but in this case, we could not agree with them on what I was to get."
After Justin Gatlin Says He Wants To Beat Usain Bolt In 2013, Jamaican Website Uses Headline: "Keep On Dreaming!"
Merry Christmas:
Oregon Thought He Didn't Recruit Distance Studs - Others Thought He Only Got Them To Transfer
Who Says Martin Smith Can't Recruit Distance Runners? 4:02 HS Miler J. Burcham Commits To Oklahoma Burcham is a beast who ran 4:33 in 8th grade.
Columnist Implies Racism Resulted In Mo Farah Finishing 4th In BBC Sports Personality Of Year Award We disagree. One could easily argue that the two men who beat him (Andy Murray and Bradley Wiggins) deserved it more than he did and Jessica Ennis' gold is comparable and likely to garner more votes as she's the leading female.
Jamaican News
How Many Cups Of Milk Should Kids Drink A Day? Experts Say Two Per Day You don't want too many or your iron absorption is compromised.
Sunday Results: Both Euro XC Champs Lose And Show The Best Europeans Are Still Not As Good As Mid-Level Africans
Justin Gatlin Says He Still Hasn't Given Up On Beating Usain Bolt "I've got world champion blood in me. It's not about times but about running to the line, being the first across it. ... I've got the Gatlin guns to throw at the Lightning Bolt and the Beast (Yohan Blake) and Tyson Gay."
Kenyan News: Peter Mateelong Wins And Asbel Kiprop Is Healthy Again *Photos
Ireland's Paralympic T13 100/200 Champ Jason Smyth Says He Wants To Defend His Titles In 2016
New Year's Eve: Delilah DiCrescenzo And Ashley Higginson Lead Women's Field For Emerald Nuts Midnight Run Christian Thompson, Liam Boylan-Pett and defending champ Landon Peacock lead men's field.
Spikes Magazine: "The Rise Of The Jager Meister" Jager says he got his start in soccer where he "used to run the entire game without needing a sub and I usually did it faster than everyone else too."
Stop Complaining: NYC Marathon Announced Cancellation Policy And You Can Get A Refund Get a refund or pay again for next year and run next year (while paying for this year as well).
On The Boards: NYC Marathon Resolution
*WSJ: NYRR Reach Multi-Million Dollar Settlment With Insurance Company After Cancellation Of NYC Marathon
New Year's: World XC Champ Imane Merga Will Take On Olympic 5,000m Bronze Medalist Thomas Longosiwa In New Year's Eve 10k Race In Bolzano, Italy Scott Bauhs is also in the field as two-time World 5,000m silver medallist Sylvia Kibet headlines women's 5k.
Good Read: Brett Larner Explains "How I Learned To Love The Ekiden And Why You Should Too" "When you put on that soaking wet, stinking piece of cloth and your own sweat mingles with it there is a physical bond formed between your life and theirs, your own years of work becoming part of something bigger, and others are waiting to join you. Giving anything less than your best is not sacrificing your gift, it is sacrificing everybody else's gifts."
Sports Science: Viagra Improves Performance In More Ways Than One
US News: Adam Nelson On His Way To Becoming An Olympic Champion
Sad News: Two-Time Foot Locker Finalist Arrested For Murder Eric Kweder, who has popped up in a number of threads over the years, was 9th in 1995 as an 11th grader - one spot ahead of eventual Olympian Jonathan Riley.
Boys: Edward Cheserek Repeats After Battle With Sean McGorty McGorty, the South champ, and Jake Leingang, the Midwest champ, didn't make it easy for Cheserek, but there is a reason Cheserek doesn't lose - he's the best in the US high school ranks. The four Regional winners went 1-2-3-4. *Results *Milesplit Recap *Edward Cheserek Interview

Girls: Anna Rohrer Overcomes Fall To Win Rohrer pulled away for the win after falling after the start. Her Midwest teammates dominated the race with 6 in the top 10. Catarina Rocha of the Northeast was the runner-up, with both runner-ups having a least one Foot Locker finalist parent. *Results *Steve U's Recap *Anna Rohrer Interview
*OTB: Sarah Baxter 2016 Olympics? *wow footlocker, get your cameras fixed. learn how to cover a national race *Has Foot Locker gone too far?
Kenenisa Bekele Finishes His Track
Kenenisa Bekele Builds His Own Track/Runner's Paradise In Ethiopia And Hotel For Athletes Wishing To Use It It is in an area with 20 miles of forest trails in the mountains as well as flat woods right behind the hotel. He says he spent $1.5 million on the track, which currently has 6 lanes, but he plans on adding 2 more and adding seating so they can host elite track meets.
Lolo Jones Has Survived Her First Bobsled Crash And she even jokes about it: "God is real. I saw him today and he said come back later."
Track And Field's Male Fans Are Thankful For This
Fit Again & Recovered From Achilles Surgery & Bacterial Infection, Blanka Vlasic Is Ready To Compete Again
The Running Event Is In The Books *Photos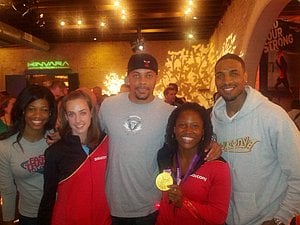 LRC The 2012 Running Event Is In The Books: Five Takeaways On The Industry Shark Tank's Daymond John Speaks The trade show for specialty running shops was last week in Austin, Texas and LRC's Wejo was there plus Ryan Hall, Meb Keflezighi, and most of Saucony's top athletes. The running industry should be renamed the "how to not get injured" industry. Some take-aways from the convention.
*Press Release: The Running Event 2012 Attracts 2,100 To Austin
D-Day For Lance Armstrong
Japan's Top Collegiate Runner Joins Salazar And The Oregon Project
Japan's #1 Male Collegiate Runner Suguru Osako (13:31 5k, 27:56 10k, 1:01:47 Half) Will Be Joining Alberto Salazar And The Oregon Project He'll be running for the corporate Nissin Shokuhin team following his graduation in 2014, but live in Oregon and train under Salazar for the OP.
Run, Recover, Run More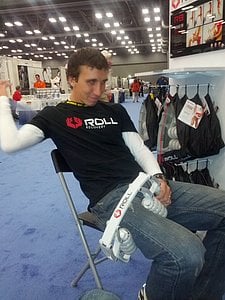 LRC Runners Recover Better And Hopefully Stay Injury Free With These Two Products From The 2012 Running Event Wejo talks about some of the injury prevention products he saw at the The Running Event, which include better methods for massage, icing, and compression.
Meb And The Mental Side Of Running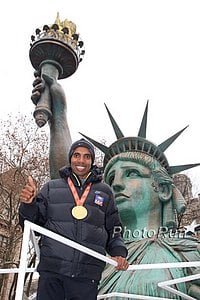 LRC Meb Keflezighi Talks About Getting His Start In Running, The Mental/Physical Breakdown Of The Sport Meb: "I really believe during preparation it's 90% physical, 10% mental. When the gun goes off it's 90% mental and 10% being healthy."
Christmas Has Us Emotional - Is The Meaning Of Life Love?
Read This Article & Then Watch This Video
Lance Armstrong News
Dubai Marathon Is January 25th
Maggie Vessey Tests Positive And Gets A Warning
Maggie Vessey Tests Positive For Diuretic And Accepts Public Warning
The American 800m star was taking a prescription medicine that had a banned substance. She won't have to serve a suspension of any kind.
On The Boards: Maggie Vessey tests positive
The Week That Was In Running: December 10 - December 16, 2012

LRC Jenny Simpson's About Face, Sally Jenkins' Embarrassing Defense Of Lance, Fast Rugby Players, A Mea Culpa And More Not a lot happened last week on the track but there is A TON to talk about. We break down world champion Jenny Simpson's about face and return to Mark Wetmore by comparing her positively to Charles Barkely and Dan Marino, but remind people that a return home didn't resurrect the career of Jeremy Wariner. We absolutely rip Sally Jenkins for defending Lance Armstrong and for using the "rape card" to support her argument as we compare Lance to Bernie Madoff. Along the way, we tell you why legalized PED use = the end of women's sports and introduce you to the fastest rugby player in the world. Plus we fess up to a rare, rare mistake.
TodaysMiles.com Launches On LetsRun.com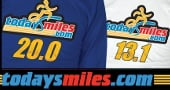 Today's Miles Launches The running world has got 3.1*, 13.1 and 26.2 stickers. Todaymiles.com takes that concept to running apparel. Want to celebrate that 26.2 you did? Do it. Want to run 20 minutes and wear a 20 mile shirt? You can do that, too. More info here.
Wetmore-Simpson Round II
LRC Jenny Simpson Coaching Switch Update Former CU Buff Stephen Kasica has some details on Simpson training in Boulder last week. Plus there is a cool multimedia timeline on Simpson's career and some perspective. Simpson won Worlds under Juli Benson, yet never ran within 3.5 seconds of her 1,500m PR. Fascinating.
2012 Foot Locker Boys Photo Gallery (Updated)
2012 Foot Locker Legends Pre-Race Photo Gallery
IAAF Gala Photos: The Stars Of Track And Field Are Beautiful People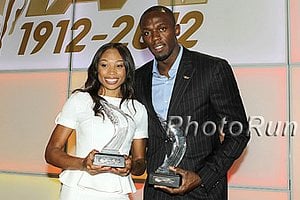 NCAA Cross Photo Galleries (Captions Now Added)
Beautiful People: NCAA Banquet Photos (Click On Photo)