By LetsRun.com
December 19, 2012
To read last week's Weekly Recap, click here.
The end of the year is always lacking in action as everyone takes a much needed Holiday. The only news most weeks is who wins what award. That was true for the most part last week in terms of action but there was still a lot of great stuff to talk about.
****
Hey Even We Aren't Perfect – A Quick Correction
We'll start with a correction. Two weeks ago in our weekly recap, we had list up of 'The 10 Best Half Men In History & Their Marathon PRs' and we had a mistake in it.
Article continues below player
We've always said the best part about LRC is you the visitor which is yet again shown by this correction. The mistake was corrected by none other than 3:37/3:57 man James Thie, who was 4th at the 2004 World Indoors, and now appears to be doing TV for Eurosport:
Hi Guys,
Loving the work- just reading 'the week that was' I noticed the guy Atsedu Tsegay 58:47 half guy in your 'The 10 Best Half Men In History & Their Marathon PRs' – you have as not run a marathon yet.
But just for the stats, he ran and was a DNF at the Amsterdam marathon in October, I only know that was a Eurosport commentator and we thought  he was going roll a big one- after that half time.
He struggled and think it was just after half way he called it a day so more likely will be back soon in the marathon distance.
Keep up the good work,
-James
****
Jenny Simpson Returns To Coach Mark Wetmore
Simpson Under Wetmore
2009 – 3:59.90/15:05
Simpson Under Benson
2010 – 4:03.63
2011 – 4:03.54
2012 – 4:04.07/15:11
With very little action last week, the biggest story was probably that 2011 world 1,500 champion Jenny Simpson has decided to leave Juli Benson and return to the coaching services of her college coach Mark Wetmore. Considering that Simpson ran 3:59.90 for 1,500 as a collegian for Wetmore, it was stunning when she left him early in 2010. We guess considering she won a world title under Benson in 2011, her return to Wetmore is a bit stunning to some as well, but not so much to others when one considers Simpson only ran 4:03.54 under Benson.
Our thoughts?
1) With Benson as her coach, Simpson won a world title. End of story. Game over.
As a result, any criticisms therefore have to be made with huge *asterisks* in front of them (We said this immediately after she won in 2011 and still believe it to be true: Simpson 1 – Doubters 0 – Game Over, An Official Apology From Any And All Doubters).
In the big-time sports, it's all about the ring. A ring instantly legitimizes people. Conversely, the knock on many players like Dan Marino or Charles Barkley is that they never won a Super Bowl or NBA Title. If a ring legitimizes someone in those sports, then a gold medal in track and field certainly does in ours.
We don't think people realize how rare it is for a US women to win gold. In the 236 years of the US, the following non-drug cheat women have won gold in a mid-d or distance event for the US at an Olympics or world champs.
1968 800m – Gold – Madeline Manning-Jackson
1984 Marathon – Gold – Joan Benoit Samuelson
2011 1,500 – Gold – Jenny Simpson
That's it.
In compiling that list, we wrote down all of the US female mid-d and distance medallists in history. It too is such a short list we thought we should share it with you as well:
All Time US Olympic/World Championship Mid-d and Distance Medallists
1968 800m – Gold – Madeline Manning-Jackson
1983 1500m – Gold – Mary Slaney
1983 5000m – Gold – Mary Slaney
1983 Marathon – Silver – Marianne Dickerson
1984 Marathon – Gold – Joan Benoit Samuelson
1984 800 – Silver – Kim Gallagher
1988 800 – Bronze – Kim Gallagher
1992 10,000 – Bronze – Lynn Jennings
1997 1,500 – Silver – Regina Jacobs
1999 1,500 – Silver – Regina Jacobs
2004 Marathon – Bronze – Deena Kastor
2007 10,000 – Bronze – Kara Goucher
2009 10,000 – Bronze – Shalane Flanagan
2009 1,500 – Bronze – Shannon Rowbury
2011 1,500 – Gold – Jenny Simpson
2) We thought it was a mistake for Simpson to leave Wetmore in the first place so we are glad she is returning.
Given the departure of many of his former male collegiate runners like Ritzenhein, the Torres, etc., it seems Wetmore might be a little difficult for post-collegiates to get along with, but we think he's incredibly knowledgeable and has developed more US distance Olympians than anyone in recent years. That being said, Wetmore fans like ourselves need to remember that under Wetmore, Simpson finished 163rd at the 2007 NCAA cross country meet as a 3:59 runner and heavy NCAA favorite. Simpson may have struggled by her lofty standards in 2012 under Benson but she also struggled at times under Wetmore. She's never been the model of consistency.
We like the post by messageboard visitor "jjjjjjjjjjjjj" who wrote:
"My sense was that Henner (=Benson?) was more of a fan of the shorter, faster school of training and that this did not generally work very well in terms of long-term development (see Chris Lukezic, a 3:33 runner at 23 or so as someone training with Alan Webb, but who declined and left soon for the big prospects of airbnb), so that you might get some initial improvement from the speedwork while you still have the base from your old coach but when the base is gone, you no longer have anything to sharpen. She took advantage of two top contenders falling and won world's, but as the times fell back to normal doping territory before the Olympics, her chances as a 4:03-4:07 runner were nil."
We always felt that Simpson developed an amazing base and strength while at CU where she was really known as a steepler. Her success in the 1,500 was a surprise to probably eveeryone including her coaches. A move to shorter stuff/a 1,500 focus might have worked for a while but not in the long term.
Others disagree like "dsrunner" who writes:
"2012 take away lesson was more isn't better, and that strength training/h20 running may lead to needless hypertrophy in a world champ 1500 runner."
3) Moves like this are good for the sport and might also be good for the runner
a) It creates drama and gives us something as fans to talk about. An NFL season only takes 48 hours to play but people talk 40 hours a week on the radio about it for 52 weeks of the year.
b) It prevents runners from getting into an unmotivated rut. Doing the same thing year after year is very hard to get excited about for someone who is going to have a 15 year career (4+in college + 10+ as a pro).
4) Simpson's return to Wetmore doesn't mean she'll instantly or ever return to her top form.
Anyone remember when we crucified 400 meter runner Jeremy Wariner leaving Clyde Hart over money in 2008? Well guess what, he returned to Clyde Hart in 2009 but Hart didn't magically resurrect his career.
More: *LRC More Details on Jenny Simpson Leaving Juli Benson to Return to Mark Wetmore
*MB: Jenny Simpson Moving Back to Boulder to Be Coached by Mark Wetmore
*2011: Simpson 1 – Doubters 0 – Game Over, An Official Apology From Any And All Doubters
*August 2012: JennyB needs a new coach fast
*2008: LRC Rips Wariner *2009: Wariner Reunites With HartThey are rather straightforward.
****
Video Of The Week: What Happens When A Stud Track Athlete Does Rugby
Kudos to LRC visitor "terps" for emailing in to let us make sure we watched the video. Trust us, it's worth a watch. If you watch it with sound on, you'll enjoy it much more.
The video shows what happens when you put a real athlete – a 10.13w and 10.24 sprinter – into a rugby match. Total domination. The clip is of 23-year old American Carlin Isles, who who just picked up rugby a few months ago. Yes a few months ago. Watch it for yourself.
We haven't been able to get to the bottom of Isles' story, but we know Isles attended DII Ashland U  2009-10 (and possibly longer but we see no stats for him) when he was on the football and track teams). Last year, he ran 10.13 windy and 10.24 legit while running for Hobson's Choice, the training camp headed by coach Al Hobson, who is Head coach at Kansas City Kansas Community College, and used to coach the likes of Ivory Williams and Mo Greene.
We have no idea how a guy like that wouldn't get a tryout for the NFL – at least for special teams.
If you know more about Isles, email us.
MB: Carlin Isles, former Ohio HS and Ashland U sprinter now dubbed World's Faster Rugby Player. Must see video!
*Daily Mail: Is this the fastest rugby player on the planet? Former US sprinter taking Sevens circuit by storm
*Rugbymag.com: Meet the Fastest Man in American Rugby
****
Anti Doping Thought Of The Week – We Hope People Realize That Legalized PEDs = The End of Women's Sports
As long time leaders of the anti-doping movement, we often hear the counter argument of, "Drugs should be legalized."
The argument is appealing to some because the ant-doping fight is a fight that will never end and it is a messy fight that will never be perfect as inevitably not all of the cheats will be caught. Plus we think many people want to legalize drug use because it's very hard for people to emotionally handle the after-effects of seeing one of their hero's fall from grace.
Doping busts definitely ruin a spectator's enjoyment of a sport. There is nothing joyful about learning that the guy you got up and cheered for on many a July morning as he won 7 Tour de France's was a total fraud (Lance Armstrong) or realizing that the $200 you spent to attend Mark McGwire's 62nd home run game was a waste of some hard-earned cash.
But, there is one thing we don't think most the 'pro-drugs' people have thought about.
If you legalize PEDs, then you can basically kiss women's sports good bye.
What are we talking about? Well if PEDs are legalized, then steroid use will be rampant and the end result will be debilitating for sports as basically the top top women will be those who steroid up with so much testosterone that they end up looking like men.
We were reminded of this fact last week when former cyclist Tammy Thomas, who was caught up in the BALCO scandal, was released from her probation.
To everyone who thinks drug use should be legalized, we have one question for you, do you really want your daughter to have to look like this to be any good at sports?

Tammy Thomas.
Photo from http://www.socaltrailriders.org/forum/attachment.php?attachmentid=17299&stc=1&d=1206736698.
We hope all of the PED apologists, particularly the Washington Post's Sally Jenkins, who wrote an embarrassing column last week apologizing for the doping of a man she has written two books with, Lance Armstrong, realize that the logical outcome of their pro-drugs stance is the end of women's sports as we know it.
Has Jenkins, who says her best friend is women's basketball coaching legend Pat Summitt, really thought about what the ramifications of legalizing PEDs would mean to women's sports?
We doubt it as Jenkins' couches her pro-PED argument with language similar to that used to support a woman's right to choose:
Maybe I'm not angry at Lance because, I've long believed that what athletes put in their bodies should be a matter of personal conscience, not police actions…
She's not done yet – she even throws the rape card out there:
"And because there are offenses in sport that seem far, far worse to me(than doping). Like say, putting rapists on your college football team."
Shame on you Sally.
Lance Armstrong was a cheat and liar.  The worst part is while cheating and lying, he tried to destroy the lives of those who stood out for the truth and called him out for cheating. Jenkins conveniently ignores the damage Lance did to those people.
Sure Lance inspired millions of people with his cancer fight. There are heroic qualities in that. Yet it was all based on a fraud.
A hero does not destroy those who speak the truth.
A hero does not do what everyone else is doing. A hero stands up for what is right, even if that means not gaining fame and fortune. A hero is judged by his or her character not his or her fame or fortune. A hero admits their mistakes.
Lance has yet to do that. Apparently, for him it was "All About the Bike."
As for the $7 million Lance gave to charity that Jenkins is so impressed with, it means zero to us – actually less than zero. It was all basically money he illegitimately gained as he got $5 million for lying in a court case about PED use).
In fact, we think his charitable giving and cancer work was done in at least in part to make him seem righteous and to make it harder to uncover his misdeeds.
It's easy to give away money you rightfully shouldn't have, particularly when it makes you look good and so people won't be asking the questions they should be asking. Bernie Madoff and his foundation did it – so did Lance.
And Lance knew exactly what he was doing. He knew exactly the image he was trying to create. Once when asked what would it mean if he was exposed to be a doper, he said that couldn't be the case as it would mean the fight against cancer was a fraud.
"If you consider my situation: a guy who comes back from arguably, you know, a death sentence, why would I then enter into a sport and dope myself up and risk my life again? That's crazy. I would never do that. No. No way," said Lance responding to L'Equipe's accusations that he used EPO during the 1999 Tour on the Larry King Show in August 2005.
More: BALCO Figure Tammy Thomas Released From Probation Early So She Can Possibly Get Her Law License
*Nice Long Article On Thomas Here
*Sally Jenkins: Why I'm not angry at Lance Armstrong
****
A Random Did You Know?
Sunday's Marathon in Kenya Cost $3.32 To Enter & Featured a $2,322 1st Prize
The 1st prize is 699 times the entry fee. We were wondering how the 699 to 1 prize money to entry fee ratio stacked up so we did the math ourselves. It would be like the New York City marathon paying out $178,346 for 1st place ($255 fee), which is about right as the winner of NY likely gets more than that if you factor in an appearance fee.
****
Quotes Of The Week That Weren't Quote Of The Day
****
#1 – NCAA XC Champion Betsy Saina Dispelling The Stereotype That Running Is Prevalent Throughout Kenya
"People know Kenya is a place where many people like running, but I grew up in a place when I was training I'd go early in the morning at like 5 in the morning where people couldn't look at me when I was running. I grew up in a fairly remote area where people don't know about running. In my village [Kaptagat] I am the only girl in the United States and the only person running."
-Saina's quote comes from a nice interview that Caitlyn Diimig did with her for Runner's World/Running Times.
More: 5 Minutes With Betsy Saina
****
#2 – Saina on Overcoming Adversity
"(Running) is a sport. Everything can happen in running. Sometimes (things) can go the way they are expected to. In 2011 (at NCAAs outdoors in the 10,000), I went to the line thinking, 'I am already the champion.' With five laps to go I passed out. But if I wouldn't have had that in 2011, I wouldn't be doing what I'm doing now. When you use the past to challenge yourself, it helps you to get better. You've got to accept it and challenge it."
– quote comes from the same Runners World/Running Times piece.
By the time she was 12, she was often running as much as 10 miles a day, and most mornings she would jog the quarter mile to Reeny Westcott's house, then they would run five miles together.
Between 1969 and 1978, she had 13 surgeries. She had chronic tendinitis. But she kept running.
****
#3 – 2012 European XC Champ Aandre Lalli On How He Manages To Live For Much Of The Year in Third-World Kenya
****
Recommended Reads
A MUST Read – One Of The Greatest Races Ever Run – The Female Version Of Billy Mill's 10,000 Win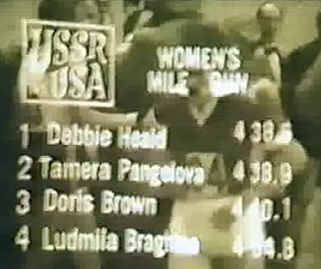 RWorld Reintroduces the World to Debbie Heald Who 40 Years Ago Incredibly Ran The US HS Indoor Mile Record of 4:38.5 Steve Friedman's piece on Heald is moving to say the least. Heald, whose father had committed suicide, who had been molested and who was always battling injury (13 different running related surgeries), somehow at the US vs USSR meet at age 16 in 1972 beat the greatest runners in the world including one woman who had set the 1,500 world's best the week before and another that would capture that year's Olympic 1,500 title by running an a 8.5 second PB of 4:38.5. Heald came from way back to win thanks to a ferocious kick and she was known for having no kick. Her life since then has been full of struggles with schizophrenia but her HS indoor record still stands.
MB: Debbie Heald article in RW
More on Heald:
*2002 LA Times Feature on Heald
From the MB:
*16 year old Debbie Heald takes down the Russians, sets AR in 1972
*No wikipedia entry for Debbie Heald…
*1972 USA vs USSR: 16 year old wins the women's mile in a national record. (still standing)
*1972 video of Debbie Heald
LRC Meet The 2012 European Cross-Country Champions LetsRun prides itself on promoting the sport's stars as individuals and not just as a group. Normally our efforts are devoted to "the Africans" but today we do the same for "the Europeans." Meet the junior woman who destroyed Mary Cain, meet the "Viking version of Centro" and potentially Italy and Ireland's next marathon stars.
*LRC The 2012 Running Event Is In The Books: Five Takeaways On The Industry
****
Other News Of Note From The Last Week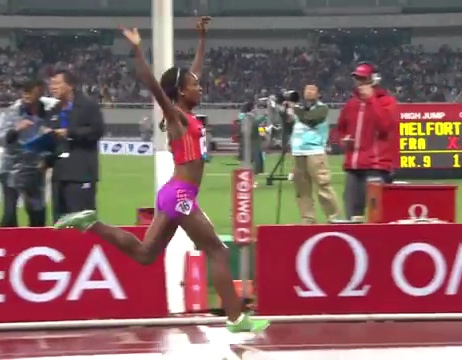 2012 World's Fastest 1,500 Runner – The 3:56 Abeba Aregawi – Is Now Competing For Sweden And Is Eyeing European Indoor Gold She has lived there since 2009 and is married to a Swede but some would says was bullied into running for Ethiopia at the Olympics. We're not sure how she doesn't have to sit out. Under normal situations, rules for, say, Worlds would require a 3-year sit-out (see page 25).
Amazing/Stupid: Two Weeks After Running 2:10:29 At Fukuoka, Yuki Kawauchi Wins Hofu Marathon In 2:10:46 This was a WR for the shortest-ever time between sub-2:11 performances. The 63-year-old age record also went down as Yoshihisa Hosaka ran 2:46:30. Watch out Ed Whitlock.

****
Quotes Of The Day From The Week:
Monday 12/17: "You need to like doing something a lot and need to think logically. If you do not have a coach and nobody knows how to jump, you need to find a way. Your own way. For example, my father had to find out how it was possible to jump with one [arm]. You take the basic information and find out how someone with your age, your body, your lifestyle can do it. And you need to want it a lot in order to get the maximum results. It does not matter if you have one hand, two hands, or three legs, because it is about overcoming the challenge. You don't throw a hammer for somebody, you throw it for yourself."
– Former shot put hammer throw World Record holder and two-time Olympic bronze medalist, Jüri Tamm, talking about the inspiration he gained from watching his father pole vault even though he only had one arm. He had a PR of 3.20m (about 10.5 feet).
---
Sunday 12/16: "(Can you spare a new pair of running shoes, mine are falling apart?)"
Answer: "Nah, you're not that good."
– Q&A between 16-year-old Debbie Heald and an adidas rep back in 1972 before the US-USSR track meet in Richmond, VA. Heald called home crying as result, was told to duct-tape her shoes and then went out and ran one of the more remarkable races in history. Never a kicker, she used a ferocious kick to come from behind and beat the woman who had just set the world indoor 1,500 record as well as that year's eventual Olympic 1,500 champ by running an 8.5-second mile PR of 4:38.5 – a time that still stands as the US High School indoor mile record some 40 years later. Runners World's Steve Friedman has recently re-introduced the world to Heald with a feature on her and her later troubled life which is now available on-line. A MUST READ and WATCH.
---
Saturday 12/15: "When I approached Nike with (the plan to bring Evan Jager with me from Wisco after his freshman year), I said, 'This kid's not only got the physical tools and the capabilities, but he's got the head for it, and he knows what he wants. He knows he wants to compete in the Olympic Games; he wants to be at the World Championships; and he knows that as a freshman.'"
– Nike coach Jerry Schumacher showing how important motivation/desire is for running success.
---
Friday 12/14:  "I received an email on the date of 25th of September from Ryan. In that email he asked me, very shortly, if I could be interested in working with him. I answered before taking any decision, I needed to know something more about him. I didn't speak about his career, that I knew very well, neither about his previous training. I was not interested in these particulars. I wanted to know something more about his motivation, his life, his relation with the faith, his objectives, his current physical conditions (not really good). After his reply, I explained to him my training philosophy, very different from what he used before, and I proposed him to try some time, before taking a final decision if he was still interested in working with me, or no more."
– World-renowned marathon coach and LRC poster Renato Canova, talking about his new coaching relationship with Ryan Hall and how it began.
---
Thursday 12/13: "I don't want to just be a track coach. I want to be sort of an entertainer – a guy that's out there with the public doing community service, get the community to know you a little bit more. You really worry about the fan and about the community enjoying the sport."
– New Kentucky track coach (and former assistant to Vin Lananna) Edrick Floreal, talking about his aspirations for the Kentucky program, which he bolted Stanford for. Kudos to him for thinking, "What about the sport?" Far too many collegiate coaches couldn't care less about the sport's presentation.
---
Wednesday 12/12: "And when I came off after the javelin, I had to fight to stop myself welling up. Because I knew I'd literally have to fall over in the 800metres not to win it then. … I'd trained so hard, done so many horrible 800m sessions and every time I did one, forcing myself through it, I was thinking to myself: 'You're doing this for one race only'. If I'd just jogged round, what would have been the point of all that pain? And I really wanted to cross the line first. I really wanted to have that moment. I'll never have it again."
– UK's Olympic heptathlon champion Jessica Ennis talking about how even though she could have pretty much jogged the last event (the 800) and still won the overall competition, she wanted to go all out and be the first across the line.
---
Tuesday 12/11: "My parents have no idea. Even if I call my parents and say, 'I won the race.' They are like, 'Good job,' but they don't really know what's going on. I think I took like three or four days before calling. I said, 'Oh, I won the NCAA cross country title,' and they said, 'Oh, good job!' But that's all. It's not like here.  … My dad was excited, but they didn't take it the way I took it. Because I feel like it was a big honor. But I don't blame my parents, because they don't have any idea.
– Iowa State's NCAA Cross Country champion Betsy Saina talking about how her parents and the people of her hometown in Kenya really don't know much about running. You might assume everyone in Kenya is into running, but she says that she even used to sneak out to train at 5 in the morning "where people couldn't look at me when I was running".
Editor's note: Originally, this story incorrectly referred to Juli Benson by her previous married name of Juli Henner.