The Week That Was In Running - May 30 - June 12, 2011
To read last week's LRC Week That Was, click Here.
To read any 2010 LRC Week That Was, click Here.
By LetsRun.com
June 16, 2011
What a week, two of the biggest meets of the year in NCAAs and adidas, plus the 40th edition of the NYRR mini. Where to begin? We start by wondering why Nike sponsors Justin Gatlin and wondering if Lukas Verzbicas even had the best high school mile performance of the week last week, before talking about Deena Kastor's and Caster Semenya's comebacks, and controversy at the NJ State and NCAA meets (although no one seems to even know there was a controversy at the NCAA meet). Along the way, we actually praise Larry Rawson as well as David Torrence before giving you an early preview of the 2011 USA meet, in which we stick a fork in Shannon Rowbury and stop just short on Lopez Lomong and Leo Manzano.
****
A Brief Comment About The 2011 Pre Classic
Last week something happened for the first time in a long time at LetsRun.com. We didn't write our Week That Was. Between traveling to and back from the Pre Classic and NCAAs, and with the adidas Grand Prix and the New York mini all the same weekend, something had to go, and it was the Week That Was.
So before we turn to this week's action, we wanted to touch on one thing we didn't cover with the Prefontaine Classic.
While the action on the track at Pre was fabulous (our recaps are here and here from Friday, here from the main meet Saturday), there was one troubling incident off the track. No, it was not convicted drug cheat Justin Gatlin competing in the Pre Classic. Justin has served his ban and unless the sport wants to change its rules to lifetime bans, Justin is free to compete and meets are free to invite him to compete. We would prefer if meets invited cheats who confessed to their sins, like Dwain Chambers, but that is for a different day (it is interesting that Steve Mullings, who has served a two-year drug ban, seems to get a free pass in Europe while Dwain Chambers doesn't).
The travesty coming out of Eugene was that while Justin Gatlin was free to compete, the masseuse Gatlin accused of making him test positive, Chris Whetstine, was not allowed to work at the Pre Classic. Whetstine wanted to be a masseuse for Shawn Crawford. The meet said "No way." Totally ridiculous.
Justin Gatlin had his day in court before USADA and lost. He is a convicted cheat. He was coached by Trevor Graham, one of the few people permanently banned from the sport.
Yet the Pre Classic goes out of its way to invite Gatlin to the meet and goes out of its way to deny Whetstine? That is utterly crazy. Meet director Tom Jordan said of his decision, "I don't need the drama."
Speaking of crazy, Why (The Hell) Does Nike Still Sponsor Justin Gatlin? We're all for forgiveness of one's sins, but first one needs to admit what they have done.
Full disclosure: Chris Whetstine once worked on LetsRun.com's Wejo in the early 2000s.
****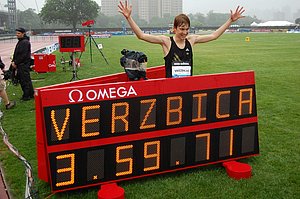 Lukas Verzbicas The Top High School Miler Of The Weekend?
While Lukas Verzbicas was turning heads last week when he became the 5th US high schooler to go sub-4 with his race at the adidas Jim Ryun Dream Mile (Thumbs Up to adidas for working hard on this field and getting a sub-4 in a high school race), we had one LetsRun.com viewer write in and tell us this was not the high school performance of the weekend. How could that be? In upstate New York, freshman Mary Cain ran 4:17.84 for 1,500 to win the New York State Meet by nearly 2 seconds over Aisling Cuffe. The all-time high school record is Jordan Hasay's 4:14.50. So Cain was much close to the record than Verzbicas was to Alan Webb's 3:53 mile. We kind of see the emailer's point, but would much rather have the sub-4. Well done by both of them.
*Lukas V Photo Gallery *Recap/Watch Lukas' Race Here
****
7 Quotes Of The Week That Weren't Quote Of The Day
#1 Katherine Switzer On Fred Lebow
"Fred was a total male chauvinist, but he was an egalitarian guy."
- Katherine Switzer, 1974 New York City Marathon women's champ and women's running pioneer, talking about New York City marathon founder Fred Lebow. Switzer was in New York last week to celebrate 40 years of the NYRR New York Mini 10k - a women's only race. The Wall Street Journal took a nice look at the race and how times have changed in women's running over the years (Switzer won New York in 1974 in 3:07 and the first Mini used Playboy bunnies to promote the race).
More: *New York Mini Celebrates 40 Years Of Women On The Run
****
#2 Deena Kastor Describing The Joy She Felt On Her First Post-Pregnancy Run
(Kastor) planned to jog for a mile. Then kept going, and going ...
"Ended up going on a four-mile run and felt fantastic. I thought it was just going to be this clumsy stumble, and it ended up being this exhilarating - sprint is what it felt like."
- Excerpt from an AP article and then a quote from Olympic bronze medallist Deena Kastor talking to the AP about her first post-pregnancy run, which came just 2.5 weeks after giving birth but 5 months after her last run, as Kastor found it impossible to run while pregnant. Kastor was back in competition for the first time last week at the New York Mini, some 3.5 months after giving birth, and she ran 35:00.
"My manager, my training partners were on my side - they always wanted me to come to train but I didn't want to come to train. I told them, 'Why should I come to train for something that I don't know? I cannot come to train when I don't know if I'm going to run.
But they always told me to come, my coach was always phoning me each and every morning and afternoon. I told him, 'Look, man, call me after I'm gonna be back. If I'm coming back that's when you can call me, but if not don't call me, I'll just come sometimes.'"
- Caster Semenya speaking at a rare press conference in Norway last week about how she had little to desire to train while she was waiting for the IAAF to rule on her eligibility. Many an injured runner can relate. We've found that people will often not cross train if their doctor is unsure if they'll ever recover, but once they know what the problem is and know they can come back, they will train with big desire. More: Caster Semenya speaks of rough ride back from suspension
****
#4 Catherine Ndereba Talking About Sammy Wanjiru
"I cannot imagine how London 2012 Olympics is going to be without him. He had this unique running style where you would know he was about to accelerate by raising his arms. I had never seen anything like him."
- Two-time Olympic marathon silver medallist Catherine Ndereba talking about Sammy Wanjiru at his funeral, which took place last week. The quote comes from a Capital Sport article on the funeral.
****
#5 Sammy Wanjiru's Friend Talking About Whether He Believes Sammy Was Murdered Or Not
"I do not believe he was murdered. The padlock at the man hole is what caused the damage (to the back of his head). We should let this matter rest and remember him for the great things he did."

- Daniel Gatheru, a distance runner and long time friend of Sammy Wanjiru, talking about his departed friend in the same Capital Sport article. Gatheru was with Wanjiru on the night he died.
****
#6 The New Jersey 3,200-Meter Champion Explaining Why He's Not Really The Champion
"Joe deserves to be called the winner of this race. He was going to win the other night. I would trade this win for where I would have finished on Thursday with a much faster time (under nine minutes). I was running the best race of my life when that race was stopped. I'd much rather have that performance than this one ... It felt like a dual meet. The other night was crazy here. This didn't feel like a big race at all ... Maybe they should put a star next to my name or something or list the 2,800 winner instead. The whole thing is just such a mess.''
- Morgan Pearson, "winner" of the 2011 New Jersey 3,200 Meet of Champions, talking to Jim Lambert after he won the state title after in a re-race after the original race was called off after seven laps due to lightning when Joe Rosa was 1 lap away from breaking the New Jersey state meet record. Joe and his twin brother, Jim, skipped the re-race to get ready for New Balance Nationals.
Joe Rosa himself handled the situation with total class, as he jokingly referred to himself as the 2800-meter state meet record holder as well and then heaped praise for Pearson by saying, "Anyone who watched that race on Thursday saw how tough Morgan was throughout the race. I really feel like I want to be champion, but there are few people more deserving to win a state title than Morgan is.''
More: Morgan Pearson Of Delbarton Wins Rerun Of Controversial Boys 3,200 Meters At NJSIAA Meet Of Champions *Track & Field Meet Of Champions: Rosa Twins And Elkaim Don't Rerun 3,200 *Joe Rosa Has Good Humor About Stoppage: "2800 meter state record holder." *Originial Race Stopped With One Lap Left
****
#7 Robby Andrews Talks About Competing Against Guys Who Are Way Bigger Than He Is
"It's definitely tough, psychologically. I'm like 5-9 maybe ... They're well over 6-feet and they just look like monsters. They look like football players ... I try not to think about (it). The cooler I stay, the better I compete."
- 2010 indoor and 2011 outdoor NCAA 800-meter champ Robby Andrews of Virginia talking to The Daily Press newspaper about the height discrepancy between himself (only 5'9") and some of his rivals like Charles Jock after taking home the outdoor title last week. Speaking of Jock, we highly recommend that you read the following fantastic pre-race profile of him: Charles Jock Overcomes Father's Death & Journey From Africa To 800m Stardom
More: U.Va.'s Robby Andrews relives NCAA 800-meter victory
****
Photo Of The Week - Think Steeple Form Is The Key To Running Fast? Think Again!
The woman on the right is Milcah Chemos Cheywa. All she did last weekend was win the adidas Grand Prix steeple in New York in 9:27.29.
*adidas GP Photo Gallery *Lukas Verzbicas Sub-4 Photo Gallery
****
10 Thoughts About The 2011 NCAA Meet And The 2011 adidas Grand Prix (5 About NCAAs/5 About adidas)
Note: we can't quickly recap two of the best meets held each year on US soil, so we try to give you a few thoughts about both meets. More adidas/NCAA coverage can be found here.
But before we get to our thoughts, we just hope everyone has watched the men's 800 at NCAAs. If you haven't, you must watch it now, as you probably won't see a better race than that. And we've got to give Larry Rawson some credit. We normally crucify his announcing, but except for butchering where Cory Primm was with 150 meters to go, his announcing on this race was spectacular, as was that of Ian Eagle.
5 Thoughts About NCAAs
1) In hindsight, it was a mistake to double Sacramento State senior Lea Wallace in the 800 and 1,500.
It's admirable that the senior wanted to put Sac State on the map, but Wallace clearly struggled in Des Moines, as she ended up 6th in the 800 and 9th in the 1,500. Yes, we know she twisted her ankle, but the decision to double her in the 800 and 1,500 wasn't a good one in hindsight. Yes, we know she was ranked #2 in both events heading into the NCAAs, but she had never been higher than 6th at NCAAs and was normally someone that went out in the rounds of NCAAs. Only total, total, total studs should ever try to double at that level. End of story.
2) Speaking of doubling, it certainly worked out great for Sheila Reid, who became the first woman to win NCAA 1,500 and 5,000 titles at the same meet.
Add that to her individual XC title (as well as team), plus the DMR title and it's been a near-perfect year for Reid. As for Jordan Hasay, we don't view her NCAA meet as a failure. She over-achieved indoors and maybe tried to bite off more than she could chew at the end of a long outdoor season.
3) It was great to see Sam Chelanga win the 5,000.
The collegiate record holder at 10,000 lost that race and was written off by basically everyone, including us, for the 5,000. Lucky for him the pace started fast and then it was all Chelanga and desire. 10,000-meter winner Leonard Korir probably should have won, but desire is a big part of running. Chelanga was super-motivated to go out on top (whereas Korir was probably a bit content after his 10,000 win) and his repeated surges were enough to give him the win.
4) We can't wait to see Matt Centrowitz mix it up with the big boys at USAs.
He looked fantastic in winning the 1,500 at NCAAs. His last 1,200 was 2:52. What will he do in front of the home fans in Eugene? Since he's out of cross-country eligibility, we think he'll be plenty motivated to make the World Championships team.
5) The 2011 meet was the perfect example of why track and field struggles for popularity. If the officials and/or the operators of this website don't know what the score is, then how in blue blazes is the casual fan supposed to follow it?
Both meets couldn't have been more exciting in terms of the team races. And while the stadium announcing was pretty darn good all weekend, they did a terrible job of explaining what needed to be done in the team race in the 4 x 400. For the women's race, how about saying something like, "The winner of A&M and Oregon - as long they are top four - will be the women's champion."
But it was way, way worse for the men's 4 x 400.
We watched the men's 4 x 400 ourselves in the stands and were sitting behind some random Iowa fans who had zero connection to the meet. They didn't really even seem to be big track fans - just sports fans who wanted to enjoy a beautiful Saturday and support the meet. They asked us what was going on in the team battle prior to the 4 x 400.
Since they'd announced recently that Texas A&M had 42 points, we told the somewhat elderly gentlemen that it was impossible for A&M to win and that it was down to Florida and Florida State, as Florida State already had 54 points. We told them, "If Florida, which has 50, gets fourth, they win and if they get 5th then Florida State and Florida tie."
Well, Texas A&M won the relay and Florida got 6th so we thought Florida State had won.
But a team in white which appeared to be the Texas A&M team was going crazy in the stands. We couldn't figure out why and thought it must have been because they won both relays and the women's team title. But the weird thing was that - unlike in the women's meet - no announcement was made.
The announcers and meet management must have been confused as well. (Although Wejo fortunately reports the score was perfectly conveyed to those watching on national tv on CBS)
For a good ten minutes - honestly, it might have been longer - nothing at all was said about the team score. Nothing. Not even a simple, "We are having trouble figuring out who won."
The Iowa crew we were sitting next to kept waiting as they wanted to hear something official. After about ten minutes, they simply gave up and left. Three people who had paid $30 each per seat and spent hours at the meet left thinking that Florida State had won the meet.
When the score was finally announced, we felt a little bad as we thought we'd messed up and really misled these guys who were trying to be track fans. At the same time, we did think to ourselves, "I swear they said that A&M had 42 points which means they couldn't have won as FSU had 54 going into the last event." Well, if you look at the results on flashresults.com, you will see something weird. The order of events was as follows:
But if you click on the men's 5,000, you'll see that they list that as the 19th of 21 events scored and list the 110 hurdles, which finished 20 minutes before the 5,000, as the 20th event. In the 110 hurdles, A&M did score 3 points, so that was the difference.
We have no idea if a computer messed up or if there was a protest about the hurdles (a few guys fell in that race and got up and finished) or if they simply forgot to add that event into the team score. Regardless, we do know one thing - the 4 x 400 shouldn't have been started until it was 100% clear to everyone in the stadium via an announcement what the deal was with the team score.
Imagine if you went to an NBA game and there was no scoreboard and after the game, they said to the fans, "Have a safe trip home. In ten minutes, we'll count up the baskets and tell you who won."
Truly ridiculous.
If someone knows what the hell was going on, please email us.
5 Thoughts About The Adidas Grand Prix
1. Think that wind doesn't effect performance? Look at the times at the sprint results at adidas.
This one is for all fans of the Boston Marathon who still are in denial that the wind aided the performances there this year.
The short sprints were run into big headwinds in New York and the finishing times certainly reflected that. Tyson Gay ran 10.26 in the men's 100. Allyson Felix won the 200 in 22.92. That time would have placed her 7th at the NCAA meet. The conditions were so bad in New York that four of the eight men's events had a winning mark that was better at NCAAs than in New York. For the women, five of the 12 events were better at NCAAs than in New York. But that was pretty much all due to the wind, as all of the events where the mark was better at NCAAs than New York were short sprints or jumps except for the men's 800 (which was exceptional at NCAAs) and women's pole vault (which only had four people in it in New York). Of course, we're not sure if the studs in New York would have beaten FSU's Ngonidzashe Makusha in the 100 or Christian Taylor in the triple jump, regardless of the wind. Speaking of Makusha, we heard there were 6 agents trying to get their hands on him at the meet. We certainly don't expect for him to be back for his 5th year next year at FSU.
2. It was great to see David Torrence win the 1,500.
The 1,500 wasn't a Diamond League event in New York, but the field was pretty good and the often overlooked Torrence got the biggest win of his career as he took down Olympic silver medallist Nick Willis as well as last year's world junior champ Caleb Ndiku. It was great to see Torrence win and he might very well make the World Championships team, which would be an incredible accomplishment considering he was never higher than 10th at NCAAs in college, but we must admit we are pretty stunned Ndiku was only third, as he'd run 3:49 for the mile the week before at the Pre Classic.
3. Have the wheels fallen off Bobby Curtis?
After his fantastic 27:24 performance at Stanford, he ran a sub-par 29:09 road 10k in Central Park, which could be excused as it was only a week later. But in New York, he only ran 3:55 for 1,500. Fool me once, shame on you; fool me twice, shame on me. People may think we are overreacting here, but runners don't normally bomb two races in a row.
4. Can someone please explain to us why Dwain Chambers is treated like a pariah but other people coming back from drug bans, like Steve Mullings, are welcomed with open arms?
We say that not because we want Mullings to be blackballed. Even though we had a role in Steve Mullings having to sit out of the NCAA once he was banned by the IAAF, we're actually glad to see he's back, as we remember telling his coaches at the time something to the effect of, "Okay, if he's truly innocent, he'll be able to bounce back from this and get back to the elite level no problem and he'll have learned a valuable lesson." All we want is consistency.
To us, serious drug offenders (like people who do stuff like EPO, where there is no other possible explanation for it other than cheating) should be banned for life. But if you are going to let some people come back, you can't let some back but not others.
Free Dwain!!!
5. We hate to admit it, but it's time to stick a fork in Shannon Rowbury for Worlds this year (and it's almost time for Leo and Lopez).
Rowbury was just 12th in the 1,500 in 4:13.11. This comes after she ran 4:11 at the end of May. It's hard to see her making the US team. Olympians Lopez Lomong and Leo Manzano weren't a whole lot better on the men's side, as they were 6th and 7th respectively. We definitely think one of Lomong or Manzano won't make Worlds and maybe both won't. Hard to believe.
Now we had those thoughts without really looking at the stats. Once we got that thought in our heads, we spent a ton of time giving you all of the mid-d and distance "A" qualifiers for the 2011 World Championships, as well as who we actually think will make it next weekend in Eugene.
It's hard to know exactly who will do what events and we may have made a mistake or two, but we think one of the best things about track is the anticipation of the events.
****
LetsRun.com's Early Picks For Team USA 2011
Below we list everyone with who has run under the IAAF "A" qualifying time for the 2011 World Championships in the last 2 years, as well as a few people who might be capable of running under the standard. (Note: Not everyone below is qualified for the Worlds. The qualifying window started 10/1/2010 for all events except the 10k, where it started 1/1/2011. The people with an actual valid Worlds qualifier are in red). In bold, we give you the three people we actually think will make the team. US athletes have until August 8th to get the standards. This year is also more confusing, as of the three athletes allowed to compete at Worlds, 1 can have the "B" qualifier if the other 2 have the "A" qualifier.
2011 US World Championships Team Predictions

800 Qualifiers (Standard 1:45.40)
1:43.76 Nick Symmonds (OTC) Rieti IWC 08/29/10 (1:45.09 in 2011)
1:44.56 Leonel Manzano (Nike) Berlin IWC 08/22/10
1:44.56 Andrew Wheating (Or) London DL 08/13/10
1:44.71 Robby Andrews (UVA) NCAA 2011
1:44.71 Cory Primm (UCLA) Eagle Rock 05/21/11
1:44.75 Charles Jock (UCI) NCAA 2011
1:44.83 Tyler Mulder (OTC) Eagle Rock 05/21/11
1:45.06 Elijah Greer (Oregon) NCAA 2011
1:45.09 Khadevis Robinson (Nik) Rome DL 05/26/11
1:45.14 David Torrence (Nike) Monaco DL 07/22/10
1:45.23 Duane Solomon (Saucony) USATF 06/25/10
1:45.31 Casimir Loxsom (Penn State) NCAA 2011
1:45.34 Ryan Martin (UCSB) Big West 05/14/11

Comments: For years, people said with all the fast 400 runners, why isn't the US rocking the 800? Well, we finally are with 13 A qualifiers. This is going to be special. We see it as a 5-man race between Symmonds, Wheating, Andrews, Jock, and Robinson. Symmonds looked awful at Pre but it's hard to count him out, but we sort of think Wheating will go 1,500 and that will leave a spot for Symmonds. Crazy to think Symmonds might only barely get in or be left off. If Jock and KD get it going up front, it might leave a kicker too far back. It wouldn't stun us if Greer somehow did it. KD - a Golden League winner - might be left out as well, as Jock looked great at NCAAs.

800 Qualifiers(Standard 1:59.80)
1:57.34 Alysia Johnson (Nike) Monaco DL07/22/10 (1:59.40 in 2011)
1:58.22 Phoebe Wright (Tn) Eugene DL07/03/10 (1:59.98 2011)
1:59.48 Alice Schmidt (unat) Eagle Rock 05/21/11
1:58.67 Morgan Uceny (Reebok) Lucerne 08/08/10
1:58.89 Anna Pierce (Nike) Monaco DL 07/22/10
1:59.00 Maggie Vessey (New Balance) Lignano 07/18/10
1:59.76 Geena Gall (OTC) Eugene DL 06/04

Others with a chance: Molly Beckwith - 1:59.84 in 2010.

Comments: Johnson and Wright are the class of the field.

1,500 Qualifiers (Standard 3:35.00)
No Men Have Run Under The 3:35.00 Standard This Year!
3:30.90 Andrew Wheating (Or) Monaco DL 07/22/10
3:32.20 Lopez Lomong (Nike) Monaco DL 07/22/10
3:32.37 Leonel Manzano (Nike) Brussels DL 08/27/10
3:32.51 Bernard Lagat (Nike) Monaco DL 07/22/10
3:34.25 David Torrence (Nike) Rieti IWC 08/29

Others with a chance: Russell Brown (3:51 mile), Dorian Ulrey, Matt Centrowitz, Jager? (we doubt it), Leer? (we doubt it).

Comments: Like the 800, this is going to be a treat to watch. Might Wheating do this event instead of the 800, as it's easier to make with Lomong and Manzano struggling? But this really isn't an easy event, as we see it as a 7-person battle for three spots with Brown and Ulrey and Manzano and Lomong in the mix. After their struggles at adidas, we are about to put a fork in Manzano and Lomong but aren't quite willing to do that based on their past history.

People need to realize Leo Manzano was one of the top 1,500m runners in the WORLD last year and nearly beat Asbel Kiprop a couple of times. Now he may not be top 3 in the US.

1,500 Qualifiers (Standard 4:05.90)
3:59.59 Christin Wurth-Thomas (Nike) Paris DL 07/16/10 (4:03.72 in 2011)
Note: Of the non-qualifiers below, Uceny's 4:06.32 is the closest to qualifying this year
4:01.30 Shannon Rowbury (Nike) Paris DL 07/16/10
4:02.40 Morgan Uceny (Reebok) Lausanne DL 07/08/10 (has a qualifier from indoors in 2011)
4:03.49 Erin Donohue (Nike) Rieti 08/29/10
4:03.63 Jenny Simpson (New Balance) New York DL 06/12/10
4:04.52 Anna Pierce (Nike) Stockholm DL 08/06/10

Others with a chance:
4:07.44 Katie Follett (Brk) Eagle Rock 05/21/11
4:07.57 Treniere Clement Moser (Nik) Eugene DL 06/04/11

Comments: If Simpson runs steeple, we'll go with Pierce.

Steeplechase Qualifiers (Standard 8:23.10)
8:13.29 Dan Huling (Reebok) Lausanne DL 07/08 /10
8:22.88 Ben Bruce (OTC) Gateshead DL 07/10/10
8:22.44 Billy Nelson (unat) Cardinal Inv 05/01/11
8:23.27 Kyle Alcorn (Nik) Cardinal Inv 05/01/11

Others with a chance: Steve Slattery - 8:25.

Steeplechase Qualifiers (Standard 9:43.00)
9:24.84 Lisa Aguilera (Nike) Brussels DL 08/27/10
9:32.35 Bridget Franek (Penn St) Eugene DL 07/03/10
9:39.48 Sara Hall (Asics) Rome DL 05/26/11
9:40.49 Nicole Bush (New Balance) N-Xhovémont 07/13/10
9:40.51 Emma Coburn (Co) Cardinal Inv 05/01/11

Others with a chance?: 9:47 Stephanie Garcia, 9:50 Delilah Dicrescenzo.

Comments: Not sure if Coburn will run it.

5,000 Qualifiers (Standard 13:20)
12:54.12 Bernard Lagat (Nike) Oslo DL 06/04/10
12:55.53 Chris Solinsky (Nike) Stockholm DL 08/06/10
13:07.35 Galen Rupp (Nike) Zürich DL 08/19/10 1
13:18.97 Bobby Curtis (Reebok) Montreuil 06/08/10
13:16.27 Matt Tegenkamp (OTC) Melbourne IWC 03/03
13:16.77 Andrew Bumbalough (Nik) Melbourne IWC 03/03

Others with a chance: Ed Moran and Tim Nelson (13:20-point last year), Brandon Bethke, Elliott Heath, Ben True.

5,000 Qualifiers (Standard 15:14.00)
14:44.76 Molly Huddle (Saucony) Brussels DL 08/27/10
14:49.08 Shalane Flanagan (Nike) Eugene DL 07/03/10
14:55.74 Lisa Koll (IaSt) Paris DL 07/16/10
14:56.72 Amy Begley (Nike) Eugene DL 07/03/10
15:00.51 Shannon Rowbury (Nike) Jordan 05/01/10
15:11.47 Kara Goucher (OTC) Eugene DL 06/03/11
15:11.49 Jenny Simpson (NBal) Mt. SAC 04/15/11
15:13.08 Lauren Fleshman (OTC) London DL 08/13/10

Others with a chance: Amy Hastings 15:19.
Flanagan and Goucher likely will run the 10k so the 3rd spot is wide open.

Comments: Basically, anyone with the A who is healthy, in decent form, and running this event will probably make it.

10,000 Qualifiers (Standard 27:40)
26:59.60 Chris Solinsky (Nike) Jordan 05/01/10
27:10.74 Galen Rupp (Nike) Jordan 05/01/10
27:24.67 Bobby Curtis (Reeb) Cardinal Inv 05/01/11
27:28.19 Tim Nelson (Nike) Cardinal Inv 05/01/11
27:28.22 Matt Tegenkamp (Nike) Cardinal Inv 05/01/11

Others with a chance?: 27:51.78 Scott Bauhs, Jorge Torres?

Comments: Another case of how the standards make the race anti-climatic. Everyone in the race who has the A this year will go, which is a good thing for Curtis, who has been struggling of late.

10,000 Qualifiers (Standard 31:45)
31:18.07 Lisa Koll (IaSt) Stan Inv 03/26
30:39.57 Shalane Flanagan (Nike) Cardinal Inv 05/01
31:28.66 Molly Huddle (Nike) Cardinal Inv 05/01

Others with a chance: Amy Begley, Kara Goucher.

Comments: If you've got the A and are in this event, you are pretty much a lock, as Begley doesn't seem capable of getting the time this year and Huddle should be in the 5k most likely.
****
Other News Of Note From The Last Two Weeks
NBC Outbids ESPN For 2014-2020 Olympics And Will Show Events Live NBC bid $600 million more than ESPN for 2014 and 2016 and $1 billion more for all 4 Olympics than Fox. More money and live events is a good combination.
Meb Dominates Half, Deba Blazes 2:23:31 At Rock 'N' Roll San Diego Meb Keflezighi won in 62:40 by a huge margin over Hanson's Drew Polley (65:38). Meb took it out from the start and dropped Kenya's Martin Lel (2nd at London 7 weeks ago) with a 4:24 4th mile. Lel ended up dropping out at 10k. Bizunesh Deba set an event record and the fastest time ever run by a woman in California (beating Joan Benoit's 2:24:52). Terfa Negari won the men's marathon in 2:11:18 and Gina Slaby won the women's half in 1:16:33.
Tyson Gay's 9.79 WL Came In The Prelims Of A Low Key Event In Florida
Six National HS Records Fall Gunnar Nixon's 8,035 points in the decathlon, Verzbicas' 8:29.46 (and 3,000?), Amy Weissenbach 2:02.04 in the 800, Mary Kate Anselmini's 6:33.01 2k steeple, and Andrew Irwin's 17-7 indoor pole vault (outdoor record is 18-3 and we have no idea why the meet was indoors in June).
Pre Classic: LRC Prefontaine Saturday Distance Scoop: Lagat, Kaki, and Sinclair and Impress, Lukas Verzbicas Gets High School Record
LRC Moses Mosop Smashes 30k World Record And He And Renato Canova Say He Can Run 2:02 For The Marathon
LRC Pre 5,000m And 10,000m: Rupp Doesn't Start, Solinsky Stops, Mo Farah Shocks, Vivian Cheruiyot Wins Again
****
Looking Ahead (Time To Start Getting Excited For ...)
USAs, USAs, USAs. The US champs take place in Eugene next weekend.
****
Recommended Reads
*A Must Read: Charles Jock Overcomes Father's Death & Journey From Africa To 800m Stardom
*Wisco 10k Stud Wants Out of His Comfort Zone & Will Race 5k Not 10k at NCAAs
*Defending Steeple Champ Matt Hughes Says "Bring It On," As The Former Hockey Player Loves To Compete
*LRC 34-Year-Old "Regular Guy," Working Dad Khadevis Robinson Talks To LetsRun.com About Beating The World's Best In Rome
*Molly Huddle And Kim Smith To Both Race In New York The Weekend Of 2011 ING New York City Marathon
*As AJ Acosta's College Career Comes To An End; He And The AJ Nation Will Be Leaving Behind A Huge Legacy At Oregon
*AP: Wallace Spearmon Wants In On Tyson Gay/Usain Bolt Rivalry At 200m
****
Quotes Of The Day From Last Week
Monday: "I'd like most of my nation to consist of girls ... really hot girls"
and
"My dad made the Olympics as a sophomore in college and he was on an NCAA championship cross country team. But he never won an individual title. He's here, so it's going to be awesome tonight."
- Matt Centrowitz Jr. on winning the NCAA 1,500m title in style (more here).
---
Sunday: "You know, I did everything I could. I ran in perfect position the whole time, didn't get myself boxed in, didn't get tripped up, and put myself in a great position to win. The finish line was straight ahead and I couldn't close ou ... I thought I had him with 100 meters to go. I came up on Centro, but he's just a beast. He's so smooth. He makes it hard to beat him."
- Dorian Ulrey, after coming up short in a battle with Matt Centrowitz in the men's 1,500 final, which was one of many great events held on a sensational final day at the NCAA championships.
---
Saturday: "With an unrelenting Johnny Gray-like frontrunner (Charles Jock), an already legendary Dave Wottle-esque kicker (Robby Andrews), and an entire field of stars with PRs at 1:46.06 or faster - any of whom could win it all - this race was on paper a fan's dream, and in every respect, it lived up to its billing. Pardon the hyperbole, but this final was truly awesome - easily one of the most thrilling middle-distance races in NCAA history."
- LRC Recap of the truly legendary men's 800m final Friday night at the NCAA meet, which we let you watch without knowing the results. If you know the results, we've got our recap.
---
Friday: "It's a terrible feeling. I've got the rest of my life to think of what could've been ... you take a fall like that with 350 go - there's no coming back probably the worst day of my life ... see you, NCAA."
- Penn State senior Ryan Foster, who finished third indoors in the mile and ran 1:46.78 last year for 800, after falling and being eliminated in the semis of the men's 1,500 at NCAAs on Thursday. Friday might end up being one of the greatest mid-d or distance days in NCAA history as two truly fantastic finals take place in the men's 800 and men's 10,000.
---
Thursday: "I love the heat! I'm from Delaware, so it doesn't really match up, but I really like the heat!"
- Duke sophomore Juliet Bottorff after winning her first NCAA title in hot and humid conditions in Des Moines, Iowa as the greatest amateur track meet in the world got started in fine fashion. The 5th-seeded Bottorff crushed a slew of contenders over the final 400 with a last lap that was a thing of beauty - just as we predicted she might do,
---
Wednesday: "I believe when you're hungry, you don't crack a smile. I'm still trying to eat; I'm still trying to work hard. You'll see the biggest smile ever when I know I've reached my full potential."
- Tyson Gay in a USA Today profile on why he doesn't smile and his desire to catch Usain Bolt. First up for Tyson is Saturday's adidas Grand Prix showdown with training partner and world 2011 #2 Steve Mullings (Mullings is the guy LetsRun.com got to withrdaw from the 2005 NCAA meet due to his drug suspension).
---
Tuesday: "Everything seemed pretty much normal in Eugene, which bills itself as Track Town USA.
It's a lovely thought, Eugene as Track Town USA, except - really - it's not. There's no place that's Track Town USA. It's a big problem. After this weekend's Prefontaine Classic, before the meet this weekend in New York, before the nationals back in Eugene later this month - it's time for everyone connected to the sport to recognize that it's time for a thorough re-think. Track and field is going nowhere fast in the United States ...
Galen Rupp, the American distance standout, didn't run in the 10k Friday night. He and his coach, Alberto Salazar, cited concerns about allergies - along with the worry, further spelled out on the USATF Facebook page, that if Rupp ran and had an allergy fit he wouldn't be ready for the nationals. That decision underscores a major part of the problem.
There are really only two meets this year that matter - the nationals, June 23-26, and the worlds, Aug. 27-Sept. 4.
The rest has devolved, regrettably, to varying degrees of noise, and everyone knows it. Why should fans care if the athletes, coaches, shoe companies and other sponsors - everyone else who has a meaningful stake in the game - make it plain that an event such as the Pre, allegedly one of the nation's top meets, is something you can skip without any real consequence because you're way more worried about the nationals?"
- Olympic writer Alan Abrahamson, writing a column entitled, "Track and field - going nowhere fast in the United States," where he argues track and field should consider radical changes if it is going to flourish. We 100% agree and think sooner rather that later, everyone (athletes, agents, promoters, bureaucrats, etc.) needs to start thinking every now and then about what's in the sport's best interest, not just their own. For example, having NCAAs and adidas GP the same weekend - does that make any sense?
****
Quotes Of The Day From Two Weeks Ago
Monday: "I think I honestly would feel more proud to put on a USA singlet - even if I never have the opportunity to make the Olympic team - I think I would feel more proud about my accomplishment than just to be handed any singlet to do it. At the same time, there's just something's telling me deep inside keeps leaning toward my citizenship and running for this country."
"I don't want to shy away from the competition; I want to be surrounded by elite-level athletes that are contending for medals, and I want to put myself in the situation where, if I want to have the opportunity to be at a world championship, I have to beat sub-13 guys and deal with this process. Because - no disrespect - the way I see it, if I can't beat the American runners, I can't beat the Africans. I think the level in this country is the right atmosphere for any distance runner to succeed."
- Northern Arizona's Diego Estrada, who will pass up a trip to race for Mexico at World Champs in the 5k and seek his US citizenship instead. In a time when many elite athletes are taking advantage of dual citizenship or changing citizenship to shy away from harder competition, this "never take the easy way" attitude is very impressive.
---
Sunday: "I didn't expect to feel so unexcited by a super-huge PR like that. It was a good time, but as anyone who saw the race knows I wasn't in the race... My next race like this I know I'm going to do something big"
- Russell Brown, talking about his performance in the Bowerman Mile at the Pre Classic Saturday where he finished 9th in 3:51.45 pr. It was a three second PR. His quote shows the new attitude of American distance runners.
---
Saturday: "What I run (today), he (Galen Rupp) would have run."
- Mo Farah, shocking winner of the Prefontaine 10,000m in a European record 26:46.57, on his training partner Galen Rupp, who did not start the race because of allergies. A frustrated Chris Solinsky dropped out and we've got it all covered at the link above.
---
Friday: "It's kind of a promoter's dream come true. To have not only the world's greatest distance runners here in Eugene, but to have Americans who can actually compete with them decide to jump in the race at the last moment, it's sort of a made-for-TV-movie drama.
I love it ... I think (Rupp) is going for the American record, and Solinsky wants to protect it."
- Prefontaine Meet Director Tom Jordan on the stellar men's 10,000m Friday night (start list here with PRs), which is part of the "Distance Night in Eugene" in advance of Saturday's Pre Classic. You can watch the Distance Night in Eugene live here.
---
Thursday: "My situation is a bit different - I'm married and I have 2 kids. I'm not at a place where I can just go to Europe and hang out ... I have to think really strongly when I'm going to compete and where I'm running because I have to work (a real job). I've always worked. My whole career I've only had two years in there where I didn't work, really one year where I tried just running. I've always had to work to pay bills. I'm like every other regular guy out there. If I'm over there (in Europe) and I'm not running well and not making any money, I'm going to have some issues because I have a family to provide for ...

At the end of the day we're human, you get to a point where I wish I had a situation in which I could go to a training camp for a month somewhere, and do altitude training, or have my coach, a physio, a chiropractor or masseuse travel with me, but you know what? That's the wrong way to look at it and I learned that ... (I thought) If I could go train here and have an altitude tent and an Alter G machine, maybe I'd be able to ... (run faster), but I don't have those things. The reality is that's not where I'm at. Why use energy on it?"
- Khadevis Robinson talking to LetsRun.com about why he went to Europe to last year to rabbit. Robinson, who is the ultimate embodiment of the Blue Collar Runner in the Yuppie Vs. Blue Collar Runner debate, pulled a shock win in Rome last week and as a result will be at the Pre Classic this week.
---
Wednesday: "Last year I really didn't have a complete season, so I wasn't sure if I could get into Prefontaine or the New York (adidas Grand Prix) meet. So I needed a race. My agent and my coach convinced me to go."
- Khadevis Robinson talking to Runnersworld.com about his shock win in Rome last week. Thankfully, KD is now on the Pre Classic start list. We talk a lot about KD in our weekly recap. Read his entire "Brief Chat" here.
Rupp Mania Takes Over!!!
"To my way of thinking, the fact that Alberto and Galen want him in the 10,000 indicates he's in great shape and wants to mix it up with the big boys. He's a big boy himself. ... The idea of him being plugged in there, it will be kind of like the Olympic final all over again."
- Prefontaine Classic Tom Jordan speaking in an article where it was announced that Galen Rupp is going to step it up and race in the greatest 10,000 ever run on US soil, whereas up until Tuesday, no other US stud in his prime was even going to attempt it. MB: Rupp in Pre 10,000!
---
Tuesday: "He asked me flat out if I had forgotten how to run."
- Usain Bolt, talking about what his coach Glen Mills said to him after his sub-par season opener. Bolt will try to right things on Tuesday in Ostrava.
and
"For me, it was a bit of a disaster ... I stopped and looked at the clock and knew I should be running a marathon quicker than that. It was not good at all."
- Paula Radcliffe, talking on Monday after her first race in 18 months went horribly wrong. Struggling with a back problem, she generated no power and only ran 33:17 - that's 2:20:26 marathon pace. Radcliffe's marathon world record is 2:15:25.
****
Last Two Week's Homepages
*Mon (June 13) *Sun (June 12) *Sat (June 11) *Fri (June 10) *Thu (June 9) *Wed (June 8) *Tue (June 7) *Mon (June 6) *Sun (June 5) *Sat (June 4) *Fri (June 3) *Thu (June 2) *Wed (June 1) *Tue (May 31)
****
Disclosure: The adidas Grand Prix Classic and the Nike Prefontaine Classic (or entities associated with them) both advertised on LetsRun.com this month.
---
Runner's World &
Running Times



Combined Only $22
a Year
Save $87

---

Running & Track and Field Posters
---

Offers of interest: Nike Lunar Glide Discount Discounting on this shoe not allowed until recently.
---