Doug Logan's Job In Jeopardy At USATF!? Someone clearly has it out for Logan. They leaked it to the press that reportedly he has one month to improve or be fired. The article does not say what he is doing wrong or what he needs to do to improve, just that some are unhappy. Very, very strange, but Logan is damaged no matter the outcome. Welcome to the dysfunctional world of USATF politics.
Monaco Diamond League Thursday
Starts Lists For Monaco Diamond League Thursday The meet headliner is a 200m matchup between Walter Dix and Tyson Gay. LetsRun.com distance fans will be salivating at the men's 1,500m and women's 800m. The men's 1,500 has all 3 American Worlds finalists from last year - Lagat, Lomong and Manzano, plus 2010 NCAA star Andrew Wheating, Australia's German Fernandez (Ryan Gregson), and up-front Kenyan stars Augustin Choge and the world's best miler Asbel Kiprop. The women's 800m has the 3 top Americans in 2010 - Alysia Johnson, Phoebe Wright and Maggie Vessey (and US #1 in 2009 Anna Pierce) all racing in the same race overseas that means something. They'll take on Paris winner Halima Hachlif.
*Preview Of Monaco From Athletics Weekly
Drug News/ European News/ Today's Sign Of The Apocalypse:
Nation's Best Will Celebrate LRC Founders Day (July 24th) By Clashing At Bix 7-Miler *Full Elite Fields
Next Month On The Roads:
Star-Studded Field Lining Up For 38th CIGNA Falmouth Road Race Martin Lel will be gracing the streets of America.
Fantastic News IOC Has New Rule Where People Who Serve Drug Ban Of 6 Months or More Are Ineligible For Next Olympics
Recommended Read Rinse Your Mouth With Carbohydrates Before Running And You Will Run Faster This study is pretty fascinating.
Semenya Wins Convincingly In 2:02.42 2 for 2 for Semenya in 2010.
Tangier, Morocco Meet *Results
Lagat Wins 1,500 In 3:36.89, Acosta Runs 3:38, Wheating Skips Meet To Run Monaco On Tuesday Plus, the good Leo Manzano showed up with a 1:45.18 PR, Christian Cantwell won the shot in 21.43, Carmelita Jeter won the 100m in 11.04. On the negative side of things, Xavier Carter ran over 21 seconds in the 200. It's been a horrible year for Xavier (although he did run 20.15 last week) on and off the track. Carter ran 19.63 4 years ago and won the NCAA 100 and 400.
*IAAF Recap
Sanya Richards' 2010 Season Over
Nearing 50th BDay, Steve Cram Takes A Walk Down Memory Lane And Remembers The Glorious Summer Of 1985 25 years ago, he set world records at 1,500, one mile and 2k all in the span of 19 days.
Janeth Jepkosgei Says Despite Semenya's Absence, African Championships Won't Be A Cakewalk
Caster Semenya Returns Victoriously *Race Video
Caster Semenya Returns To Action And Is Pleased To Win Comfortably In 2:04.22 In Race She Calls "New Beginning"
IAAF Recap Of Semenya's Win/Lappeenranta Meet In other action, Finland's Tommi Evilä jumped 8.19 in the LJ as Steve Mullings ran 10.02.
AFP Recap: Semenya: "I'm very happy."
Reuters Recap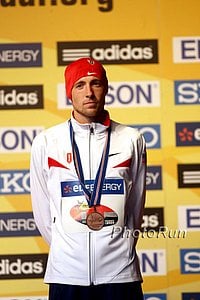 LRC Ritzenhein To Make Marathon "Re-Debut" At 2010 ING New York City Marathon After his breakthroughs of last summer, Ritz is excited to tackle the 26.2 mile distance in New York once again, while NYRR head Mary Wittenberg thinks he definitely can win it. Meanwhile, coach Alberto Salazar finally thinks to a bio-mechanical analysis done by Nike, Ritz's injury things are a thing of the past. We cover all of that and more, including Ritz's current fitness and mileage level, talk of Alan Webb and Galen Rupp working out together and learn why Ritz didn't watch his AR fall in the 5k.
Day 2: PM: Results Here


PM: Texas's (& Oregon Signee) Parker Stinson's Has Record Run In Men's 10k His 29:32 produced the best finish by a US junior as he was 6th. HE also moves up to #6 on the US jr list. That's the good news. The bad news is that Linet Masai's little brother won the event in a staggering 27:53. *MBoard Talk About Stinson
AM: USATF Day 2 World Juniors Morning Recap: Laura Roesler And Ajee Wilson Advance In 800, Recap Of Men's 1,500m, Women's Steeple And More
*IAAF Recap Of Tuesday Morning Session At World Juniors: 100m Qualifying The article complains about the heat in Canada. The high in New Brunswick was 77 Tuesday. That is not hot.

Day 1: Mercy Cherono Defends Crown In Women's 3k The world junior XC champ had to put up a very strong performance, as the top 4 all broke 9:00. Jordan Hasay was 9th in a PR of 9:15. On The Boards: Hasay - 9:15.78 - Lifetime Best
*USATF: Hasay, Sisson run lifetime bests on opening night of IAAF World Junior Championships Hasay actually ran a 9:12 indoors, but that doesn't count according to the IAAF as it was on an oversized track.
Video Of Hasay's Race

Recommend: Asbury Park Press Profiles America's Top Jr 800 Runners
*After 2:00 Relay Split, 16-Year-Old Ajee WIlson Is Ready To Take On World's Best
*Robby Andrews Is Ready To Enter World Jrs As #1 Seed *Message Board Thread About Andrews/Wilson

Recommended Read/Unreal Stat: 146 And 0. British Junior Sprinter Jodie Williams Is Undefeated For Life She's going to have her hands full in the 100m, where she is seeded 2nd at 11.24.

*Defending 100m Champ Dexter Lee Eyes Junior Jamaican Record Of 10.11
*After Finishing 4th At Senior World Champs, Jehue Gordon Is Ready For World Juniors
*IAAF Preview Of World Jrs
*Hasay Ready To Take On World Fresno Bee
Year 2 Of The American Mid-D Woman *Full Results
Alysia Johnson Runs 1:57.85 As 4 Americans Go Sub-2 Maggie Vessey was 2nd in 1:59.00, Morgan Uceny went sub-2 for the 1st time in 1:59.24, and Molly Beckworth did as well in 1:59.83. Surprisingly, the US top 800 meter runner for 2009, Anna Pierce, was only 5th in the race and thus the 5th American. That makes 7 American women sub-2 in 2010 (we might have had 6 in one race, but Erin Donohue gets snubbed by everyone and was in heat 2, which she won). Oscar Pistorius (the amputee runner) ran 46.03 in the 400 and David Torrence and Jacob Hernandez were in the men's 800.

On The Boards: Alysia Johnson 1:57.85! What a year for her, she keeps on rolling... Got to love this quote: "Why did the US travel all the way to Morocco to rerun the USTAF 800m in two sections?" The meet was in Italy, not Morocco.
*Women's 800 Race Video
LRC Paris Recap: Bolt Over Powell, David Oliver's AR, Christin Wurth-Thomas "Wins" 1,500m, Huddle And Koll Join Sub-15 Club, Andrew Wheating Beats Nick Symmonds And Allyson Felix And Jeremy Wariner Keep Winning A great meet is in the books from Paris. It was not easy, but Usain Bolt beat Asafa Powell in the marquee matchup. David Oliver's sick 2010 continued with his third-straight sub-13 clocking and the AR. Christin Wurth-Thomas earned a ton of respect with a gutty sub-four clocking in the 1500, Olympic champ Brimin Kipruto nearly broke 8:00 in the steeple for the first time. Young American distance fans have smiles on their faces as Andrew Wheating beat Nick Symmonds and went sub-1:45 for the first time and Lisa Koll and Molly Huddle went sub-15:00. Huddle only has the names Kastor and Flanagan ahead of her on the US 5k list (Regina isn't a name as far as we are concerned).
Video Of Bolt's Race
Alminova On Her 3:57: "This is just the beginning." She only slept 3 or 4 hours before Paris and expects her form to improve as she's coming off a stint at altitude.
Guardian: Bolt Recovers From "Awful" Start To Power Past Powell
IAAF Recap: Bolt Handles Powell As Oliver Threatens WR
AP: Slow Start Can't Stop Bolt
Post-Race Interviews: *Bolt *Wheating *Kaki *David Oliver

Paris On The Boards: Christin Wurth Thomas wins in Paris!
More: After Paris Victory, Bolt Wants To Head To Gym To Work On Core Strength
*Molly Huddle Runs 14:51 - where the hell did that come from?
*Huddle 14:51, Koll 14:55
*Andrew Wheating 1.44.62!!!!
*Wheating Beats Symmonds
Week In Review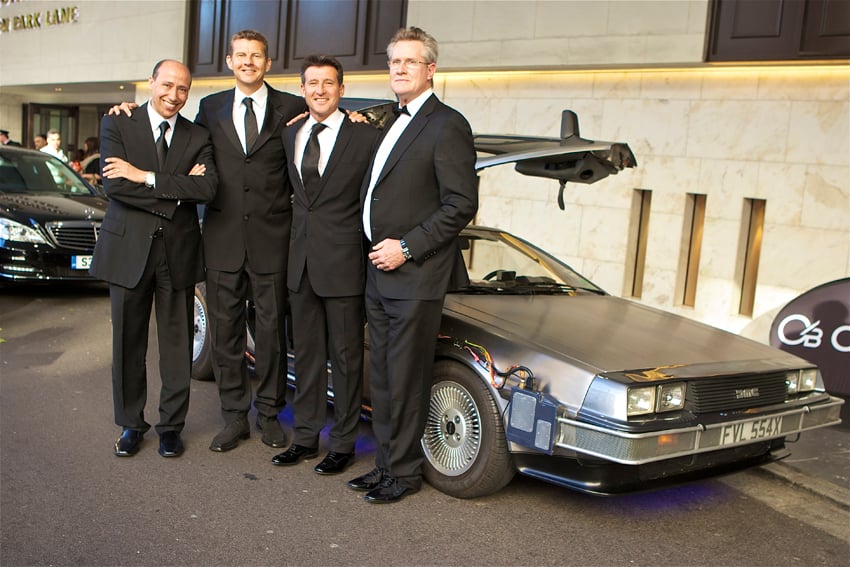 LRC The Week That Was We start things off by reliving Steve Cram's magical summer of 1985 when he went a perfect 7-for-7 and set seven personal bests, including three world records. Then we relish the sub-15:00 clockings of Lisa Koll and Molly Huddle and try to figure out which great run impressed us the most. We relive the 2010 Kenyan champs and tell you about the 9 men who broke the world record in 10k at altitude to little fanfare and wonder if Chris Solinsky would have even finished in the top 10 at the Kenyan champs. Along the way, we tell you to remember the name Silas Kiplagat, as he may be a future star. Plus, we talk about how it was great week for US 800-meter runners and Christin Wurth-Thomas but a bad one for Lopez Lomong and Anna Pierce. All of that plus the Usain Bolt party continues.
Bolt Wins In Paris (Race Video And Post Race Interview Where He Hams It Up With Colin Jackson)
David Oliver On His American Record
David Rudisha 1:41.51!!
More Great Deals