Monaco Diamond League Thursday *Results Last Diamond League Meet For 2 Weeks *Live Thread *Recap *Photos
LRC: Andrew Wheating Runs 3:30.90 To Become 2nd-Fastest American Born Athlete In History The men's 1,500 in Monaco was absolutely spectacular, as Silas Kiplagat announced himself as the newest mid-d star in the world by running the fastest time in four years (3:29.23) to get the win, as Wheating ran an 3:30.90 and Ryan Gregson smashed the 19-year-old Australian national record.


LR Monaco Meet Recap: Alysia Johnson Destroys Field In World-Leading 800m, Silas Kiplagat Is Born, Shannon Rowbury Gets An American Record Of Sorts And Of Course Wheating's 3:30.90! Ryan Gregson has moved way ahead of German Fernandez in their battle, as he ran 3:31.06. American collegians never run that fast just by the nature of the system (Wheating is a perfect example of that). Jermaine Gonzales got the Jamaican record and a world leader in the 400. All in all, there were 7 world-leading marks (3 in the distances: m1,500, w800, w3,000).

More: IAAF Recap: Young Stars In 1,500m Is Lead To Story
*AP Recap
NY Times Writes Sympathetic Piece On Justin Gatlin The former WR holder is facing hurdles in getting invited to major meets as his drug ban ends. All we can say is he's lucky to not have been banned for life. *Shocking Tidbit From Article: Nike Never Cancelled Gatlin's Contract
Meb Pulls Out Of Bix 7-Miler With Knee Injury Meb is still going to Iowa to be part of the festivities and says he's only a few weeks away from racing. In his absence, he picks Hall to win. *MBoard Talk Of Meb Here *USATF Release On Bix Here
*Great Idea: Local "Jackpot Winner" Will Start 2.4 Miles Ahead Of Elites And Try To Win $3,300
We Agree Phil Hersh: Hurdles Great Allen Johnson: Gone, Too Often Forgotten
Doug Logan's Job In Jeopardy At USATF!? Someone clearly has it in for Logan. They leaked it to the press that reportedly he has one month to improve or be fired. The article does not say what he is doing wrong or what he needs to do to improve, just that some are unhappy. Very, very strange, but Logan is damaged no matter the outcome. Welcome to the dysfunctional world of USATF politics.
Drug News / European News / Today's Sign Of The Apocalypse:
Nation's Best Will Celebrate LRC Founders Day (July 24th) By Clashing At Bix 7-Miler *Full Elite Fields
Next Month On The Roads:
Star-Studded Field Lining Up For 38th CIGNA Falmouth Road Race Martin Lel will be gracing the streets of America.
Fantastic News IOC Has New Rule Where People Who Serve Drug Ban Of 6 Months Or More Are Ineligible For Next Olympics
Recommended Read Rinse Your Mouth With Carbohydrates Before Running And You Will Run Faster This study is pretty fascinating.
Semenya Wins Convincingly In 2:02.42 2 for 2 for Semenya in 2010.
Tangier, Morocco Meet *Results
Lagat Wins 1,500 In 3:36.89, Acosta Runs 3:38, Wheating Skips Meet To Run Monaco On Thursday Plus, the good Leo Manzano showed up with a 1:45.18 PR, Christian Cantwell won the shot in 21.43, Carmelita Jeter won the 100m in 11.04. On the negative side of things, Xavier Carter ran over 21 seconds in the 200. It's been a horrible year for Xavier (although he did run 20.15 last week) on and off the track. Carter ran 19.63 4 years ago and won the NCAA 100 and 400. *IAAF Recap
Thursday: IAAF Recap Prep star Ajee Wilson ran a pb in the 800m (2:04). The men's 1500m was won in 3:37.39.

Day 3 - PM: Unreal: 149 And 0. Brit Jodie Williams Claims World 100m Gold #1 seed Ashton Purvis of the US was only 4th. *Mboard Talk On Williams
In other action, little Dibaba beat Mercy Cherono for gold in the 5k in 15:08, as American Emily Sisson set a US HS record of 15:48.
*Dexter Lee Becomes 1st Boy To Repeat As 100m Champ
*USATF: 2 Medals & Sisson's 15:48 Highlight

AM: Ajee Wilson (2:04.33) Advances To 800 Finals As Laura Roesler (2:04.34) Doesn't *USATF Recap Here
Nice Kenyan Article On World JR 10k Champ Dennis Masai

More World Jr. Stuff Below
European News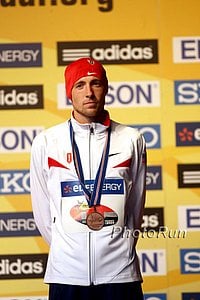 LRC Ritzenhein To Make Marathon "Re-Debut" At 2010 ING New York City Marathon After his breakthroughs of last summer, Ritz is excited to tackle the 26.2 mile distance in New York once again, while NYRR head Mary Wittenberg thinks he definitely can win it. Meanwhile, coach Alberto Salazar finally thinks to a bio-mechanical analysis done by Nike, Ritz's injury things are a thing of the past. We cover all of that and more, including Ritz's current fitness and mileage level, talk of Alan Webb and Galen Rupp working out together and learn why Ritz didn't watch his AR fall in the 5k.
More 2010 World Junior News
PM: Texas's (& Oregon Signee) Parker Stinson Has Record Run In Men's 10k His 29:32 produced the best finish by a US junior, as he was 6th. He also moves up to #6 on the US junior list. That's the good news. The bad news is that Linet Masai's little brother won the event in a staggering 27:53. *MBoard Talk About Stinson
AM: USATF Day 2 World Juniors Morning Recap: Laura Roesler And Ajee Wilson Advance In 800, Recap Of Men's 1,500m, Women's Steeple And More
*IAAF Recap Of Tuesday Morning Session At World Juniors: 100m Qualifying The article complains about the heat in Canada. The high in New Brunswick was 77 Tuesday. That is not hot.

Day 1: Mercy Cherono Defends Crown In Women's 3k The world junior XC champ had to put up a very strong performance, as the top 4 all broke 9:00. Jordan Hasay was 9th in an outdoor PR of 9:15. On The Boards: Hasay - 9:15.78 - Lifetime Best
*USATF: Hasay, Sisson run lifetime bests on opening night of IAAF World Junior Championships Hasay actually ran a 9:12 indoors, but that doesn't count according to the IAAF as it was on an oversized track.
Video Of Hasay's Race

Recommend: Asbury Park Press Profiles America's Top Jr 800 Runners
*After 2:00 Relay Split, 16-Year-Old Ajee WIlson Is Ready To Take On World's Best
*Robby Andrews Is Ready To Enter World Jrs As #1 Seed *Message Board Thread About Andrews/Wilson

Recommended Read/Unreal Stat: 146 And 0. British Junior Sprinter Jodie Williams Is Undefeated For Life She's going to have her hands full in the 100m, where she is seeded 2nd at 11.24.

*Defending 100m Champ Dexter Lee Eyes Junior Jamaican Record Of 10.11
*After Finishing 4th At Senior World Champs, Jehue Gordon Is Ready For World Juniors
*IAAF Preview Of World Jrs
*Hasay Ready To Take On World Fresno Bee
Year 2 Of The American Mid-D Woman *Full Results
Alysia Johnson Runs 1:57.85 As 4 Americans Go Sub-2 Maggie Vessey was 2nd in 1:59.00, Morgan Uceny went sub-2 for the 1st time in 1:59.24, and Molly Beckwith did as well in 1:59.83. Surprisingly, the US top 800 meter runner for 2009, Anna Pierce, was only 5th in the race and thus the 5th American. That makes 7 American women sub-2 in 2010 (we might have had 6 in one race, but Erin Donohue gets snubbed by everyone and was in heat 2, which she won). Oscar Pistorius (the amputee runner) ran 46.03 in the 400 and David Torrence and Jacob Hernandez were in the men's 800.

On The Boards: Alysia Johnson 1:57.85! What a year for her, she keeps on rolling... Got to love this quote: "Why did the US travel all the way to Morocco to rerun the USTAF 800m in two sections?" The meet was in Italy, not Morocco.
*Women's 800 Race Video