The Week That Was In Running - July 12-18, 2010
By LetsRun.com
July 19, 2010
To read last week's LRC Week That Was, click Here.
To read any 2010 LRC Week That Was, click Here.
We must say so ourselves - we are quite pleased with this week's weekly recap. We start things off by reliving Steve Cram's magical summer of 1985 when he went a perfect 7-for-7 and set seven personal bests, including three world records. Then we relish the sub-15:00 clockings of Lisa Koll and Molly Huddle and try to figure out which great run impressed us the most. We relive the 2010 Kenyan champs and tell you about the 9 men who broke the world record in 10k at altitude to little fanfare and wonder if Chris Solinsky would have even finished in the top 10 at the Kenyan champs. Along the way, we tell you to remember the name Silas Kiplagat, as he may be a future star. Plus, we talk about how it was great week for US 800-meter runners and Christin Wurth-Thomas but a bad one for Lopez Lomong and Anna Pierce. All of that plus the Usain Bolt party continues.
If you missed the Paris Diamond League meet, we suggest you relive it here in it's entirety, as it was the biggest meet of the week by far.
A Trip Down Memory Lane - Steve Cram's Magical Summer Of 1985
Friday was July 16th. We mention that because it was the 25th anniversary of Steve Cram's first world record, as on that date in 1985, Cram became the first man in history to run the 1,500 under 3:30 with his 3:29.67 in Nice. That run was the start of a magical 19-day string for Cram as in addition to his 1,500 world record, he also would run world records at one mile (3:46.32 on July 27 in Olso) and 2,000 (4:51.39 on August 4 in Budapest).
Much has been made of Cram's magical 19-day run in 1985. But in reality, the entire summer of 1985 was a magical one for Cram, as he raced seven times in 1985 over an 8 week period and won all seven. Even more amazing is during all seven races, Cram set a personal best in each and every race. With his marks from 1985, Cram is still the 4th-fastest human in history in the mile and the third fastest in the 1,000. Cram's races from 1985 in order.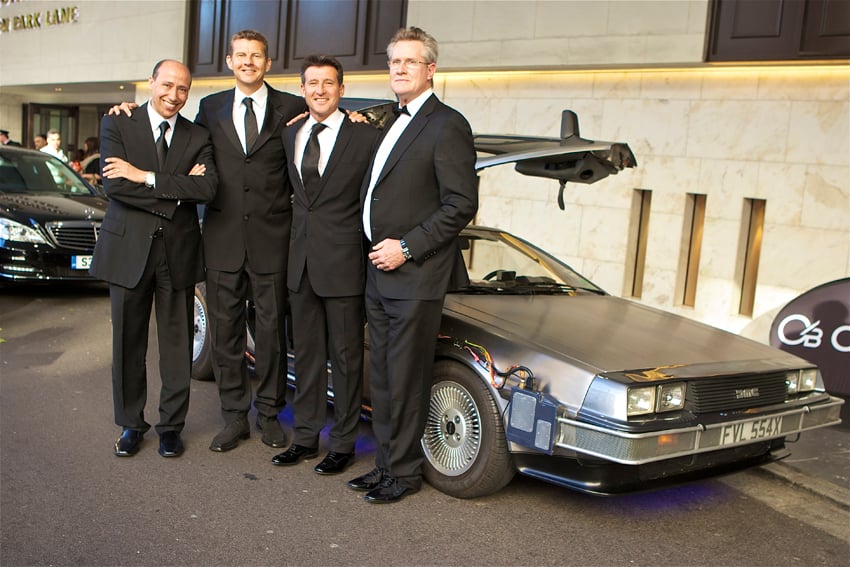 Said Aouita, Steve Cram, Seb Coe, and John Walker
at a Charity Dinner honoring Cram last week..
The DeLorean is a Back to the Future specification car.
The film was also released in 1985.
Photo by Rob Cox
June 27 - 1,500 - 3:31.34 Personal Best
July 16 - 1,500 - 3:29.67 World Record
July 23 - 1,000 - 2:15.09 Personal Best
July 27 - Mile - 3:46.32 World Record
August 4 - 2,000 - 4:51.39 World Record
August 9 - 1,000 - 2:12.88 Personal Best
August 21 - 800 - 1:42.88 Personal Best
And for those of you fans frustrated that the top stars don't square off more against each other in 2010, please realize that that's always been the case in track and field. In 1985, Cram didn't even end the year with the world record in the 1,500, as Said Aouita also had a magical 1985, ending the year with the world records in the 1,500 (3:29.46) and 5,000 (13:00.40). During that year, Aouita raced 8 times and won 7. His only loss was the only time he faced Cram - in the 1,500 when Cram set his world record in Nice. The rest of the year, the two avoided each other.
We won't list Aouita's fantastic string of races from 1985, as given the fact that several Australian athletes claimed in 2004 and 2006 that Aouita tried to dope them when he was their coach, we feel there is a strong possibility that Aouita was on performance-enhancing drugs during his career. Of course, sadly, that "strong possibility" probably exists with a slew of the top stars from the 1980s and 1990s.
If you are feeling sentimental, you might also have realized that the 30th anniversary of the 1980 Olympic boycott is also upon us and Steve Scott still isn't happy about it.
More: Nearing 50th BDay, Steve Cram Takes A Walk Down Memory Lane And Remembers The Glorious Summer Of 1985 *Series Of Articles On The Olympic Boycott Of 1980 Reaching Its 30th Anniversary
Molly Huddle And Lisa Koll Impress At 5,000
One of the bigger stories of the week from an American perspective last week was the huge PRs put up in the 5,000 by Americans Lisa Koll and Molly Huddle in Paris, as Huddle became the third-fastest American in history and Koll the 7th (discounting a known drug cheat). Both ladies ran A+ races and the only problem we are having is figuring out which race we were more impressed with.
After thinking about it, one thing is clear. Koll's sub-15:00 showing was the most surprising. The 22-year-old Koll chopped more than 22 seconds off her PR as she went from 15:17.76 to 14:55.74. Even more impressive than that is to realize that Koll's PR in the 5,000 at the start of the year - 15:52.37. That's 56 seconds in a year - not to shabby. Additionally, one needs to realize that Koll's 3,000 PR is only 8:56.09. If someone ran a dead even 5,000 in 14:55, they'd hit 3k in 8:57. So Koll basically ran her 3k PR for 5k in Paris. One also should realize that in her European opener just over a week ago on July 7th, Koll raced a 3k and only ran 9:05.62 (in a race that was won in 8:43.72).
Huddle's sub-15:00 wasn't nearly as much of a shock as Koll's and, quite honestly, distance aficionados might actually have expected it. While Koll started the year with a 5,000 PR of 15:17, Huddle had already run 15:05 at Mt. SAC earlier in the year and her speed at 1,500 is significantly better than Koll's. Last Sunday, on July 11th, Koll and Huddle raced the 1,500 in Flanders and both PRed but Huddle beat Koll by more than 10 seconds - yes, 10 seconds. Koll ran 4:19.71 for 8th, whereas Huddle ran 4:09.22 and won. That 4:09 was a 4-plus second PR for Huddle, so it was clear she was in great form and likely to break 15:00. But expecting to do it and doing it are two different things.
Thanks to her 14:51, Huddle is now in very elite company. She currently sits at #3 on the US All-Time list at 5,000 (Editor's note: It is the policy of LetsRun.com to ignore all of the career performances of drug cheats like Regina Jacobs). The only two women ahead of her on the all-time list at 5,000 in the US are both Olympic medalists in Shalane Flanagan and Deena Kastor. Of course, both Flanagan and Kastor medaled in longer events, but that shouldn't be discouraging, as Huddle's and Koll's future medal prospects clearly are at the 10k or most likely the marathon as well. At 5,000, Americans seem to have zero chance as despite how well she ran in Paris, Huddle was ony 8th in the race.
Below, we present you a list of the 10 fastest 5,000s ever run by Americans as well as a list of all of the US female medalists in the history of the Olympics for 800 and up. Many people probably don't realize that an American woman has never won an Olympic medal at 1,500 or 5,000 (although for women, the 1,500 and 5,000 were only included in the Olympics starting in 1972 and 1988 respectively) and that only six American women have ever medaled in a mid-d or distance event.
The 10 Fastest 5ks Ever Run By American Women
14:44.80 Shalane Flanagan ( 1 ) Walnut 13.04.2007
14:45.35 Regina Jacobs ( 1 ) Sacramento 21.07.2000
14:49.08 Shalane Flanagan ( 2 ) Eugene 03.07.2010
14:51.62 Deena Kastor ( 9 ) Stockholm 01.08.2000
14:51.75 Shalane Flanagan ( 1 ) Indianapolis 22.06.2007
14:51.84 Molly Huddle ( 8 ) Paris 16.07.2004 *****
14:52.21 Deena Kastor ( 1 ) Stockholm 07.08.2007
14:52.49 Regina Jacobs ( 1 ) Brunswick 04.07.1998
14:54.29 Jennifer Rhines ( 5 ) Oslo 06.06.2008
14:55.02 Kara Goucher ( 3 ) Berlin 16.09.2007
14:55.18 Jennifer Rhines ( 8 ) Bruxelles 25.08.2006
14:55.74 Lisa Koll ( 11 ) Paris 16.07.2004 *****

The American Women Olympic Medalists
800
1968 - Madeline Manning (USA) gold
1984 - Kim Gallagher (USA) silver
1988- Kim Gallagher (USA) bronze
10000
1992 - Lynn Jennings (USA bronze
2008 - Shalane Flanagan (USA) bronze
Marathon
1984 - Joan Benoit (USA) gold
2004 - Deena Kastor (USA) bronze
Message Board Post Of The Week (About Molly Huddle)/Free Coaching Advice Of The Week
That brings us to our message board post of the week. Message board poster "Long term focus" had the following to say about Huddle's 14:51. He talks about how Huddle has thrived under the coaching of Ray Treacy.
I talked to Molly a few years back, after her first season with Ray. She had had a good year but I was impressed that she was surprised she had run well. She had felt she hadn't progressed her training enough in college and had gone with Ray because she wanted to increase the load steadily. She talked about how this would probably cost her for the first few years but that she figured she had about as much talent as anyone so she figured that in the long run it would be worth it. I doubt it has been easy over the last few years running well at times and not great at others all the while watching others have breakouts, but running is a sport were instant success is almost always the result of a long hard block of years of training before it.
So people ask what is different with Molly now? why is she running so much faster? The answer is she has finally got her head above water enough to reap the rewards of her last few years of work.
Congrats to her and to Ray for a job well done.
The message board poster talks about the importance of progressing in your training. We agree and think the absolute key to training is to progress in your training each year. For most people under the age of 25, that means running a bit more each year.
Message Board Post Of The Month (About The 2020 Kenyan Champs)/Best Free Coaching Advice Of The Last Month
A few weeks ago, the Kenyan champs were held and we didn't devote too much attention to it, as the US champs were going on at the same time. Our Week That Was that week was devoted exclusively to USAs. Well, last week in doing some research for the Paris Golden League meet, we revisited the Kenyan champs.
A few things worth mentioning:
1) If you think American Chris Solinsky is anywhere near the #1 man at 10k for the year because he leads the world list with his 26:59, then you are a fool. At the Kenyan champs, the men's 10,000 was incredible. The first 9 men broke the previous world record for an altitude 10k of 27:44 (Paul Kosgei from 2002).
1) Wilson Kiprop 27:26.93 (2:43.0 / 5:29.3 / 8:17.2 / 11:04.3 / 13:48.7 / 16:33.0 / 19:13.8 / 22:01.0 / 24:47.3 / 27:26.93 with last lap in 57.4)
2) Geoffrey Mutai 27:27.79
3) Mathew Kisorio 27:28.13
4) Titus Mbishei 27:29.13
5) Jacob Cheshari 27:32.43
6) Lucas Rotich 27:34.55
7) Paul Tanui 27:36.76
8) Philemon Limo 27:36.94
9) Kiprono Menjo 27:37.42
10) Josphat Ndambiri 27:48.39
11) Isaac Arusei 27:50.40
2) We want to introduce you to a future star in mid-d running. In the past, we've introduced you to stars like David Rudisha and Sammy Wanjiru well before they were universally regarded as superstars. Well, let us introduce you to 20-year-old Silas Kiplagat. The youngster is unknown outside of Kenya, as he's never run outside of the country except for having run a couple of road 10,000s this year and last. Well, despite the fact that he's run a few 10ks, the guy may end up being a mid-d star. At the Kenyan champs, he finished 2nd in the men's 1,500. Even more impressive is the fact that he destroyed 1,500 world leader Nicholas Kemboi in the process, as he beat Kemboi by 2.94 seconds. He was the only one that finished close to Olympic Champ Asbel Kiprop as he pushed Kiprop to the line.
The top 5 results were as follows:

1) Asbel Kiprop 3:33.69 (55.2 / 1:52.0 / 2:50.5)
2) Silas Kiplagat 3:34.28
3) Nicholas Kemboi 3:37.22
4) Vickson Polonet 3:38.14
5) Nickson Chepseba 3:39.12
That being said, let us bring you to our Message Board Post of The Month. Famed coach Renato Canova wrote a fantastic post on June 26th about the Kenyan champs. You can read it here: Kenyan Championships 2010. In the post, Canova says emphatically that the top 5 in the men's 10k could definitely all break 27-flat and we agree. He also talks about how the first and 2nd finishers in the men's 10k at the Kenyan trials are marathoners whom he coaches. He said their success at 10,000 is proof that runners don't lost their speed and we 100% agree.
"This is a clear demonstration that, running long distance, nobody goes to lose his speed, IF CONTINUES TO USE SOME SPECIFIC TRAINING IN THIS DIRECTION."
One thing we'd add that Canova didn't mention is look no further than Silas Kiplagat. Last fall and this spring, he was running road 10ks. A few months later, he's able to destroy the world leader in the 1,500. Overdistance doesn't kill speed - it helps it, assuming you do what you need to do to maintain it.
More: Famed Coach Renato Canova's Post On Kenyan Champs With Commentary On Distance Races *Recap: Pamela Jelimo Drops Out, Janeth Jepkosgei Runs 1:58.95, Rudisha, Kiprop Win *Results: Distance *Full Results
Quote Of The Week #1
Our first of quote of the week (that wasn't a quote of the day) from last week comes from Mr. Usain Bolt. In an article in London's The Telegraph entitled "Usain Bolt keeps wary eye on golden challengers despite taking Paris by storm," Bolt said that he doesn't take any of his rivals lightly. But in trying make the point that he respects all of his rivals, Bolt hilariously admitted he can't even pronounce his so-called rivals names correctly.
"I don't pick one person out and say 'he will be hard to beat' because you never know who will pop up. This guy from Paris, I can never pronounce his name - is it [Christophe] Lemaitre? He came out of nowhere and he ran 9.98, so you can never know who is going to show up on the day. I focus on everybody in the race and I take them all seriously, whether it's Asafa or Tyson or everybody else."
Clearly, we don't think he's too worried about anyone but himself.
More: The Telegraph: "Bolt is back. The biggest show in town. Not to mention the coolest."
Quote Of The Week #2
Our second of quote of the week (that wasn't a quote of the day) from last week comes from an interesting profile of triple jumper Philips Idowu in The Guardian. Idowu reveals that he sent his rival Teddy Tamgho of France a congratulatory Facebook message when Tamgho set the world indoor record and that he tries to mentor his young rival. Idowu seems like a class act as he skipped World Indoors so he could spend time with his newly born second child. Tamgo:

"When I was coming through there were times when [the world record holder] Jonathan Edwards wasn't as supportive of me as he could have been. Back then I was the young kid and he wasn't there for me, so how would that make me look if I turned round and did the same thing to Teddy (Tamgho)?"
Speaking of Tamgho, he had a rough week last week, as the the 21-year-old had to pull out of the Diamond League meet in his native France, revealing two days before the meet that he has a calf and hamstring tear. Worse still is that the injury may keep him out of the European champs.
More: *Lone wolf Phillips Idowu anxious to hunt down the pack in Barcelona *Tamgho doubtful for European Championships
800-Meter Running From Last Week - Semenya Returns, US Women Do Well (Except For Pierce) And Wheating & Manzano Impress
World champ Caster Semenya returned to action after nearly a year-long absence as she tried to prove she was a woman. Well, she won both races comfortably, as she ran 2:04.22 in Finland on Friday and 2:02.42 in Finland on Sunday.
But most LetsRun.com visitors are probably interested in the fine American 800-meter running from last week. In the women's side of things, 5 American women broke 2:00 last week, including three women for the first time in their careers.

Alysia Johnson - 1:57.85 - #4 in the world this year, #9 all-time in US.
Maggie Vessey - 1:59.00 - Seasonal Best
Morgan Uceny - 1:59.29 - 1st time under 2:00 in career
Molly Beckwith - 1:59.83 - 1st time under 2:00 in career
Erin Donohue - 1:59.99 - 1st time under 2:00 in career
On the men's side of things, there were some big PRs as well. David Torrence, who came into the year with a 1:47.98 PR, now has a career best of 1:45.97. Also getting under 1:46 for the first time last week was Leonel Manzano, who ran 1:45.17 in Morocco, where he finished ahead of Morocco's Amine Laalou, who has run 1:43 twice this year. Manzano really seems to be in good form right now, as last week he pushed Olympic champ Kiprop in London in the 1,500. His previous 800 PR was 1:46.20.
Andrew Wheating was the fastest US man at 800 last week, as he finally erased his Olympic Trials PR of 1:45.02 by running 1:44.62 in his European opener in Paris, where he defeated Nick Symmonds in the process. Symmonds did set a seasonal best of 1:44.93 in Paris but we know he's not happy with that given his PR is 1:43.83.

US mid-d stars that are struggling are Lopez Lomong, who DNFed in a 3k last week after losing to collegian AJ Acosta at 1,500 the week before, and Anna Pierce, who was last in Paris in the 1,500 and then followed that up with a relatively poor 2:00.79 in Italy. A VERY bad week for the world #2 at 800 last year.
The US mid-d runner who had the best week was none other than Christin Wurth-Thomas. Just 5 days after turning 30, she gave herself a great belated birthday present, blazing to a PR of 3:59.59 to get 2nd in Paris. Wurth-Thomas certainly seems best in the time trial affairs of Europe where people get out very fast and hang on.
She's now the 3rd-fastest runner (that wasn't ever convicted for a drugs violation) in US history.
All-Time US Sub 4 Runners (discarding runners that were ever busted for drugs)
Suzy Favor Hamilton - 3:57.40 - 2000
Anna Willard - 3:59.38 - 2009
Christin Wurth-Thomas - 3:59.58 - 2010
Jenny Barringer - 3:59.90 - 2009
Speaking of drug bans, the winner of Paris was none other than Russia's Anna Alminova, who had quite a week last week after coming back from a 3-month brug ban. Alminova raced a 1,500 three times last week - on three consecutive days - and the results where staggering:
4:06.18 - 1st in heat at Russian Champs
4:00.84 - 1st in final of Russian champs by 3.72 seconds
3:57.65 - World leader in Paris
More: *Semenya Wins Convincingly In 2:02.42 *Race Video From Thursday *Caster Semenya Returns To Action And Is Pleased To Win Comfortably In 2:04.22 In Race She Calls "New Beginning" *IAAF Recap Of Semenya's Win/Lappeenranta Meet *AFP Recap: Semenya: "I'm very happy." *Reuters Recap *Liege, Belgium Meet *Full Results *IAAF Recap Of Liege: Erin Donohue Runs 1:59.99 In other action, Travis Padgett was upset in the men's 100 and Belal Mansoor Ali ran 1:45.83 in the 800 and there was a 7:38 3k. Message Board: Erin Donohue 1:59.99 Donohue claimed victory with the barrier-breaking PR. *Alistair Cragg Runs 7:44 As Lopez Lomong DNFs In 3,000
Usain Bolt Party Goes On/Videos Of The Week
Before we get you to the Quotes Of The Day, Recommend Reads and last week's homepages, we'll end by saying the Usain Bolt party continued last week in Paris (as well as on LetsRun.com, as we devoted our homepage to Usain Bolt and Puma thanks to a sponsorship deal Puma signed with us). In the meet, Bolt faced his first significant challenge of the year in Asafa Powell and while the victory was nowhere near as dominant as we are used to seeing from Bolt, Bolt's undefeated streak in the 100m was extended to 14 straight finals.
And there was mention in a British paper of Bolt being the biggest sportsman in the world now that Tiger Woods is out of the picture. It seems that some people laughed at that assertion. All we'll say is he may not be there yet, but Bolt's charisma and personality are truly incredible and he's only going to get more and more popular. In our minds, Bolt's natural charisma may actually be greater than his natural talent.
Don't believe us?
Well, check out the following two videos. Our Videos of the Week. The first one includes Bolt's win from Paris, but the thing we want you to watch is the post-race interview. Bolt doesn't give out boring canned responses like most stars. He engages and has fun and the interviewers themselves seem thrilled to even be talking to him as a result.
The 2nd video shows you how Bolt is treated like a true celebrity wherever he went in Paris. Rather than hide from the attention, Bolt thrives on it.
More: Usain Bolt Heading To Australia In September To Party, Enjoy The Australian Women, DJ, Oversee A Race Between Footballers & See A Kangaroo Plus, he may get $1,000,000 from Gatorade regardless if he races the footballers. The dude likes to party. At Worlds last year, we left a party where Bolt was DJing and dancing with Asafa Powell with his shirt off at 3 am. Not sure if we posted this last year, but video of Bolt-Powell dancing here. *Bolt To Get $250,000 To Run In Paris This Friday *Video Link: Thousands Flock To Paris City Hall To Watch Usain Bolt's Reggae Show *Britain's Stupid Tax Laws Cost Them Usain Bolt: He Pulls Out Of Matchup Versus Asafa Powell And Tyson Gay Britain tries to tax endorsement income from athletes in addition to appearance fees. So Bolt could lose money while racing in London if the UK tries to tax say 1/8th of his endorsement income. *Usain Bolt Tax Issue Gets Mention In NY Times
Recommended Reads
Lots of great articles worth reading from last week.
*Nearing 50th BDay, Steve Cram Takes A Walk Down Memory Lane And Remembers The Glorious Summer Of 1985
*Series of Articles On The Olympic Boycott of 1980 Reaching Its 30th Anniversary We hihgly recommend the article on Steve Scott from the series.
*Pat Butcher: Should Saudi Arabia Be Barred From The Olympics Until They Permit Women To Compete? We think it's a good idea. Fortunately, much of the world was outraged when South Africa treated non-whites like crap 20 years ago. Somehow, however, 20 years later it's okay to treat women as second class citizens.
*Lone wolf Phillips Idowu anxious to hunt down the pack in Barcelona
*Citing Edwin Moses, Columnist Says, "The secret to being a sporting great is not really trying."
*CAS Rules Marion Jones Teammates Don't Have To Give Up 4 x 100 And 4 x 400 Relay Medals Ridiculous, but the court says it's all about the rules that were in place at the time, which didn't explicitly say if one relay member was doped, the whole team got a DQ.
Quotes Of The Day From Last Week
Monday: "Anytime (Jimmy) Carter's even mentioned on TV at all it bothers me because he made such a bad decision that affected so many people. It bothers me when he gets the Nobel prize, makes any kind of public appearance, it personally hurts me when he gets any publicity. He should have just packed up and gone back to his peanut farm."
- Steve Scott on the 30th anniversary of the start of the 1980 Olympic Games boycotted by the USA. Scott's comments are part of an excellent series on the 1980 Olympic Boycott by the Orange County Register and writer (and LetsRun.com fan) Scott Reid. The entire series on the boycott is here.
Sunday: "While Tiger Woods was battling the gales on Friday evening, the man who has replaced him as sport's most sought-after icon was casually pulling off his tracksuit and flicking out those million-dollar legs at the starting line in Paris."
- Opening line of an article by Simon Briggs in The Telegraph on the show Usain Bolt put on in Paris, where he was treated as arguably the biggest sports celebrity in the world, as shown by this video or this one or this one. Just want to watch Bolt's race in Paris? Click here.
Saturday: "It wasn't the best race I've ever had in my life. My first part was awful. At the 50 metres, I thought he [Asafa] had me. I had to work a little bit harder to get back in the race."
- Usain Bolt after coming from behind to beat Asafa Powell in the 100 meters in Paris in a meet record of 9.84 seconds.
Friday: "I wasn't looking on the internet to see what (David Rudisha) had done but my friends were very quick to let me know. Now, it is my turn to respond ... He beat me in Oslo last month but I have got in better shape since then, I am more sharp now. I now need to run a personal best to prove to myself what I can do."
- 800-meter man Abubaker Kaki talking about his plans for the Paris 800 on Friday where he hopes to steal the spotlight from Usain Bolt. Bolt faces his first big test of 2010, as he will clash with Asafa Powell and France's own Christophe Lemaitre (aka the Great White Hope).
Thursday: "I do 25 to 30 races per year ... I still love this sport. That never changes."
- Multi-time Boston and New York marathon champ Bill Rodgers, discussing his enjoyment of running and racing and looking back on the evolution of the sport in America from the '70s running boom through the rock-bottom '90s and the recent renaissance.

Wednesday: "Scientists have found the reason why blacks dominate on the running track and whites in the swimming pool: it's in their belly-buttons, a study published Monday shows."
- Opening line of an AFP article on a study by Duke University and Howard University professors that tries to explain the different successes people of different geographic origins have in sports. The article is focused on sprinting and swimming but for some reason has a picture of a distance runner in it.

Tuesday: "I'd love to see a kangaroo, too. If you don't see a kangaroo in Australia, it's like a letdown, man."
- Usain Bolt being Usain Bolt while talking about his trip in September to Australia. Bolt seems really excited and is looking forward to the Aussie women, partying, DJing, and more. The reported $1 million for showing up he might be getting from Gatorade might help as well. We could talk about his showdown with Asafa Powell on Friday in Paris, but we've got all week to do that.
Last Week's Homepages
*Mon (July 19) *Sun (July 18) *Sat (July 17) *Fri (July 16) *Thur (July 15) *Wed (July 14) *Tue (July 13)
---
Runner's World &
Running Times



Combined Only $22
a Year
Save $87

---

Running & Track and Field Posters
---

Running Shoe Savings: Nike Lunar Glide 20% Off Super popular shoe from Nike featuring Flywire and Lunar Foam
---