NY Times Mother's Day Special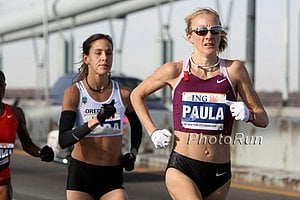 Kara Goucher 4 Months Pregnant And Training With Pregnant Paula Radcliffe Things are going well when your pregnancy is announced in the NY Times. Radcliffe and Goucher are due on the same day.
Cornell Men Nab Record 8th-Straight Outdoor Heps Underdogs heading to Princeton's home track, the Big Red men took home another title to keep the streak alive. The Cornell women also got back on the winning track after their streak was broken in 2009. Props to Hepstrack.com and Brett Hoover, who provided phenomenal coverage of the meet.
Walter Dix Is Back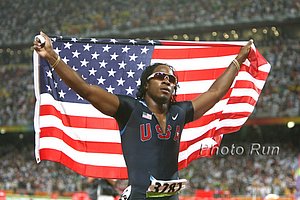 Walter Dix Is Back: Runs 9.98 And 19.89 And apparently the whole meet was run in 90 minutes. If anyone knows anything about this, let us know, but a big Thumbs Up to FSU for trying to make an entertaining track meet for fans.
On The Boards: Dix @ FSU Twilight
Andrew Carlson, Katie McGregor Win US Titles Carlson was the US 15k champ in 2008 and is back running well again, although the 25k champs is an easier championship to win.
*More Coverage
*Message Board Thread

Gebrselassie To Run Berlin Marathon Again? That's what a national German daily is reporting (we hope it's wrong). If Geb runs Berlin again, it dashes hopes for a Geb v Kibet v Hall matchup in Chicago or Geb in the streets of NYC (ING NYC Marathon CEO Mary W and NYC Marathon guru Richard Finn both went to Ethiopia this past weekend for Geb's hotel opening and presumably to try to recruit him to NY). Maybe Geb just loves the German beer.
Oregon Twilight Results
Matt Centrowitz Goes Sub-4, Ben Bruce 13:31 5k To Highlight Oregon Twilight Meet The meet had a 60m race between football players as well. Face it America (and the world), football is king everywhere - even in Track Town. Video of mile on right of homepage or here.
Super Hot Last Night On The Boards: Centrowitz...he just wins... Twilight Mile RESULTS

PAC-10 Multis *Sat/Sun Results
*Comfortable Wins by Eaton and Thiesen For The Ducks Ryann Krais, former PA star, gets 2nd for UCLA in heptathlon.
Recommended Read: A House Divided: HepsTrack.com Runs Multi-Part Series On 1970 Heps 40 years ago, outdoor Heps was held at Yale. It was no ordinary event, as the League was divided. Divisions formed within teams and within schools as Americans learned of new bombing campaigns in Cambodia and students were shot and killed at Kent St. The multi-part series uses the Heps (a league of Ivy schools plus Army and Navy at the time), the competitors and coaches to relive an interesting time in American history.
European Road Races - BIG 25 Berlin And Prague Marathon
News From Oregon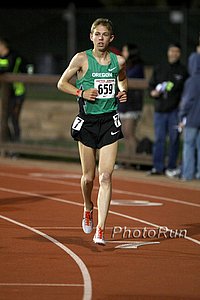 Oregon Twilight Entries Trevor Dunbar races Oregon boys in the 1,500, OTC elites in 5,000.

Galen Rupp Says Good Competition From Americans Is Important Rupp: "I've sat on other people before and then outkicked them. That's part of the game."

Eugene Register Guard Runs Piece On Angela Bizzarri NCAA outdoors are in Eugene this year and they're running some pieces on top competitors.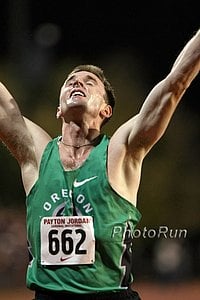 LRC The Week That Was In Running - Chris Solinsky And The Epic Stanford 10k Normally we cover the wide world of running, but this week we focus almost exclusively on the Stanford 10k and Chris Solinsky's 26:59. Thanks to our hard-working research elves, we analyze Solinsky's unusual dimensions, debate whether an American will ever medal at Worlds in the 10,000, ask for a USA "Dream 10,000" and even predict when an American will break 26:00.
LRC Chris Solinsky Is The Tallest And Heaviest Sub-27 Man In History The results are in as LetsRun.com has looked up the height and weight of every sub-27 man in history ... talk about busting a stereotype!

Solinsky The Forgotten Phenom - Beat Nelson, Rupp, Trafeh, Curtis In Foot Locker By Over 20 Seconds He also won 5 NCAA individual track titles.

*Solinsky Almost Ran Steeple At Stanford, Thought About DNF With Side Stitch Youngsters, this race is a great lesson - so many things had to come together for 26:59 to happen (Rupp to Stanford, steeple/10k switch, side stitch going away, perfect weather ...). But the first thing was years and years of consistent work.

*Blogger: Solinsky/Rupp Was Like Keflezighi/Kennedy 9 Years Ago We hadn't thought about this comparison. Blogger talked to Meb, who says his best days are still ahead of hiim.
LRC Solinsky Teleconference And Live Chat Top 10 In a Tuesday live web chat, Solinsky answered 10 questions that many LetsRunners have been asking on the message boards, including some training talk and of course compression socks.
Kosgei and Keitany: New 25k WRs In BIG Berlin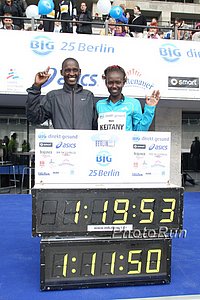 WRs For Sammy Kosgei And Mary Keitany At BIG Berlin 25 According to the McMillan Calculator, Keitany's time of 1:19:53 is equivalent to a sub-2:20 marathon and a half marathon of 1:06:22, which would be a WR.

LRC Photos Of World Records Set At BIG Berlin 25k

On The Boards: MARY KEITANY: can she take down Paula's Legendary 2:15:25 WR
International Results and Photos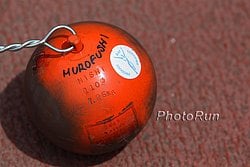 Wow: 20 Year Old Eliud Kiptanui Shocks With 2:05 Marathon In Prague The 20th man under 2:06 is a 20-year-old Kenyan Eliud Kiptanui whose only previous marathon was a 2:12 at altitude in Kenya. He was supposed to run Vienna before ash changed his plans.

LRC Osaka Grand Prix Photos *Event Recaps World junior XC champ Caleb Ndigu got his first senior win in a 3:39 1500 win over a low-key field.

Linet Masai Defends Glasgow 10k Over Top Kenyans With 31:08 CR
Heart & Sole Elite Mile Won By GBR Tim Bayley In 4:02 Great picture in the article.
Pamela Jelimo Defeated Over 400m In Mombassa Meet Girl who beat her won 4 events.
Irish Writer Ian O'Riordan On "The Unforgiving Minute" Literature junkies get your Rudyard Kipling/track & field fix.
Diamond League Notes
Move Over Usain (?) 12-Year-Old Runs 11.90 In Jamaica
Bad News: Fortis Bank Gives Up On Rotterdam Half Marathon - Event Is Cancelled Rotterdam annually produces some of the fastest HM times.
Former NCAA Standouts Starting Marathoning Careers
Kenya News
Recommended Read: Stephen Mayaka - The First Kenyan HS Runner In Japan JapanRunningNews.com's Brett Larner has released an extensive interview with Kenyan Stephen Mayaka, the first Kenyan runner to come to Japan to train in the Japanese high school system. Now a mentor to Sammy Wanjiru and many other top Kenyans, the entire interview with Mayaka is available if you sign up to purchase the "jrnpremium" subscription.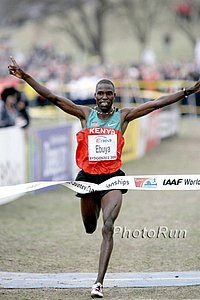 Joseph Ebuya Will Return To Track In Ostrava 3k, Likely Facing Lagat

"Wanjiru's Track In Total Mess" Headline from The Standard.

Kenyan Athletics Leaders Burning Midnight Oil To Make African Champs Go Off Smoothly
Pro Moves
Random News
Oops National HS Sport Federation Considering XC National Champs ... In the Summer They miss the mark by 5 months.

Omega Inks $32 Million, 5-Year Deal With Diamond League As First Worldwide Sponsor
Big Names In The Sport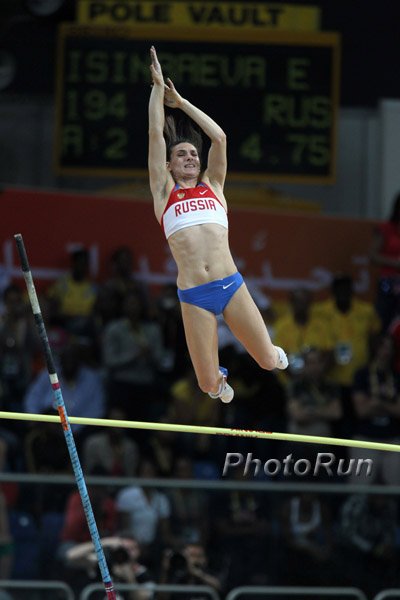 What Do Pros Think About Barefoot And Minimalist Running? Answers From Geb, Hall, Kara ... Article from Racing Weight author Matt Fitzgerald.

No Fun On Top: Isinbayeva Says She'll Return To Sport Next Year Not having any fun (aka losing), Isinbayeva is taking some time off not long after signing some huge sponsorship deals.