LetsRun.com: The Week That Was In Running: April 19 - April 25, 2010
By LetsRun.com
April 27, 2010
To read last week's LRC Week That Was, click Here.
To read any 2010 LRC Week That Was, click Here.
This week, we crown the new king and queen of marathoning, heap praise on Andrew Wheating and the men of Oregon, talk about LaShawn Merritt's package, praise Ryan Hall's amazing consistency and wonder whether Deena Kastor will ever break 2:25 again.
Note a lot happened last week, and we don't totally recap the 2010 Boston marathon, the 2010 Penn Relays or 2010 Virgin London marathon in this article. If you totally missed those events, click on the links in the previous sentence to see the LRC homepage the day after the events took place.
With the blockbuster action in Penn and London, the Drake Relays got scant coverage this past week on LetsRun.com. Jeff See of Ohio State did run a 3:57.6 DMR anchor and a 1:47.5 4 x 800 split on the same day to give Ohio State wins in the 4 x 800 and DMR.
And The Best Marathoners On The Planet Are ...
Last week the Virgin London Marathon was held and, as a result, it's time for us to update our pick for the best marathoner on the planet. London is annually the most competitive marathon on the planet and the winner of that race is normally the best marathoner on the planet and that's certainly the case this year.
In our women's preview of Boston, we wrote "women's marathoning is in the midst of a weak patch that may not be resolved until world record holder Paula Radcliffe returns after pregnancy or a Tirunesh Dibaba-type or Meseret Defar-type-talent steps up in distance." Well, the winner of the Virgin London race was Liliya Shobukhova, who is close to a Dibaba and Defar in terms of talent - as least judged by her 5k PR. The 29-year-old Shobukhova ran a European record of 14:23.75 in 2008. She moved up the marathon last year and her results speak for themselves - 3 world marathon majors, 3 top three finishes and two straight wins.

2009 London - 3rd in 2:24:24
2009 Chicago - 1st in 2:25:56
2010 London - 1st in 2:22:00
Shobukhova clearly is the best women's marathoner on the planet currently. Women's marathoning's new star has some big-time aspirations. She's clearly not content to just be the Chicago and London champ, as she said afterwards:
"I believe the Olympic Games, to qualify for the Olympic games," she said. "Be number one in the Olympic Games."
As for the men, we definitely have a new #1 as well. London Marathon director Dave Bedford assembled a stellar field in London yet again (and Bedford deserves a special Thumbs Up for going above the call of duty and dropping an extra $250,000 for private planes to makes sure the stars were able to get to London despite the volcano) but none were able to challenge 23-year-old Tsegaye Kebede of Ethiopia, who won his 2nd straight marathon in 2:05.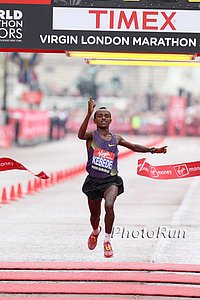 Photo: Kebede wins London and new title of world's best marathoner.
Kebede won by a ton in modern marathoning - 64 seconds - over a field that included Jaouad Gharib (2:05:27 PR), Kenyans Duncan Kibet (2:04:27), Abel Kirui (2:05:04), Samuel Wanjiru (2:05:10) and Emmanuel Mutai (2:06:15), as well as world half marathon record-holder Zersenay Tadese.
Dating back to last year's London race, Kebede has run 4 marathons in the last calendar year and they've all been stellar:
2009 London - 2nd in 2:05:20
2009 Worlds - 3rd in 2:08:35
2009 Fukuoka - 1st in 2:05:18
2010 London - 1st in 2:05:19
Of course, that shouldn't be a surprise really, as Kebede has never run a poor marathon. His 3 other marathons all came in 2008 and they consisted of a 2:06:40 debut win in Paris, a 2:10:00 bronze medal at the Olympics and a 2:06:10 win in Fukuoka.
So we'd like to take a brief moment to celebrate the new king of the men's marathon in Tsegaye Kebede (of course, 2:05:52 Boston runner/winner 21-year-old Robert Kiprono Cheruiyot may have something to say about that soon). And if you have a brief moment, we highly suggest you read Elshadai Negash's profile of Kebede. His life story is remarkable. The guy was living on 20 cents a day a few years ago and has only been running for a handful of years.
More: *London Marathon Recap *Meet London Marathon Winner Tsegaye Kebede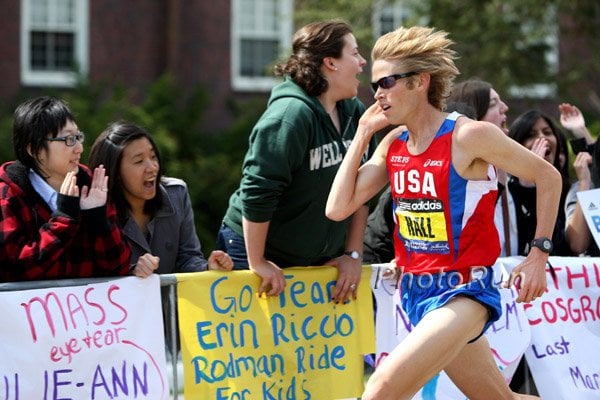 Hall on his way to another solid marathon in Boston.
Ryan Hall Produces Yet Again
And while we're speaking of consistency, we would like to take a brief amount of time to praise American Ryan Hall for his consistency in the marathon. We know a lot of Americans are disappointed that he hasn't won a major, but we here at LetsRun.com realize how hard it is to win a major and instead would like to praise Hall for his consistency.
Hall, like Kebede, has never truly had a bad marathon.
Since making his marathon debut in April of 2007 in London, Hall has run two marathons every year. He's never missed one due to injury/illness and all 7 of his races have been good ones. It's seriously very hard to pick out a "bad" one.

2007 London - 7th in 2:08:24
2007 OTrials - 1st in 2:09:02
2008 London - 5th in 2:06:17
2008 Olympics - 10th in 2:12:33
2009 Boston - 3rd in 2:09:40
2009 New York - 4th in 2:10:36
2010 Boston - 4th in 2:08:41
What's the worse race of the bunch? We guess his 10th place showing at the Olympics. The others are all top 5 showings at world marathon majors or a 2:08 debut.
That being said, the American who had the best race in the marathon last week was Meb Keflezighi. Yes, Hall beat the New York champ but Meb - despite some injury troubles in training - stayed in the hunt the longest. Congrats to both.
Those That Struggled Last Week
The marathon wasn't kind to a lot of people last week. Notable DNFs included many people's pre-race favorites on the men's side both in London, Mr. Unbeatable Sammy Wanjiru, and in Boston, Abderrahim Goumri. Two-time defending London champ Irina Mikitenko was also a DNF in London, as was 2008 Boston champ Dire Tune in Boston. American Josh Rohatinksy also DNFed in Boston, but the struggle of the week was turned in by American record holder Deena Kastor in London. Talk of a rebirth for the 37-year-old Kastor proved to be way off base, as Kastor never was with the leaders and struggled yet again. In the summer, there was talk of her running sub-2:20 in Chicago and she ran 2:28:50. Talk of competing for the win in London was met with a 2:36:20 disaster (although we do think she deserves props for finishing, as many of the top stars just bag the race entirely if they aren't going to contend).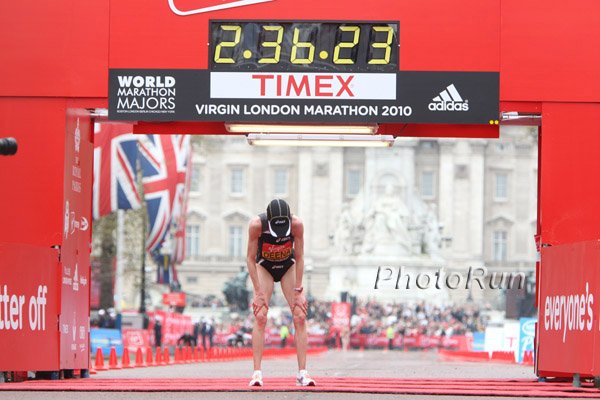 Deena Kastor battered after tough day in London.
Since running her American record of 2:19:36 in London four years ago, Kastor hasn't run faster than 2:27. Her marathons since the AR include:
2006 New York - 2:27:54 for 6th
2007 Boston - 2:35:09 for 5th
2008 OTrials - 2:29:35 for 1st
2008 OGames - DNF (injury)
2009 Chicago - 2:28:50 for 6th
2010 London - 2:36:20 for 18th
It's interesting to note that Kastor has started 13 marathons in her career and only three of them have resulted in a sub-2:25 finish (admittedly, this stat ignores her bronze at the Olympics in 2:27).
Anyone wondering why elites are happy to sign up for an appearance fee for a fall marathon prior to even running a spring marathon need to look no farther than Kastor. She's already signed, sealed and delivered to New York. The early commitments are a sort of insurance policy for both the race and athlete.
And one more thing about Kastor - we received a number of emails saying the front page link just below the Quote of the Day to a message board thread entitled Deena - Please Retire was in poor taste. Don't blame us. Blame the computers. We recently put in a feature where if a certain message board thread is really, really hot and generating an unreal number of clicks in a short period of time, it automatically goes up on the front page. Well the Kastor thread was among the first to break the threshold and show up there. We are big fans of Kastor's and think she's done a lot for the sport and weren't trying to pile on her as she struggles. That being said, we certainly think it's a fair question to ask if she's ever going to produce in major way yet again. We think she's probably got another good race in there somewhere.
More: *Deena Kastor Explains Her 2:36 In London *Deena - Please Retire
Photo Of The Week
Some in Boston tried to equate create a new Rosie Ruiz controversy last week thanks to the following photo: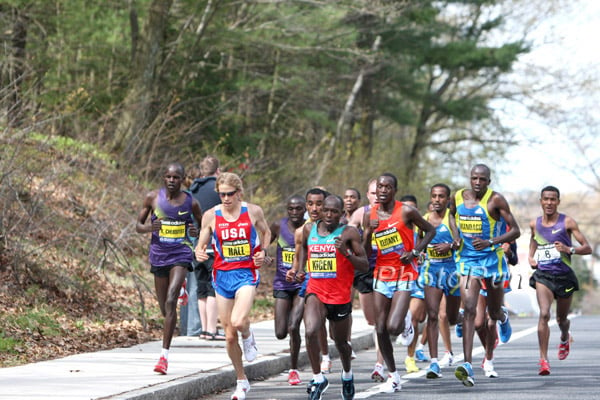 Thankfully, 21-year-old Robert Kiprono Cheruiyot was upheld as the race winner and as marathon's newest star thanks to his ridiculous 2:05:52 in Boston. We loved the following quote from Boston race director Guy Morse: "There are no specific out-of-bounds areas. It's not like a tennis match."
More: *No DQ For Cheruiyot
Quote Of The Week/Message Board Post Of The Week
This week's quote of the week and message board post of the week are one and the same. In a thread talking about how Bernard Lagat was defeated by Boaz Lalang in the mile at Drake Relays, message board poster Equinox2100 posted support for his belief that Lagat, who was sensational in winning a world indoor 3k title earlier this year, will be ready to perform when it counts later this summer. Equinox2100 used track and field history to support his point by writing:
Lasse Viren lost races ALL THE TIME. Even leading up to the Munich Olympics.

Frank Shorter said: "Everyone beats Lasse, but no one beats Lasse at the Olympics."

while not exactly true, it's good to keep in mind.

Who cares if Lagat lost today? He'll be ready when it counts.
More: *Lagat Gets Beaten At Drake
Embarrassment Of The Week - LaShawn Merritt
We thought we had heard the most creative positive drug test explanation in history a long time ago when sprinter Dennis Mitchell said five bottles of beers and four rounds of sex caused him to test positive for high levels of testosterone. But we may have a new winner.
2008 Olympic 400 champ LaShawn Merrit says he tested positive for a steroid last week because he was using a male enhancement product. Now we know that "African-American sprinter" and "male enhancement product" are an oxymoron in many people's minds. But could it be true? The excuse is so embarrassing that Merritt is either definitely telling the truth or a sociopath with a genius cover story.
One thing that makes us think it could be true because is the fact that he tested positive for it in differently monthly tests. If he was on some sort of cutting-edge drug, we doubt he'd be dumb enough to get caught three months in a row. The supposed enhancement product is believed to be ExtenZe.
More: *LaShawn Merritt Tests Positive *MBoard Thread Here
Oregon came east for the Penn Relays and deserve credit.
Props To Oregon And Wheating???
We don't feel like recapping Penn Relays here (click here to see Penn Relays coverage) but do want to do one thing - praise the Oregon Ducks and Andrew Wheating. People love to hate on Oregon much like baseball fans like to hate on the Yankees. Well we feel they deserve some love. They don't have to come East to Penn to compete. They easily could say in the comfy cofines of Eugene and run 4 x Mile races by themselves and maybe even break 16:00. Instead, they flew across the country and dominated things for the most part - winning the DMR easily, winning the 4 x Mile easily and then coming in 2nd in the 4 x 800.
In the 4 x 800, UVA freshman Robby Andrews got the best of Olympian Andrew Wheating yet again and after watching the finish, we came to the conclusioon that in a slow tactical 800 (and yes, this 1:47 was slow and tactical because they went out in 55), Andrews is virtually unbeatable and would beat Wheating nearly every time. That being said, we disagree with the conclusion of this message baord thread, Andrews OOWWWWNNSSSS Wheating. Far from it.
Wheating anchored Oregon to a DMR victory the day before (while UVA and Penn State raised the white flag and got ready for the 4 x 800) and Wheating's 3:59 anchor on the DMR was a thing of beauty. He took it out in 55 and basically then jogged it in for a sub-4. If Andrews had been in that race, we don't think anyone would be saying that he owns Wheating.
We're sure the loss in the 4 x 800 was hard for Oregon and Wheating to handle, but they deserve major props in our minds. One of the biggest problems in marketing track is that many athletes/coaches are afraid to lose. We are sick and tired of so many athletes dodging each other and skipping out on races. A guy like Haile Gebrselassie will win the 10k at the Olympics but not even attempt the 5k double as he might lose. Oregon could have easily just run Wheating on the 4 x Mile and skipped town.
So props to the Ducks for going for the triple and props to Wheating and freshman Mac Fleet. Fleet tripled at Penn (1:48.04 on the DMR and 4:03.3 domination on the leadoff of the 4 x Mile) and saved his best for last - a 1:47.64 split in his third race of the weekend.
And one more thing about Penn: Props to Duane Solomon. We're not sure if he's got a sponsor or not (Editor's addition - he has signed with Saucony), but the fact that the guy has been unsigned for a long while is a joke. He deserves major praise for splitting 1:44.28 at Penn.
More: *Solomon 1:44.28 Split
Wanjiru Speaks And We Listen
We found it interesting to note that Samuel Wanjiru said he felt like the London course is significantly slower than Chicago. He was a bit over the top, though, when in a pre-race article he called London "very hard with a lot of curves and slopes."

That same pre-race article also talked about how Wanjiru is largely self coached. Well, we know it's worked for a while but we think Wanjiru ought to maybe consider joining a training group.
More: *Wanjiru Remains Man To Beat
Email Of The Week
The email of the week pretty much speaks for itself. The 2010 Virgin London Marathon was broadcast with a few hours delay on universalsports.com for a fee of $4.99 in the US. Apparently, those that got up early to watch were left disappointed as shown by the following email:
LetsRun.com Quotes Of The Day - Day-By-Day:
Monday: "All the time I was praying 'God, I came to Addis to change the life of my family. Are you going to end my life here? Please save my life.' My prayers were answered. I thought I would die for those few minutes, but I think I was given another life."
- 2010 Virgin London Marathon champion Tsegaye Kebede talking about a runaway bus crash that almost killed him several years ago in Ethiopia. Born 5th in a family of 13, Kebede has now run 2:05:20 or better 3 times and has an Olympic and World Championship medal.

Sunday: "As you can see, when we came out it was very loud. The starter was telling the crowd to be quiet. That's one in a million. When you go anywhere else in the world, they are quiet (for the start). You get in front of Jamaicans and they make noise until you ask them to be quiet."
- Usain Bolt after running an FAT relay anchor split of 8.79 seconds that whipped the packed house of 54,000+ in Franklin Field into a complete frenzy. The officials had to restart multiple races because the crowd was going crazy for Bolt. Even the old-timers were saying they'd never seen anything like it at Penn.

Saturday: "Year after year, we have praised London for being the most competitive marathon on the planet, but talk of 2010 being the best field in history is not hyperbole."
- LetsRun.com on the men's 2010 Virgin London Marathon. Say what you want about Boston, Chicago or New York, but London is clearly the Super Bowl of professional marathoning.

Friday: "I know that many athletes say that they started from nothing, but to be honest, I do not think many of them were as poor as I was a few years ago ... I made about [20 cents] a day. I would buy bread and some tea and would have only one meal a day. After that, I had nothing left in my pocket. I had to wake up the following morning to go back to work in order to survive. If I didn't, there would be no food."
- Tsegaye Kebede telling the story of his remarkable life. He'll go for another sub-2:06 Sunday against an unreal men's field in the Virgin London Marathon.

Thursday: "You're covering a dying sport in a dying medium."
- Jim Dunaway to USA Today newspaper track and field journalist Dick Patrick in 2007. Patrick writes an interesting article about how he has seen the sport change in 30 years.

Tuesday/Wednesday: "Where does the big elephant sit, Ryan? It sits wherever it wants to."
- Ryan Hall recounting the advice his Stanford coach Vin Lananna gave him. Hall used the quote to explain his race strategy of running his own pace during the 2010 Boston Marathon and ignoring the surges of the leaders. The strategy left him in fouth place.
Last Week's Homepages
*Mon (April 26) *Sun (April 25) *Sat (April 24) *Fri (April 23) *Thur (April 22) *Wed (April 21) *Tue (April 20)