Happy Bday!! The Marathon Turns 2,500
Kenyan/Lithuanian Win Athens Marathon On 2,500th Anniversary Of Battle Of Marathon
*Reuters Recap Athens Marathon
Big Names, Big News
Eddy Hellebuyck Comes Clean!!! The former American road star wants to clear his conscience and has admitted he used EPO back in 2004. An absolute must read as he talks about a pervasive drug culture and has specific doping allegations against Leonid Shvetsov (which aren't a surprise to the knowledgeable LetsRun.com viewer).
*LRC MBoard: Eddie Hellebuyck "'Yeah,' he says, 'I did it.'"

Silas Kiplagat Wants The World Record "I want to run a sub-3:28 in the next season."

*Dathan Ritzenhein Q&A Part 1 (His 12:56 5k, What's Different With Alberto And More)
*Dathan Ritzenhein Q&A Part 2 (What Went Wrong In NY In 2006) He says he learned about not running out of fuel. Cynics might also argue he learned that in the marathon, you get paid for hype, not performance (at the time he got one of the largest appearance fees in US history).
Tokyo A Major To Be?
Gebrselassie To Run Tokyo Marathon In February A lot of stars lock up their next marathon prior to running their current one so a bad performance cannot knock their appearance fee.
*AIMS President And Tokyo Marathon President Hiraoki Chosa Gets IAAF Order Of Merit The big news is buried in the article and is that the Tokyo Marathon had 335,000 applicants for its lottery for the marathon. The Japanese are mad about the marathon.
*Paco Borao Of Valencia Marathon Selected New AIMS President
Marathon News
Previewing This Weekend's Marathons: Frankfurt Marathon Preview Mare Dibaba vs. Dire Tune; Men: Tadese Tola, Elijah Keitany and Wilson Kipsang.
*2,500th Athens Classic Preview: Kenyans, Russians And Japanese Are Favorites Joan Benoit is on hand to celebrate the 2,500th anniversary of the first marathon.

NY Times Profile On Geb Running NY And Ducking Other Competitors In The Past link fixed Quotes from Alberto, Wanjiru, Cheruiyot, Ritz and many more. Recommended read.

Kenyan Men Dominating 2010 Marathon Season A non-Ethiopian or non-Kenyan has not won a single marathon that did not limit its field in some way.

Coming Off 1:08:34 Half Marathon, France's Christelle Daunay Wants Win In NYC

Believe High Mileage Is Necessary To Be Great? Read This: Tyson Gay Is Low Mileage Guy - Will Never Run A Marathon - Longest Run Of Life Is Just 1.5 Miles
African News
Reese Witherspoon Loses Race To 5th Grader
Altitude Tents, Underwater Treadmills And Anti-Gravity Treadmills Aren't Enough
Nike/Alberto Have A New Gadget They Are In Love With - Cryotherapy The rest of you will have to settle for a cold stream or ice bath.
5 Recommended Reads
Rojo Speaks
Rojo Speaks: Support For Ryan Hall And The Role Of A Coach Rojo is back with a column in support of Ryan Hall's coaching change and he tells you quite a few things. He tells you how many seconds a coach is worth, even talks about Roger Clemens and has some good points. A highlight: "Now that Hall has left the MTC, lots of people are throwing out names as to who he should get guidance from. I haven't read a single person mention the name Andy Gerard - the head guy at George Mason. That doesn't surprise me, as his cross teams at George Mason aren't all that great. But the fact of the matter is when Gerard succeeded the masterful recruiter Vin Lananna at Stanford, Gerard orchestrated one of the finest performances in NCAA history. If Stanford had lined up against the entire rest of the NCAA in the team scoring, the score would have been Stanford 24, Rest of the NCAA Teams 31."
NYC 1.5 Weeks Away
Vin Lananna Looking For 5th Man: "I feel really good about our top three or four guys."
Sprint/Hurdle News
Non-Marathon Weekend Action
BUPA 10-Miler: World XC Champ Joseph Ebuya Beats Benson Masya's 15-Year-Old UK Record To Win BUPA Great South Run Benson Masya was one of our favorite runners and used to be featured on the monthly television show Running and Racing.
*Steve Jones-Coached Freya Murray Surprises With 52:27 10-Miler At Bupa Great South Run She's now the 2nd-fastest Scot of all time. She beat the pre-race hyped Stephanie Twell.

Mayor's Cup XC: Jon Phillips And Kate Dicamillo Win 2010 Mayors Cup Cross-Country Races

Rock N Roll LA: 49-Year-Old Linda Somers Smith Wins Inaugural 2010 Dodge Rock 'N' Roll Los Angeles Half Marathon 12,000 runners and a 49-year-old doing a training run for NY got the win by 3 minutes.
Rupp
Now Married & Settled Into New Home, Galen Rupp Hoping Focus On Strength, Not Speed, Will Pay Off Big Time In 2011 LRC visitors should write this sentence down and use it as their only training mantra: "Looking back, I wasn't doing as much (strength work) as I should have been. I did lots of speed stuff, but without strength it's useless." That being said, many LRC vistiors may be horrified to learn that for Rupp, strength doesn't just mean mileage - it also means weights - and Rupp has gained several pounds of muscle in his upper body.
Update Ryan Hall To Be Self-Coached, Will Train In Various Locations (link fixed) Ryan says over the years he has "developed a keen body awareness, which I will use on a daily basis, as well as advice from various experts, and prayer to ultimately shape my training." Ex-coach Terrence Mahon would not comment publicly at this time but may later. *Joe Battaglia: What The Heck Is Hall Thinking?
Random/Interesting Non-Running But Running-Related Sports News
Sponsored Post
CLIF SHOT BLOKS® Electrolyte Chews For Performance Athletes Last month, we told you the amazing Clif Bar story and highlighted some of the benefits of CLIF SHOT ROKS® protein bites for recovery. This month, we're glad to tell you about CLIF SHOT BLOKS, a semi-solid, easily chewable source of carbohydrates and electrolytes. CLIF SHOT BLOKS come in the FASTPAK® designed for athletes and there are 8 flavors, 3 with caffeine, and 1 with extra sodium so you can get what works just for you. Click here for more info.
All The News That Is Barely Fit To Print
British Barmaid Spills Beans On Year-Long Affair With Usain Bolt Apparently Bolt doesn't suffer from the same problems as LaShawn Merritt, as the heartbroken lady says Mr. Bolt was the best lover she ever had.
Ridiculous Read Of The Day
One Of The Most Popular Stories On Kenya's Daily Nation Site Is A Story Entitled "The Secret To Our Happy Marriage" About A Man Who Has A Totally Sexist Constitution For His Marriage The rules insist his wife stick to the traditional roles of "preparing food, washing clothes and dishes as well as farming," that she worship the religion of his choosing and that she not travel without his permission.
Train Smarter
Recommended Read Fantastic Profile Of Josphat Menjo - The Man Who Soloed 12:55 And 26:56 This Summer Some old schoolers may be horrified to realize their hero credits much of his breakthrough to a weight and stretching regimen.
Detailed Look At Chilean Miner Who Ran Up To 8k A Day To Improve his fitness, he pulled a cart behind him.
Trackfocus: Don't Underestimate Portland - They May Be Nearly As Good As Oregon And Stanford They didn't race one of their studs at Pre-NCAAs.
A Record 12,500 Will Compete In Marathon That Traces Pheidippides' Steps On 2,500th Anniversary Of Battle Of Marathon
Good News Berlin Marathon Is Now The BMW Berlin Marathon
Honoring Some Legends Of The Sport
Weekend Marathons
Largely Unknown Ethiopian Getu Feleke Runs 2:05:44 In Amsterdam In ideal conditions, Feleke lowered his PR from 2:08:04 to 2:05:44. Wilson Chebet, who was the runner-up at Falmouth in August, was the runner-up on Sunday with the 2nd-fastest debut in history at 2:06:12. Finishing 4th in his debut at 2:07:29 was Abreham Cherkos Feleke, who ran 12:54 at age 16.
*Bib #3294 Pulls Stunner In Baltimore Declined travel expenses by the race organizers, David Rutoh stunned himself by winning first and $23,000 with a 2:13 win.
*2:10/2:27 Wins In Istanbul
*2:09:13/2:32:09 Wins In Korea
*Michael Aish Wins In Denver In 2:30
Congrats To Alan And Julia
NCAA XC Pre-Nats
Pre-NCAAs Pre-NCAAs is all about one thing: at-large points for teams and with its 4 races, it is super-confusing for XC fans out there. The one thing we're taking away this year is that the top 3 on the Stanford men are very, very good. If you want to know how things stand in NCAA XC after Pre-Nats try this thread or this one. Results below. More Pre-Nats coverage here.
Results:
Men Blue Team: #1 Stanford Crushes Iona, FSU, Depleted NAU Team
Individual: Stanford's Top 3 Finish Together 1-2-3 Faster Than Anyone Else On The Day

Men White Team: Martin Smith's #16 Oklahoma Chocks #4 Colorado, #8 Portland
Individual: Sam Chelanga Cruises As Expected

Women Blue Team: #3 Florida State Over #6 Arizona
Individual: Risper Kimaiyo Of UTEP Wins By 5 Seconds Over Alex Banfich Of Princeton

Women White Team: #5 Georgetown Over #9 Colorado
Individual: Lucy Van Dalen Of Stony Brook Over Laura Tremblay Of Colorado

Oregon Bill Dellinger *Results And Message Board Thread The Oregon women dominated. The men beat Wisconsin but Wisconsin sat their #1 runner.
*Oregonian Recap

Chile Pepper
LRC Message Board: OSU wins Chile Pepper Invite with first 4 going 1-4! Arkansas and Indiana, both in the top 10, were present.

Penn State: #1 Villanova Women Win *Men's Results
NYC Is 3 Weeks Away
WSJ: It's Time For Women To Run Faster The article looks at how the Boston qualifying times are way softer for women than men.
Better Late Than Never
LRC Week In Review: Geb Vs. Wanjiru This week saw one of the greatest marathons we've ever witnessed with Sammy Wanjiru battling mano-a-mano with Tsegaye Kebede at Chicago for not only the Chicago title but also the $500,000 prize for the World Marathon Majors title. Wanjiru is the best marathoner in the world in our book and we compare his performances to Haile Gebrselassie's. Plus a look at the Commonwealth Games and more.
RIP Antonio
Antonio Pettigrew's Death Ruled A Suicide He reportedly took a bottle of sleeping pills. He also reportedly told his wife to pray for him the day before his body was found. Our thoughts and prayers are with his family.
Can USATF Be Trusted To Get It Right?
USATF Set To Name Man Whose Team Was Next To Last At ACCs As Olympic Coach 18 points over 21 events at ACCs is apparently enough to get Andrew Valmon the Olympic head job. We guess it's not that big of a deal since the US coach does little more than babysit, but it's certainly surprising. In 2009, Maryland scored 21 points, in 2008, they had 54 and in 2007 they had 30.
Saturday: PAC-10: Women: Meet Of The Weekend: Stanford Edges Arizona, Washington And Oregon 4 teams all separated by 6 points. #2 Oregon is still looking for its first conference title in 15 years.
*UW's Kailey Campbell Comes Up Big For Washington

Men: Stanford Goes 1-2-3 To Destroy Rest Of Conference The #1 Cardinal will have a tough battle with OSU at NCAAs.
*PAC-10 Video

Big 12s: Men: "Unbelievable" Oklahoma State Goes 1-2-3-4 At Big 12 Meet Colorado defeated Oklahoma for 2nd.

Women: Rose Tanui Leads Tech To Win Over Colorado
*Mark Wetmore Pleased With Buffs' Runner-Ups At Big 12s

Big East: Men: Chris Fox's Syracuse Men Edge Ron Mann's Louisville Men This really can't be the first Big East men's team to repeat, can it? Perhaps since the league expanded. Wejo beat Fox in a road race in 1997 and unfortunately for the rest of the coaches in the league, he decided to retire from racing and take up coaching.
Women: #1 Villanova Defeats GTown 26-42
On The Boards: Big East Results?????

ACC Recap: Florida State Sweeps Team Titles
Results: Women Men
On The Boards: ACC Results!!!

Friday: Heps: *Princeton Women Win 5th Straight Title
*Princeton Men Complete Perfect Weekend for Tigers The Princeton teams won both team and individual races as Donn Cabral outdueled defending champ Dan Chenoweth.

Sunday: Big 10: Big 10 Men's Preview (Wisco Vs. Indiana (Going For First Title In 30 Years))

Monday: SEC (The SEC website doesn't even have the meet on its calendar).
*A Look At Ole Miss's Kirui Brothers (Barnabas And Martin)
Never In America
Mo Farah Honorary Captain Of Denver Broncos On Sunday
He's Doing Better
1:50 800m/Academic All-American Dale Dunn From Coppin St. (& Jamaica) In Critical Condition After Being Shot In Chest He was talking to his mom on the phone when shot.
NYC Marathon News
Crazy Stories
Random News
Week In Review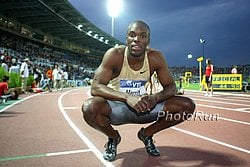 LRC The Week That Was Ryan Hall's big move, Doug Logan's law$uit and his contract with USATF being revealed, and LaShawn Merritt's ban being handed down. We've got it all covered plus some great quotes from Steve Jones and Galen Rupp.
LRC NCAA XC Polls
LRC NCAA Super Polls: Stanford And Villanova Reign Supreme On the men's side, Stanford and Oklahoma State distanced themselves from #3 Oregon. On the women's side, Villanova remains the #1 favorite. We break it down and give you the LRC Fans' Conference Predictions.
Bolt
Olympic Marathon Medallists In The News
Group Funded By NFL And USOC Donates $1.3 Million To Study Blood Spinning
Random News From Europe
*Nordic XC Champs Recap
*Belarus XC Champs Recap
*Slovenian Prime Minister's Office Issues Release Saying Olympic Hammer Champ Is Back & Out Of Retirement
Weekend Marathon Action
Dublin: Dublin Marathon Goes Sub-2:09 For 1st Time 2:26 won the women's race.

Casablanca: 3 Break 2:10

Korea: Bejamin Kiptoo Throws Down Hammer From 35k To 40k To Win Chuncheon Marathon In Record 2:07:54 Deriba Merga apparently dropped out.

Venice: Fall In Final 400m Determines Outcome Of Venice Marathon The marathon finished with the runners crossing 13 bridges to get in the center of Venice. Wonder if the fatigure from the turns caused the fall.

Beijing: Gena Siraj Pulls Away From Gert Thys In Final Km To Win Rain-Soaked Beijing Marathon In Slow 2:15
Drugs, Drugs, Drugs
Only In Europe
Seb Coe: "It Is Illegal To Sell An Olympic Ticket And We Will Enforce This Rigorously"
*London 2012 Official Hedging On Promise To Pay For All Athletes And Officials Airfare Now they'll only pay a certain amount, which apparently is going to screw the poor countries.
LRC Exclusives Galore
LRC Exclusive: Doug Logan Sue$ USATF: The Details Of His Law$uit And Employment Contracts The lawsuit has already resulted in the release of Doug Logan's two employment contracts with USATF and we've got the dirty details for you. The caviar, the first class flights, the $500,000 offered severance - read all about it (the caviar and first class flights are a joke).

LRC Legal Correspondent Matt Lane: "RULE 45": Is LaShawn Merritt Banned From The London 2012 Olympics? 11-time NCAA All-American and 4th place finisher at the 2000 Olympic Trials, Matt Lane, has graciously shared his legal knowledge with us and takes on the IOC's attempt to ban LaShawn Merritt from the 2012 Olympics.
Recommended Read 25 Years Later, Steve Jones Still Has British Marathon Record The Welshman isn't happy to still have it as he says, "I'm sad that I've still got the British marathon record because you want to see the sport move on." The article is full of great quotes as Jones rips charity marathoners.
Performance Of The Month - Kara Goucher Already Has Lost 27 Pounds & Will Be Up To 50 Miles A Week Next Week Remarkable considering her baby was born less than a month ago (9/24).


LRC Week That Was: Unspoiled Kenyans, High Mileage Success, Wilson Kiprop And Menjo And The Knights We go behind the scenes to cover the last week in the running world. We take a look at Stefano Baldini's lifetime mileage, our beloved Menjo, Wilson Kiprop and more.
Something We Missed From Last Weekend
9 Break 28:00 In Japan Seven of them were Kenyan, but it's impressive nonetheless.
David Torrence Talks About His 2010 Season Torrence is only moderately satisfied with the year as while he ran 3:34, he failed to run well at the indoor or outdoor USA finals.
Sponsorship News
He Said / She Said: Question Now Is Will Merritt Be Eligible In 2012?
LRC Legal Correspondent Matt Lane: "RULE 45": Is LaShawn Merritt Banned From The London 2012 Olympics? 11-time NCAA All-American and 4th place finisher at the 2000 Olympic Trials, Matt Lane, has graciously shared his legal knowledge with us and takes on the IOC's attempt to ban LaShawn Merritt from the 2012 Olympics.
More NYC News
VOTE NOW FOR IAAF AOY Christian Cantwell, Bernard Lagat, Tyson Gay and David Oliver are the Americans in the running on the men's side, while Allyson Felix is the only American woman. *Jessica Ennis On Short List For AOY
Merritt
(link fixed) Updated: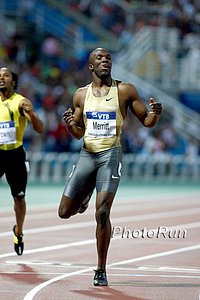 LaShawn Merritt Gets 21-Month Drug Suspension, Panel Rules He Was Trying to Have Better Sex, Not Dope Panel Rules IOC Can't Ban Him From Olympics 3wiresports.com blog above goes beyond the BBC news story we had up earlier. And you might want to read the decision itself. A 7-11 clerk testified she would sell Merritt lottery tickets and jungle juice and later he would come back for condoms and ExtenZe (a male enhancement product). Merritt gets a 21-month ban.
Different Type Of Running News
NYC Is Less Than 3 Weeks Away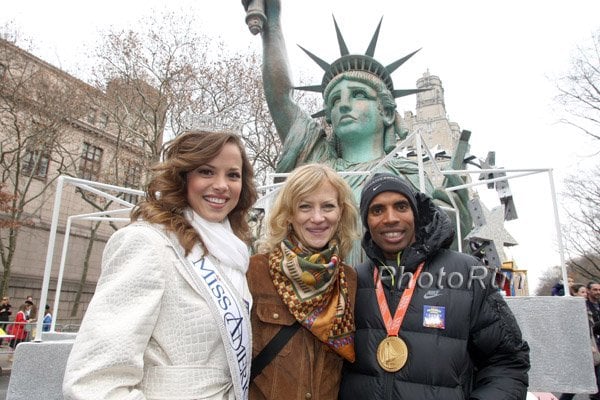 WSJ: Meb Excited To Defend His NYC Title As An American *LRC MBoard Talk About Meb Article
*NY Times Looks At Mary Wittenberg's Busy Sunday Routine She - like Wejo - is a former Marine Corps marathon winner.
*Christelle Daunah Sets French National Record 68:34 In Reims As She Prepares For NYC Translated from French.
News You Might Have Missed: NY Times Profile On Ritz And His Preparations For NYC A lot of detail on Alberto's fixation on changing Ritz's stride and the extent Nike goes to keep him healthy. Ritz also smartly downplays his fitness and chances, "I wouldn't count myself out of winning, but I'm not going to think that I'm going to win and it's a failure otherwise."
*Shalane Flanagan A Bit Scared By Marathon Distance Good to see the first marathon scares all the greats except for Rexing and Menjo. New York Times
S. African News
LRC Poll
Powered By