Doug Logan In The News
LRC: Why Doug Logan Is Out At USATF And Where It Goes From Here LetsRun.com co-founder Weldon Johnson offers his analysis of the Logan dismissal. The outsider likely had zero built-in allies in USATF, which even USATF admits is an organization that is inherently "dysfunctional" in its setup. And when an outsider, not an insider over promises and possibly under delivers he's immediately thrown to the curb as no one's got his back. Regardless, the key thing to focus on is not why he's gone but what type of person does USATF hire to replace him and how do we prevent history from repeating itself as it appears the initial search process was poorly done.
More Logan:
*Logan Replacement Likely To Come From Within Sport
*SI Claims Logan Secured $10 Million A Year Deal With Nike If that's the case, they couldn't be too far off their $12 million goal for sponsorship for 2010.
Good News
Dick Patrick Wins NYRR George Hirsch Journalism Award
Week In Review
LRC Week In Review: Webb, Lukas V, Nelson, Ritz, Culpepper And Miss Universe Runner-Up This week, we start things off by telling you how hard it is for Americans to medal in this day and age of African domination by showing you there is more Kenyan talent entered in an obscure marathon in the Netherlands than has ever existed in the US. We then give unsolicited coaching advice to Alan Webb and Asbel Kiprop, give props to American Tim Nelson and compare him to Dathan Ritzenhein and Alan Culpepper, talk about triathlon stars of the past and present, and finally introduce you to Asafa Powell's future wife - the runner-up at the Miss Universe pageant. All of that and we introduce you to a new star of the sport.
Foreign News
Bye Bye, Doug - We Hardly Knew Ya ...
Stephanie Hightower For USATF CEO? The USATF president won't rule out being considered. If she's selected, it seems to us it shouldn't be a $450,000-a-year gig.


Doug Logan Out At USATF Logan, who less than two years ago was a unanimous pick by the search committee to be USATF CEO, was canned by the USATF board on Monday. We're shocked he was fired, especially considering USATF may owe him a $1$2 million severance. It'll be interesting to see why the board fired Logan. Logan's biggest problem (besides the dysfunctional organization that faces every CEO of USATF) may have been promising way too much. We thought the whole "Project 30" report was a waste of time about a non-existent problem. Nonetheless, we gave Logan props for letting the Olympic Trials go to the highest bidder. We want to see what the board says on this one. If you'd like to comment on Logan's firing on or off the record, email us or post in our forums in the threads below:
More: Washington Post: Logan Vowed To Clean House And Now He's The One Shown The Door
NY Times: Steph Hightower Says It's Halftime Between Olympics And Time To Make Changes
Reuters: Board President Steph Hightower Admits She Didn't Vote For Or Against Doug Logan When He Was Hired How a board member could not have enough info is ridiculous - either for them personally or the search process in general.
Chicago Tribune: Next Guy Had Better Be At Least $2 Million Better Than Logan
On The Boards: USA Track & Field dumps CEO Logan *Farewell Doug Logan, we hardly knew ya... *Deena Kastor Comments
Commonwealth Games News
Lukas V Update
Foot Locker Champ Lukas Verzbicas Goes From 42nd To 4th On 5k Run Leg At World Triathlon Junior Champs
DecaNation Meet *Results
NCAA XC
Penn State: Penn State XC: Georgetown Women Win, Princeton Men Edge Georgetown
*Men's Penn State Results (Donn Cabral Wins)
*Women's Penn State Spiked Shoe Results

Former NCAA Mile Champ Sean Jefferson, Now A Pro Triathlete, Wins Indiana XC Meet We had no idea he had "gone to the dark side" last year.

It was a slow XC weekend, but the USTFCCCA website has more results.
Saturday Was A Really Slow News Day And We Are Trying To Find A Few Links That Might Interest You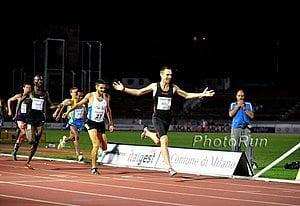 Nick Willis Runs 3:35.17 To Win As Alan Webb Runs 3:36.21 To Finish 5th! Fans of Alan Webb are starting to get excited as his comeback is officially on, as he ran just .35 slower than he did in 2008 when he flamed out in the Olympic year.
Want A Rematch? You've Got It!!! Lagat, Manzano, Webb And Willis To Clash On September 26th At Continental Airlines Fifth Avenue Mile In a day and age when people say there aren't any rivalries or races worth watching, this one looks like a real dandy.

Caster Semenya Runs 1:58.16 - The Fastest Time Of Her Comeback

*IAAF Recap Unheralded 20-year-old Ethiopian Almirew Yenew (a 13:16 and 7:46 guy) of Ethiopia crushed the field in the 3k, running 7:28.82. Asbel Kiprop basically quit over the final laps for the second race in a row.

*Milan Photos
News From Kenya & The Commonwealth
Sponsored Post
CLIF SHOT® ROKS™: Protein Bites For Recovery We at letsrun.com have always personally loved Clif Bars and the Clif Bar story. It's a company, independent to this day, started by a dude who on a 175-mile bike ride said, "I can make something better" and he did. Clif Bar's CLIF SHOT® line is all about delivery great-tasting, scientifically-backed, all-natural and organic sports nutrition to performance athletes. CLIF SHOT® BLOKS™, CLIF SHOT® Energy Gel and the newest CLIF SHOT ROKS provide athletes with the essential nutrition for their training and racing needs. Read more about this all-natural recovery product and a little more about the incredible Clif Bar Story (the founder started shaking when he was about to sell his company for $120 million and instead kept it private).
The Week That Was/Truth Stranger Than Fiction
LRC Week In Review Mark Twain once said that truth is stranger than fiction and last week, in terms of Chris Lukezic and Caster Semenya, that certainly proved to be the case. In terms of men's and women's 1,500s, the truth of the world's best two milers getting clobbered at the Continental Cup may seem to be stranger than fiction but we tell you why in reality, upsets should be expected as they are the name of the game in tactical 1,500s. All of that plus talk of Arthur Lydiard, Peter Snell, Bernard Lagat, Sean Quigley, Justin Gatlin and gene doping.

Usain Bolt's Book Gets Rave Review For Its Marital Advice
ING NYC News
Top Americans Antonio Vega, Tim Nelson, Blake Russell + Canadian Simon Bairu To Take Part In 2010 ING New York City Marathon Nelson is a 27:31 guy (faster than Alan Culpepper's PR) making his debut. American marathoning has come a long way when that doesn't get much notice. The women are competing for a $150,000 US only prize pool with no Deena Kastor.
Good Read: Nice Brief Chat With "Little Meb" (Simon Bairu)
Sean Quigley And Magdalena Lewy Boulet Win US Titles At Stratton Faxon New Haven 20k Sean Quigley got his first US title and $8,000 in his first race over 15k as he triumphed over Mo Trafeh. Olympian Magdalena Lewy Boulet won the women's title over unheralded Stephanie Rothstein.
*More Coverage
*On The Boards: Deep field at New Haven 20k on Monday. Predictions?

Off The Road: Team USA Men Finish 2nd At World Mountain Running Champs

Off The Beaten Path: Michael Wardian Comes Up 52 Seconds Short Of $15,000 At Kauai Marathon

Previous: Rock N Roll Virginia Beach:
Songoka (KEN) And Ogi (JPN) Win Coolest Rock N Roll Va Beach In History Cool temps in the mid-60s were a gift to runners. 2009 Philly champ and Employee #1 vanquisher John Crews was the top American male in 9th (66:23) as he prepares for Baltimore in October.

More: *Linet Masai Wins Hyde Park 5k In 15:06 With Twell At 15:32, Pavey 15:53
Our Apologies In Advance ... More Bolt
Australian Rugby Union Player Wins Gatorade 100m Bolt In 11.10 That seems like a slow time for the fastest rugby player in Australia. Bolt was on hand to give his training tips and talk to the press. He did run a celebrity relay.

*Bolt Says He Wants To Run 9.4, Refuses To Go Shark Diving
*Usain Bolt Takes His Show To Australia's Football And Rugby Players smh.com.au
*Video Of Bolt And Footballers In Australia
*Cathy Freeman Honored With Plaque At Sydney Olympic Park
Distance News Before This Weekend's Great Half Marathon (And 5k) Action
This Weekend - Incredible Half Marathon Action
UK: Gebrselassie Vs. Martin Lel Vs. Ritz At Great North Run Americans may not be too familiar with the Great North Run, but it gets over 50,000 entrants and is a big deal in Britain and this is the 30th anniversary. Michael Johnson is doing a BBC special on the run this Sunday. But all we care about is the fields it has and it does a good job of culling interesting matchups. They seem to use the same model that the NYRR uses.
Women: Mara Yamauchi Vs. Berhane Adere, Irina Mikitenko And Constantina Dita At Women's Great North Run
On The Boards: Hey Brits Explain The Great North Run To Us Once they wake up, they'll help us out.

Previously Mentioned:
Philly: Meseret Defar To Make Her Half Marathon Debut Versus Shalane Flanagan Defar raced infrequently in Europe this summer but won the 3k at the Continental Cup last weekend. Doubtful she's been doing much half training, but she has run 14:12 for 5k.
Men: Ryan Hall Vs. Gebre Gebremariam Vs. Abderrahim Goumri Gebremariam, the 2009 World XC champ, has been tearing up the roads in 2010, winning everything in sight. Hall, however, has the best half PR of the group.
*defar VS flanagan....who ya got?

New: Washington DC: Catherine Ndereba To Run Sunday's Inaugural Woodrow Wilson Bridge Half Marathon Ndereba may be on the back nine of her career, but she won the Philly race last year. Steve Nearman, former running writer for the Washington Times (the guy who broke the story on Alan Webb making $250,000 a year out of college), is the race director of this new race.
Villanova And The Ducks Go To Washington
Drug Cheats Rejoice
104 Baseball Cheats Can Breathe Easier Tonight As Court Rules Government Illegally Seized Records Of Their Positive Drug Tests

Underdogs Rejoice Man With 15th-Best PR Wins Japanese University 5,000 Title
Random News
Drug News
Former University Of Iowa NCAA Standout Racheal Marchand Tests Positive For EPO Marchand was fifth at the NCAA XC champs in 2008 and quit her job this past year to train full-time for the 2012 Olympics for Puerto Rico. We and everyone else are bit late on this story, but this message board thread is all over it.
*Racheal Marchand Wins XC Race, Refuses To Talk To Reporter, Her Mom Blasts Reporter In Comments Section
*Flashback: Racheal Marchand Quits Her Job As A Drug Rep To Train Full Time For 2012 Games
On The Boards: Former NCAA standout EPO busted

Jamaican Editorial On Drugs Says Don't Go The Way Of USA "One recalls that not so long ago, Jamaicans would scoff at the achievements of American athletes within the context of their pervasive use of performance-enhancing drugs. While this has indeed been verified over time, we have to safeguard against a similar tarnishing of our yet favourable international sporting image, in the face of these mounting drug-related incidents."
Sprint/Field News
Marathon/Half Marathon News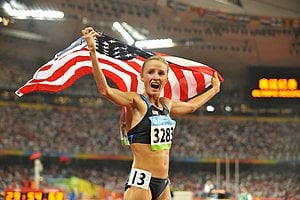 This Weekend In Philly Meseret Defar To Make Her Half Marathon Debut Versus Shalane Flanagan Great matchups on the men's and women's side. We're glad to see the Rock N Roll Series wants to stay in the competitive running sphere. Defar raced infrequently in Europe this summer but won the 3k at the Continental Cup last weekend. Doubtful she's been doing much half training, but she has run 14:12 for 5k.
*defar VS flanagan....who ya got?

This Weekend In Philly Ryan Hall Vs. Gebre Gebremariam Vs. Abderrahim Goumri Gebremariam, the 2009 World XC champ, has been tearing up the roads in 2010, winning everything in sight. Hall, however, has the best half PR of the group.
Brendan Foster Reflects About The Great Run's 30 Years Of Greatness Haile G will make his great run in the 30th year. The race is the world's largest half marathon and Europe's most popular race.
Sprint News
Rock N Roll Marathon People - Please Read This
One Of New Zealand's Most Popular Road Races Only Costs Just $15
It also only has 400 people and is 66km long but we like it.
Desiree Davila Talks About Her Preparations For Chicago She's running Chicago instead of NY, which also is the US champs, and could give her a $40,000 payday (Shalane Flanagan, however, is running NY).

Athens Marathon Celebrating Its 2,500th Anniversary This Year
Bolt/Powell Gossip/News
Drug News
IAAF To Reject Slap-On-Wrist Punishment For Shelly-Ann Fraser They're reportedly recommending a 6-month suspension. Considering she hasn't competed this summer, we don't see the difference.
Mottram On The Comeback Trail
One We Missed From The Weekend: Craig Mottram Beats Sub-28 Guy Chris Thompson In Britain In Road 10k Mottram, however, is not on the Australian Commonwealth team despite the fact he's rounding into form at the perfect time.
Recommended Read Meet Joe & Jim Rosa The twins from New Jersey are two of the best high schoolers in the country. Brad Hudson thinks Joe Rosa's Holmdel course record equates to the 13:30s for 5,000 as a junior in HS.
Looking Ahead To The Fall Marathons
Female Sprint News
Triple Gold Medallist Swimmer Loses Jaguar Endorsement Deal For Twitting Homophobic Slur
From Across The Pond
You Can Still Talk About Logan
Aussie News
Last Lap (Or Full Race) Of Lagat's 3k American Record (It's Super-Impressive)
More On The Boards
Willis 3:35, Webb 3:36
Recent Photo Gallery: Milan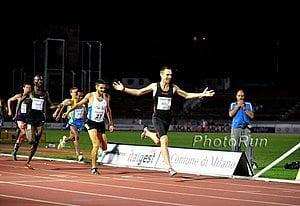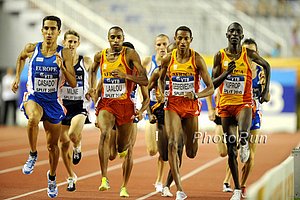 Of Possible Interest On The Boards
Congrats To One Of The Good Guys
Pete Julian Named Washington State XC Coach Julian was one of the guys who helped bring the US XC Champs to Boulder.
NCAA XC Glorified Practice Season Underway (More Results Here)
Tyson Gay 9.92 Over Nesta Carter (His Last 20m Is Sick)
Justin Gatlin 10.09 (More Here)
Great Deals

Rudisha's 1:41.01!!!!!
Webb's 3:41 Win In Antwerp (More Here)
Rudisha Over Kaki In Brussels
Random Distance News/Profiles
*A Look At The "Little Killer" Course In Connecticut
*Molly Huddle Interview
*Arkansas' Shawn Forrest Living The Dream
*Athens Marathon Celebrating 2,500th Anniversary Of Battle Of Athens
Final Lap Of Men's 5k: Solinsky 12:55.53!!! More Coverage Here
Great Deals