American Marathon/Half Marathon News
Patrick Smyth On A Roll, Looks Towards Houston Half
Smyth, one of the new kids on the block in American road racing, was 2nd in Manchester and 1st in New York and will debut in the half in less than 2 weeks.

*a la Boston Big Sur Marathon Sells Out April Race
Good news for race organizers. Bad news for runners who didn't plan practically half a year in advance.
*National Trend: Participation In US Road Races Up 11% In 2009

Ryan Hall And Deena Kastor Set For Jan 17 Rock 'n' Roll Arizona Half
The 2 Mammoth stars look to get back on a positive roll after Hall's stagnant and Kastor's un-Deena-like running in 2009.
News From Africa - Kenya
Excellent Read On Colm O'Connell's Training Group In Iten - Owen Slot, Times London
Slot reports from Iten and describes the running factory that is churning out distance-running stars and hope, in the form of hundreds-strong packs of runners.
News From Africa - Ethiopia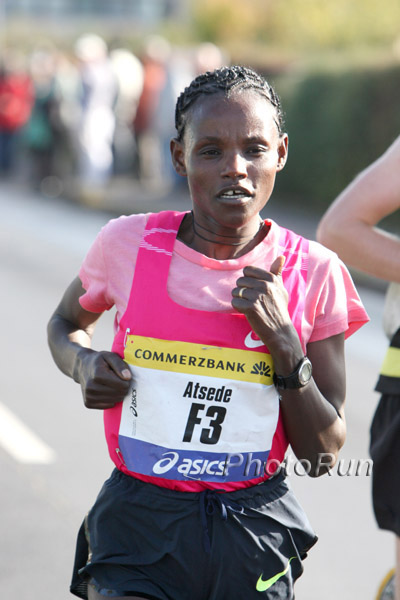 Pat Butcher Previews Haile G And His Competetion At The Jan 22 Standard Chartered Dubai Marathon
The Emperor has started twice in Dubai and twice produced all-time top 8 marathon times. He'll have good competition and hopefully good weather for another crack at a record at the unthinkable age of 37.

Article Says 22-Year-Old Atsede Bayisa Of Ethiopia Ran 69-Minute 2nd Half In China's Xiamen Marathon
Pictured left, Atsede Bayisa ran 2:28 to win by over 5 minutes in China. Her best is 2:24 from a win in Paris in 2009 (she ran 4 intl. marathons in 2009). This article also gives quotes from the men's winner Feyisa Lilesa, who apparently ran almost the entire race with an injury en route to 2:08.
Hakone Ekiden Results And Excellent Recap
Hakone Ekiden Day 2 Recap - Toyo University Wins 2nd Straight
Ryuji Kashiwabara started over 4 minutes down on the final Day One stage and ended the climbing stage over 3 minutes clear of the field to again give Toyo Univ. the lead it needed to win the coveted Hakone Ekiden title.
Hakone Day 1 Recap
UK Running News
UK To Step Up Drug Fight For 2012 Olympics

Charles Van Commenee Talks After 1 Year On The Job As Head Of UK Athletics
Van Commenee seems content after a turbulent year in which a good amount of people lost their jobs and many athletes lost their funding or were forced to move places or coaches. Going into 2010, most everyone knows what to expect.

Jonathan Edwards Talks About Losing His Faith In God
You don't read that every day. Great Britain's triple jump world record holder and Olympic champion talks about losing faith in God and being embarrassed about praying for victory in the past asking, "Why would He intervene in something that is just a game?"
Flotrack Kwik-E Interview With Jordan Hasay
A good read for girl athletes looking for a role model. Hasay talks about the transition to college, her cross-training swimming routine, and the nutjobs on the internet message boards.
2 Top Jan 1st Reads
Recommended Read: Times London Writes About Female Athletes From Kenya
The piece follows Lornah Kiplagat, one of the first few Kenyan female distance stars from the male dominated Kenyan society. Kiplagat now is Dutch but has a training center in Kenya and has found ways to use her success for positive improvements despite males expecting her to cook their meals and wash their clothes early in her career.

IAAF Says Statute Of Limitations Is Up On Ben Johnson Case, Will Not Act Or Comment Can't Blame 'Em ...
Daily Telegraph journalist Mike Hurst broke the story of revelations from Ben Johnson's book that will be released in February of 2010. His latest article points out some of the difficult questions Johnson's revelations raise and hints that the IAAF will refuse to act or comment. Johnson apparently writes in Seoul to Soul that he tested positive before the 1988 Olympics (he still was allowed to compete).
Final Day!
LRC US Distance Rankings
2009 US Men's Marathon Rankings
Meb, Hall And Ritz Continue As America's Big 3
2009 USA Women's Marathon Rankings
Kara Goucher And Desiree Davila Are 1-2 For USA
Desiree Davila became the first Hansons-Brooks female star when she finished 1 spot behind Kara Goucher at Berlin's World Championships Marathon. Goucher, a Worlds medalist at 10,000m, took center stage in Boston, but ultimately could not match the finishing speed of Salina Kosgei and Dire Tune. Behind the top 2 are a mix of elder greats (Deena Kastor and Colleen De Reuck) and the young American champion Ilsa Paulson.
Men's 10,000m
4 Americans Break 27:40 But It's A 2-Horse Race For The #1 Ranking
Whose year was tops, Dathan Ritzenhein or Galen Rupp? Rupp won the NCAA and USATF 10,000m before running a gutsy race in Berlin. Ritzenhein peaked later and finished his last 5,000m of the Berlin 10,000 in 13:37 to place 6th. Also, who would have expected Tim Nelson (27:36) and Patrick Smyth to have such big improvements in '09?
LRC Boards: Tim Nelson Congrats Thread
Women's 10,000m
"Reign Of Shalane" Ends As Begley Bags #1 Ranking
American record holder Shalane Flanagan switched coaches and ultimately decided to switch gears in 2009. From here forward, America's greatest track distance runner of all time may be focused on marathon training. Thanks to Nike's Oregon Project, the 10,000 wasn't bare for America in '09. Amy Begley upset the Olympic medalist at USAs and finished 6th at Worlds in a career-best year.
LRC US Rankings 2009 was a banner year for US distance runners and for LetsRun.com and we thought of no better way to celebrate the end of the year than with the first-ever LetsRun.com US year-end distance rankings. Instead of the 12 days of Xmas, it's the 12 days of LetsRun.com during the final 12 days of 2009. We give you the top 10 in each distance event.
Men's 5,000m: Lagat Leads Stellar American Year One American got a silver medal at Worlds and two more Americans went sub-13 minutes. Dathan Ritzenhein's electrifying run left him with the American record. Was it good enough to rank him #2 ahead of WC finalist Matt Tegenkamp? Yes.

Women's 5,000m: Shalane Flanagan Leads The Way Jen Rhines may have been 9th at the Worlds this year, but she is only #3 in the US rankings, as Flanagan and Jenny Barringer get the top 2 spots.
Women's Steeple: Jenny B Reigns Supreme Barringer was sensational in 2009 at many distances and smashed her American steeplechase record. A measured race at Worlds, however, left her just short of the medals.
Saturday's Edinburgh Intl XC To Be Year's First Big Showdown
Bekele And World Champ Gebre Gebremariam To Face Cold Conditions
Bekele is downplaying his return, saying he's coming off a long holiday from running. '09 World Champ Gebre Gebremariam has been hot on the European cross circuit. If Bekele beats him his first time out, we can look forward to another year of dominance from the 27-year-old Bekele, whose greatest opponent seems to be his own boredom with being the greatest.

Yesterday: Rare In-Depth Interview With Kenenisa Bekele
The Ethiopian world record holder in the 5,000 and 10,000 will race his first race of the season at the Edinburgh International Cross-Country Race this weekend.

Not Just Bekele - Tirunesh Dibaba And Vivian Cheruiyot To Face Locals Steph Twell And Hayley Yelling In Edinburgh
Dibaba vs. Cheruiyot is an interesting rivalry. Obviously Dibaba should be the big favorite and any runner from GBR can just forget about winning.

Mo Farah, Tom Lancashire, Lisa Dobriskey And Andy Baddeley Expected In Edinburgh
Top Great Britain talent will line up against the top world talent.

2009 World XC Champ Florence Kiplagat Also In The Hunt For World's Best Title
With Dibaba out in 2009, Florence stepped in to take the world title. We'll see this weekend the start of Dibaba's fresh 2010 campaign. Her 2009 ended with an amazing 15km road world record in the Netherlands.
A Look Back At "The Internet Decade" For Running
10 years ago even the hard core running fans got most of their news from monthly magazines.
LRC What Was The LRC Quote Of The Year In 2009? It's the most effective and interesting way to review the year in running. We're letting our loyal site visitors determine the quote of the year for 2009. No need to log in. All you have to do is pick your favorite quote of the day from the ones we give you for each month.
Non-Running Related
Sheikh Mohammed Set To Open "Superscraper" Burj Dubaj - Taller Than 2 Empire State Buildings Stacked Up
The building is over a half a mile high and is 1,000 feet higher than the next-tallest building in Taipei.

World Champion Jana Rawlinson Gets Boob Job Reversed To Try To Win Medal For Australia
Rawlinson is also set to re-marry her ex-husband ... as soon as the divorce papers go through.
LRC Training Talk Thursday Episode II
Access to the best minds in the sport. Free and easy. You won't find more useful training talk anywhere. Only from LetsRun.com.

Click Play Below To Hear Our Conversation With Author Matt Fitzgerald.


Matt talked for more than an hour about his new book: "Racing Weight - How To Get Lean For Peak Performance." (Currently the 10th-best selling sports book on Amazon). At last, someone has the guts to write what everyone knows - runners want to lose weight so they can run faster. We think the book is very practical for the beginner to the pro. Also we wanted to promote Matt's revolutionary book with a foreword by legend Dr. Tim Noakes, called "Brain Training For Runners." LRC Coaching Guru John Kellogg is a fan of Brain Training and says his training is based significantly on principles that also appear in Noakes' and Fitzgeralds' work.
Top New Year's Results
Distance News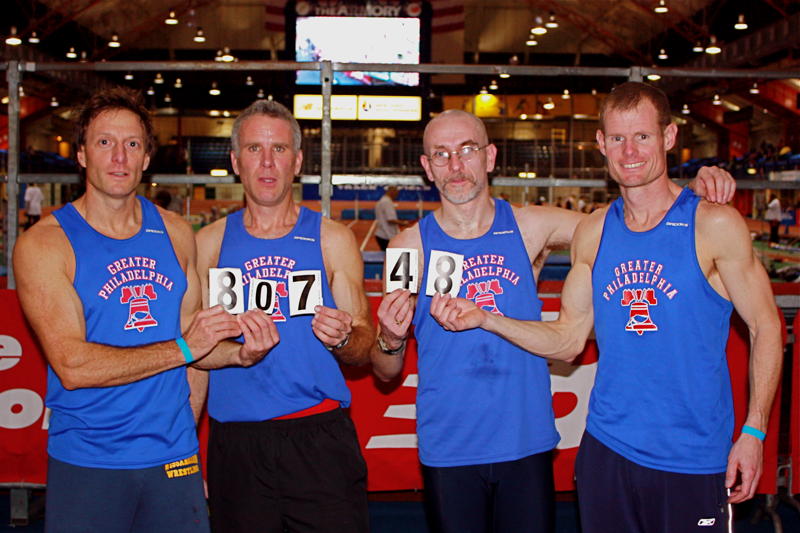 LRC Greater Philadelphia TC Masters 4 x 800 Breaks World Record With 8:07
3 former high school standouts (including one from a HS 4 x 800 that ran 7:36) and another Greater Philadelphia TC 40+ teammate combined to break the masters world record in the 4 x 800 at the Armory this past Sunday. Fastest split was a 1:57.

Mark Conover Named Head Track And Field Coach At Cal Poly San Luis Obispo
A 2:12 marathoner and 1988 Olympic Trials champion, Conover has been the cross-country coach at Cal Poly SLO for several years and replaces Terry Crawford.

IAAF: Preview Of San Silvestre Vallecana - Most Elite New Year's Race On The Globe

Man Set To Run 250 Marathons In 2010 To Raise Money For "Right To Play"
54-year-old Canadian hopes to raise $250,000 in running almost 7,000 miles in 2010.
Interesting First-Hand Quotes From Bolt's 100m WR And Jessica Ennis' Breakthrough Heptathlon In Berlin
Today's Headline
England Ready To Pull Out Of India's Commonwealth Games
Western countries are citing terrorist concerns from neighboring Pakistan.

*Other High-Up Sources On Reported England Pull-Out: "No Truth To It"
Getting Rave Reviews: LRC Training Talk - Listen To Our First 2 Episodes
Ron Warhurst On Mechanics And What The Great Athletes Have
LRC The Week That Was Let's be honest; last week, not a whole lot actually happened in the running world. The majority of the running news was about what is likely to happen in 2010. We were busy finalizing our top 10 rankings for the year and thought about bagging The Week That Was, but then remembered that our New Year's resolution for 2009 was to do it every week for 2009, so here it is - in somewhat abbreviated form.
New Feature: Products We Use And Recommend: ING Bank (Checking And Savings)
ING Orange Checking And Savings Bank Review A message board thread on outrageous overdraft fees got us to write a review of ING's banking products. ING has no fees including no fees for overdrafts. We have used them at least since 2004, and have never been disappointed. Read our review and seriously consider switching banks. Not only is their product great but they support world class marathoning throughout the world.