US Women 5,000m Top 10 Rankings - 2009
On the upside, Shalane Flanagan set a new indoor AR 14:47.62. But look at this stat: 12 American women ran 15:32 or faster on the track in 2004. In 2009, that number was only 6.
By LetsRun.com
December, 2009
LetsRun.com's year-end rankings evaluate the best US runners in every event from 800m to marathon - easily the most interesting summary you will find anywhere in the media.

You can discuss our rankings in the official 2009 US Women's Rankings thread here.
LRC #1 Shalane Flanagan • Nike • 14:47.62i (AR; Tie, World #3, '09)
2008 Olympic 10,000m bronze medalist Shalane Flanagan made the shocking decision to split with coach John Cook in January. Eventually she joined Jerry Schumacher's all-male training group in Portland, Oregon and her outdoor season was a struggle. Honestly, the longer Flanagan has been away from Cook, the worse her results have been.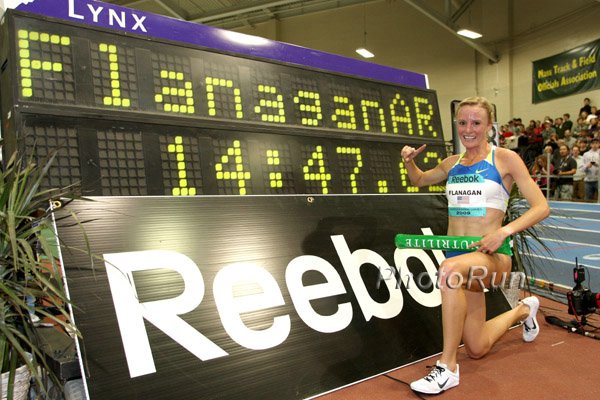 Then how is she ranked #1 you ask? Well, when she was basically self-coached or coached by her husband, Flanagan had by far her best 5,000m performance of the year at the Reebok Boston Indoor Games in February, where she ran an American record 14:47.62 in the narrowest of narrow losses to Ethiopian Sentayehu Ejigu (great photos here). That time stood as the 2nd-fastest run in 2009 by any non-Ethiopian/Kenyan woman, with Russian Mariya Konovalova slightly ahead at 14:42 (Cheboksary, RUS).
That 14:47 performance right there was way better than anything done by any other American women in 2009 and gets her the #1 spot even though outdoors Flanagan struggled while focusing on the 10k. Outdoors, the US indoor and outdoor 5,000m record holder did give the 5,000m another crack at adidas Carson, which ended up being a very windy day. She ran 15:10, still faster than every other American woman ran in 2009 aside from Jenny Barringer and Jen Rhines.

*Flanagan Gets American Record
LRC #2 Jenny Barringer • Colorado • 15:01.70i (World #5, '09) • 15:05.25 • DN Galan 5,000m Champion
Jenny Barringer ran three extremely impressive 5,000m races in 2009. Indoors, she set an NCAA record when she ran 15:01 in February on the oversized track in Spokane, Washington. Only four women ran faster indoors in 2009 than Barringer.
Barringer then made another attempt at the 5,000m distance in Stockholm's DN Galan, where she ended up finishing first in 15:05. Of course she wanted to run faster, but the conditions and pacing were not right for any record attempts.
Barringer finishes 2009 as the #1, #2 and #4 ranked US runner in the steeplechase, 5,000m and 1,500m, respectively, thanks to her 3:59.90 NCAA record, 9:12.50 American and NCAA record and 15:01.70 NCAA record.

*Barringer Wins In Stockholm
Photo: Jen Rhines leads her 5000m heat at the Berlin World Championships en route to qualifying for the final.
LRC #3 Jen Rhines • adidas • 15:07.78 • 9th Place, Worlds • USA Runner-Up
Jen Rhines had a great year as she finished as the USA runner-up in the championship 5,000m and went on to finish 9th in the IAAF World Championship 5,000m final. In Berlin, Rhines ran a strong 15:20 to make the 5,000m final and then ran even better, 15:12, in the final. This year Rhines ran 8 races between 15:33 and 15:07 on the track, including a 4th-place finish in the 5,000m at the IAAF Grand Prix in Stockholm, won by LRC #2 Jenny Barringer. Rhines ended her year with a 3rd-place finish on the roads in Providence in 15:33.
While 9th at Worlds, Rhines is only #3 in the US rankings. For many her ranking may not need an explanation. But for those of you who need an explanation here it is: Making the final at Worlds was not very difficult for a 15:10 5k runner this year. Rhines was not the US champ, so we couldn't see ranking her over Flanagan and Barringer whose 5k campaigns were more impressive than Rhines (except for the Worlds which they didn't run).
LRC #4 Kara Goucher • Nike • US Champion • 15:20.94 • Ran Only one 5,000m Race In '09
Goucher was focused on the marathon in 2009 but stepped on the track for one, and only one, 5,000m race in 2009. She ran incredibly, winning the US title in a sprint finish over LRC #3 Jen Rhines in 15:20.

LRC Kara Goucher Gets 5,000 Crown
LRC #5 Shannon Rowbury • Nike • 15:12.95 • Ran Only One 5,000m Race In '09
Shannon Rowbury, the 2009 World Championships 1,500m bronze medal winner, was not primarily a 5,000m runner in 2009, but had two impressive performances at the distance, one on the track and one on the road. At the Brutus Hamilton Invite, a fast, paced affair, Rowbury won the 5,000 in 15:12. At the Carlsbad 5k, Rowbury finished second to an Ethiopian in 15:41. Rowbury was one of four American women to crack 15:20 in 2009.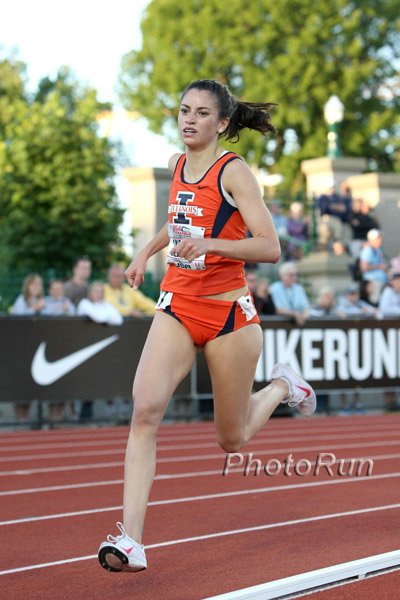 Photo: Angela Bizzarri on her way to finishing 3rd at the USATF 5,000m championships.
LRC #6 Angela Bizzarri • Illinois • 15:33.02 • 3rd Place, USA Champs • NCAA Outdoor 5,000m Champion
NCAA 6km cross-country and 5,000m champion Angela Bizzarri ran 15:33 in the USA Championship 5,000m final to earn third place. She won the NCAA 5,000m Championship outdoors against strong, but not stellar, competition. A collegian that wins NCAAs and finishes top 3 at USAs in the same year is very, very good even if their season best time is a little slower.
Speaking of times, we were not really sure where Bizzarri belonged on this list. Our #9 and #10 ranked women both ran faster than Bizzarri. But Bizzarri defeated #7 Julie Culley at the US Champs and Bizzarri won or placed highly in every major 5,000m race she ran in 2009. Her one attempt at a fast, paced race in Europe didn't go well and she ran 15:55, so we decided she'll have the chance next year to get in the 15:20s or better and move up in the rankings above the more experienced and accomplished vets.
*Women's 5,000m Final - Bizzari Takes A Tactical Race Over Blood
LRC #7 Julie Culley • NYAC • 15:21.87 • 4th Place, USA Champs • 7th Place, Berlin WC Heat
Julie Culley finished 4th at the USA 5,000m championships in Eugene and earned a spot on the US Worlds roster because collegian Angela Bizzarri in third place couldn't hit the required time to compete in Berlin. Culley performed decently in Berlin but missed the final. Culley ran three races faster than 15:33 in 2009.
LRC #8 Amy Begley • Nike • 15:27 • US Road 5k Champion
Amy Begley focused on the 10,000m in 2009 (6th in the Berlin final) and only ran one 5k all year. It may be unconventional to use a road race to give her a ranking but the race was a US championship and she ran a very impressive 15:27 in Providence at the CVS Downtown 5k to win the road 5k US title over LRC #3 Jen Rhines (15:33), LRC #9 Renee Metivier Baillie, and LRC #10 Rebecca Donaghue.
LRC #9 Renee Metivier Baillie • Nike • 15:20.53 (5th, USA '09) • 9th Place, USA Champs
Baillie ran fast on the track (5th-fastest US performer in '09), but aside from her nice 15:20 win in Naimette over runners like LRC #6 Julie Culley and LRC #8 Angela Bizzarri, she didn't have a high finish in a big race to keep her near the top of our rankings.
LRC #10 Rebecca Donaghue • New Balance Boston • 15:30 • US Road 5k Runner-Up
Donaghue, one of the USA's most consistent road racers in 2009, actually ran faster in Providence on the road than she did on the track (15:34). Her performance in Providence was impressive, as she defeated LRC #3 5,000m runner Jen Rhines (15:33), earning her a top 10 ranking.
You can discuss our rankings in the official 2009 US Women's Rankings thread here.

More LRC 5,000m Coverage:

*Flanagan Runs American Record 14:47
USATFs:
Alberto Avalanche Continues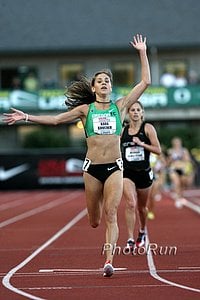 LRC Kara Goucher Gets 5,000 Crown If you thought Kara had given up on the track now that her marathon career is in full swing, think again. Goucher blasted away from Jen Rhines with 500m to go and coasted to her 2nd straight USATF 5k track crown. Goucher will run the marathon in Berlin. NCAA champ Angela Bizzarri moved up for third. Chasing the World Championship "A" standard wasn't the first thing on her mind, as she's never left the country. Goucher's win gave Alberto Salazar-coached athletes 3 of the 4 distance titles in Eugene.

Women's 5k Final: LRC Kenyan 1-2 Sweep Caps Greatest World Champs For Kenyan Women On The Track Just like in 2007, the last lap was in 58.6 and the winning time 14:57.9. This time, however, the winner was not Meseret Defar, but Vivian Cheruiyot, the 2007 runner-up. Defar let up right before the line for the second time in a week, giving the silver to Kenya's "Forgotten Lady" Sylvia Kibet. American Jen Rhines was 9th. The two medals gave the Kenyan women a record 6 medals on the track (they had 7 total ever combined prior to 2007).