Greater Philadelphia TC M40 Relay Betters World Mark in 8:07.48
By LetsRun.com and Chuck Shields
December 29, 2009
On December 30 we received an email from (we assume) a LetsRun reader named Chuck Shields. The letter reads:
Hope this might be of interest to post.
Our M40-49 4x800 ran 8:07.48 at the Armory Holiday Classic on Sunday night to beat the old record by a tenth second. 3 of the legs are veterans of some smoking '80's HS 4x800s.
Scott Landis - 1982 Wissahickon - 7:36 (National record broken earlier this year)
Bob McGinty - 1983 Southern Lehigh - 7:46
Nick Berra - 1987 Cumberland Valley - 7:45

photo: Melanie Berra
left to right: Scott Landis, Bob McGinty, Kevin Forde, Nick Berra
Well, we thought it was certainly news-worthy so here is Chuck's write-up and a couple photos of the team.
---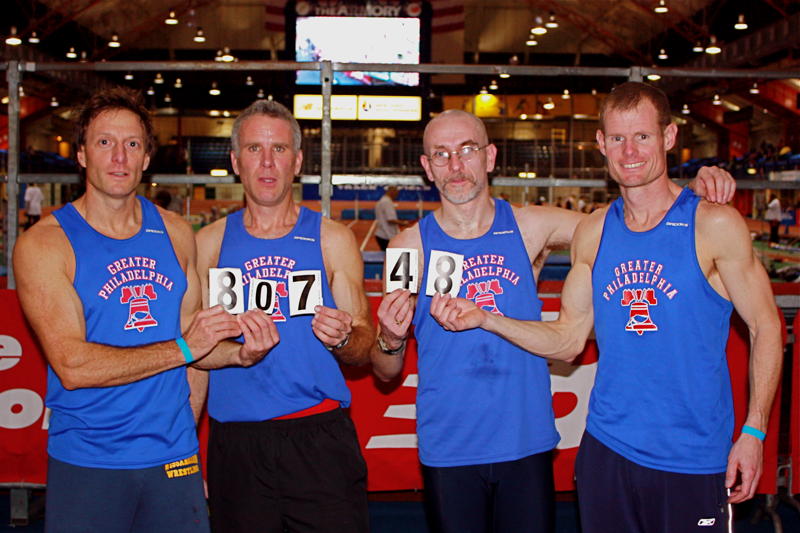 From left to right: Scott Landis, Bob McGinty, Kevin Forde, Nick Berra. This foursome ran 8:07.48 at the Armory to break the master's 4x800m world record.
The Greater Philadelphia relay squad traveled to New York's famed Armory track Sunday in hopes of capturing the American Club M40-49 4x800 record . Sunday's meet was the Armory Holiday Classic and the mark to be was 8:15.29 set by West Valley TC in 1988. The GPTC team were all relay veterans but had never been teamed up before.
The relay was comprised of Scott Landis, Bob McGinty, Kevin Forde and Nick Berra. The team competed against a B relay of unattached runners.
The squad surprised the Armory faithful, and themselves, by running an incredible 8:07.48. This time not only delivered a US Club best, but surpassed the current World and American record of 8:07.6 set in 2000 by Tom Dalton, Rocco Serafini, Steve Nearman and Anselm Lebourne.
The leadoff leg, Landis, was a member of the 1982 Wissahickon 4x800 relay whose National high school record was broken earlier this year. This race would be sweet justice for the former Wissahickon leadoff runner as he would earn a masters' record in the same year he lost his high school mark. Landis went out strong, following the B relay's Phil Reilly, who set a :59 pace at the 400. Landis charged to the lead in the 2nd 400 powering to a 2:01.4 leadoff split with Reilly only a step behind. Landis said " this was huge for me. It was a perfect opportunity on a fast track. Everything fit into place. When we found out it was a World Record, it blew me away."
McGinty, like Landis, is also a high school record holder as he was a member of the 1983 Southern Lehigh foursome that ran 7:46. The Coopersburg, PA native, took the baton with B relay's Delvin Dinkins right behind him. McGinty's 400 split was 58.5. Dinkins closed the gap on McGinty as they approached the handoff zone but McGinty maintained a half step lead to finish in 2:02.8. About his race, McGinty said " I ran the split that I thought I could at this point in the season, so I was happy with that. The other three guys we had in the race were accomplished studs, so I ran a little bit in fear of not wanting to let them down, I think it worked out better than we expected. It was like nothing I have ever experienced in my years of racing. That victory lap is something I'll remember forever!"
Forde, two time age group winner of the Fifth Avenue Mile, ran 3rd leg for GPTC as he quickly separated himself from the B relay with a blistering 26.2 200 opening lap. The GPTC squad was now running against the clock. The early pace took it's toll but the determined Forde pushed onward to a 2:05.8 clocking. Of his race, Forde noted "Clearly I couldn't hold onto such a brutal pace ….I was gassed ! …tying up over the final 200m only hurts you,I could not let my team mates down, I dug deep to get the baton around…"
Forde is a Philadelphia resident who trains regularly at Franklin Field.
Forde handed off to Berra, a former coach and alum of Cumberland Valley HS (PA), 1987 and a USNA alum 1991. Berra ran lap splits of 29s for every lap except the last where he dipped under 29 to finish in 1:57.4. Berra began running masters' track in early 2009. He went on to say " Masters (track) has made competitive track available and fun again, (I) hadn't worn spikes in 18 years before turning 40".