LetsRun.com's US Women's Steeple Top 10 Rankings - 2009
Jenny Barringer breaks new ground for American female steeplers.
By LetsRun.com
December, 2009

LetsRun.com's year-end rankings evaluate the best US runners in every event from 800m to marathon - easily the most interesting summary you will find anywhere in the media.

You can discuss our steeplechase rankings in this official LRC thread here.
LRC #1 Jenny Barringer • Colorado • 9:12.50 (AR) • World #5 • Champion: NCAA, Big XII, USA
Jenny Barringer performed at an incredible level in 2009 across the board. Running in a young and developing event (women's steeplechase was not an IAAF Worlds event until 2005), Barringer lowered her own American record ten seconds in this year from 9:22 to 9:12. Impressively, Barringer lowered her record in the grandest event of the year, the Berlin WC final, where she placed fifth.
You may recall the Berlin final was taken out very aggressively by the favored Russian women, including '08 Olympic champ and world record holder (8:58.81) Gulnara Galkina. Barringer, tipped by many as a medal (even gold) threat, decided quickly to lay off the fast pace. Eager American fans sat watching, worried, as Barringer wasn't even in the camera shot she was so far back. In a true work of artistry and listening to the body, she moved up throughout the race to finish in the top 5. As the video to the right shows, she was a bit disappointed after the race, basically saying she was thrilled with the time but disappointed with how the race went. We tend to agree. If you are going for a medal, you pretty much need to at least put yourself in contention - end of story.
Video: Jenny Barringer talks with LRC co-founder Wejo after her Berlin WC final.
In 2008, Barringer made the Olympic final and also ran an American record, 9:22.26. That race brought a 9th-place finish for Barringer. The winner ran 8:58, so defeated Barringer by 24 seconds. In 2009, Barringer was 5 seconds adrift of first place Spaniard Marta Domínguez. Partly based on Barringer's age and experience, improvements in drug testing and detection, and the fact that male-dominated Kenya and Ethiopia aren't fielding too many women's steeplechasers, we think there is little question that Jenny Barringer can contend for a medal in the major international events in the near future.
Because women's steeplechasing is such a young event, we decided to look back a few years to see how the event performances in America have changed. We looked back 5 years to 2004 and found that the American record was 9:29 set by Toledo's Brianna Shook that year. Seven women broke 10:00 in 2004, compared to six women breaking 9:40 in 2009. But how many women broke 10:00 in 2009? Surprisingly, only 11. So while the top end (Barringer and Willard) have run significantly faster than the American record set in 2004 (others, including LRC #6 Lisa Galaviz, have lowered the American steeplechase record by small chunks), there have not been very significant increases in the depth of the event.
2004 - US 3,000 STEEPLECHASE Performances

9:29.32 AR

1

Briana Shook
Toledo
7/31
Heusden
9:39.35

1

Ann Gaffigan
Nebraska
7/15
Sacramento
9:44.68

2

Kassi Andersen
BYU
5/29
Northridge
9:49.40

5

Carrie Messner
Asics
7/31
Heusden
9:52.11

4

Elizabeth Jackson
Nike
7/15
Sacramento
9:55.75

1

Lisa Aguilera
Unat.
6/27
Eagle Rock
9:56.60

5

Kelly MacDonald
Asics
7/15
Sacramento
10:00.07

2

Dawn Cleary
Unat.
6/27
Eagle Rock

Table: 2004 US steeplechase descending order list.
Consider this: the women's American record in the steeplechase is now 9:12.50. In 2009, only 10 other women ran within 47 seconds of Barringer in an event that is shorter than 2 miles. Part of this can be explained by the quality of races available to most runners compared to the quality of a race like the World Championships final. But remember that Barringer ran 9:26 in a huge 40+ second win in the NCAA regional preliminary heat (and it was literally in "the heat")! Clearly, some of it also can be explained by the simple fact that Barringer is a 3:59/15:01 phenom rarely seen in the country's history.
The point of all this is to point out that the women's steeplechase is incredibly thin on talent. The top American steeplechase runners are very good (NCAA runners Bush, Franek and Lawrence, for example, are cross-country standouts as well), but we definitely believe there are many, many women out there who could break 10:00 in the steeplechase. So let's get it in gear, ladies, there are opportunities out there for you to run at a high level in the steeplechase.
2009 - US 3,000 STEEPLECHASE Performances

9:12.50
5
-Jenny Barringer
Colorado
08/17
9:26.85
1
Anna Willard
Nike
05/16
9:33.11
7
Lisa Galaviz
Nike
09/12
9:35.30
1
Lindsey Anderson
Nike
05/02
9:36.74
3
Bridget Franek
Penn State
06/28
9:39.38
2
-Nicole Bush
Michigan State
05/02
9:40.83
3
Lindsay Allen
McMillan Elite
05/02
9:40.98
3
Mel Lawrence
Washington
06/12
9:48.36
13
Delilah DiCrescenzo
Puma
07/10
9:54.28
2
Kara June
Asics Aggies
06/06
9:56.19
4h2
Erin Bedell
Baylor
06/10
10:00.42
8
Amanda Lorenzen
unat
06/28

Table: 2009 US steeplechase descending order list.
LRC #2 Anna Willard • Nike • 9:26.85 (US #2, '09) • USA Runner-Up
Anna Willard, a one-time American record holder in the steeplechase (9:22, Heusden, 2008), focused on the 1,500 and 800 in 2009, but still managed to end the year as the 2nd-fastest American of 2009 and the US runner-up in the event. She is far-and-away the 2nd-best steeplechaser in the US whether she runs the race all season or just does a couple of steeples.
LRC #3 Lindsey Anderson • Nike • 9:35.30 (US #4, '09) • World Championships Qualifier
Lindsey Anderson, a 2008 US Olympian, made the Berlin World Championships squad in 2009. This year, she didn't match her career best of 9:30 set in 2008, but she had a solid season, capped by a 2nd-place finish at the DecaNation meet in August. Lindsey has cemented herself in the upper echelon of US steeplers by finishing 3rd in the US in 2007, 2nd in 2008 and 4th in 2009. Lindsey failed to advance to the Berlin final.
LRC #4 Nicole Bush • Michigan State U • 9:39.38 (US #6, '09) • Mideast Region And Big Ten Champion • NCAA Runner-Up
Thanks to LetsRun.com being always on the ball, Michigan State's Nicole Bush gets the ranking she deserves despite not racing the USA Championship final and having a slightly slower seasonal best than some of the other US runners. Bush, the NCAA Mideast regional champion, the Big Ten champion and NCAA runner-up to Barringer, was injured in the preliminary heat at the USATF Championships when meet officials outrageously set the water pit barrier at 36 inches versus the standard height of 30 inches (a mistake we compared to setting a basketball hoop at 12 feet, or 20% higher than what it should be). Bush finished the heat in third despite breaking a bone in her foot, but could not run the final.
After the race USATF CEO Doug Logan apologized face-to-face with Bush and her coach (Michigan State's Walt Drenth) and handled the painful situation deftly. To her and her supporters' credit, the Bush camp also handled the situation gracefully.
We put Bush at #4 in the US because she absolutely crushed LRC #5 Bridget Franek at both the NCAA steeplechase final (by more than 8 seconds) and Big Ten Championships steeplechase final (by 16 plus seconds) and Franek ended up 3rd in the US final and went to Worlds.
Why penalize Bush for USATF incompetence?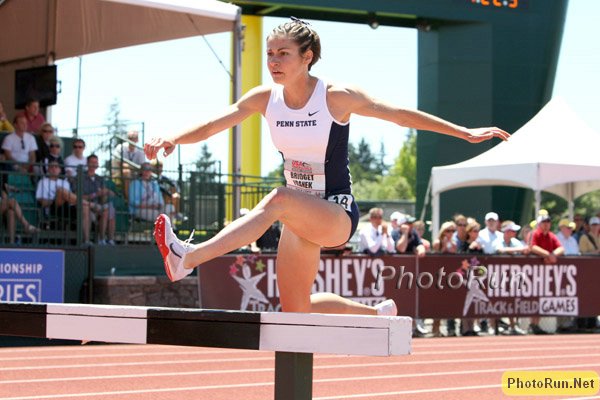 Photo: Penn State's Bridget Franek, only 4th at NCAAs, on her way to finishing 3rd at the 2009 USA steeplechase championships.
LRC #5 Bridget Franek • Penn State U • 9:36.74 (US #5, '09) • IAAF Worlds Qualifier • NCAA East Region Champion • 3rd Place, USA Champs
Bridget Franek is the most improved elite steeplechaser of the year. The Penn State Nittany Lioness brought her PR down from 9:58 to 9:36 and ran her PR in the final of the US Championships. Unable to even win her conference title (LRC #4 Nicole Bush took care of that while representing Sparty), Franek finished 3rd at the US meet and wore the USA jersey in Berlin at the senior World Championships.
LRC #6 Lisa Galaviz • Nike • 9:33.11 (US #3, '09) • 6th, USA Champs
Former US steeplechase record holder Lisa Galaviz had a solid season in 2009, finishing the year as the 3rd-fastest American at 9:33. Her personal best is 9:28 from 2007, so she was pretty close to her zenith. Galaviz earned our 6th-place ranking by finishing 6th at the USA Championships and running 9:57 at Carson, where Anna Willard ran 9:26.
LRC #7 Mel Lawrence • University Of Washington • 9:40.98 • 3rd, NCAAs • Champion, PAC-10 And West Regional
Collegian Mel Lawrence set her personal best in the NCAA steeplechase final, where she finished a strong 3rd (ahead of LRC #5 Bridget Franek). Lawrence came into the season with a 9:48 personal best. She was a winner this year, winning the PAC-10 and NCAA West Regional steeplechase championships.
LRC #8 Lindsey Allen • McMillan Elite • 9:40.83 • 7th Place, USA Championships
Lindsey Allen started the year off with a bang by running 9:40 at Stanford. From there on out, the faster times did not come. She finished 7th in the US Championship final in 9:55.
LRC #9 Delilah DiCrescenzo • Puma • 9:48.36 • 9th Place, USA Championships
Delilah DiCrescenzo earned our #9 ranking (she truly had to earn it ... we were thinking of only ranking 8 because only 8 women ran within 35 seconds, or approximately 5 seconds per lap, of the national leader) by finishing 9th on the 2009 descending order list and 9th at the USA Championships. We also give DiCrescenzo and her agent credit for perhaps her most impressive accomplishment - gaining a spot in the Rome Golden League steeplechase, where she finished 13th in 9:48. Her career best is 9:41 set in 2008.
LRC #10 Amanda Lorenzen • 10:00.42 • 8th Place, USA Championships
Lorenzen didn't run as fast an anyone else in the top 10 (and several not in the top 10) but she ran her best at USAs to grab 8th in a new PR. In the process, she beat Baylor's Erin Bedell as well as Asics' Kara June.
Honorable Mention - Erin Bedell • Baylor • 9:56.19 • 6th NCAAs • 10th USAs
Honorable Mention - Kara June • Asics • 9:54.28 • 11th USAs

*Discuss Our 2009 Women's Steeple Rankings On The Message Boards
More: LRC Coverage:
USATFs: Barringer Cruises Over Willard
Worlds: LRC Women's Steeple Final - Barringer Just Misses Medals