US Men's Marathon Top 10 Rankings - 2009
LRC #1 Meb K turns back the clock and rolls out 2 marathon PRs in 2009.
By LetsRun.com
December, 2009
LetsRun.com's year-end rankings evaluate the best US runners in every event from 800m to marathon - easily the most interesting summary you will find anywhere in the media.
---
2009 will be known as the year when the long streak of foreign champions at the New York City Marathon ended. Meb Keflezighi became the first American to win the race since Alberto Salazar and gained national attention that is rare for an American distance runner. Meb was all over the media, prominent from Letterman to the Macy's Thanksgiving Day Parade to Stephen Colbert's Comedy Central mock news show.
Behind him are two younger runners, Ryan Hall and Dathan Ritzenhein, who are the best hopes for another American win in New York, Boston or Chicago in the near future (everyone is hoping there is not another 27 year wait). Ritzenhein still is yet to break the 2:10:00 barrier while Hall now has several top finishes at 3 marathon majors (London, New York and Boston).
But wait, are we forgetting somebody from the elite pack? Though not quite in the top-3, Jorge Torres and Jason Hartmann also had impressive marathon performances in 2009. See our rankings below and see if you agree with our analysis of the country's top-10 (well, top-14) marathoners of 2009.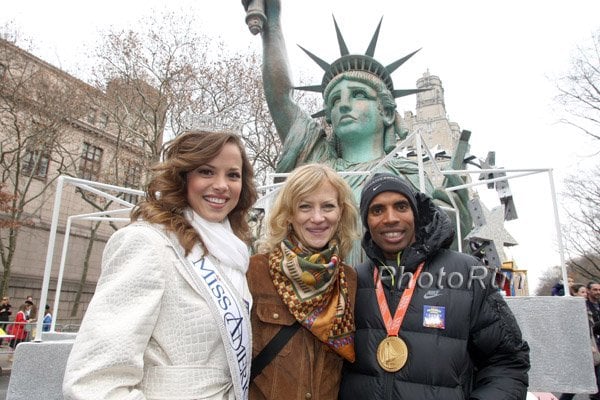 LRC #1 Meb Keflezighi • Nike • 2:09:15 • ING NYC Marathon Champion
Barely 1 out of 10 LetsRun.com voters picked Meb Keflezighi to win the New York City Marathon, but as the lead pack thinned in the final 8 miles in The Big Apple, Meb ended the hopes of each competitor and eventually approached the finish line amidst roars from thousands of fans.
As he passed the site where his friend Ryan Shay died during the 2007 Olympic Trials in Central Park, Meb was determined to honor his friend and to let everything out after years of recovering from a broken hip he fractured in the same race.
After crossing the mat with a new personal best, his first marathon win and the first American win in New York in 27 years, Meb enjoyed a whirlwind of media attention, including stops on David Letterman and a float dedicated to him and Miss America in the Macy's Thanksgiving Day Parade.
Meb's story, told in hundreds of media outlets, became one of perseverance and embracing the moment. Despite getting on in age and becoming sort of an afterthought to fans of the sport, Meb worked harder than ever with a belief that he was doing the right thing.
There's no need for us to say much more about Meb's comeback from injury and defeat, as there have been dozens of profiles of, interviews with, and reactions to Meb after his New York miracle. In fact, our page that summarizes Meb's media coverage has it covered and is pretty funny, too.
Our website motto is "Where Your Dreams Become Reality," and Meb's victory in New York seemed to be a great example of someone's dreams becoming just that.
Perhaps it would be good to think for a minute about what would have happened if Meb finished 2nd in New York to, let's say, 2:04 marathoner James Kwambai, who dropped out with a medical issue in the final miles (his coach said after the race that going in he thought it would take a miracle for anyone in the field, including Kwambai's training partner Robert Cheruiyot who finished 2nd, to defeat Kwambai). It would have been "the opportunity missed," the "close encounter," the "disappointment in a win that almost was." Meb's win and the happiness it brought to the American running community is a little absurd in the sense of, "Why can't we more often appreciate and learn from the journey as much as the outcome?" If Meb had "lost," then the journey and "The Dream" hardly would have mattered to anyone.
Meb's next marathon, as announced in December, will be the John Hancock Boston Marathon in April.
Photo: Hall disappointed but still happy for his friend and mentor Meb K.
LRC #2 Ryan Hall • Asics • 2:09:40 • 3rd, Boston Marathon • 4th, NYC Marathon
After running 2:06 in 2008 in one of his first marathons, Californian Ryan Hall brought a great deal of excitement to marathon fans in 2009. Hall's image was plastered all over New York City in October and November as the New York City Marathon approached and then faded into the past. Previously, Hall's decision to run in Boston in April gave American running fans someone to truly cheer as a potential winner.
The results of Hall's two domestic performances were a 3rd in Boston and 4th in New York. In both races, Hall was in or near the lead for the first two-thirds of the race before being dropped somewhere in the last eight miles. Once dropped, Hall was separated from the leaders (Deriba Merga in Boston and a larger group in New York), but was able to close strongly (something he's not really given credit for but is a huge attribute).
Like many runners experience in several point in their careers, Hall has hit a plateau and is waiting and working for the next jump in performance. Both marathons this year for Hall were windy and different from the London course where he excelled back in early 2008. In Boston he was aggressive early in the race and struggled with the late hills. But remember, 4-time Boston Champ Robert K. Cheruiyot dropped out of that race. In New York, Hall hung in the pack but regretted not being up near the front when the surges began later in the race. Again in New York he failed to win but so did 2:04:27 runner James Kwambai and many others.
LetsRun readers sure have faith in Hall. When it was announced that Hall and Meb Keflezighi would be running Boston 2010, over 2400 readers responded to our poll of who would win Boston and Hall outdistanced Meb in the voting with a 12% margin (36% Hall, 24% Meb).
Perhaps the better question would be... is Ryan Hall or Dathan Ritzenhein more likely to win the Boston or New York City Marathon in their career? Meb has already proven he can do it. But of these two younger runners, coming into 2009, Hall almost certainly would have been the overwhelming fan choice. Despite the fact that Ritzenhein defeated Hall in the Olympics, Ritzenhein's marathon PR was about 5 minutes behind Hall's (2:11 to 2:06). Well, in 2009 Ritzenhein didn't do a whole lot in the marathon, but he ran so well at the half-marathon (his 60:00 performance at world's was amazing) and on the track (27:22 and 12:56) to indicate he is ready to run a great, great marathon. Well, we're getting a bit ahead of ourselves. On to our #3 ranking.
Photo: Dathan Ritzenhein after earning bronze at the IAAF WC Half Marathon in 60:00.
LRC #3 Dathan Ritzenhein • Nike • 2:10:00 • 11th, London Marathon
LRC #3 Dathan Ritzenhein finished 11th in London this year, running 2:10:00 in a performance that he and everyone else looked at as yet another slight disappointment for the 2-time Foot Locker XC Champion.
2009 was a 2-part year for Ritzenhein. He switched coaches mid-year from longtime coach Brad Hudson to Alberto Salazar. The change sparked something in Ritz. The first half of the year saw him run "so-so" in London and "so-so" at the US 10,000m championships, where he lost to collegian Galen Rupp. At that time (June), Ritz was almost an afterthought to serious running fans. He was written about as a "surprise" in Eugene.
As the new coaching change sunk in, Ritz produced three career-altering performances in August, September and October. August saw a 6th-place, 27:22 finish in the Berlin World Championships 10,000m. September brought the "what the hell just happened?" 12:56 5,000m American Record. And October brought a heart-pounding 60:00 effort at the unpaced, not flat World Championships Half Marathon, where Ritz won a bronze medal in an effort that can only be described as transcendant, heroic, awesome.
According to his post-Berlin interview, Ritz plans on running track again in 2010 before attacking the marathon in 2011. Always a fantastic cross-country runner, we really see Ritz as a potential Boston Marathon or New York City Marathon winner in the next few years. Dathan is the opposite of Hall as far as race strengths. Ritz can handle enormous pace changes, crazy weather and changing terrain. He has tremendous speed and the ability to kick off of extremely fast pace. Hall, who is not as talented at running extremely quickly on changing terrain and in wild conditions, seems as if he needs the rhythm of a flat, evenly paced race to excel ... at least at this point in his career.
Obviously we are drawing conclusions off of very few data points (Hall and Ritz have not run that many marathons between them). But it's exciting to talk about these guys and to begin to see what their potential is based on their demonstrated strengths and weaknesses. At the dawn of 2009, Hall was seen as a clear US #1 at the distance while Ritz was, at best, #2 near Meb (an Olympic medalist). As the year closes, the two are much closer and perhaps both will vie for major marathon wins in the next 5-10 years.
LRC #4 Jorge Torres • Reebok • 2:13:00 • 7th, NYC Marathon
Jorge Torres made his marathon debut in 2009's NYC Marathon. He finished as the 3rd American in New York in 7th place. Training under the direction of former marathon world record holder Steve Jones in Boulder, Torres used the tragic death of his high school mentor and near death escape of his mother in a mid-year car crash as motivation to give his all to training.
Torres, a 2008 10,000m US Olympian, ran with the New York Marathon leaders for much of the race and held on much better than many of his top-notch competitors to secure an excellent finish in his first attempt at the intimidating distance.
LRC #5 Jason Hartmann • 2:12:09 • 1st, Twin Cities Marathon
In the surprise of 2009, Jason Hartmann finishes as the 4th-fastest American at the marathon distance. Also training in Boulder with Steve Jones in a marathon group that includes now-2:13 marathoner Jorge Torres and 2:12 marathoner Fernando Cabada, Hartmann ends the year as the fastest of the bunch (well, not exactly faster than Jones!).
LRC #6 Nick Arciniaga • Hanson's Brooks • 2:13:46 • 8th, NYC Marathon (4th American)
Hanson's Brooks' Nick Arciniaga had his second major American marathon performance with his 8th-place finish in New York this year. His first came when he finished as the first American in Boston in 2008.
LRC #7 Abdi Abdirahman • Nike • 2:14:00 • 9th, NYC Marathon (5th American)
Abdi surely will leave 2009 a bit disappointed that he couldn't make the US Berlin team at 10,000m and only finished 9th in New York. He still finishes as our US #7 of the year, but he's accustomed to being in the top 5. Abdi didn't hold it together very well, as he had a bit of a blowup in New York in the second half of the windy day in the Big Apple.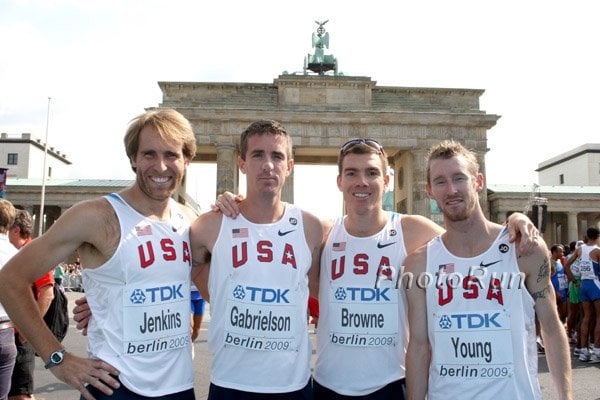 Photo: None of the 2009 LRC Top-10 marathoners ran at worlds for the US.
LRC #8 Jason Lehmkuhle • Team USA Minnesota • 2:14:39 • 10th, NYC Marathon (6th American)
Team USA Minnesota's Jason Lehmkuhle earned an LRC Top 10 ranking thanks to his top 10 finish in New York.
LRC #9 Josh Cox • 2:13:51 • First Place, 2nd, California International Marathon
34-year-old Josh Cox came through with a surprising 2:13:51, personal best performance on the course in California (he was 9 seconds behind Tesfaye Bekele). Cox had not broken 2:15 in 8 years. In 2001, he represented the US at the World Championships Marathon, where he ran 2:26. A LetsRun.com reader who ran the race said the race was very windy with half the race run into a considerable headwind, making Cox's performance that much more impressive. (editor's note: Employee #1 apologizes for originally writing, erroneously, that Cox won the marathon.)
LRC #10 Chris Raabe • 2:15:13 • 1st, Grandma's Marathon
Chris Raabe won "Grandma's" by over three minutes in 2:15:13, an impressive performance that might go unnoticed by many. We think Hartmann's win in Twin Cities, Cox's win at CIM and Raabe's win at Grandma's were the two highest quality non-major marathon performances by Americans in '09 (and Cox's 2nd-place finish by 9 seconds at CIM was in there for the top non-major performance as well).
LRC Patriot Award Sergio Reyes • 2:15:30 • 8th, Chicago Marathon (1st American)
Sergio Reyes was the first American to cross the line in the Windy City on a day when Sammy Wanjiru set the course record despite very cold weather. Reyes gets the Patriot Award for being the first American across the line in one of the three major marathons in America in '09.
Three 2009 Marathon Honorable Mentions (In No Particular Order)
HM #1: Brian Sell • 14th, Boston Marathon (2nd American)
Photo: LRC Honorable mention Brian Sell waves to the crowd as he finished the 2007 Olympic Trials marathon in 3rd place.
Brian Sell decided that the 2009 New York City Marathon would be his last marathon. Sell's 2008 Olympic Trials performance in New York that earned him an Olympic spot in the toughest-ever American Trials is seen as a defining moment by many hard core running fans. Sell, an uncelebrated runner in high school and barely noticed collegiate performer from St. Francis, became legendary for his work output during his years training with Hanson's Brooks.
In 2009, Sell ran two marathons, one in Boston and one in New York. Finishing as high as 4th in Boston in his career, Sell finished 14th in 2009. In New York, Sell did not exactly finish on a high note, as he ran 2:24:59 and looked to be nearly crippled immediately after the race as he walked away from his final serious race effort.
HM #2: Pat Rizzo • 2:15:48 • 9th, Chicago Marathon (2nd American) • 15th, Boston Marathon (3rd American)
Hanson's Brooks runner Pat Rizzo earned an Honorable Mention because of two American top 3 finishes in two of the three highest quality US Marathons. Rizzo was the third American on a slow day in Boston (he finished right behind Sell) and ran his best 2:15:48 in Chicago, behind only Sergio Reyes for the American win.
HM #3: Pete Gilmore • 2:15:22 • 12th, NYC Marathon (7th American)
Pete Gilmore ran a very good race to finish 12th in New York and finish as the 7th American at the race, which doubled as the US Championships. On a day that really hurt a lot of runners, Gilmore came through with a relatively strong 2:15.