Products We Use (and Recommend): ING Direct
by: Weldon Johnson, LetsRun.com
December 2, 2009
Quicklinks: *ING Checking *ING Savings *ING Business Savings
Editor's Note: A thread on the message board, "Overdraft Fees", inspired us to write the first "Products We Use" article to highlight products we at LetsRun.com use in our daily lives that you the LetsRun.com community might find useful.
A thread on the message boards, Overdraft Fees, got me thinking about how much I love my bank ING Direct.
ING does a lot to support the running world, being the title sponsor of the ING NYC Marathon and numerous other marathons throughout the world. At the end of the day, however if ING's products do not provide me with value, I'm not going to use them just because they sponsor marathons.
Let me start off by just saying I'm a huge, huge fan of ING and its products. I now have a personal checking and a personal savings account with ING and the LetsRun.com business savings account is with them and my previous mortgage was with them as well. Everything with ING Direct is very straightforward and simple and the customer service is great (hard to believe with an online bank but it is true).
Great Interest Rate/ No Fees
I'll start off with the things that draw most people to ING, the great interest rate and lack of fees. There is no minimum to open a checking or savings account and you start earning interest from the start. Interest rates are near zero nearly everywhere but ING is offering 1.3% on all balances on savings accounts and up to 1.55% on checking accounts.
Perhaps the best thing with ING's products is the lack of fees. The message board thread Overdraft Fees got me started as ING with it's Orange checking account does not even charge you Overdraft Fees. If you overdraft they just start charging you a competitive interest rate (7.25% at the time of writing), on the balance you overdraft. You then can make a deposit to cover the amount or transfer from your savings account and problem solved. No huge overdraft fees which can add up quick.
This in addition to the fact that there are no monthly fees for their products and no minimum amounts to get started make it an almost no brainer to get an account.
I Seriously Enjoy Using ING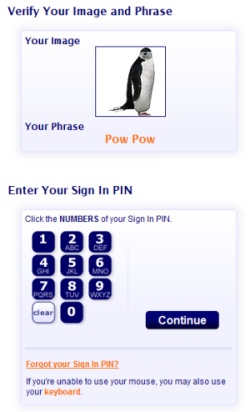 As I mentioned earlier one of my favorite things about ING is the customer service. Most people probably have an unpleasant relationship with their bank, but I love ING. Everything associated with ING (except the lack of hand written checks- see below) seems designed to please the customer.
ING from the get go seems focused on simplicity. The website is beautiful and very simple. I have a local bank account with another marathon sponsor, Bank of America, and its website is not nearly as visually appealing or as easy to navigate. From the login screen (pin number screen shot on the right) to the bill payment, to whatever it is, ING seems focused on making things simple and was actually designed from the customer's perspective.
My pleasure with ING has been the greatest when I have had to call them. I get a real live person in America on the phone without pressing 0, being put on hold, or anything like that. It is refreshing.
I set up my checking account with ING because my previous bank (Netbank) actually went under. ING acquired the assets of my old bank so I had the option of transferring my account over to ING or finding someone else. I called ING to talk about my options. As always when I call ING, a knowledgeable customer service agent, not a computer, comes on the phone. (They always say something along the lines of "How can I help you save money today".) The customer service agent answered my questions about transferring my account and helped me transfer everything over in about 5 minutes. It was so simple and yet I'm sure the agent does not deal with a bank failure on a daily basis. Whether I have called about the mortgage, the checking account, or the business savings account, I call one number, I get a real live person in America (I've had my call not answered immediately only a handful of times), and very quickly I get my question answered. It is good old fashioned customer service which is sadly a rarity these days.
One Drawback: No Handwritten Checks Update: ING Now Lets you order a checkbook for your account so you can write your own checks.

The one thing you can not do with ING is order a check book, so you can write hand written checks (checks are either sent electronically by ING or mailed by them). This is the one drawback I see with the Orange checking account because there are people out there who have to have the ability to write hand written checks. With ING this is never a possibility. So if this is something you have to have and don't have another checking account or a brokerage account with checking, the ING Electric Orange is not for you. (The savings account may still be an option)
However, to get started with the ING checking account you are supposed to have another checking account to fund it with. So get an emergency account you can write checks on by hand and use that to start your ING account.
What About Banking on the Internet?
If you've never banked on the internet you might be a bit apprehensive. Personally, I've only had an internet bank since the late 1990s so it was not a concern for me. To deposit money into ING, you can use direct deposit from your employer, mail them checks, or link your account to another checking, savings, or brokerage account (this is how you initially fund your account with a linked account). 2012 Update: Now with the ING Direct App you can deposit checks from your phone. With the linked account you just go online, say you want to make a transfer and in a few days your money is transferred automatically. Pretty simple. You can then always transfer money back and forth between the linked accounts.
You also get a very cool looking (it is somewhat transparent and you can see through parts of the card) ING Electric Orange Mastercard that can be used as a Mastercard and a debit card.
I'm sure some of you are concerned about paying ATM fees. ING never charges you an ATM surcharge and is part of a network of 32,000 ATMs where you can withdraw cash without paying an ATM surcharge. Even in small Ithaca, NY, where I used to live there were 5 ATMs nearby that I could use and not pay a fee. Plus, with the option to get cashback at many merchants for free, not having a bank with physical ATMs is not a problem for me.
ING like all online banks has online bill pay. Basically, if you want to pay a bill, you go online and enter the details and ING will either pay you're the bill provider electronically or mail them a paper check (ING figures out whether they accept electronic payment). It is super simple. The great thing with online banking is that you can set up automatic payments. Have a monthly rent check or mortgage that is the same every month? Set up an automatic monthly payment and ING will send pay the rent or mortgage each month automatically. No stamps, no writing out checks on your part. It simplifies the process of paying recurring bills tremendously.
ING can also mail paper checks to people. ING basically shows you an electronic image of a check, you fill in the details and ING mails the check for you for free.
One cool feature ING has that my old online bank did not have is the ability to send Electric Checks to someone. Just enter their banking information (routing info and account number off their check) and the money is sent electronically to them (don't worry they verify the account information when they "receive" the money, so a typo won't result in you send in the money to the wrong person). Basically, the Electric Check feature is like sending money via Paypal to someone but it is free.
Conclusion
I'm a huge fan of ING and its products. I haven't talked much about the mortgage but I just moved and did my second mortgage process (without ING this time around as they only do 5 year Adjustable Rate Mortgages) and it was much more difficult without ING. With ING once again everything was very simple and upfront.
It seems like everyone should have at least one ING account. The products provide great value, are simple to use, and the company supports professional running. Or you can go overboard like myself and use all their products. Another great thing about ING is with the lack of fees everything is basically free to try. If you don't like it, it won't cost you anything,
*ING Checking
*ING Savings
*ING Business Savings
*ING Mortgage
Disclosure: We get a referral fee if you sign up for an ING checking or savings account through one of our links. But that is not what made me an ING customer for at least 5 years and still very happy having used 4 of their products.