Best Read In The Industry: LRC's Week That Was Last week was a little light in terms of big events so we highlight the efforts to save the Millrose Games, tell you how the LetsRun.com audience is the smartest on the planet, talk about Pre-NCAAs and give out lots of free training advice.
US News - Upcoming ING NYC Marathon
Recommended Read: Bolota Asmerom Talks Running As He Prepares For New York City Marathon Asmerom has been a man of near-misses and impressive performances. Can he hit it big in New York City on the second try?
*Tatyana Petrova, Russian Track World Medalist, Hopes To Replicate Fellow Track Star Liliya Shobukhova's BoA Chicago Win In ING NYC
*Ryan Hall's Latest Blog Goes Deep - Changing Perspective To Take In Every Moment
*Grete Waitz, Joan Benoit And Deena Kastor To Speak Together In NYC 3 marathoning greats will talk on Thursday night at 6:30 pm in Manhattan's Times Center.
Dathan Ritzenhein Writes About Why His Half Marathon Showed Him The Old "Ritz" Is Back About 70% of LetsRun.com readers were more excited about Ritz's 12:56 than his bronze at the World Half, but Dathan is clearly more thrilled with his ability to compete aggressively in Birmingham.
USATF Head Vows To Help Save Millrose Games
*Article From Armory Website With Photos, Video Someone email us if we are wrong, but hasn't USATF been involved with this meet for years?
*Doug Logan Blogs On Why The US Has Lost Its International Athletic Political Capital On a different topic, Logan insightfully discusses why he thinks the US can't land the Olympics and other major intl. sporting events. A worthwhile read.
NCAA News
DII Shippensburg's Neely Spence Wins Lock Haven Meet And Beats West Virginia Stars Spence now has two high-quality wins in a row against serious D1 competition. Two weeks ago at Paul Short and this weekend at Lock Haven/Penn State. On Friday, she took down WVU's NCAA All-Americans Keri Bland and Marie Louise Asselin.
*D1 Regional & National Rankings
Pre-Nats
Blue Men: Luke Puskedra Wins And Leads Oregon To Victory Over #2 NAU And #3 Alabama Puskedra had a subpar opener but returned to form to lead Oregon. It's worth noting, however, that NAU star (and World Champs runner) David McNeill had a subpar day, finishing as NAU's 6th man. If he was only NAU's 3rd man, they would have beaten Oregon.
Results: *Team *Individual
Thread: Oregon Men Win Blue Race in an Upset !!!

Blue Women: Jenny Barringer Leads Colorado Women To Surprise Win At Pre-Nats If anything, this weekend was vindication for the knowledge of LetsRun.com viewers, who ranked both the Oregon men and Colorado women much higher in the LRC National Cross-Country Polls than the coaches. The Buff women were only #19 in the country. Barringer crushed the field as expected, but her teammates backed her up very well for the win over Florida State and #4 Oregon (who finished 3rd).
Results: *Team *Individual
Thread: Jordan Hasay THIRD at Pre-Nationals to Jenny Barringer and Susan Kuijken!
*Mark Wetmore Interview

White Men: Chris Derrick Defeats Samuel Chelanga, Stanford Cruises At Pre-NCAAs Chelanga opened up an early lead, but Derrick attacked the course the 2nd half and got the win.
*Team Results *Individual Results
Thread: Post Pre-Nats who is now individual favourite?
*Chris Derrick/Elliot Heath Interview

White Women: #1 Washington Women Cruise At Pre-Nats Illinois' Angela Bizzarri got the individual win. The Huskies cruised without PAC-10 runner-up Mel Lawrence.
Results: *Team *Individual

Pre-Nats Combined Men's Scores

Chile Pepper: Oklahoma State Crushes Field At Chile Pepper With German Fernandez Only 11th
*Men's Individual Results *Men's Team Results *Women's Team Results: Texas Tech Women Cruise At Chile Pepper
Thread: Chili Pepper Invite: Fernandez injuries?
Friday
Virginia Men And Emil Heineking Defend Turf, Take Down Syracuse Heineking won by 20 seconds over the talented field at "Panorama Farms."

Penn State National Cancelled! (LRC Boards) Half a foot of snow in mid October was apparently too much, as message board posters wonder if former Nittany Lion coach Harry Groves would have cancelled the meet. Some teams headed to nearby Lock Haven University to race instead.
*Penn State/Lock Haven Women's Results
*Rojo's Cornell XC Wins At Lock Haven

LetsRun.com Pre-NCAA Polls The LRC voters aren't buying into Stanford at #1, as they chose Oklahoma State men and Washington women as the top teams in the country heading into a big weekend of action.
Society And Sport
Berlin Long Jump Medal Ceremony With Granddaughters Of Jesse Owens And Luz Long Is Voted "Peace Image Of The Year" Somewhat lost in the craziness of Worlds was the men's long jump medal presentation where Luz Long's and Jesse Owens' granddaughters were there to present the gold medal to deserving American Dwight Phillips 73 years after Owens won LJ gold in Berlin. If you don't know the story of these two unlikely friends from the time of Adolf Hitler and segregation in America, click here to read one of many accounts.
Short IAAF Interview With Haile Gebrselassie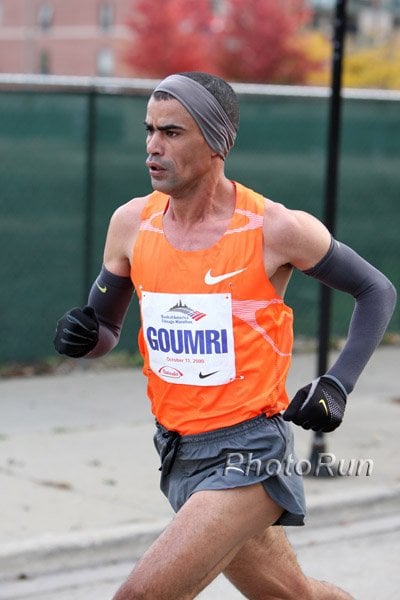 Recommended Read: Wonderful Profile Of Abderrahim Goumri, One Of Morocco's Great Marathoners Freelance writer Courtenay Morgan Redis writes a great piece that helps us get to know Goumri as someone other than "Mr. Silver." There seem to be very few stories about the Moroccan runners so take the opportunity to read this one. Photos of Goumri and other Chicago competitors here.
Warm Profile Of Funny Marathoner Wesley Korir Employee #1 watched Korir's 2:08 win in L.A. and still thinks it is the most inspiring performance he's seen in 2009 (though Ritz is close). This profile of Korir shows he has hopes of building an orphanage in Kenya and helping bring peace to his home country.
International News
*South African Ruling Party Demands IAAF Gender Test Results Be Nullified Mike Hurst for Sydney Telegraph
*IAAF Head Lamine Diack Flying To South Africa To Talk With Athletic And Political Officials

Video Of Usain Bolt Playing Cricket BBC video is short but shows Bolt bowling (pitching) and he looks like he's pretty good. There's another video in our right column that shows him batting.

Fascinating Article On The Almost Century-Old Rivalry Between adidas And Puma These two major brands began in the same town in Germany over 80 years ago but split when the better-looking of the co-founder brothers allegedly slept with his brother's wife.
Big Weekend For Japanese Collegiate Runners
*Hakone Ekiden 20k Qualifier Yields 11 Sub-1 Hour Performances By Japanese Collegiates Brett Larner of Japan Running News reports on an amazing race.
*LRC: Larner On The Boards: "NCAA XC is nice and all ..."
*Hakone Ekiden Trials From The Inside Swiss runner Christian Sommer ran the Hakone trials and wrote about the experience.
Million Dollar Man: Sammy Wanjiru Will Race Zayed Intl Half Marathon On Jan 7 For Chance At $300k Purse (Pat Butcher reports) Sammy Wanjiru won $175,000 in Chicago, will earn $500,000 for the World Marathon Majors overall win, and could win another $300,000 in January.

UK Athletics' Charles Van Commenee Names New National Event Coach For Endurance George Gandy coaches big-time miler Lisa Dobriskey and will help Ian Stewart at the top of the distance coaching ranks.
*More Interesting UK News: 76-Year-Old Briton Runs 111 Miles In 24 Hours In "Self Transcendence Run"
Weekend Road Action
Amsterdam: Unheralded Gilbert Yegon Breaks Haile G's Course Record By 1 Second, Eyerusalem Kuma Wins It was a good day for men's debutantes as Yegon won and Elijah Keitany was 2nd in his debut. Yegon was cramping at the end as this video shows, but he just nipped Gebrselassie's course record. On the women's side, Kuma won by over 2 minutes and Hilda Kibet, sister cousin of World XC Champ Lornah Kiplagat and sister to world 5000m silver medalist Sylvia Kibet, was third in 2:30:31 in her marathon debut second marathon attempt.
*Results

Beijing: World Champion Bai Xue Wins Slow Race, Kenyan Samuel Mugo Wins In 2:08:20 PR The race served as the Chinese National Games as this article indicates and Bai was content to just get the win. This was Mugo's 2nd big win in China, as he won Xiamen in 2:08:51 in January.

Portugal: Gebrselassie Runs 1:00:02, Takes Down Wanjiru's Course Record At Oporto Sportzone Half Marathon In Portugal

Saturday On The Roads: Former 2-Time NCAA XC Champ Saimon Bairu And Former Stanford Star Malindi Elmore Win Canadian 10k Road Titles
Interesting
Top Arizona HS Team Forfeits Season After Coach Loses His Job Over Refusing To Tell A Volunteer Coach Who Was In US Illegally He Can't Coach Anymore
Random But Interesting News
Semenya Update
One Of Our Old Favorite Websites Deadspin Highlights "Skirt Chaser 5k" There should be more events like this.
Brief Chat With Jorge Torres Olympian Jorge Torres talks about his race plans for New York (hoping for 2:10-2:11:30), his Mom's 100% recovery from her car wreck, and his training partners in Boulder, including 2:12 man Jason Hartmann (profile here). Good read.
Interviews And Profiles
LetsRun.com Reader Matt Manfred Interviews Top US Road Racer Rebecca Donaghue Of State College, PA Donaghue gets no press but is a great example of how good you can get at running with a great coach and lots of good decisions

Boulder Daily Camera Profiles New 2:12 Man Jason Hartmann Hartmann is coached by former world record holder Steve Jones for Tempo Sports in Boulder. This group touts their faster-than-marathon-pace training, which clearly is working for Hartmann, who was the most underappreciated 9:01 guy in high school because his teammate was none other than Dathan Ritzenhein.
Recommended Read For Coaches NY Times Health Article Goes In Depth On Exercise And Sickness Last week, we learned that mice were smarter after running tempo runs. This week, we learn that running a long, hard run while sick or exposed to illness is worse than resting and way worse than jogging easy.
... And Another Great Read For Coaches NY Times: Why The Cool-Down Is Of Questionable Benefit, At Best
Upcoming Marathons Frankfurt & New York Add To Their Already Superb Fields
Book Of The Year? "Manthropologist" Tells Us Men Why We Are The Most Pathetic Men In The History Of The World Men, we need to get our act together. It turns out we are slower, weaker and in general more wimpy than any group of "men" in the history of the world.