Trevor Graham Breaks 5 Years Of Silence & Tells NY Times He Never Did Anything Wrong Since Marion Jones got out of prison and lied immediately on Oprah, we guess we shouldn't be surprised that Graham ended his home confinement and lied to the NY Times. Graham: "I didn't do anything wrong."
Mo Farah Runs 46:25 To Win Thrilling Bupa Great South Run By 1 Second Farah fell 25 meters back in the first two miles but stormed back to victory over Kenya's Stephen Mokoka as Ines Monteiro (52:32) destroyed the women's field. *3 Minutes Of Video Highlights *IAAF Recap Of Men's & Women's Races
*Farah Eyes Transition To Marathon For 2016
*Record 21,000 Run Great South Run
Sean "Quickly" Wins Mayor's Cup XC Meet By 1 Second Matt Withrow was 9th. Message board thread here.
*LRC Photos From Franklin Park
Weekend Marathon Action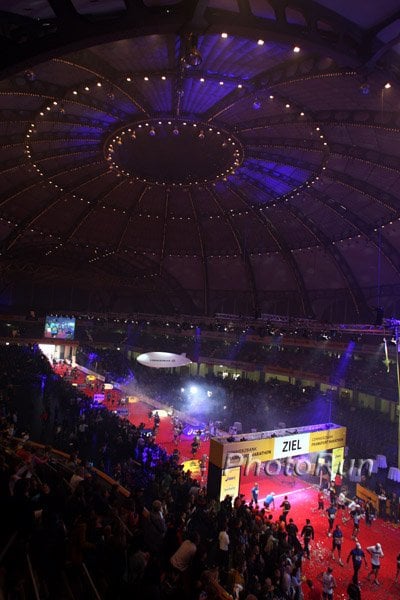 A Name You Might Want To Learn - Gilbert Kirwa
*LRC Updated Photos - Awesome Indoor Finish
*Kirwa Remains Undefeated For His Life At Marathon And Runs Course Record 2:06:14 To Win In Frankfurt Kirwa edged Robert Kiprono Cheruiyot over the final 4 kms to get his 2nd European victory. Agnes Kiprop won the ladies title (2:26:57).
*Pat Butcher Recaps The Race Robert Cheruiyot barely beats his 37-year-old coach William Kiplagat.
*Commerzbank Frankfurt Marathon Quotes Press release The power of running smart: Guenther Weidlinger of Austria totally downplayed his fitness going into the race, saying he'd hope to get some qualifying marks but that the Austrian record of 2:12 was probably safe. Then he went out and blasted his own 2:12 personal best set in Vienna and ran 2:10:47!

The People's Marathon - The Marine Corps Marathon
*Navy's John Mentzer Wins In 2:21:47
*Muliye Gurmu Uses Sprint To Win Women's Race In 2:49
*More Marine Corps Coverage From Washington Post

*Kenyan Caroline Cheptanui Kilel Runs 2:25 Two Weeks After Getting 4th At World Half She's now one of the 15 fastest for 2009 and the winner in Slovenia.
*2:08:13 And 2:27:46 Result In Kenyan Victories In Venice
*Course Records Fall At Stanchart Nairobi International Marathon *Half Marathon Recap
Rwanda's Dieudonné Disi Runs 60:21 To Win Half In France
Tyson Gay Undergoes Successful Groin Surgery Good news for the 2nd-fastest sprinter of all-time and we hope he's back healthy in 2010.
California: So Beautiful He Has A Race Named After Him: Dean Karnazes Silicon Valley Marathon More Ultra Running: Runners Paying For Toenail Removal Surgery

Breakthrough: LetsRun.com Reader Figures Out Median/Mean 5k Times For LRC Message Board Visitors The readers of LetsRun.com never cease to amaze us. Today one devoted reader took a break from his job in data analysis to analyze data on our World Famous Message Boards. Based on evidence from the recent thread My 5K PR is 15:45. Am I the median for Letsrun?, he discovered that in fact 15:45 is pretty close to the median. See where your 5k PR lies on the "LRC 5k Bell Curve."
US Women Ranked Best Mid-Distance In The World Congrats to Anna Willard, Shannon Rowbury, Christin Wurth-Thomas, Jenny Barringer, Maggie Vessey and co. as the ranking system developed by All-Athletics.com showed them as #1. The men ... they sit at #2 behind Kenya.

IAAF Head Cancels South Africa Trip And Hopes For Meeting On Neutral Ground Hopes to diffuse the Caster Semenya vitriol took a hit with this news. The vibe in SA towards the IAAF is so venomous that even the diplomatic Lamine Diack cancelled his visit. According to news reports, not only are the IAAF going to be sued by Semenya's lawyers, but various governing bodies from ASA to the ruling political leaders in South Africa have called for all IAAF test results to be null and void.
Kenya Wanjiru Will Face Zersenay Tadese And Patrick Makau In Stellar Jan 7 Half In Abu Dhabi $300,000 will be on the line for half marathon aces.
*Some Kenyan Athletic Camps Come Under Fire
Yokota Breaks Japanese 15-Year-Old National 800m Record In 1:46.16 The Japanese have great marathoners and some great 100m runners, so how is their mid-distance so relatively slow?

Ross Tucker, aka The Sports Scientist, Talks About Fatigue And The Brain You have to be in a "sciency" mood for this writing and video, but Tucker is on the forefront of scientific study of things like pacing that are very important to distance runners.
LetsRun.com NCAA Polls Closing Monday! Vote for the national and conference standings as conference championships approach next weekend.
Two Recommended Profiles
1) 25 Years Later, Steve Jones Still Has British Marathon Record A lot has changed in the last quarter century, as the man who drank 11 pints of hard cider the night before setting the world half marathon record is now a teetotaller, but his British record still stands.
2) The Telegraph Goes To Jamaica To Get Close To Usain Bolt & Declares "Good Guys Like Usain Do Finish First" A great read as it talks about Usain's love of KFC, going out at 2 am and returning at 5 am and much more.
Two More Interesting Articles From London's The Telegraph
1) Caster Semenya Is The Latest Female Athlete Suspected Of Being Biological Male
2) What Makes Usain Bolt So Fast
ING NYC Is Sunday
*70-Year-Old Gary Muhrcke - The First Winner Of The New York City Marathon - Is Hoping To Run 3:30 This Year
*Paula Radcliffe Talks About NY 2009 & London 2012
*Interview With 37-year-old Lawyer Hendrick Ramaala
*Greg Mason An Inspiring Runner After Surviving Testicular Cancer
Interesting Read: Austrian Woman Ski Champ Who Later Realized She Was A He Talks About Semenya
Liu Xiang Wins 110h At Chinese National Games In 13.34 In Front Of 60,000
*IAAF Recap Of CNG Action From Semifinal Day
*Big News Crackdown: China Bans 21 y/o 100m Champion Sprinter FOR LIFE After First Failed Drug Test
(Almost) 1,000 Days To London 2012 And Uk Athletics Boss Is Talking Big:
"I believe we can win more medals than any other sport."
*Be Specific Let's Win 10: Great Britain Athletes Given The Medal Goal For London Games
US Men Running ING New York Profiled This Week
*Marathon-Focused Abdi Abdirahman Does A Quick Interview The American marathon ensemble, including the first American finisher in 2008 (Abdi), seem fit and ready to go in New York against a very good international squad.
*Profile Of Ryan Hall One Week Out From New York City Hall says he's not afraid to go for it.
*Brief Chat With Brian Sell Sell's career will likely end in the 5 Boroughs and it's off to dentistry school.
*Brief Chat With Meb Keflezighi Meb has set PRs at the half- and full marathon distances this year but LRC voters aren't giving him a shot against Hall.
*Brief Chat With Jorge Torres Torres debuts in New York after an emotional year.
*Recommended Read: Interview With Bolota Asmerom Jack of all trades Asmerom gives a great interview.
LRC Favorite American High School Student Travels To Addis And Trains With The Ethiopians - Entry #8 - Special Biscuits In this episode, Neb gets two special treats: a genius workout in the forest, and an unsanctioned meal of the best biscuits he has ever had.
16-Year-Old Chinese Girl Jumps Big 6.74m Asian Youth Record In Long Jump
Good Story Of Some Lads That Have Run Every Dublin Marathon One of the runners, Martin Kelly, started running the marathon at age 17 and hasn't stopped for 30 years. He mentions joining a running club as the key to staying fresh.
Recommended Read: Sudden Death During Exercise: The Media, Risk And Running Ross Tucker at Science Of Sport writes a GREAT piece on the mainstream media's coverage of the sudden deaths of 3 runners at the Detroit Marathon this weekend.
Profile Of Ryan Hall One Week Out From New York City 762 out of 1,000 LetsRun.com voters think Ryan Hall will be the first American in New York, while Olympic marathon medalist Meb K., who has set PRs at the full and 1/2 marathon this year, gets only 12% of the vote. Amby Burfoot attempts to put Hall in perspective for the Runner's World audience by comparing him to guys like Bill Rodgers while pointing out Hall has never won a major marathon.


Comebacks And Retirements
*Tens Of Thousands Queue Up To See Their Hero Liu!
*Buster's Back - Craig Mottram To Return At Chiba Ekiden
*Legend Julio Rey (2:06:52) Retires W/ Spanish Marathon Record Rey was busted in 1999 and suspended 2 years for illegal drugs.

Brief Chat With Magdalena Lewy Boulet Boulet is ready for New York.

NYTimes: Do Plodders Have A Place In The Marathon? Coach Adrienne Wald certainly could do without the joggers: "It used to be that running a marathon was worth something - there used to be a pride saying that you ran a marathon, but not anymore. Now it's, 'How low is the bar?'"
*BizRunner Digests Above And Suggests A Fee For Those Below The Oprah Line If you run slower than Oprah, you have to pay more for the streets to stay open for you.