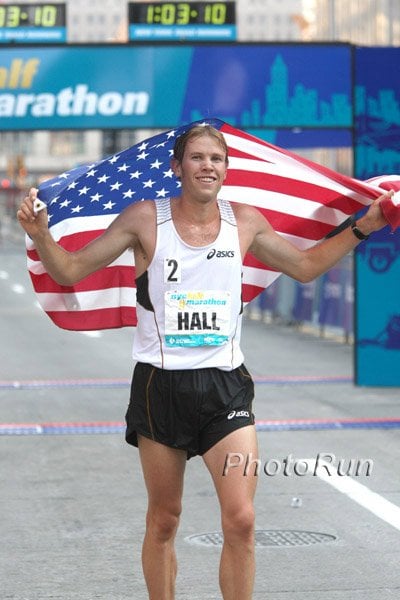 Ryan Hall Faces Former NCAA Cross-Country Champs Simon Bairu And Josh Rohatinsky Sunday In Philly Distance Classic The women's field is intriguing as well, as elder stateswomen Constantina Dita and Catherine Ndereba take on some up-and-comers. On the men's side, 4 of the top 5 American half marathon performances have been run on the fast Philly course. A good read: Ryan Hall Writes - Philly Half Marathon This Sunday Followed By Exciting Announcement Coming Wednesday
More US Running News
Remarkable News Sort Of Related To Elite Distance Running
Can Distance Runners Learn From Sled Dogs? Read This Development In Sled Dog Racing Our friend emailed us the link to this National Geographic article discussing sled dogs and their new racing strategies. It used to be that the dogs would race for 6 hours, rest for 6, and repeat. But now mushers have found that on a fat-based diet, the canines click into another gear after many hours of running and can now run for up to 14 hours straight.
*Strangely Inspiring: Cross-Dressing British Comedian Completes 43 Marathons In 52 Days It goes to show where there is a will, there is a way.
*We Would Hope So: WADA Upset With Frequency Of Russian Athletes Testing Positive Lately most of their dopers have been caught in skiing events.
LRC: Interview With Oklahoma State Coach Dave Smith We talked with Dave Smith about the big-time new additions to the Cowboys team, the expectations of German Fernandez, and his biggest challenge as a coach: holding his runners back in practice. In our LRC Preview Of Ok St., we officially put all the pressure on them and rank them #1 in the country over the 2-time defending champs Oregon thanks to the late addition of transfer All-American Girma Mecheso.
Pedro's Cup - Poland *Results
*Wurth-Thomas Over Dobriskey, Symmonds Victorious In 800, Asafa Powell 9.82!!! The track season is winding down. Also a new British record in the women's PV by Kate Dennison (4.60m). Tyson Gay won the 200 easily. Next week, he'll face Powell in the 100 in Korea.
Ambassador Bolt
*Reuters: Bolt Given Jamaica's 4th-Highest Honor & A Highway Will Be Named After Him Bolt is the youngest to ever be given the Order of Jamaica and officially Bolt will be an Ambassador and be allowed to carry a diplomatic passport. We wonder if the speed limit will be infinity on the highway. *Jamaican Prime Minister: "His endearing personality, charisma and passion for his country make him a superb ambassador of Jamaica."
*Interesting Read: Editorial: Celebrating The Usain Bolt In All Of Us The paper says Jamaicans needs to celebrate all Jamaicans who achieve greatness, including Sanya Richards.
*Jamaica To Have 3 Days Of Celebrations For Track Stars In October
Recommended Read Javelin World Champ Steffi Nerius Retires On Top 3 Weeks ago at age 38, she won her first world title in front of an adoring home crowd and realized it will never get any better than that.
Kenyans & Ethiopians Still Really Upset World XC Is Going To Be 2 Year Affair
The 10 Greatest Track & Field Competitions Of All-Time In Order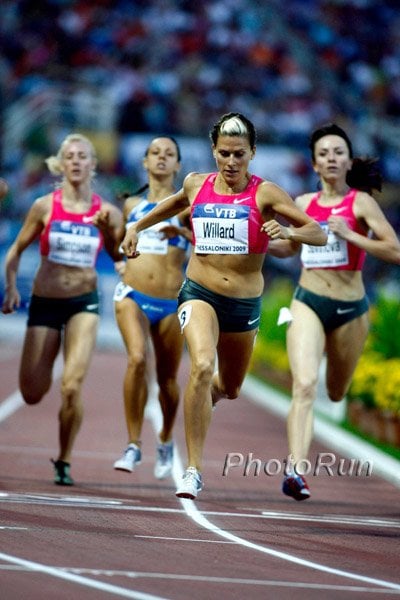 LRC: The Week That Was This week, the 2009 track season came to a close with the World Athletics Final (WAF), where Anna Willard and Kenenisa Bekele impressed us once again and Usain Bolt was upstaged by Carmelita Jeter as everyone paused to ask, "Is she clean?" Plus some fine road racing performances by Brett Gotcher and Colleen De Reuck in New Haven, as well as Sammy Kitwara in Rotterdam. And even though he got crushed, we tell you why it's time to get excited for Sammy Wanjiru's run at the BOA Chicago Marathon in less than a month and prove once and for all that we don't hate the Oregon Ducks.
Recommended Read: Read About How Running Has Helped A Girl's Depression When Drugs And Therapy Could Not
Tuesday's Sprinting News
LRC Recap: Brilliant Day 2 Action From Greece Capped By Willard-Vessey 1-2 In The 800m We thought this World Athletics Final was going to be totally boring, but in the end, it was one of the best meets of the year thanks to awesome distance races, great sprinting and more fireworks from the king and the diva Usain Bolt and Blanka Vlašić. Day 2 was awesome and we hope you enjoy our thorough recaps.
*IAAF Day 2 Recap
*Full Results
*LRC: Day 2 Photos *Day 1 Photos *Day 1 Recap
Time To Get Ready For The Fall Marathons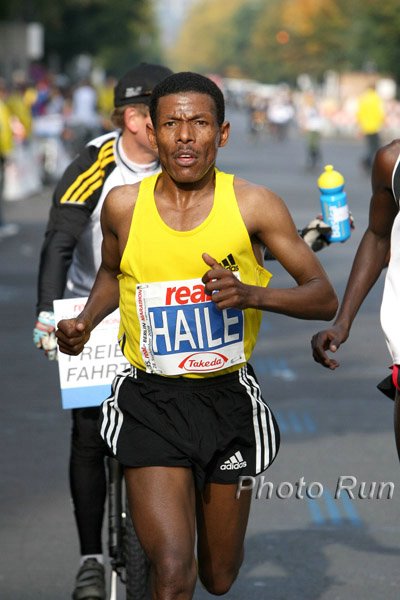 Berlin: Kibet vs. Geb Is Sunday At 3 a.m.!
*Berlin's Top-5 Men and Women Previewed
*New: Reporting From Berlin: Pat Butcher On Duncan Kibet And His Unusual Running History
*Despite Saying He's In Best Shape Of His Life, Duncan Kibet Downplays His Goals Prior To Berlin The 2nd-fastest man in history says he's not going for the world record, just a PR. But when your PR is 2:04:27, things get interesting ...
*Berlin Is Full of History As 6 Records Have Fallen In Last 10 Years

New York: 6 Former Champions, Including Marilson Gomes dos Santos & Martin Lel, To Run In 40th ING NYC Marathon The marathon will offer a record and world's marathon best $800,000 in prize money. Ramaala, Tergat, Prokopcuka, Petrova are the other former champs. *Irishman Martin Fagan To Make NYC Debut

Chicago: Irina Mikitenko Announced For Chicago
Commentary: Jim Hage Offers Tidbits On Berlin, Chicago & New York
Track Season Not Over - Shanghai And England Meets This Weekend
Caster Semenya Still All Over The News
Kenyans Name Kitwara And Keitany To Their World Half Marathon Teams

Interview With Will Leer, Who Keeps Rerunning His USA Champs Race Over And Over
Tuesday's Semenya News
Track News Hodgepodge
Another Day, Another Bombshell From Johannesburg
Sammy Kitwara Rocks Rotterdam With 58:58 Course Record As 7 Kenyans Not Named Wanjiru Go Under 59:33
Sammy Kitwara is now the 4th-fastest man on the half marathon list after his latest outrageous road run. The first 5,000m was covered in an unbelievable 13:37, but Kitwara said it was not too fast because he is a track guy. He won the Kenyan 10k Trials this year on the track but they didn't let him run Worlds because he ran and won Peachtree.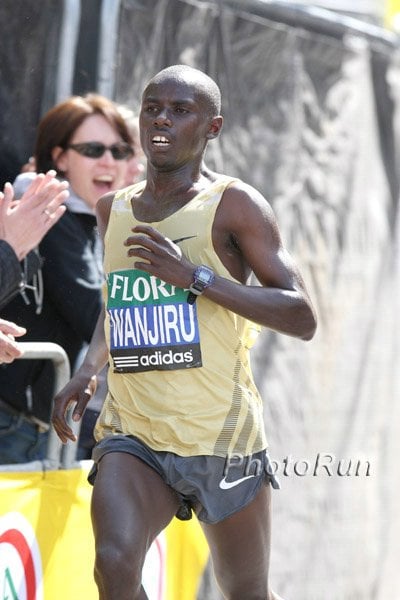 LRC LetsRun.com's Race Of The Weekend: Fortis Rotterdam Half Marathon Preview Half marathon WR holder Sammy Wanjiru returns to the roads against brash phenom Sammy Kitwara. Each 22 years old, they will be joined by fellow youngster Tilahun Regassa of Ethiopia and 2:04:27 marathoner James Kwambai in what might be the best half marathon ever seen. Get a feel for the new generation of African road racing stars with our preview, stats and videos.
Interview With real-Berlin Co-Star Duncan Kibet
Coming To Chicago This Fall: Sammy Wanjiru
LRC Worlds Prediction Contest
Recap Our winner was a former high school 800m star and our runner-up shows all that is great about the sport and LetsRun.com. Read all about it.
Latest Photo Albums From PhotoRun.net
Recommended Reads
One for the Mind: Running Within
One for the Soul: Best Efforts
Cool Product: ING NYC Marathon Watch