The Week That Was March 9-15, 2009
March 16, 2009
*Last week's week in review can be found here.
By LetsRun.com

What a week it was. A big half marathon in Europe, tons of Dwain Chambers news, the US 15k, and of course the 2009 NCAA Indoors.
---
2009 NCAA Championships - Rupp, Rupp, And Rupp
Galen Rupp Pulls An Eli Manning
There is only one way to begin the Week in Review and that is with Galen Rupp. What he did this weekend was truly remarkable. Clearly we've got to talk about the incredible weekend that Galen Rupp had for the Oregon Ducks and the way his image has totally been transformed during his senior year. For putting on a show for the ages, he deserves a major Thumbs Up.

Ever since HS and throughout his career at Oregon, Rupp has always been fast. However, the knock on Rupp was that he couldn't win the big one. Was he the real deal? Until this this past fall's NCAA cross-country championships, throughout his high school and college days, Rupp, despite having his own private coach in Alberto Salazar and all the resources of the Nike Oregon project (altitude tents, anti-gravity treadmills and being able to jet off to races in Australia), had never won a national championship race.

Labels like "Rupp can't win the big one" or "Rupp has no heart" were constantly out there. While not necessarily labels put on a normal college athlete, they were bound to come with the territory as, despite pleas to the contrary (and trust us, we get a lot of pleas to the contrary), Rupp clearly wasn't your normal college athlete. Let's face it, Rupp's decision to sit out college rather than run for Martin Smith helped lead to Smith's departure at the University of Oregon.

Well, those labels are now gone. Over the span of 48 hours, Rupp slayed the critics once and for all. Coming into the weekend, double wins in the 5k and 3k were expected by most, but probably no one could have imagined Rupp outkicking the milers on the DMR. Rupp, despite numerous attempts in professional races, had never broken four minutes in the mile until last weekend. He had made a World Championships team, an Olympic team, and been second at NCAAs as far back as his freshman year, but had never come out on top on the track. Indoors at shorter distances, he had even more problems, never finishing higher than third. With the victory in the DMR, the transformation of Rupp is complete. He is now a beast at the end of races with one of the most lethal kicks in the NCAAs. No longer is he Alberto Salazar's protege - he is officially now Galen Rupp - one of the all-time NCAA greats. If the transformation of his image wasn't complete, Rupp went out on Saturday and brazenly led the 3k wire-to-wire in dominating fashion as if to say, "Anyone want to doubt me now?"

Looking for a parallel in another sport? We think Rupp's win senior year transformation is very much parallel to that of Eli Manning of the New York Giants. Manning, like Rupp, was associated with his sports royalty - the only difference was that Eli's relationship to Archie and Peyton was blood. Manning's people - like Rupp's - basically dictated whom he'd play for ("San Diego, don't draft me" vs. "Martin Smith, I'm not running for you."). And Manning and Rupp were both very successful early in their careers but despite that fact, the critics of them were relentless. Fair or not, there was zero chance the critics would relent until they had won the big one. Manning got the job done in his 4th year - and Rupp has now done the same. Well done.
Speaking of well done, a big time Thumbs Up has to go out to Vin Lananna - the mastermind behind Oregon's success. The guy certainly is a master at assembling talent but he's also equally adept at knowing who to go with when the pressure is the highest. Two years ago at NCAA cross-country, Lananna put his faith in the Mercado twins - who were only his 9th and 10th men at the Pac 10s - and the Ducks were rewarded with the team title as a result. Somehow, this week, he went with Rupp on the DMR over two other Ducks who were NCAA mile finalists. The result? Another big time victory.

People resent the New York Yankees because they have all the talent in the world, so many people assume that victory is a foregone conclusion. Joe Torre's departure this year showed that it's clearly not the case, just as Jimmy Johnson's departure showed that to be true with the Dallas Cowboys in the 1990s. Because the Ducks are the Yankees of track and field, people will continue to resent them but masters like Lananna will probably keep finding ways to win.

As good as Rupp was, the fittest person at NCAAs might just have been Colorado's Jenny Barringer,who took down the 3k. In the hoopla over Rupp, the proper appreciation of Jenny Barringer's victory in the women's 3k hasn't gotten out there. Just how good was Barringer and how dominant was her victory?

Well, if setting a collegiate record by 7.74 seconds by running 8:42.03 wasn't enough, how about the fact that she won the NCAA 3k title by 14+ seconds? And if that isn't ridiculous enough, how about the fact that 3rd place was 32.32 seconds behind Barringer? Yes, that's right, Barringer lapped everyone in the field except for the runner-up Susan Kuijken of Florida St. in the 3k as she got 3rd-placer Lauren Centrowitz right before the line. Truly remarkable. *Results/Lap-By-Lap Splits Of 3k

Speaking of truly remarkable, the NCAA career of Texas Tech's Sally Kipyego came to an end last weekend. On Friday night, Kipyego joined Suzy Favor as the only 9-time NCAA champion in history thanks to a cake-walk victory in the 5k. On Saturday, Kipyego was literally pipped by the tiniest of margins from a record-setting 10th NCAA title as she led the entire way until getting nosed out by .03 by Tennessee's Sarah Bowman - 4:29.72 to 4:29.75. Kipyego didn't get her record-breaking 10th title but she did run faster than Suzy Favor's 20-year-old meet record of 4:30.63 (video of the last lap on the left).

Speaking of Bowman, she had an incredible weekend as she won the mile in a meet record the day after anchoring Tennessee to the world record in the DMR.

And lastly, let us introduce you to BYU's Lacey Cramer. A lot was probably lost in all the furor over Rupp, and there was no bigger casualty than Cramer. The true freshman captured the women's 800 title with astute veteran tactics. 5th on the rail with 100 to go, she stayed patient on the inside and somehow found the way to win. Savvy tactics for a true frosh (video of last lap below).

Last Lap Women's 800

Oh yeah, one more thing. We think a Thumbs Up should definitely go out to the University of Texas' Jacob Hernandez and his coach John Hayes. The story of the 2008 US Olympic Trials was the men's 800, where the top 3 Oregon-based athletes, including Andrew Wheating, made the Olympic team. But on Saturday in Texas, Hernandez got the victory and lest people forget, he has to be considered the best US 800 meter collegian currently as he won last year outdoors and this year indoors. Hayes deserves props as it's tough coming in and succeeding a previous successful coach like Jason Vigilante.
Division 2 Results Lincoln women and St. Augustine men win.
DIII Results: Wisconsin-La Crosse And Wisconsin Oshkosh Tie For Men's National Championship They only had 32 points each, but that was enough to give La Crosse its 8th win in 9 years. Wartburg won the women's crown. *Results
More coverage: LRC Day 1 Men: The Incredible Galen Rupp!!!
LRC Day 2: Rupp And Oregon
*Day 2 LRC Bowman Stops Kipyego's Quest For History, Barringer Dominates And JJ Clark & Tennessee Win
LRC Tennessee, Kipyego And Hooker Make History
---
The Next Galen Rupp? Alberto Salazar?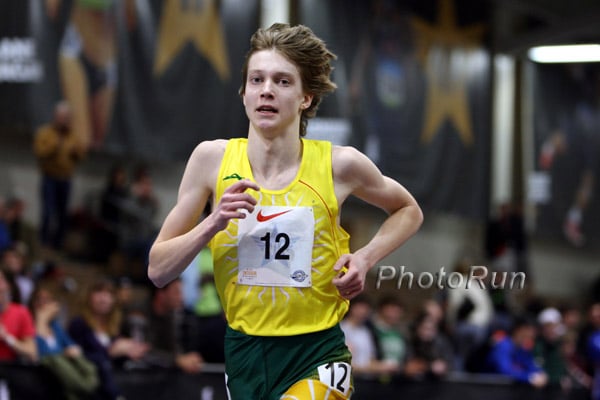 Lukas Verzbicas
Over the years, the US has had a lot of foreign-born athletes star in the red, white and blue. From those that came to the US as adults like Sydney Maree and Khalid Khannouchi to those that spent at least their formative years here like Abdi Abdirahman, Meb Keflezighi and even Alberto Salazar. Could there be a new kid to add to the later group? Most definitely.

In case you missed it over the weekend, Lithuanian-born high school freshman Lukas Verzbicas broke the national high school record for the indoor 5k by running a ridiculous 14:18 at the Nike Indoor Nationals in Boston. Not merely the freshman record - the overall record, and he's only a freshman. Then he came back the next day and won the 2 mile by setting a new freshman record of at the 8:57.44.

Unbelievable. He basically pulls a Rupp by doing the 5k/2mile at the high school nationals and he's only a freshman. And to think we'd never heard of the guy.

We did some research and, trust us, Verzbicas isn't some flash in the pan. A few savvy people on the LRC messageboard were onto Verzbicas last year when he ran a 25:31 for 8k as a 15-year-old. In the response to "Holy s***, who is Lukas Verzbicas? 25:31 as a 15 year old!", someone pasted a profile (in the future please don't paste copyrighted material on our site) done on Verzbicas that had lots of great info on Verzbicas. First of all, it needs to be stated that he's a bit old for his grade as he's already 16. He comes from a running family, as his mother Verzbickiene Rasa was the Soviet Union college champion, then the Lithuanian 3k record holder and then a professional track coach. His stepfather was also a track coach before they emigrated to the US in 2002.

Given his parents' background, it probably shouldn't be a surprise that Lukas has some big dreams. He's openly stated he wants to be the Olympic champion - the Olympic champion in the triathlon.

Yes that's right. He might not even end up as a runner. He also is the Youth Elite national champ in the triathlon and he's going to take off outdoor track to focus on that. "In long distance running, it is completely dominated by African runners," Lukas explained in a profile last year in the Lincoln Way Sun. "Running is their life. They run to school; they run home from school. In triathlon, there's no certain region that dominates everything. Everybody can win, and everybody can have a chance."

More: *Message Board From 2008: Holy s***, who is Lukas Verzbicas? 25:31 as a 15 year old!
*HS freshman Lukas Verzbicas runs 14:18 for 5000 indoors
*10 Questions With Lukas Verzbicas
---
Thank God I Didn't Make The Kenyan World XC Team - City-Pier-City Recap
Apart from NCAAs, last week was full of some big time action led by the City-Pier-City Half Marathon. The race was hyped as an attempt by Haile Gebrselassie to get back his world half marathon record on the same course where Sammy Wanjiru got it two years ago. From the start, the record was out of the question as the first 5k was run in 14:12 - 32 seconds behind the 13:40 1st split for Wanjiru (yes, that's not a typo - he apparently went out in 13:40). In the end, you ended up with a great race as Sammy Kitwara slayed the king by 3 seconds in a kick and got the win (59:47 to 59:50). When we saw that Kitwara was in the field, we thought, "That actually might be a race" and were proven corrrect.
Two weeks ago, Kitwara destroyed a very quality the field at the World's Best 10k with a course record 27:26 in windy conditions. Considering that Kitwara picked up $30,000 in Puerto Rico and an unkown sum at City-Pier-City, the best thing that probably happened to him was that he finished 7th in the Kenyan XC Trials. By being left off the Kenyan squad, he's now made a lot of dough.
It should also be noted that Martin Fagan ran great to capture Ireland's half marathon record (60:57) from John Treacy, and in the women's race, Catherine Ndereba was beaten by Pauline Wangui. Both Ndereba and Geb found the weather to be too cold. "This is not my type of weather but I lost to a very good athlete," said Gebrselassie. "I made the mistake to start my final sprint too early."
City-Pier-City Half Marathon: Sammy Kitwara Upsets The King Haile G And Wins His 7th Straight Race!!! The women's race also had an upset winner as Catherine Ndereba was beaten. *Watch the Fortis City-Pier-City Half Marathon on demand here. *Pre- & Post-Race Interviews With Kitwara
---
US 15k Champs - 2009 Gate River Run - Fam Improves By A Ton
Several things are worth noting from this race. Proof that it doesn't take very long for one's fitness or race readiness to come around comes from the fact that Anthony Famiglietti rebounded from a sub-par 21st-place showing at US Cross last month to take home the title in a sprint finish with Tim Nelson (43:36 to 43:37). It marked the 2nd straight heartbreaking loss for Nelson, who ended up second but with the same time as Meb Keflezighi at US XC. Fam was 1:43 down on Nelson a month ago and now he's the US Champ.
The other thing worth noting was how deep the field was. Overall, 20 guys broke 45:00 and 30 ran 46:01 or better. Not too shabby.
On the women's side, Amy Yoder Begley,whom we think got her first US title at age 31 a few weeks ago in the indoor 3k, picked up US title #2 thanks to her 49:51. Katie McGregor was 2nd in 49:57.
*Recap Of US 15k *Results
---
And Ryan Gregson Finally Decides Who Wins The Ryan Gregson Vs. German Fernandez Internet Battle
Ryan Gregson gives his take on the German /Gregson debate.
For weeks, Internet geeks running fans have been debating who is the better junior - Australia's Ryan Gregson or the US's German Fernandez - as the two ran 3:37 for 1,500 and 3:55 for the mile within days of each other a few weeks ago. We've been more than willing to have some fun with the debate even though we think we know who is the better distance runner. The better miler? Now, that's open for debate. The better distance guy? No question in our minds or apparently Gregson's. Click on the video the to the left and watch at the 1:30 point. We can't quite understand his Aussie accent, but it's clear who Gregson thinks he knows will come out on top at World XC.
Speaking of Gregson, we didn't realize that when the IAAF gave him a feature a few weeks ago, they also gave out some love to LetsRun.com:

"But one of the biggest independent athletics websites, LetsRun.com based in the US has been tracking Gregson's progress for years and his breakthrough time is big news there.

The Americans have a rising star of their own, Oklahoma's German Fernandez, about whom there are currently six stories on the site, with his indoor mile time of 3:55.0 last weekend drawing most attention and inevitable comparisons with Gregson who is the same age.

The site even has a poll: When It's All Said And Done Who Will Have The Better Career? 83 per cent of the 1,600 votes cast as of yesterday were in favour of Fernandez."
After watching the interview above, we wonder if Gregson voted for Fernandez.
*A Look At Australia's Jr Distance Running Revolution & Ryan Gregson Some think the Aussies will be the 1st non-African team.
---
Dwain Chambers In The News
*Victor Conte Says Chambers' Mgmt. Team Mailed Him $10,000+ Check For Drugs In 2002
*Dwain Chambers Working With Victor Conte Again
*Dwain Chambers To Be Asked By UK Athletics Why He's With Victor Conte
*Dwain Chambers Wants To Be a Youth Mentor
*Berlin Golden League Meet Will Allow Chambers To Compete
*Berlin Ripped By Other Meet Directors For Letting Chambers In
*Article On How Dwain Chambers' Book Could "Set Athletics Free"
*Van Commenee Admits Decision To Keep Chambers Off Relay May Cost GB A Berlin Medal
*Dwain Chambers Names 3 Americans Coached By Remi Korchemmy And Supplemented By Victor Conte
---
Recommended Reads
*Erin Donohue Dealing With The John Cook Drama
*Brief Chat With OK St. Coach Dave Smith Find out what German Fernandez will be up to in the coming months and get the skinny on the locker room talk about the LetsRun.com Ryan Gregson vs. Fernandez debate.
*Ryan Hall Talks About Enjoying Olympic "Failure"
*Sebastian Bayer Is Germany's Modern Day Bob Beamon
*A Look At A Reinvigorated 32-Year-Old Rui Silva Countryman Carlos Lopes won gold at 37.
*3,000 Young Chinese Athletes Found To Be Older Than They Claim
---
Quotes Of The Day ... Day-By-Day
Saturday & Sunday: "I was dead set against it until (Rupp) did such a great sales job. He said 'just give me the baton in second.'"
- Oregon's Vin Lananna on why he was smart enough to let Galen Rupp make history on Friday night at the NCAA meet by anchoring the DMR victory a little more than an hour after his sick 5k victory.
Friday: "It's fun to win individual national championships. It's a goal of mine. But the bigger thing is to help the team win by getting points. It's not an issue of how many individual championships I win."
- Oregon's Galen Rupp, who said he'll run a leg on the DMR if Vin Lananna asks him to. We'd be shocked if he ran on the DMR.
Thursday: "This is the wave of the future. Everyone used to think [simulated altitude training] was all about endurance athletes. No one thought of applying this to explosive sprinting."
- Victor Conte talking about the fact that he is still working with Dwain Chambers and has him using a $1300 hypoxicator, which stimulates EPO production (and apparently a 6.42).

Wednesday: "Our mission is simple. We want to reclaim all individual and team titles we lost to Ethiopia last year."
- Kenyan Head Coach Julius Kirwa.
Tuesday: "Everyone on the starting line (at the Olympics) dreamed of winning, but only one won – but this is not important – the journey was what was important. Dream big, but let your dreams inspire how you live today. Dreams should not be about the end goal, but rather about day to day living."
- American marathon star Ryan Hall, speaking to a high school writer prior to his recent 15km run in Florida. We saved the quote for the unveiling of the site as it talks about living the dream.
Monday: "Right now I cannot tell you how I managed to jump that far."
- German long jumper Sebastian Bayer, after his Beamonesque 28'6.75" jump at the European indoors, the 2nd longest indoor jump in history. Bayer's PB has improveed by 22+ inches this year alone. Unreal.
---
Runner's World &
Running Times



Combined Only $22
a Year
Save $87

---

Running & Track and Field Posters
---
---