Great LetsRun.com Offer 10% Off AND Free Shipping From RoadRunner Sports Click Here
Men's 5k Prelims - Thursday PM: LRC 3 Americans And 3 Kenyans Advance, Saif Shaheen Out (link fixed)
The men's 5k trials weren't without drama. In the end, most of the big names advanced as Matt Tegenkamp and Bernard Lagat looked great, but Lagat was spiked and needed stitches afterwards.
Men's 800 First Round - Thursday AM: LRC 800m Round 1 Men: ALL The Favorites, Nick Symmonds And KD Advance, Kiprop And Kamel Square Off Again The first round did not eliminate any of the favorites but there was a little drama as Yusuf Kamel and Asbel Kiprop were back racing each other just 15 hours after their 1,500m final. American Nick Symmonds won his heat and KD advanced as well. Recap, photos and video interviews.
Jamaica And Carribean Dominating Top Of Sprint World
*Jamaican Coach Steve Francis Says JAAA Should Try To Eradicate Doping From Jamaica Rather Than Persecute His Athletes For Missing Camp
*Women's 400m Hurdles Shocker Walker Blasts World Leader Demus In 2nd-Fastest 400m Hurdles Time Ever Run Women's Sprints: Jamaicans Have Won 6 Of 12 Medals Thus Far - And they've won all four golds if you count Jamaican-born Sanya Richards. Melaine Walker shut down thus-far dominant Lashinda Demus in the women's 400m hurdles.


Sprint Tides About To Shift In The USA's Direction?
*Felix, Lee, Merritt, Wariner Look To Get Big US Sprint Medals
*Can Allyson Felix Stop The Bleeding? American Looking To Get Sprint Momentum With 200m Win Felix is running unbelievably well and might be the only American-born woman sprinter to win a gold.
*Wariner Says He's Expecting To Defend His Title Wariner vs. Merritt coming on Friday, as Baylor grad looks to get his #1 spot back.
*Wariner Desperate To Get #1 Label Back And Shut Up His Critics '04, '05 and '07 champ doesn't like being #2 to Merritt.
*Watch Out: Muna Lee Ready To Medal In The 200m The skinniest top sprinter in the world ran a super 200m semifinal to get a top lane for the final. She and Felix might go 1-2 and quiet the Jamaicans for a few seconds.
LRC Men's 1,500m Recap: Kamel Follows In His Dad's Golden Footsteps The men's 1,500 saw Yusuf Kamel pull a stunning upset, as huge pre-race favorite Asbel Kiprop tried to go from last to first on the last lap and ended up fourth. Kamel (formerly Gregory Konchellah) joined his dad Billy (twice at 800m) as a world champ. American Bernard Lagat got boxed in with 150 to go but managed to get out for the bronze medal, as fellow Americans Lopez Lomong was 8th and Leo Manzano 12th. Recap, photos and post-race interviews with the Americans, Kamel and Augustine Choge. Kamel talks about how he ran 3:36 with no speed work. Plus he talks about his dad.

Other Men's Wednesday Action: 200 Men's Semi: Bolt Cruises And Shawn Crawford Gives The Best Interview Of The Championships We know most of you don't watch post-race interviews, but you should watch this one.

Men's 400 Semi: LaShawn Merritt Sends A Message To Jeremy Wariner
LRC Men's Steeplechase Kemboi And Mateelong Go 1-2 In Amazing Men's Steeple We recap a super final that saw Paul Koech come in fourth in 8:01.26. Frenchman Bob Tahri broke up the Kenyan sweep, but it was still all smiles for champion Ezekiel Kemboi, who was hilarious after the race. *Videos Here
Controversy At Worlds With Drugs And Gender
LRC Women's 1,500 Recap: Shannon Rowbury Goes Down In Fall, But Put In Semifinal
*Rowbury Reinstated To 1,500m Semifinal After Fall All 3 Americans will now advance.
*Steph Twell In Tears After Poor Performance
Recommended Read: Dick Patrick Writes About World #1 Lashinda Demus' Decision To Uproot Family And Get Serious Now Demus is trained by her Mom with no distractions ... other than her twin boys. Demus is in the final of the 400m hurdles after dominating most of the year.
Monday *Results

LRC Men's 10k: A Day After Bolt's Electric 100m Run, Bekele Reminds Us He's Even More Dominant Than Bolt Kenenisa Bekele remained undefeated at the 10,000 meter distance for his life as he won in a championship record 26:46 thanks to a 13:05 2nd 5k. Eritrean Zersenay Tadese got a well-deserved silver after he put on a spirited frontrunning effort that would have broken anyone on the planet but Bekele. American Dathan Ritzenhein ran the race of his pro career to move up to 6th in 27:22 as Galen Rupp faded to 8th and had to be helped from the track.

LRC Women's Steeple Final - Barringer Just Misses Medals Spain's Marta Dominguez got the win while Jenny Barringer's 9:12 American record was short of the medals in a come-from-behind bid.

LRC Men's 1,500 And Women's 800 Semis Recap: American Men Put 3 in the Final, All 3 American Women Go Out It was polar opposites for the Americans as three made the 1,500 final and none made the 800 final. Pamela Jelimo dropped out while Leo Manzano almost outkicked Asbel Kiprop.
LetsRun.com's Week That Was We try to tell you a few things you might not have known as we talk about the rumors regarding the new drug of choice in Berlin, talk about Ryan Hall's hair and encourage you to watch The Daily Show on Tuesday as they'll talk about Born To Run.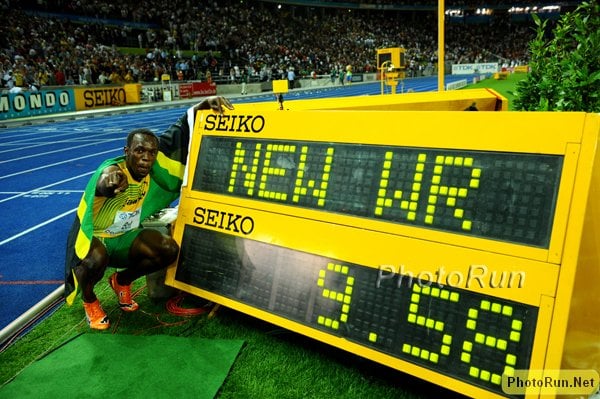 9.58 WR!!!
Usain Bolt Does The Unthinkable
Usain Bolt ran a stunning 9.58 and Tyson Gay a very game American record 9.71.
LRC Commentary: Usain Bolt Superhuman, Tyson Gay ... We try to come up with words to give some perspective to Bolt's 9.58 and Gay's 9.71. Darvis Patton may have said it best: "There are no words to describe him (Usain Bolt). He's like a created game person. He's like a cheat code. That's how good he is ..." Monzavous Edwards compared Bolt to Michael Jordan BEFORE the record run. Plus post-race interviews and more.
Bolt, Bolt, Bolt
LRC Women's 10,000m: 9,950 Meters According To Form And A Very Bizarre Finish This race had it all. Craziness, stupidity, and drama - all in the final 50 meters. Recap, photos, and video interviews, plus interviews with Americans Amy Yoder Begley (6th in a PR) and Shalane Flanagan.
*Day 1 Is Complete: Check Your Prediction Contest Scores link fixed
Day 1 Photos
19.19!!! Bolt Does It!!! His 5th straight global championship gold and WR. Mr. Lightning proved Michael Johnson wrong, who said yet again Bolt wouldn't get the WR. Watch the video to the right.
5,000 News Articles On Bolt, We Present You With 5 Good Ones:
*"It will be a great thing for the Queen to dub me, 'Sir Usain Bolt.'" Maybe after you run sub-42 in 2012, Usain.
*Michael Johnson: "A ridiculous race. The bend is unbelievable. No one has ever run a bend like this and probably never will." Johnson awed crowds with record winning margins of 0.33. Bolt? In horse racing he won by 20 lengths, in human racing 0.61 seconds.
*Bolt Entered Stadium With T-Shirt Reading "Ich Bin Ein Berlino" Then he ran 19.19 and got a 20-minute standing ovation love-fest. If he needed another career he could be a PR specialist (PR = public relations).
*Jamaicans Celebrate Back Home - Why Not?
*Better Than Saying The Alternative ... Bolt Says: "I'm Clean."
Men's Decathlon: New "World's Greatest Athlete" Is ... Surprise! American Trey Hardee! With Olympic champ Bryan Clay out with injury, Texas Longhorn alum Trey Hardee not only won the decathlon in a huge personal best and by a huge margin, he also stamped himself as #10 all time in the world in the event. He almost broke the World Championships record with an 8790.
*Cuban Success: Cubans Get 4th WC Medal Without Dayron Robles - That's more medals than Great Britain. Cuban Leonel Suarez won the silver medal in the decathlon, joining 3 triple jump teammates as medal winners. Some of the Cuban decathletes were throwing the discus in running shoes. How do they train for all the events?
*Men's 110 Hurdles: Robles Crashes Out! Brathwaite Wins First Barbados World Title He won by 0.01 over two Americans with the best lean. *Robles Quoted In Communist Paper Saying He Hoped To Present The Medal To Castro As Birthday Present


*Men's Pole Vault: Aussies Love To Talk About Their Balls - Steve Hooker Definitely Has A Big Pair Vaulting on a partially torn adductor, Olympic champ Hooker had a monster clearance of the automatic height on his only attempt of the day before laying in the pit in huge pain. He did no warmup and says he's going to just go for a medal in the final. Watch his post-jump interview here, where he says he can't beat the young Frenchman Lavillenie (left).
*Speaking Of 1 Jump: Dwight Phillips Through To Final With Huge 8.44 The American sent a big message with 1 jump far better than anyone else's on the day. 2 Aussies are also in the final and zero Jamaicans.

"Beautiful Blanka" Performs Under Pressure And Wins 2nd-Consecutive WC High Jump Who says field is boring? It was an amazing competition as the packed stands cheered on the field, including German co-favorite Ariane Friedrich, who dramatically claimed the bronze. The fans cheering for Vlasic would be like Cowboys fans giving Eli Manning a standing-O for a game-winning touchdown pass to Plax.
Distance News
*Bekele Decides He Will Double
*Paula Radcliffe Out Of Worlds Marathon
*Rupp's Dream Season Ends On Sour Note
*NYTimes Piece On Bekele: Is His Greatness Overshadowed By Bolt?

LRC Caster Semenya Dominates Women's 800, But Is She "Entirely Female"? For the 2nd straight year an 18-year-old African dominated the women's 800, but this year the winner is garnering worldwide headlines as people wonder, "Is she entirely female?" Behind Semenya, there was a great 3-way battle for the final two medals. *Semenya's Mom: "She is my little girl. I raised her and I have never doubted her gender."*Good Morning American Story On Semenya That Uses LRC Footage *Phil Hersh Article On Semenya *LRC: Message Board Thread On Semenya Here *Watch our interview with Semenya here.
Wednesday AM: LRC 5k Heats: Favorites And Jen Rhines Advance, Abeylegesse Doesn't Start The Women's 5k heats were a nearly complete waste of time as only 7 women were eliminated and Meseret Defar felt the need to sprint all the way to the finish to see if she's overcome a sickness. American Jen Rhines advanced. We interviewed her and American Julie Culley. In other action, the decathlon got underway and ...

*Dayron Robles Nearly Goes Out In First Round, Reveals He Has An Injury He started real slow and was only 3rd, the last automatic qualifier in his heat in the hurdles.

*Science Of Sport's Take On Caster Semenya's Tough Case

Wall Street Journal Article On Kara Goucher Taking Down Africans By "Training Harder, Thinking Less"

LRC Men's 400m Semifinal Recap Wariner and Merritt Look Great In Semifinal Wins There were no major surprises here, just the anticipation of another Merritt/Wariner showdown in the final. Columbia University alum Erison Hurtault's run to the final ended. Hurtault competes for Dominica.
Tuesday AM: LRC Women's 1,500 Recap: Shannon Rowbury Goes Down In Fall
Two falls marred round 1 of the women's 1,500 and a victim was the USA's Shannon Rowbury. The other two Americans, Anna Willard and Christin Wurth-Thomas, advanced on their own and Rowbury was put in the semi after appeal. Recap, results and brief interviews with Rowbury and Willard.
News And Recaps From Monday At Worlds
NYC Half - LRC: Tadese Tola Dominates, As Does Paula Radcliffe
America's Brightest Hopes Have Totally Opposite Days As Ryan Hall Leaves Race Very Excited About His Fall Season And Deena Kastor Endures 73-Minute Disaster
Tadese Tola did his best Sammy Wanjiru impersonation as he hammered it from the gun despite hot and humid weather and was rewarded with a large victory, but the defeat couldn't stop Ryan Hall from feeling very good about his 62:35 performance. Hall, "I should be able to run this pace twice over." New: LRC Photos *Top Results
Pre-Race: LRC Covers The NYC Half Robert Johnson talks with the sport's biggest names: Ryan Hall, Deena Kastor, Paula Radcliffe, Hendrick Ramaala, Catherine Ndereba and Tadese Tola before they race Sunday.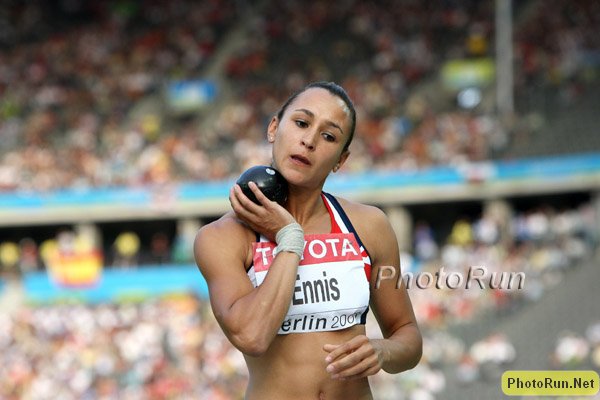 LRC Worlds Sunday PM Recap We cover the women's shot put, heptathlon, 400, 100 and men's 400 hurdles semis that were just as crazy as the first round.
*Vili Becomes Double World Champion - Dominant Kiwi shot putter overcame stiff competition.
Usain Bolt Absolutely Obliterates 200m WR
Usain Bolt Tells Spearmon Not To Call Him Insane Bolt, Plus He Talks About The Perfect Race And What Was On His MP3 Player
Spearmon Calls Usain "Insane" Bolt, Talks About Bolt Going 18.9 And Bolt Taking It All In
Matt Tegenkamp Stride-For-Stride With Bekele
Jager On Elimination And His Great 2009 Season And Moving To Portland
Nick Symmonds After Winning His Heat Thursday
Lagat On Bronze
Kamel - "Earlier this year I ran 3:36 without any training. I didn't (wear) any spikes." - And His Dad, A 2-Time World 800m Champ
Lopez 8th
Leo 12th
The Top Interview Of The Champs So Far - Shawn Crawford Is A Character And He Says Bolt Will Run 19.2 In The Final