Great LetsRun.com Offer 10% Off AND Free Shipping From RoadRunner Sports Click Here
LRC Men's Steeplechase Kemboi And Mateelong Go 1-2 In Amazing Men's Steeple We recap a super final that saw Paul Koech come in fourth in 8:01.26. Frenchman Bob Tahri broke up the Kenyan sweep, but it was still all smiles for champion Ezekiel Kemboi, who was hilarious after the race. *Videos Here
Controversy At Worlds With Drugs And Gender
*Surprise Surprise! A Moroccan Distance Runner Provides Berlin's First Positive Drug Test
*IAAF Expected To Rule Before Final As To Whether Caster Semenya Is Male Or Female Watch our interview with Semenya here. *LRC: Message Board Thread Here
LRC Women's 1,500 Recap: Shannon Rowbury Goes Down In Fall, But Put in Final
*Rowbury Reinstated To 1,500m Semifinal After Fall All 3 Americans will now advance.
*Steph Twell In Tears After Poor Performance
Recommended Read: Dick Patrick Writes About World #1 Lashinda Demus' Decision To Uproot Family And Get Serious Now Demus is trained by her Mom with no distractions ... other than her twin boys. Demus is in the final of the 400m hurdles after dominating most of the year.
Monday *Results

LRC Men's 10k: A Day After Bolt's Electric 100m Run, Bekele Reminds Us He's Even More Dominant Than Bolt Kenenisa Bekele remained undefeated at the 10,000 meter distance for his life as he won in a championship record 26:46 thanks to a 13:05 2nd 5k. Eritrean Zersenay Tadese got a well-deserved silver after he put on a spirited frontrunning effort that would have broken anyone on the planet but Bekele. American Dathan Ritzenhein ran the race of his pro career to move up to 6th in 27:22 as Galen Rupp faded to 8th and had to be helped from the track.

LRC Women's Steeple Final - Barringer Just Misses Medals Spain's Marta Dominguez got the win while Jenny Barringer's 9:12 American record was short of the medals in a come-from-behind bid.

LRC Men's 1,500 And Women's 800 Semis Recap: American Men Put 3 in the Final, All 3 American Women Go Out It was polar opposites for the Americans as three made the 1,500 final and none made the 800 final. Pamela Jelimo dropped out while Leo Manzano almost outkicked Asbel Kiprop.
LetsRun.com's Week That Was We try to tell you a few things you might not have known as we talk about the rumors regarding the new drug of choice in Berlin, talk about Ryan Hall's hair and encourage you to watch The Daily Show on Tuesday as they'll talk about Born To Run.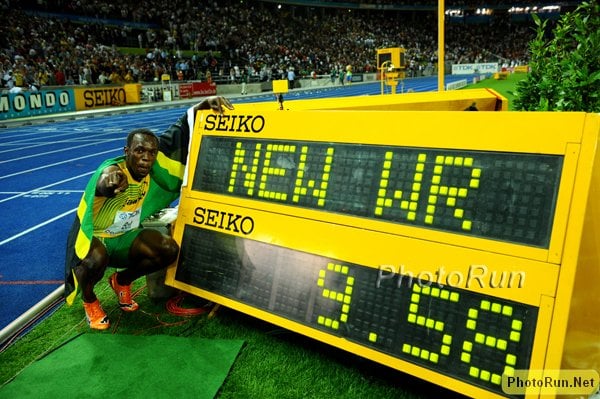 9.58 WR!!!
Usain Bolt Does The Unthinkable
Usain Bolt ran a stunning 9.58 and Tyson Gay a very game American record 9.71.
LRC Commentary: Usain Bolt Superhuman, Tyson Gay ... We try to come up with words to give some perspective to Bolt's 9.58 and Gay's 9.71. Darvis Patton may have said it best: "There are no words to describe him (Usain Bolt). He's like a created game person. He's like a cheat code. That's how good he is ..." Monzavous Edwards compared Bolt to Michael Jordan BEFORE the record run. Plus post-race interviews and more.
*Donovan Bailey's Comments On The Race With Video Replay
*Bolt Runs Mind-Blowing 9.58
*Bolt Predicted 9.5 Back In July
*USATF: "Thank You, Tyson Gay." Gay set the AR at 9.71 in second.
*Bolt Says Anything Is Possible He notes that the 200m will be a bigger challenge for him this year.
*Not Bad: 5.2 Million Tuned In To BBC2 To Watch Bolt Reportedly 10 million watched in Germany.
*Quotes From Jamaicans In The Streets Watching, Celebrating Bolt Pretty awesome scene as traffic stops and everybody has an opinion on the big man.
*Biomechanical Analysis Of Bolt's 100m Dash Compared to his semifinal, Bolt's last 20m was 0.11 seconds faster. It took him 1.61 seconds to go from 60m to 80m.
*Chart Shows How Bolt Has Changed The Game
*Word Was: Berlin Track Too Soft For Fast Times!
*Bolt Lowers His Record A Massive 0.11 Seconds
*Bolt Lowers 100m Record In The Last Year More Than It Had Been Lowered In Decades
LRC Women's 10,000m: 9,950 Meters According To Form And A Very Bizarre Finish This race had it all. Craziness, stupidity, and drama - all in the final 50 meters. Recap, photos, and video interviews, plus interviews with Americans Amy Yoder Begley (6th in a PR) and Shalane Flanagan.
*Day 1 Is Complete: Check Your Prediction Contest Scores link fixed
Day 1 Photos
LRC Exclusive With Greg Brock: Part 2: Brock Explains His Key "Connector" Workout, Talks About What His Goals For Vessey In Europe Were And Now What Her Goals For Berlin Are LetsRun.com caught up with Greg Brock, the coach behind the #1 story in US distance running in 2009, Maggie Vessey. Brock, a former 5th-placer at the US Olympic Marathon Trials and longtime HS coach, didn't hold anything back as he shares all, including key workouts and even the last workout Vessey will do prior to Berlin. Brock may be the one man in America not totally stunned by Vessey's season as, in his mind, it's long overdue in some ways as he always expected Vessey to be an 800-meter star. What Brock said may surprise you but his insight is very educational and this is an absolute must-read for coaches and/or true students of the sport. Part 2 of 2 appears today.
LRC: Event-By-Event World Championships Previews The best previews you'll find ... because we heart our readers.
LRC: Worlds Events By Day Get an idea of the schedule of Worlds and don't miss your favorite events. We've got all our event previews here, as well as television and internet coverage schedules.
*Recommended Reads: NY Times' Liz Robbins Interviews Ryan Hall We feel like we recommend every Ryan Hall article, but seriously this one is good, too.
*Inspiring: Ross Dammann's Wife (Sophia Hawker Is Her Maiden Name) Kicked His Butt Into Gear And He's Enjoying Running More Than Ever Really good read if you're needing your own kick in the butt.
*More On Hall: *LRC Exciting Fields Set For Sunday's NYC Half Marathon Give our mini-preview a read ... NYC half has some fascinating fields.
NYC Half Marathon Invited Athletes
*Radcliffe To Run NYC Half Marathon This Weekend, Then Decide On Worlds All eyes will be on New York this Sunday as Ryan Hall will be racing and Radcliffe will test out the wheels before Berlin.
Bolt, Jamaica, Chambers And Scientists Getting Ready For Berlin
"The World Championships, that is our baby. We take care of our baby, ..." - IAAF's Pierre Weiss talking about "suggesting" to the JAAA that they let their own stars compete.
*Coach Mills On Bolt: "I'm confident that he will emulate what he did in Beijing." The most interesting quote is Mills' statement that the Berlin track likely isn't as fast as the super-fast Beijing track.
*Bolt Says Jamaican Sprint Team Not Worried About Controversy Bolt's not worried about anything ... at least not that he'll admit.
*Huge Project Studying Biomechanics To Be In Place In Berlin We know some coaches who started drooling while reading that headline.
Dwain Chambers With Some Hilarious Quotes On Usain Bolt Scaring His Competitors "His (Usain Bolt's) antics automatically sent everyone into fear in Beijing. It's a message like one of those deers that prances up and down to show how elegant they are. The rest thought they were running for second place, but Bolt didn't even think he was going to win. It's about putting fear into people. I wanted to make people quiver in their boots. Muhammad Ali did it. You need a poker face. I learnt that from watching Roger Federer - you can tell he was mad as hell but he never shows it." - Dwain Chambers, who got a lot funnier since having his life turned upside down thanks to using PEDs.

Men's 400m Showdown Highly Anticipated
Merritt/Wariner Article Shows Former Champ Hungry To Get His Top Ranking Back
Betting Odds Give Big Nod To Merritt *LRC Gives Nod To ...
Wednesday AM: LRC 5k Heats: Favorites And Jen Rhines Advance, Abeylegesse Doesn't Start The Women's 5k heats were a nearly complete waste of time as only 7 women were eliminated and Meseret Defar felt the need to sprint all the way to the finish. American Jen Rhines advanced. We interviewed her and American Julie Culley. In other action, the decathlon got underway and Dayron Robles nearly blew it. He started real slow and was only 3rd, the last automatic qualifier in his heat in the hurdles.
*Latest: Caster Semenya Will Run 800m Final Despite Questions About Her Gender *LRC: Message Board Thread Here
Coming Wednesday, Day 5: Men's 1,500m final, Women's 800m final, Women's 5,000m heats (latest: Defar in, Dibaba out?) *IAAF Full Schedule/Start Lists
*Men's 400m Hurdles Torch Officially Passed As Clement Wins 2 In A Row - Felix Sanchez Last - 17-Year-Old 4th Clement looked amazing and Batman Jackson charged hard for third running on an injured hamstring. 17-year-old Jehue Gordon's time of 48.26 moves him to #2 all-time for juniors.
*Women's 400: Sanya Gets Monkey Off Her Back, US On A Roll Jamaican-born Sanya Richards (the most prolific producer of sub-50 times in history) ran a world leader in the final in a brilliant tactical race to get her first individual WC or Olympic title. She executed her and coach Clyde Hart's strategy with a big move in the 3rd 100m to run away from a talented field. Brit Christine Ohuruogu couldn't get up for a medal.
*NY Times: Richards Can Finally Celebrate Title
*Richards: "I enjoyed every step of my race."
*Men's 200m Rounds 1 And 2 Were Today Tired Bolt Makes 200m Semis And Just Wants A Good Night's Rest
*Men's TJ: Idowu Joins Ennis As GBR First-Time Gold Winners Despite being way behind the board, Britain's Phillips Idowu jumped a clutch personal best and world-leading performance in the final to get the gold he has been talking about for a long time over Portugese Nelson Evora.
*W Jav: Germany's Steffi Nerius Wins First Global Title In Her Final Competition Before Retirement Really her javelin win is a fairy tale story.
Tuesday AM: LRC Women's 1,500 Recap: Shannon Rowbury Goes Down In Fall
Two falls marred round 1 of the women's 1,500 and a victim was the USA's Shannon Rowbury. The other two Americans, Anna Willard and Christin Wurth-Thomas, advanced on their own and Rowbury was put in the semi after appeal. Recap, results and brief interviews with Rowbury and Willard.
News And Recaps From Monday At Worlds
*Tyson Gay Decides Not To Run 200m - USATF And Doug Logan Release Statement Of Support To perform like he did while not 100% is absolutely amazing. After 2 golds in 2007, Gay has had to fight hard just to medal.
*Bolt's 100m The Best-Ever Track And Field Performance According To IAAF Charts 9.58 equals a 1:38 800m!
*USA Hero Chelsea Johnson Scores Pole Vault Silver Chicago Tribune's Phil Hersh writes about the daughter of 1972 Olympic bronze medalist Jan Johnson.
*Isinbayeva: "I have no explanation for this." One of the world's most recognizable athletes couldn't clear a single bar. She put her head in her hands, got herself together and waved to the crowd while Poland's Anna Rogowska celebrated her 2nd straight win over the Russian.
*Triple Bogey: Hungary's Kristian Pars Has 18-Meet Win Streak Snapped By Olympic Champ Kozmus In Hammer If you got to watch the meet online, this event was awesome. Massive Kozmus became the tiny country of Estonia's first world champion while Pars choked.
*Castros Happy: Cuba Goes 1-2 In Women's Triple Jump Their male triple jumpers were at one point the best in the world, but their form has fallen. The women (Yargelis Savigne and Mabel Gay) dominated.

Pole Vault Surprise Isinbayeva No-Heights But American Chelsea Johnson Wins Silver!
Women's 100m Jamaican 1-2 But Carmelita Jeter Breaks Up Sweep
Big Injury News
*Meseret Defar Likely Out Of 5,000m With Injury And Fatigue After her meltdown in the final meters of the 10k, we were having our doubts about her running the 5k.
*Mark Wetmore Confirms Tirunesh Dibaba Will Run 5,000 Heats Dibaba is fighting injury but has given the thumbs up to give the 5k a go.
NYC Half - LRC: Tadese Tola Dominates, As Does Paula Radcliffe
America's Brightest Hopes Have Totally Opposite Days As Ryan Hall Leaves Race Very Excited About His Fall Season And Deena Kastor Endures 73-Minute Disaster
Tadese Tola did his best Sammy Wanjiru impersonation as he hammered it from the gun despite hot and humid weather and was rewarded with a large victory, but the defeat couldn't stop Ryan Hall from feeling very good about his 62:35 performance. Hall, "I should be able to run this pace twice over." New: LRC Photos *Top Results
Pre-Race: LRC Covers The NYC Half Robert Johnson talks with the sport's biggest names: Ryan Hall, Deena Kastor, Paula Radcliffe, Hendrick Ramaala, Catherine Ndereba and Tadese Tola before they race Sunday.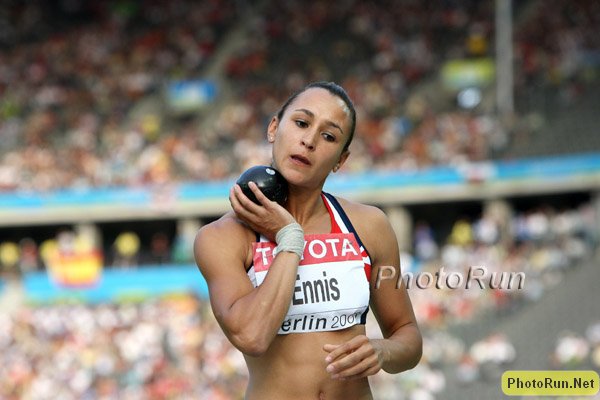 LRC Worlds Sunday PM Recap We cover the women's shot put, heptathlon, 400, 100 and men's 400 hurdles semis that were just as crazy as the first round.
*Vili Becomes Double World Champion - Dominant Kiwi shot putter overcame stiff competition.
*Ennis, First Brit Heptathlon World Champion, Gives Country More Hope For 2012 Glory If the Brits perform like the Germans are performing at this WC, they'll get tons of medals.
LRC Worlds Sunday AM: 800: Janeth Jepkosgei Goes Down, All 3 US Women Advance updated Things started off with a bang on Sunday as the defending world champ Janeth Jepkosgei got tripped by 2009 world leader Caster Semenya with 150m to go in her heat. Jepkosgei went down and out (but was put into the 2nd round after a lengthy appeal). All 3 Americans advanced to the semis, including US sensation Maggie Vessey.

Mens Steeple: LRC Mahiedine Mekhissi-Benabbad Makes An Ass Of Himself, Americans Bomb In the men's steeple, France's Mahiedine Mekhissi-Benabbad, the guy who did the ridiculous celebration in Paris at the Golden League meet, dropped out and then made an ass of himself in the media room. We got some of it on video. The American men did horribly with 2 last places and one DNF.
LRC Saturday PM: Men's 1,500m Round 1 - All 4 Americans Advance! It was a great day for the Americans as the veterans and new guy Dorian Ulrey each advanced to the semis. The Kenyans also got everyone through, while the Algerians lost their top two.
*Men's Shot Put: American Christian Cantwell Wins Thrilling Shot Competition Cantwell came up big yet again on the big stage as he took down a game Tomasz Majewski by a few centimeters on his 5th throw.
*Heptathlon: Jessica Ennis Overcomes Pressure To Take Big Lead Into Day 2 Ennis was on fire all through day 1.
*Men's 400h: 2-Time Oly Gold Winner Angelo Taylor Misses Semis Gets Into Semis Thanks To DQ!
*The men's 400m hurdles was full of drama for the US as these post race videos below show. Johnny Dutch made the semis then puked his guts out, Angelo Taylor thought he didn't make the semis and was upset and Bershawn Jackson had to charge hard the last 100 because of a bad hamstring.
*Women's 10k: Recap Of An EPIC Win For Linet Masai Of Kenya!
*Saturday Post-Race Interviews
Saturday AM Berlin Session Highlights
*Women's Heptathlon Jessica Ennis Off To Great Start In Heptathlon 2 events in, Ennis has big lead over Ukranians. Sharon Day is in second.
*Women's 400 Round 1 Women's 400m Heats Provide Lots Of Intrigue As Brits Advance, Russia Looks Good And Richards Runs Smoothly
*Men's 100 Round 1 Powell Almost Misses 2nd Round; Bolt, Chambers, Gay Win Heats Powell slowed down so much he finished 3rd in his heat and narrowly moved on.
*Men's Shot Put Qualifying Elder Statesmen Adam Nelson Throws HUGE Seasonal Best To Join Americans Cantwell and Hoffa In Shot Put Final What a performance for Nelson to make the final.
*Men's 20k Walk Russia's Borchin, Busted For Doping At The Age Of 18, Wins 20k Walk
LRC: Prediction Contest Event-By-Event Predictions
*Hooker, Torn Adductor And All, Now 70% To Compete Update your picks. Is there a button for "70% likely to win"?
*Tirunesh Dibaba Still Possible For 5k Starting Mid-Week We don't see it happening. A fit Defar will smoke her anyway.
LRC $1,000,000 World Championships Prediction Contest The World Champs are here and now that we've got you covered with our detailed event-by-event previews, you can enter our world famous prediction contest. All you do is pick from our list the top 3 in each running event and a couple of field events. It's very easy and even if you don't know too much, we give you a guide on the competitors. You've got until Saturday early in the AM to get your first picks in.
Ezekiel Kemboi Says Why Americans Cannot Do Steeplechase and Kenyans Cannot Do 100 Meters
Kemboi On Why He Took Off His Singlet
Kemboi Shows Off His Nike Swoosh Haircut
Kenenisa After Winning The 10k
Bernard Lagat Celebrates After 3 Americans Make the Final
Leo Manzano After 3 Americans Make 1,500 Final
Jenny Barringer After Her 9:12 American Record in the Steeple (Part 1)
9 Minutes With A Very Happy Dathan Ritzenhein After His 6th Place