Reebok: *Meet Website *TV Reminder: 4-6pm Sun ESPN
Willis Kicks Past Solares As Webb Fades, Flanagan Runs AR But Loses, Gallo Shocks Women's Mile Field, Rupp Runs Fast But Loses, Nick Symmonds Wins And Goucher Wins Again We hope to have more Sunday.

*USATF Recap
*Flanagan Gets US Record But Loses
*Stuczynski Gets AR In PV
*Pre-Race: Goucher Getting Used To Boston
Stuttgart: *Defar Runs 8:26, Lagat Runs 7:35, Ismail Runs 1:45, Kaki 2:16 Ismail, the Olympic silver medallist, beat the last two Olympic 800m champs in his race and Kaki beat Baala, who ran 2:17. *IAAF Recap: Defar & Kaki Shine As 8 World Leaders Set
Famed Olympic, Stanford Track Coach Payton Jordan Dies Jordan was a great coach, meet promoter, and athlete (World Record holder in the 4 x 110y in 1938 and he also ran a 14.35 100m at age 80).
*San Francisco Chronicle Obituary On Payton Jordan "The greatest thing is the relationships and friendships I've gained through athletics, and the rapport and mutual respect I had with my fellow coaches."
*LA Times Obituary On Payton Jordan "For all its warts, it's one of the wonderful ways to bring vitality into the world."
*Payton Jordan Walked With Purpose mercurynews.com
*Stanford Article On Payton Jordan "He's a rare person. Payton had the rare ability to captivate people, to inspire people to expand their wings and expand their limits. You look at guys who were coached by Payton and you see how they treat their wives, treat their kids or run their businesses. These are the examples of Payton's influence." - Stanford coach Edrick Floreal on Payton.
*Share Your Memories Here
Recommended Read: Great Flash From The Past: Mike Powell On His 1996 Olympic Heartbreak
Reebok Boston Is Saturday And We've Got You've Covered *Meet Website *TV Reminder: 4-6pm Sun ESPN
LRC: Full Event-By-Event Preview Who says we don't like the sprints?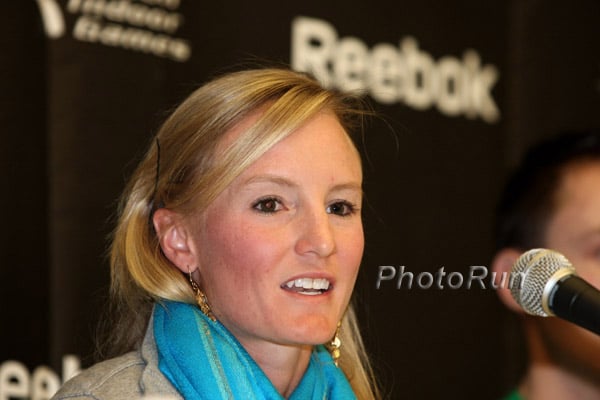 LRC: A Fan's Guide To The 2009 Reebok Boston Indoor Games: Men's Mid-D & Distance Events The action on the men's side is unreal as there is a 1k to die for with Boaz Lalang, Nick Symmonds, Christian Smith, David Krummenacker and Duane Solomon. That's 3 Olympians, a world champion and and world championships team member all in one race. The return of Alan Webb in the mile - and he's matched up with bronze medallist Nick Willis. A fantastic college mile led by Jeff See and 10 others that all want to break four. A men's 2 mile where Galen Rupp will have his hands full with Ethiopians
LRC: A Fan's Guide To The 2009 Reebok Boston Indoor Games: Women's Mid-D & Distance Events An expected American record attempt by Flanagan in the 5k, Kara Goucher in the 3k, a rematch of the Olympic Trials top 2 in the 800 and a great high school girls mile.
LRC! 2009 Reebok Boston Games Press Conference: Kara Goucher And PVaulters Ready To Shine A $25,000 bonus has been added for an American or world record in the pole vault. Goucher's press conference was full of insight into her Boston marathon plans.
2016 Olympics
*Spanish Sports Minister Asserts Obama Should Not Make Chicago A Favorite For 2016
*Rio de Janeiro Claims 2016 Olympics Would Help South America
Recent Results
*Vlasic Clears 2.01 In Malmo, Sweden Indoor Gala *Dmitrik And Beitia Take HJ Titles In Czech Republic
*Sprint Recap From Vienna Classic
More Meb News: Meb Joins Elite Field In London - Men's Elite Entrants
BBC Catches Up With Ricky Simms; Bolt's Manager Is A Busy Man He also represents Ohuruogu and Leonel Manzano.
Steve Cram On British Media Obsession With Dwain Chambers Soap Opera LetsRun.com is officially obsessed as well as we gave the drug cheat a big thumbs up in our Week That Was.
Drugs: WADA And INTERPOL To Join Forces To Combat Drug Cheats
*Roger Clemens' DNA Found On Syringes Held By Trainer - Defense Calls DNA Evidence "Fabricated" Clemens' lawyer should hang out with Marion Jones'.
Natalya Dobrynskya On The Trappings Of Being A Ukrainian Gold Medal Winner
Holy Sh**
Japanese 60-Year-Old Runs 2:36 Marathon, An Age Group World Record
First US Woman World #1 In Discus, SB-T, Outlines '09 Goals We find Stephanie Brown-Trafton's story amazing and wish her luck in '09.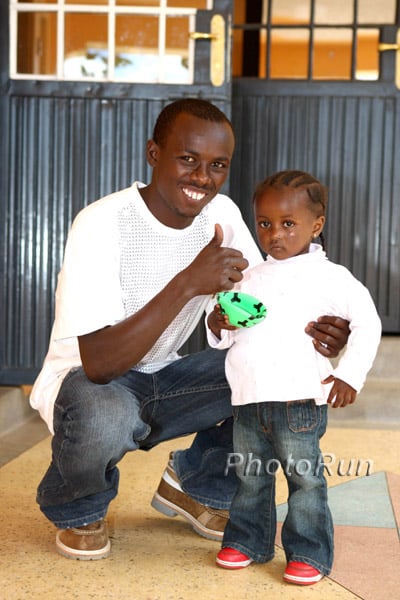 News From Around The World
*Wanjiru Wins Season Opening Half In Spain
*Asafa Powell To Compete Down Under In February
*Mara Yamauchi Moves To Third On UK List With 68:29 Half Marathon Win
*Craig Mottram Update: Achilles Injury Has Greatly Limited Him
*Filbert Bayi And John Walker To Host Dinner In NZ Commemorating One Of The Greatest 1,500m Rivalries Of All Time
*Vivian Cheruiyot Excited To Compete Indoors For First Time
*Pickering Avoiding War Of Words With Chambers, Says He's Going To Worry About Getting Faster
Italian XC
World Steeple Record Holder Shaheen Is Back As Stephanie Twell Falters Shaheen beat European champ Sergiy Lebid while Twell got beaten by Aniko Kalovics.

Millrose Games Was Friday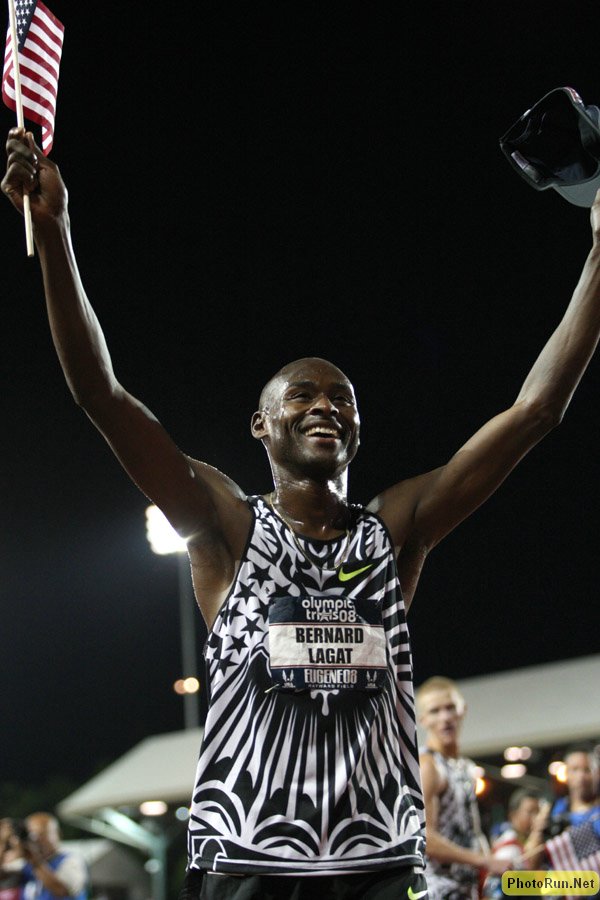 *Meet Site *Events/Results
*Lagat Wins 7th Wanamaker Mile
*Kara Goucher Pleased With Her Dominating Women's Mile
Star-Ledger: New Jersey's Jill Smith And Bobby Andrews Win Millrose HS Titles *Lap-By-Lap Boys Photos *Lap-By-Lap Girls Photos The UVA-bound Andrews was sensational over the last lap as Smith got her 2nd straight win. *Dyestat Recap Of HS Miles At Millrose
*Random Minnesotan Upset That Kara Goucher's Family Plans Made News
LRC: Our Brief (And Incomplete) Millrose Recap
NY Times: Lagat Wins Mile At Millrose, Tying Coghlan's Record
Reuters: Hooker/Lagat Light Up Millrose
IAAF: Hooker Gives WRecord A Scare
*Post-Race Quotes Via USATF
Dick Patrick On Lagat's Historic Wanamaker Attempt A win on Friday and he is co-chairman of the boards with Coghlan with 7 titles.
*Eamonn Coghlan Thinks Lagat Will Tie His Record
*Brief Chat With Millrose Miler And Boston Hope Kara Goucher Her range is pretty incredible but then we remembered Geb was a world indoor 1,500 champ.
*Will Olympic PV Champ Hooker Compete In A Tuxedo At Millrose Games?
*Beijing Experience Changes Hooker For Better
*Lagat Going For 7th Wanamaker Title
*Lagat Gunning For Number 7 Universal Sports
*Excerpts From Wanamaker Mile Competitors' Press Conference USATF
*Candid Interview With Adam Nelson - He'll Throw At Millrose On Friday IAAF
*IAAF Offers Preview Of Top Millrose Competitors Across All Events
Geb And Tergat Run Together With Youths In Kenya A great photo of them together.

Michigan Swimmer Emily Brunemann Tests Positive For Masking Agent

News From The UK
*Paula R. Departs The Pyrenees, Heading For 8 Weeks In Albuquerque
*22-Year-Old UK Sprinter Craig Pickering Ready To Fly Despite Funding Cut
*Mo Farah Heads Home To Compete Following 2 Months In Kenya
*Twell Takes Home Minor XC Title Her 5k time was 21:05.
*Construction Progresses For London's 2012 Olympic Park
NYRR Empire State Run-Up Is On Tuesday Millrose isn't the only event in NY this week as runners will race up the Empire State Building.
LRC: The Week That Was We give a thumbs up to Lisa Koll, the nation known as the USA and more. We give a thumbs down to Stanford, a Manhattan shot putter and wonder if Jeremy Wariner really could break 1:50 for 800. Then we get ready to cheer on Cornell in the Millrose 4 x 800 for the Millrose Games.

Masters Running Performance Of 2009
*Hartshorne Mile Recap and Results Better late than never, but these performances deserve coverage. 41-year-old Jim Sorensen flew to Ithaca from California and ran a 4:17.08 mile on a flat track, closing in 59 to the delight of the crowd. 43-year-old Alisa Harvey of Virginia ran 4:55.70 to run sub-5 as a master for the 3rd time at the Hartshorne race. *Hartshorne Mile Preview

Recommended Reads: *New Testimony Released From Marion Jones Trial After you read this article, you will forever be sure that Marion, despite what she says on "Oprah," knowingly took illegal drugs to aid her performance.
*Twilight Of The Mountain God Rick Trujillo

Brief Chat With Rob Myers And Steve Sherer After top performances at New Balance Games, two of America's best milers discuss their upcoming seasons.

Weird News
*Unbelievable Story Of A British Long Jumper Diving Naked Off Roof
*Shocking Development: Geb Cheated Out Of Marathon World Record In Dubai?
*"Free Running" Curbs Crime In UK

NCAA Adding Some Perspective To German Fernandez's Performance A Letsrun.com visitor wants to make sure we don't get too excited about Fernandez's 3:56.50, especially when compared to Kenyan youngster Matthew Kisorio. We looked up the all-time world indoor lists and Fernandez's performance in the mile is 67th all-time (as of 2008).
Lisa Koll Opened Up After Long Break With 9:09 3k In case you missed it and wonder where the NCAA record holder for 10k has been.

More Fernandez Mania:
German Fernandez Gets Some Love From Steve Cram: "He is no stranger to adulation on home soil and, if he can cope with the expectation levels, making the US team for August's world championships in Berlin should be a realistic target."
*German Fernandez Gets Some Love On IAAF Site
*Fernandez Gets Some Love From AP

102nd Millrose Is On Friday *Entrants/Schedule
*Travis Padgett Gearing Up For Pro Debut Padgett says he wants the 60m world record this year.
Interesting Read: At Age 33, Amy Acuff Hooks Up With Long Forgotten Former Famed Arizona Coach Bob Myers To Try To Revitalize Career After Olympic Flameout
*Inside Track: Acuff's Big Apple Farewell
Visa Championship Series Kicks Off Friday With Famed Millrose Games At MSG
*Pick Who You Think Will Do Well & Win $2,100 In Visa Pick-N-Win Fantasy Game

Fantastic Read: A Brief Chat With British Miler Neil Speaight This is a great read. If you think being a pro runner who has run 1:45 and 3:38 is full of glory, read this. He is 30, lives hand-to-mouth, lives at home and wonders if it's still worth it after being left off the 2004 team. But then again, he's never done it for the money.
Aviva International Is On Saturday In Glasgow Between US, Sweden, Germany
*Steve Cram: Long Road To 2012 Starts In Glasgow
*Athletic Writers In UK Face Dilemma: Do They Cover Obscure Meet & Dwain Chambers Or US, Sweden, Germany Team Clash?
*Mo Farah's High Altitude Stint In Kenya Comes To A Close He trained with Benjamin Limo and Micah Kogo.
Christine Ohuruogu To Run At Irish Indoor Champs On Feb 7-8
Belgians Try Valiantly But End Up Off Podium In Pro XC In Belgium
Eritrea's Teklemarian Medhin Upsets Micah Kogo In Spain In crazy weather that had 60 mph gusts of winds, the Olympic 10k bronze medallist Kogo finished 2nd.
Olympic Pole Vault Rematch Between Lukyanenko And Hooker To Take Place At Sydney Track Classic On Feb. 28
Second Race In The 2009 Education For Girls Series Takes Place In Ethiopia

Martin Fagan Beats Andres Espinosa's Course Record To Win 3-M Half Marathon In 1:01:05 A 4:18 5th mile gave him a lead which he never relinquished. His McMillan teammate Andrew Lemoncello was 3rd in 1:01:51
Wrong Turn May Or May Have Not Cost Kenyan Victory At ING Miami Marathon In the end, Moroccan Benazzouz Slimani got the win in 2:16, which he said he would have gotten regardless.
Bolt, Are You Training?
Walter Dix 3.75 For 40m

Rob Myers Wins Battle With Sherer And Blincoe To Capture New Balance Title In 3:59 Blincoe, who was the only guy that went with the rabbit, was very disappointed after the race as he was hoping for the meet record of 3:54. Myers talks about training with new coach Ron Warhurst.
*IAAF Recap Of New Balance Pro Action

XC Results From Belgium - Kenyans and Ethiopians Dominate
Lance Surges On Final Day And Passes First Test On Comeback Trail
Uganda's Isaac Kiprop Wins Regional Half Marathon
What Is Missing In Greek Athletics?
Pro News
Yoko Shibui Finally Runs A Conservative Race And Destroys Osaka Field According to Brett Larner's fantastic race recap, Shibui broke away at 30k, running 16:11, 16:33 and 7:02 (last 2.195k) to run a beautiful 2:23. She's jumping and laughing with joy after the race like she had barely run a step. Back in 2001, Shibui ran the fastest ever marathon debut for a woman, and in 2009 she may contend for a medal in Berlin, where she has run 2:19:41.

Will Wanjiru Be Shooting For Geb's Record In 2009 Berlin Marathon? Both Geb and Wanjiru claim they will be running Berlin in September, but it seems too good to be true.

Youssef Saad Kamel (Greg Konchellah) Likely To Be Banned From IAAF Meets For 3 Years Hopping between Bahrain and Kenya does not seem to work out well for most athletes.

International Pro Action
*High Schooler Matthew Kisorio Takes Down Luke Kibet And Asbel Kiprop In Eldoret XC
*XC Results From Belgium - Kenyans And Ethiopians Dominate
*Uganda's Isaac Kiprop Wins Regional Half Marathon
*Ivan Ukhov Ups World Lead In HJ To 2.34m
*Rop and Kiprop Win Nairobi Province Prisons XC Championships
*Italian Slimani Wins ING Miami Marathon In 2:16 - Leaders veered off course but recovered.
IAAF Recaps Pro Action At New Balance Games American Rob Myers wins mile in 3:59.

Pamela Jelimo Is Named Kenya's Sports Personality Of The Year For Women - Wanjiru Gets It For Men
A Look At The IAAF Indoor Season The season gets underway at Millrose next week. No indoor worlds until 2010.
Big Upset In Jr. Ethiopian XC Race The silver medallist from worlds loses to an up-and-comer.
Rene Herms Died Of A Heart Attack
These Should Inspire You
Meet The Unbelievable Kelly Jaske *Latest Jaske Thread She didn't run in high school, she didn't run in college. Now the 32-year-old Harvard law school grad is banging out 100+ mile weeks and just got 2nd in the US Half Championships while working a full-time job.
Plus: Poignant Brief Chat With 44-Year-Old Super Mom Colleen De Reuck She was amazingly 3rd behind Jaske in Houston. For someone who no longer considers herself elite, De Reuck can still perform with the best.
New LRC Usain Bolt Boston Celtics Photo Gallery
The world's fastest man was in Boston Friday night with front row seats at the Celtics game. LetsRun.com was on hand as the Celtics won their 17th straight, and Bolt got the lead in the associated press recap of the game: "After racing within a game of tying a team winning streak, the Boston Celtics were all abuzz -- with talk of a famous face in the front row. Olympic gold medalist sprinter Usain Bolt watched as the defending NBA champs won their 17th straight and improved to 25-2 with a 125-108 victory over Chicago on Friday night."

End-Of-Year Looks Continue
*Kenya: Kenya's Track Women Finally Come Of Age 2008 certainly will be remembered as the coming of age of the Kenyan women as they got their first-ever Olympic golds.
*Britian: Usain Bolt Is Michael Johnson's Athlete Of The Year Johnson writes a good piece and also gives his theory on why Bolt celebrated in the middle of the 100m.
*USA: Running USA's Ryan Lamppa's 10 Best Moments In US Distance Running In 2008 Ryan Hall's 2:06:17 or Shalane Flanagan's bronze? Which is #1?
*Britian: The 20 Best Sports Pics From The UK Include One Great One Of Usain Bolt
*IAAF: Combined Events Year-End Review
Nice IAAF Profile Of Falk Cierpinski Is Ruined By Fact There Is No Mention Of His Father's Drug Usage Falk's story is an interesting one, but any story in 2008 should talk about how his father was really a drug cheat who won two Olympic golds.
Berhane Adere And H. Gebrselassie To Defend Dubai Marathon Titles On Jan. 19th
LRC: Foot Locker Prediction Contest Results The computer has done its calculations and it should have done them sooner. LetsRun.com's Wejo comes in 2nd place in the unofficial men's results.
Foot Locker Nationals Turns 30 In Historic Fashion
*Girls' Results *Boys' Results *New Foot Locker Photos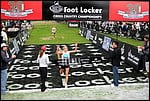 LRC Girls: Jordan Hasay Gets Bookends In Thrilling Race The girls' race featured the last three defending champs for the first time ever and it did not disappoint. Unheralded Allie McLaughlin made the race, opening up a big lead and nearly pulling a Rudy. Last year's champ Ashley Brasovan led the chase and caught McLaughlin in the last quarter mile and appeared to be on her way to victory but Hasay, who won as a freshman, was not done yet. She stormed back the final 200m to get the win to go out just like she started her high school career - on top. Read the recap above and watch this video if you want to see the *Girls' Results. *Excellent Video (no chop) of the final part of the girls race. Well worth a watch.


LRC Boys: Solomon Sails Maryland's Solomon Haile crushed the field as expected and LetsRun.com fan favorite Trevor Dunbar (the guy who ran a ~ 9 minute 3,200m on a snow-covered track) was an impressive second. Plus one of the runners drops the word "repose" in his post-race interview. *AP Recap
*Boys' Results
*Video with no choppiness
On the boards: A ton of threads on Solomon Haile's age. Maryland officials cleared him to compete after talking to officials in Ethiopia, but Wejo is curious about the excuse of having the Coptic calendar having him 21 years old (???)
LRC's World Famous Boards: Has Nike's NXN Ruined Footlocker's Nationals? *Trevor Dunbar wins Foot Locker H.S. Division *More Impressive than Hasay's win is that she has a 4.83 GPA How is this even possible?
LetsRun.com Rojo's Tour of China, Part 1 - Hanging Out With Usain Bolt
Rojo went to the Puma Party put on for Usain Bolt. Open bar, Chinese dancers putting on their best sorority girl imitations, and then Rojo going 1-on-1 with Bolt. Rojo actually asked Usain about moving up to the 800m. Bolt hinted the Jamaicans want him to run the 4 x 400m. More importantly, Bolt apologized for visiting Facebook instead of LetsRun.com.
2008 real,- BERLIN MARATHON - Watch Video Highlight or Race Replay *Results *Photos
Haile G. 2:03:59!!! Mititenko 4th Fastest Woman Ever Haile Gebrselassie made more history Sunday on the streets of Berlin. After going through the halfway point in 1:02:04, Haile continued to flirt with world record pace but was stalked by Boston runner-up James Kwambai. Haile threw down the gauntlet the last 7km to dispatch Kwambai and just dip under the 2:04 barrier. On the women's side, German star Irina Mikitenko ran a brilliant race, running a negative split to smash the 2:20 barrier and become the fourth fastest woman ever.
*Geb: "I can go faster."
*The Science Of Sport Analyzed Geb's Splits As The Race Unfolded link fixed
*Geb's Record in Berlin Is His 24th World Record (or 26th depending on who is counting)
*Mikitenko Moves Into Tie in World Marathon Majors Standings Gete Wami must finish 2nd or higher in New York to move ahead. If she doesn't, they will be tied (and tied in the tie-breakers) so they might share the title. *Washington Post Article on WMM
*Falk Cierpinski, son of Waldemer Cierpinski, 2:13 in Berlin
On the boards:
*Wanjiru's Olympics > Geb's WR
*Haile's Splits from Berlin ... how far could you run with him??
*Live Message Board Thread