2009 Reebok Boston Games Press Conference: Kara Goucher and Pole Vaulters Ready to Shine
by: Jess Barton, LetsRun.com
Americans Kara Goucher and Jenn Stuczynski and Australian Steve Hooker were the focus of attention at today's press conference, which was held in preparation for the Reebok Boston Indoor Games this Saturday.
The meet will be held at the Reggie Lewis Track and Athletic Center in Boston, Massachusetts with the first event starting at 5:00 pm (TV coverage is a day late, Sunday, February 8th from 4-6pm eastern on ESPN). Among all of the athletes that will be competing this weekend there is a combined total of 13 Olympic Medals, 32 World Championship Medals and 18 Olympic or World Championship Gold Medals.
With Goucher's plans to run the Boston Marathon this year a majority of the questions focused around Goucher and her marathon preparation.
Goucher comes into the Indoor Games after a convincing win in the mile last weekend at the Millrose Games where she ran 4:33.19. She will be running the 3000m this weekend. Although her main goal right now is to win the Boston Marathon in April, Goucher says she enjoys doing these shorter indoor races, "My goal for these indoor races is to have fun and do something that I don't do very often. In the mile and the 3k I really want to do well… but without sacrificing my overall goal which is to keep my mileage up for the marathon."
In contrast to her preparation for the New York City Marathon where she focused on patience, Goucher is trying to gain a more competitive edge, and she is doing this in part through racing indoors. Goucher said, "It's about keeping that competitive edge. When I was training for the marathon before it was all about learning patience, which will obviously have to be applied to Boston…but there is that competitive part…I never want to lose that competitiveness and that feeling of having to fight."
3k on Saturday, 20 Miler on Sunday for Goucher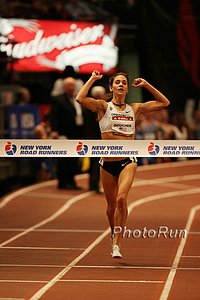 The University of Colorado graduate who now trains under Alberto Salazar in Portland, Oregon, confidently stated today that "my goal for the year is to win the Boston Marathon." Her marathon training will officially start on Sunday with a 20 mile long run covering the last part of the course and she plans to run between 105 to 110 miles per week during this training. She has spent the past week training in Boston to get familiar with the course. She will also be in Boston for a few days on her way to Lisbon, where she is going to run the half marathon on March 22.
Don't expect this to be Goucher's last season of track racing, "Now that I'm moving to the marathon I'm not like, 'oh, now I'm going to retire and my PRs are 31:17 and 14:55,'" said Goucher. "I'm still going to get a lot more out of myself there…You don't have to just move to one event and then be stuck in it forever, you can do it all."
After some great training in the past few months, with a five week block at 95 miles a week and most weeks above 85, look for Goucher to run a great race on Saturday night. While saying she does want a fast pace, and hopes to run sub 8:40, her main goal this weekend is to "run competitively…be aggressive and kick well," said Goucher. "I really want to run well here. It's my last track race for a while, so I want to do well."
While all three of these great athletes are looking forward to Saturday's competition, there has been an added incentive for Stuczynski and Hooker, the pole vaulters. It was announced at the press conference that there will be a $25,000 bonus for the men's world pole vault record and a $25,000 bonus for the women's American or world pole vault record.
Millrose Pole Vault Runway Coming to Boston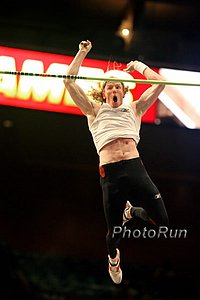 Steve Hooker at Millrose

Along with Goucher, Stuczynski and Hooker both come into the Indoor Games with wins at last weekend's Millrose Games. There Stuczynski, who is coached by Rick Suhr in Rochester, New York, cleared 4.71m and narrowly missed clearing the bar at the American Record height of 4.82m. Hooker, a Perth, Australia native and Reebok athlete, set a PR of 6.01m, which also broke the Millrose Games record and is the highest height a vaulter has ever cleared in the United States.

These accomplishments were not unexpected as, among many other accomplishments, Stuczynski is the American Record-holder, the 2008 Olympic silver medalist and the 2008 World Indoor Championships silver medalist, and Hooker is the 2008 Olympic gold medalist and the Olympic Record-holder.

An interesting aspect of the Boston Indoor Games this year is that the same runway will be used as at Millrose Games. Mark Wetmore, the Boston Indoor Games director, decided to bring the Millrose runway to the Reggie Lewis Center after the high performances last weekend. Both vaulters were pleased with this decision, Hooker saying, "I'm going to be jumping on the same runway, so it will be good to have that consistency."

Since pole vault is such a precision event Stuczynski addressed the advantages of vaulting indoors and the consistency it provides, "With the variables, you don't have to worry about that, you're pretty consistent with your mark and your take off. In indoor I think it's more technical for me and I try to do things correctly which will lead to a better outdoor season."

When asked about her American Record attempt last weekend and her likely record attempt again this weekend Stuczynski said, "It's the same goal. I have to get there first. I have to make the opening height and go for the win in the meet. And then from there hopefully the bar can go to the American record height." She also stressed that "I have to treat it like it's a normal jump. I can't treat it like it's a record jump."

For a complete list of the athletes competing at the Reebok Boston Indoor Games and for the schedule of events visit the meet website at www.bostonindoorgames.com. The meet has sold out in past years and as of this morning there were only 100 tickets left.

Jess Barton, a sophomore at Northeastern University from Newton, Massachusetts, was the two time Boston Globe Runner of the Year.