US Men 1,500m Top 10 Rankings - 2009
Lagat, Lomong and Manzano made the year exciting at the top, while a youth movement below signals a bright future in the event.
By LetsRun.com
December, 2009
LetsRun.com's year-end rankings evaluate the best US runners in every event from 800m to marathon - easily the most interesting summary you will find anywhere in the media.
Editor's Note: As for how we came up with the rankings, we'd say in general we value top finishes at major events over time. We are sure it's possible that you disagree with our the rankings. If you disagree with them, please email us your suggestions or post your comments in the official 1,500 rankings thread here.
2009 was a stellar year for US men's 1,500m runners. Not only did Bernard Lagat take home the bronze medal at the World Championships; he was joined by 2 other Americans in the final - US champ Lopez Lomong and Leo Manzano. America is a country of opportunity and of immigrants. Lagat, Lomong and Manzano showed that, as they all were born outside of the US and have risen the bar for the rest of the American crew.
LRC #1 Bernard Lagat • 3:32.56 (1) • 3:51.34 (1)
Bernard Lagat, a double world champion from 2007, finished third at the IAAF World Championships 1,500m to earn a bronze medal. He also won a silver medal in the 5,000m. Lagat, a Kenyan immigrant, ran the fastest times by an American in the 1,500, mile and 3,000m in 2009. He had a tremendous year at the age of 34 and was very happy (video interview here) when all four Americans competing in the Berlin 1,500 made the semifinal and three of four made the final. Lagat seemed like the team captain and has done a lot for American running.
On the year, Lagat finished in the top 3 in every track 1,500m and mile race he ran, including legitimate wins at the Millrose Mile, Aviva London, Lievin, Tanger and adidas Carson. He also ran 2:17 for 1,000m in Stockholm's DN Galan. An incredibly strong 2009 for Lagat after struggling in Beijing last year.
LRC #2 Lopez Lomong • 3:32.94 (2, PR) • 3:53.35 (3, PR) • 1st, US Champs 1,500 • 2nd, Berlin Worlds Semifinal • 3rd, Aviva London
Former Sudan lost boy Lopez Lomong had a banner 2008, when he made his first US Olympic Team and carried the American flag into the Bird's Nest at the Beijing Games Opening Ceremonies. Lomong did even better in 2009, as he set new PRs at his preferred distances, won a US title at 1,500m and made the Berlin World Championships final. Lomong and partners Manzano and Lagat made a formidable trio as all three made the World Champs final and ran faster than 3:33.4 on the season. Lomong dipped under 3:33 and became the 8th-fastest American 1,500m runner of all time. Along with a fast seasonal best, Lomong ran his best at championship races in 2009, another notable achievement.
LRC #3 Leo Manzano • 3:33.33 (3, PR) • 3:53.01 (2, PR) • 2nd, US Champs • 1st Place: Reebok NYC, Aviva Gateshead • 2nd, Berlin Worlds Semifinal, Aviva London Mile, World Athletics Final Thessaloniki, Rieti (PR)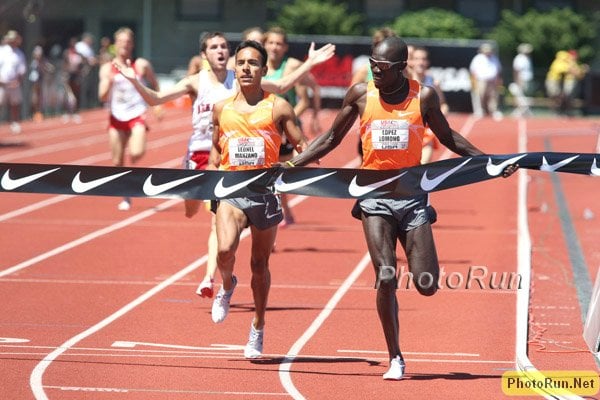 Photo: Lopez Lomong leads Leonel Manzano across the line at the 2009 USA 1500m Championships in Eugene, OR. Collegian Dorian Ulrey celebrates 3rd.
Leo Manzano earned our #3 ranking in a very close decision behind Lopez Lomong. Lomong and Manzano followed their 2008 Olympic 1,500m experiences with outstanding seasons in 2009. 24-year-old Manzano set PRs at 1,500m and the mile, made the WC final, finished 2nd behind Lomong at the US Champs (Lagat didn't run because he had a free pass to Berlin), won two international 1,500 races and finished 2nd at a number of significant events in the 1,500 or mile.
Manzano, an NCAA 1,500m champion as a true freshman and total monster at the University of Texas, joined coach John Cook (former coach of US 5,000/10,000m record-holder Shalane Flanagan and current coach of US 1,500m world bronze medalist Shannon Rowbury) in 2009 and took his running to another level. He was able to unleash an internationally-relevant closing kick off fast paces against top competition. He closed extremely well to finish second in his World Championships semifinal. He did the same thing in London, where he finished 2nd in the mile and in Greece, where he finished a lucrative 2nd place at the World Athletics Final ($20,000 for 2nd place).
Though he finished second to Lomong at the USA Champs and finished behind Lomong at the WC (perhaps Manzano's worst race of 2009), we were tempted to rank him at #2 ahead of Lomong as Manzano had a few impressive wins to his cap and more top finishes (including the very impressive 2nd at the World Athletics final), but decided against it. If you beat someone in the two of the biggest races of the year and have a better SB, you deserve a higher ranking.
Manzano, it should be noted, also ran an excellent 800m and 1,000m to significantly lower his PRs to 1:46.20 and 2:19.73.
LRC #4 German Fernandez • 3:39.00 (17, PR) • 3:55.02i (5, PR) • World Junior Indoor Record, Mile, 3:55.02 • NCAA 1,500m Champion • Undefeated At 1,500/Mile In '09
Video: 18-year-old German Fernandez runs indoor 3:55.02 world junior record at Big 12 conference meet.
German Fernandez set a new World Junior Indoor Mile record when he ran a ridiculous 3:55.02 at the indoor Big 12 meet on a 200m track to break Tony Waldrop's 35-year-old NCAA record. Unaided by any pacemaker and racing in February, Fernandez won the race by almost ten seconds. Fernandez went on to win the outdoor NCAA 1,500m final (recap, results, final lap at link to left) as a true freshman against some of the best milers in the country, including LRC #5 Dorian Ulrey (who was running for Arkansas on their home track in Fayetteville). Then only 18 years old, Fernandez won every 1,500/mile/3,000 he ran in 2009. The only track races he lost were at 5,000m, where he ran 13:31 and 13:25. The second race came in the US Championships, where he came in 5th and set an American Junior Record.
We know that Ulrey made the semis at Worlds and ran faster than German, but Fernandez crushed him at NCAAs and didn't lose a 1,500/mile all year. Again, when it was close, we asked ourselves, "Whose season would you rather have had?" Ulrey ran a nice PR (3:35.23) but was 12th in the race when he did it.
LRC #5 Dorian Ulrey • 3:35.23 (4, PR) • 3:57.60i (14, PR) • 3rd, US Champs 1,500 • 3rd, Indoor NCAA Mile • 4th, Outdoor NCAA 1,500
22-year-old Dorian Ulrey followed his NCAA season at Arkansas with a 3rd-place finish at the US Champs 1,500m. He ran for the US in Berlin and made the 1,500m semifinal at Worlds to give the US 4 semifinalists. Ulrey ran 3:35.23 to make him the 4th-fastest American at 1,500 in 2009.
Recently, Ulrey finished as the 2nd US collegian at the 2009 NCAA Cross-Country Championships in November, so all we can say is watch out for him in 2010, as he looks like a future star.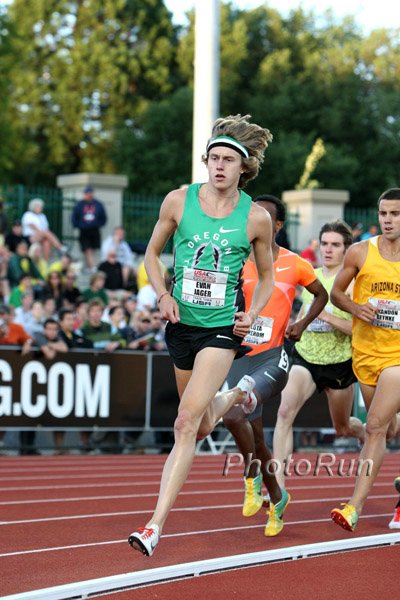 Photo: 20-year-old Evan Jager runs at the US Championships in 2009.
LRC #6 Will Leer • 3:37.37 (9, PR) • 3:56.63 (9, PR) • 5th, US Champs • DécaNation 1,500m Winner
Leer finished 12th at Pre when he set his new mile PR. He missed out on Worlds with his 5th-place finish at US Champs. In 2008, he just missed representing the US at the Olympics when he finished 4th at the Olympic Trials.
LRC #7 Rob Myers • 3:36.66 (5) • 3:56.80 • USA Indoor Mile Champion
Veteran US miler/road racer Rob Myers ran the 5th-fastest 1,500m seasonal best of all Americans in 2009. His season went well early on, as he won the USATF Indoor Mile Championship against relatively weak professional competition. Later on, he failed to make the USA outdoor 1,500m semifinal as USATF decided only to have two rounds. He ran his 1,500 seasonal best early in the outdoor season at Reebok NYC and his mile seasonal best came in Toronto.
LRC #8 Evan Jager • 3:38.33 (15) • 3:54.35 (4) • 3rd, US 5,000m Championships
Only 20 years old, sensation Evan Jager (left) finished 7th at the Pre Classic mile in a new PR 3:54.35, made a US Worlds team at 5,000m and perhaps could have made it at 1,500, given his year's performances. Jager's mile PR made him the 4th-fastest American of 2009 at the distance and, despite focusing on the 5,000, his 1,500m PR went from 3:41 to 3:38, when he won the slow heat in Heusden over the summer. Jager, a former Wisconsin Badger now running for Nike in Oregon., trains with fellow Wisco alums Matt Tegenkamp and Chris Solinsky under former Badger coach Jerry Schumacher.
LRC #9 Matthew Centrowitz • 3:36.92 (6, PR) • 3:57.92i (17, PR) • Injured Before NCAAs, USAs • 6th At NCAA Indoor Mile
University of Oregon redshirt freshman track athlete Matthew Centrowitz earns our #9 spot based on two outstanding collegiate performances in '09. The first came indoors, when he ran a 3:57 mile for the win on an oversized track at the University of Washington. The second, and more impressive, performance came at Stanford's Payton Jordan meet, where he ran 3:36.92 to win that race as well. That time put him 6th on the overall US list for 2009. Unfortunately, Centrowitz developed a stress fracture after wins at the PAC-10 and NCAA West Championships in the 1,500m. He did not make the NCAA 1,500 final and could not start at the US Championships. Centrowitz, sticking with the youth movement theme of 2009, was only 19 when he ran 3:36.
LRC #10 Craig Miller • 3:37.81 (PR) • 3:59.09i (PR) • 6th, US Champs • 2nd, NCAA Indoor Mile
Wisconsin student Craig Miller earned the final spot on our top 10 1,500m runners of 2009 by finishing 6th at the USA 1,500m Championships and finishing as the 2nd overall and 1st American at the NCAA Indoor Championships in the mile (Britain's Lee Emmanuel won). Though his PRs from 2009 do not put him in the nation's top 10, there are a number of men who ran very similar times in 2009 as Miller but did not have 2 or more significant championship successes like he did.
Photo: Chris Lukezic and Alan Webb talk after their 1,500m race at the 2005 USA Outdoor Track and Field Championships. Webb (22) and Lukezic (21) went 1, 2 in that order.
LRC Honorable Mention • Chris Lukezic • 3:37.32 (Tie-7) • 3:56.04i (7) • 8th, USA Champs
One would think that any American runner who is on the all-time US Top 10 list for 1,500m PRs and announced his surprise early retirement on our message boards while running US top 7 1,500 and mile times in 2009 would CERTAINLY make our yearly top 10. But Lukezic chose to ride off into the sunset and, for the sake of the future, we wanted to give a young guy a top 10 spot. Lukezic, who became a professional before he had ever won an NCAA title, ran 4 seconds adrift of his 3:33.28 2006 PR in 2009 before announcing his retirement from competitive running at the age of 25.
Unhappy With Our Rankings?: Discuss Them In Our Official LRC 1,500m Men's Rankings Thread

More LRC 2009 Men's 1,500m Coverage:

*NCAA Outdoors: Fernandez Goes Wire to Wire Recap, results and video of final lap.
*USATF 1,500m Final: Lomong Over Manzano Recap, results and video of race.

Worlds:
LRC Men's 1,500m Recap: Kamel Follows In His Dad's Golden Footsteps
The men's 1,500 saw Yusuf Kamel pull a stunning upset, as huge pre-race favorite Asbel Kiprop tried to go from last to first on the last lap and ended up fourth. Kamel (formerly Gregory Konchellah) joined his dad Billy (twice at 800m) as a world champ. American Bernard Lagat got boxed in with 150 to go but managed to get out for the bronze medal, as fellow Americans Lopez Lomong was 8th and Leo Manzano 12th. Recap, photos and post-race interviews with the Americans, Kamel and Augustine Choge. Kamel talks about how he ran 3:36 with no speed work. Plus he talks about his dad.
LRC Men's 1,500 And Women's 800 Semis Recap: American Men Put 3 In The Final, All 3 American Women Go Out

Photos: *Worlds Photos