US Women 1,500m Top 10 Rankings - 2009
3 US women ran under 4:00 in 2009 and one woman who didn't won a World Championships bronze. We show you what we value more - winning, or times - in our rankings below.
By LetsRun.com
December, 2009
LetsRun.com's year-end rankings evaluate the best US runners in every event from 800m to marathon - easily the most interesting summary you will find anywhere in the media.
Editor's Note: As for how we came up with the rankings, we'd say in general, we value top finishes at major events over time. We are sure it's possible that you disagree with our the rankings. If you disagree with them, please email us your suggestions or post your comments in the official 1,500 rankings thread here.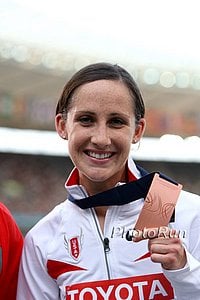 LRC #1 Shannon Rowbury • Nike • US Champion • World Bronze Medalist • 5th Avenue Mile Champion • 4:00.81 (4th, '09) • US Road Mile Champion
In a phenomenal year for US middle-distance runners, Shannon Rowbury gets the nod as the LetsRun.com #1-ranked female 1,500m runner of 2009. Despite recording the 4th-fastest 1,500m best in the US this year, Rowbury ran her best when it counted most. She earned a World Championships bronze in Berlin, won the USA Championships 1,500m against the LRC #'s 2, 3 and 5, won the 5th Avenue Mile, won the US Road Mile Championship (not that that's a huge race) and had top finishes in London (2nd), Stockholm (2nd), Weltklasse GL (4th), Rieti (3rd) and the World Athletics Final in Thessaloniki (5th).
She is prime example #1 of how the obsessions with times is bad for the sport.
Now 24, Rowbury and coach John Cook had another season to hang their respective hats on. It was surely a little troubling to see three other Americans break the 4:00 barrier in '09 while her PR remained stuck with a "4" in front of it, but Rowbury earned a hefty consolation when she won, or medaled at, the biggest races of the year. In the early and middle portions of the season, it seemed like Rowbury was the most adept of the Americans at getting herself in position to strike in fast races, but her kick didn't come through. But at the money races in Berlin and on the streets of New York, Rowbury did find that extra gear (as she did earlier in Eugene for the US title) to earn lucrative and coveted awards when it mattered most. All of the US top 5 deserve a solid recap, so we won't spend too much more time talking about just one person.
LRC #2 Christin Wurth-Thomas • Nike • 3:59.98 PR, US #5 All-Time (3rd, '09) • US 1,500m Runner-up • DN Galan Champion • World Finalist, 5th • Reebok NYC Champion
Photo: Christin Wurth-Thomas directly front and center, as she was all year, with the world's best milers, this time in the Berlin WC final.
Christin Wurth-Thomas had a 4:04 personal best heading into 2009 and leaves with a 3:59.98 set in Rome. At age 29, the determined veteran put her head down and competed with what probably is best described as "fire" to record the 6 fastest 1,500m times of her career. Wurth-Thomas ran more elite level 1,500m races than probably any other woman on the planet in '09 - definitely more than any other American. Her top results, as noted above, read like a miler's dream laundry list: 4th, World Athletics Final; 2nd, Rome GL; Champion, Stockholm's DN Galan; 5th, IAAF World Championships; 1st, Reebok NYC; 2nd, USA Champs; 3rd, Lausanne GL; 5th, Weltklasse GL; 1st, Pedro's Cup ...
What a year! Always gritty, Wurth-Thomas was at times flashy and elite in 2009. She had a tremendous year but isn't our #1 because she finished behind Rowbury at USAs, Worlds and the 5th Avenue Mile. Of all the US 1,500m runners, she is closest to #1 because most of her big European races were unbelievably good. Her wins in Stockholm, New York and at Pedro's Cup don't quite stack up to Rowbury's triumphs in Eugene, Berlin (3rd) and New York.
LRC #3 Anna Willard • Nike • '09 US Leading Time, US #3 All-Time 3:59.38 (1) • Aviva London 1,500m, 1st • Zürich Weltklasse, 2nd • World Finalist, 6th • 3rd, US Champs • Indoor Mile 1st, Tyson • Road Mile 1st, BAA Mile
Anna Willard simply had a tremendous 2009 racing season. Our LRC #1-ranked 800m runner of the year and soon-to-be top-2 ranked steeplechaser perhaps had her best single-race performance in the 1,500m. Fortunately, the US runners did so well in 2009 that Willard ran the US #3 all-time 1,500m in Zürich, made a World Championships final, won a major international race in London and yet is only the 3rd-best overall 1,500m runner of the season in the States.
Willard's list of mile and 1,500m performances in 2009 is remarkable. She only once finished worse than 4th in any 1,500m/mile race in '09, the sole exception being the Berlin WC 1,500m final, where she finished 6th (we thought she was a legitimate medal contender with her success at 800m and strong kick). She ran under 4:02 three times (Pre Classic, 4th; Monaco, 4th; Zürich, 2nd) including a phenomenal 3:59.38 at the Weltklasse.
It's hard to criticize Willard's season in any way, but her 3rd-place finish at the US Championships and 6th place finish at Worlds (behind Wurth-Thomas and Rowbury in each) means she'll have to settle for 3rd spot this year. Unlike Rowbury, who seemed to raise her game when the stakes were the highest, Willard seemingly had her most 'subpar' showings in the biggest races of the year.
LRC #4 Jenny Barringer • Colorado University • 3:59.90 PR, NCAA Record, US #4 All-Time (2nd, US '09) • World Leader, NCAA Record, Indoor Mile 4:25.91 (#15 World All-Time, #3 US All-Time)
Photo: Jenny Barringer and Gelete Burka finish 0.01 seconds apart at the Pre Classic and get a face full of Nike finishing tape.
Jenny Barringer shocked just about everyone when she ran the Prefontaine Classic. Well, it wasn't the fact that she ran at the most elite single-day meet held annually in the US, it was the fact that she ran the 1,500m and ran 3:59.90. Not only that, Barringer also almost came up to defeat world leader Gelete Burka of Ethiopia, who won the captivating race just 0.01 seconds ahead of a fast-charging Barringer (photo, right).
It's hard to believe that someone could run the 15th-fastest indoor mile in female athletics history, run the 4th-fastest American 1,500m of all-time outdoors and still be only the 4th-ranked US 1,500m/miler of the decade, let alone one stinkin' year! Barringer will get more credit in the steeplechase and 5,000, but she only ran two 1,500m races in 2009, as she was more focused on other events.
Barringer opened the floodgates for America's more experienced milers in '09, as she showed the pros that the 4:00 barrier was possible, and they honestly all should send her a "thank you" card in the mail. In the Prefontaine Classic 1,500m, where Barringer broke 4:00, were all three of the women ranked ahead of her this year. If a collegiate steeplechase specialist breaks 4:00 directly in front of you, a collection of veteran professional milers, apparently that's all the motivation that was necessary.
LRC #5 Erin Donohue • Nike • 4:05.21 (5) • 4th, US Championships • Ran Under 4:10.70 Seven Times In '09
Erin Donohue switched coaches in 2009 and moved back to New Jersey. She joined forces with Frank Gagliano and, based on some mid-season interviews, the two seemed to make a great pair. Based on her 2009 performances, we say it's too early to tell whether the move paid dividends on the track for Donohue, as the new year brought the same type of results to the veteran miler that track fans have enjoyed for 3 or 4 years. Despite running seven races between 4:10 and 4:05 in 2009, Donohue spent the whole year playing, metaphorically speaking, 4th-chair miler in the US orchestra (she stayed out of 5th-chair because Jenny Barringer didn't run very many 1,500m/miles). The good news for Donohue is that she's a long way from 6th-chair and she hopefully heads in to 2010 motivated and healthy after a full season of solid competition. Unfortunately for her, there is seemingly a logjam in front of her as far as earning the USA jersey at major international meets or even gaining entry into the best European meets. Despite running a bunch of meets in '09, we don't think Donohue beat any one of the big 4 ahead of her the entire year (but we might be wrong), surely a frustrating position to be in.
LRC #6 Sarah Bowman • University Of Tennessee • 4:05.67 (6th, US) • Triple Penn Relays Champion • NCAA Indoor Champion • 4:29.72 Indoor Mile (3rd, US)
Video: Thrilling 4 x 1,500m from 2009 Penn Relays, Sarah Bowman anchors Tennessee Vols.
Tennessee senior Sarah Bowman stands out among a host of 4:05-4:10 US 1,500m runners thanks to some truly fantastic individual and relay performances. She won the NCAA indoor mile in a duel with NCAA giant Sally Kipyego, where 0.03 separated the two NCAA greats. She led Tennessee to three coveted Championship of America wins at the prestigious Penn Relays in April. Her most stirring performance came as the anchor for the Vols' 4 x 1,500m relay, where she split a sub-4:10 to surge away and win a back-and-forth, come-from-behind 4-team battle with Georgetown, Villanova and Washington. In the process, Tennessee set a new world record in the relay event. Racing Thursday (DMR), Friday (4 x 800) and Saturday (4 x 1,500), Bowman and teammates Phoebe Wright and Chanelle Price faced a tough task. Their toughest race actually ended up being the DMR which came first on Thursday. Bowman, running the anchor 1,600m leg, was challenged by excellent Georgetown miler Maggie Infield and it really looked like she was going to lose after leading the whole race. But Bowman was simply better and pulled away for the first of three eventual Vols triumphs.
We're impressed that Bowman was able to rally after a ton of big NCAA races to head to Europe and set a very solid PR of 4:05.67 in Athens. She earned a spot but struggled in the USA 1,500m championship final, placing 11th.
Bowman And Tennessee's Penn Relays Accomplishments In 2009:
*American, NCAA, Penn Relays record 8:17.91, 4 x 800m, 2:03.70 (split)
*World, American, NCAA, Penn Relays record 17:08.34, 4 x 1,500m, 4:10.2 (1,500 split) - previous world record 17:09, Australia; previous American record 17:15, UMichigan)
*11:02.11, Distance Medley Relay Championship, 4:40 (1,600 split)
LRC #7 Treniere Clement Nike 4:07.91 - 5th, USA Championship 1,500m
Treniere Clement earns our #8 ranking thanks to a top 5 finish at the USA Championships and her 4:07.91 that made her the 9th-best individual performer in the US for 2009. Other than those two performances, Clement did not have a banner year.
LRC #8 Brenda Martinez • UC Riverside • 4:09.52 (10th, US) • NCAA West Region Champ • NCAA Outdoor 1,500m Runner-up
Photo: UC Riverside's Brenda Martinez with FSU's Susan Kuijken after the 2009 NCAA 1,500m final.
UC Riverside's Brenda Martinez might be the least-known name on this list, but we think she's one to watch (and intially we had her ranked at #7 ahead of Clement but changed our minds as Clement was 5th at USAs). Martinez came one person away from winning the NCAA 1,500m outdoor title, but lost to Dutch FSU runner Susan Kuijken. Aside from that narrow defeat, Martinez - at age 21 - earned our #8 ranking by eclipsing the 4:10 mark (her time put her in the US top 10 for '09) and winning her conference (Big West), her region (NCAA West), and low-key European meets in Gent and Rasschaert. In short, we think Martinez displayed natural talent and the heart of a real winner in '09.
Below the 5th-ranked runner, Erin Donohue, we feel every US miler had some strengths and some weaknesses in their '09 résumé, making it a bit difficult to decide who gets spots #6-#10 and honorable mention. To us, Martinez stood out, as we said above, because of a fast seasonal best and several legitimate wins ... a "winning record."
# 9 Lindsey Gallo • Reebok • 4:27.90i Mile (2nd, US '09) • Surprise Reebok Boston Winner
Gallo's win in the Reebok Boston Indoor Games was a big surprise and definitely her performance of the year. Her 4:27.90 time there was her best time of the year and definitely equates to a sub-4:10 1,500. Illness caused her to miss the US champs and cost her big time in the rankings, though.
#10 Amy Mortimer • Reebok • 4:07.19 • 3rd, Reebok NYC • 4th, adidas Carson • 8th, Fifth Avenue Mile
Amy Mortimer ran a very solid 4:07 and backed it up with three decent domestic performances in the 1,500 and mile, including a 9th at USAs.
LRC Honorable Mentions
Heidi Dahl• East Tennessee • 4:09.75 • 7th, USA Championship 1,500 • 6th, NCAA 1,500m Final
Highlights of her season came when she qualified for the USA and NCAA 1,500 finals and placed 7th and 6th, respectively. Dahl went to Europe and broke 4:10 after the NCAA season.
Sara Hall • Asics • 4:09.69 • 3rd, 5th Avenue Mile • 2nd, US Road Mile Champs Behind S. Rowbury
Sara Hall had her two best miles on the road in 2009 and her 4:09.69 track 1,500 made her the 11th-best American time-wise in '09.
Unhappy With Our Rankings?: Discuss Them In Our Official LRC 1,500m Women's Rankings Thread

More LRC 2009 Women's 1,500m Coverage:

*LRC NCAA Outdoors: Kujiken Wins
*LRC Rowbury Back Atop The US 1,500 Ranks Recap, results and video of race.

Worlds: LRC Tumult Mars Women's 1,500 As Rowbury Wins Bronze Natalia Rodriguez and Gelete Burka got tangled up with 200m to go, causing Burka to fall and Rodriguez (the winner) to be DQed for running inside the track. With that, Maryam Jamal retained her world title despite getting steamrolled by Rodriguez in the final 100, while Shannon Rowbury was moved from 4th to 3rd for America's first medal in the event since Regina Jacobs. LRC Message Board: The Spanish athlete had enough room to pass, then the fading Ethiopian moved back on her
*Dobriskey Celebrates Silver
Semis: LRC 3 Americans Run Perfectly To Advance While Kenyans And Russians Make Surprise Exit

Photos: *Worlds Photos