IOC Loses $100 Million Sponsor Johnson & Johnson Out As Olympic Sponsor At some point the Olympics weren't about money. It's crazy that companies pay that much just to have their names attached to the Olympic Games - $100 million over 4 years not even including advertisements.
IAAF San Antonio Rock 'N' Roll Half Recap Our friend just reminded us that Sammy Wanjiru ran 1:02:34 for the first half of his Beijing Olympic marathon beatdown. Brian Sell ran his PR of 1:02:50 on Sunday, putting Wanjiru's greatness into proper perspective. Correction: Sell's PR is actually 1:02:38 from 2006. Still, ...
Luke Kibet and Edith Masai Running Standard Chartered Singapore Marathon
World Athletics Gala To Be Held In Monaco In December
NCAA XC D1 Regionals
*It's Official: Men's And Women's D1 Qualifiers Announced
Post of the Week: Wanna Know How The At-Large Process Worked? "Lucky Kleinschmidt" on the message board nailed it perfectly on the men's side He describes the crazy system in great detail. In the end, Notre Dame was the last team in while Florida and New Mexico were left at home.
*LetsRun.com Official Results Thread *Indiana Men Disappointed
*Men's At Large *Women's At Large
*D3 National Teams Announced *D3 Regional Results
Great Lakes: Men: Wisconsin and Michigan Women: Michigan and Wisco
West: Men: Rupp, Oregon Cruise Women: Washington as Expected
Midwest: Men: Oklahoma State, Fernandez Tempo Runs Women: Minnesota and Illinois
Mountain: Men: Colorado Men Surprise (actually, you should never be surprised by Colorado peaking as the season progresses) Women: Texas Tech and Kipyego
Northeast: Men: Iona Dominates Women: Providence Cruises, Chris Fox's Syracuse Women Get In
South: Men: Alabama over Auburn Women: Florida State and Florida
South Central: Men: Texas A&M Aggies over Arkansas (somehow, it just doesn't sound right) Women: Arkansas over Baylor/Rice
Southeast: Men: Chelanga Cruises, William & Mary Edges Virginia Women: Vig's Virginia Cavaliers
Mid Atlantic: Men: Georgetown Dominates Women: Princeton and WVU Tie
*NCAA Regional XC Central (a link to all regional rankings and results)
#1 UW To Rest Kendra Schaaf At Regionals The Huskies are giving their star a rest but coach Metcalf is still confident. "We are not going to bomb. We're going to run well." *Message Board Thread On Schaaf's Resting Here
LetsRun.com: NCAA Cross-Country National And Regional Polls Released See who will come out on top of this weekend's conference action
LetsRun.com: 2008 Men's NCAA Division One Regional Cross-Country Previews LRC coaching guru John Kellogg breaks down the action for you in all 9 regions and gives you the top 25 individuals in each region as well the top teams. Disagree? Vote In The LetsRun.com 2008 XC Super Poll
LetsRun.com: 2008 Women's NCAA Division One Regional Cross-Country Previews
LRC: Vote In The LetsRun.com 2008 XC Regional Super Poll
*OSU's German Fernandez Gets Over-The-Top Profile In Student Newspaper "He's been called the greatest high school runner this country has ever seen."
*A Brief Chat With NCAA XC Favorite Sam Chelanga If you want to understand talent, read this, as this guy used to play ping pong until less than 5 years ago.
Constantina Dita's IAAF Online Diary She recaps a flurry of activity after Athens until she ran Chicago and spectated in New York.
Deriba Merga Headlines Next Week's Toyota Great Ethiopian Run The 4th-placer at the Olympics in the marathon recently smoked a half marathon in India. He'll have a lot of competition. *Mo Farah, Mustafa Mohammed And A Ton Of Kenyans Are Competing
5 Moroccans & 1 More Russian Banned For Drugs
Kenyan Men & Portuguese Women Favorites At 1st IAAF XC Meet Of Year On Saturday Kenyan David Kiliel leads the foreign contingent.
First-Ever Rock N Roll San Antonio Marathon Is Saturday And 30,000 Are Expected, Making It The Largest Inaugural Marathon In History
*New York And Boston Course Record Holder Margaret Okayo Is Running Her 1st Marathon Since 2006
*Brian Sell Running Half
Alan Webb's State HS Meet Course Record Falls
He Lost His Lottery Funding And Now He's Dumped His Coach
Mark Lewis Francis Switches To Linford Christie For Coaching

Funding Issues May Cause UK's New Anti-Doping Agency To Not Be Operational By 2012 Games It's an absolute embarrassment that the British will spend £3.3 billion to stage the games (and that doesn't even count security) but won't spend less than 1% of that (£32 million) to make sure that the British team is actually clean. The proposed new agency would be kick ass as it would liaise with police and customs authorities to eradicate drugs.
Steve Cram: Athletics Must Prove Itself Worthy Of A Home For 2012 Stadium It's a bit startling to see the former 1,500m world record holder be so honest but all of the points he makes are valid. What's the point of having a giant track stadium that is rarely used.

Track And Field Legend Larry James Dies On His 61st Birthday He was the first man to ever run under 44 seconds (440 yards, no less) on a relay and a fierce competitor. A pioneer on and off the track.
*Message Board Thread On The "Mighty Burner's" Death
*Buy DVDs Honoring Larry James And Larry James Fund
66-Year-Old Blind Man With 1 Kidney Walked NYC Marathon In 9 Hours And Then Died From A Heart Attack Afterwards Not a bad way to go. His son said "He had already told us he would probably be dead by the end of the year. But he wanted to show people you finish what you started." Last week a guy bowled a perfect 300, high fived his friends, then dropped dead, becoming an instant legend.
Probably The Toughest XC Circuit In The World: Qualifying For Kenyan World XC Teams
Daniel Rono Pleased With His 3rd Place In New York In the same article, Tergat says he was feeling great until he twisted his ankle at 18M, but he was happy to finish 4th given the injury.
LRC Week That Was We give you the lowdown on the incredible NYC Marathon and Paula Radcliffe's and Marilson Gomes Dos Santos' incredible 2nd half marathons. Plus, the World Marathon Majors "BCS" Moment, Marion Jones, Q-Chan's retirement, the end of the three impressive (and one incredible) streaks in college cross-country, and Galen Rupp and German Fernandez.
2008 ING New York City Marathon *Results *Searchable Results *Video: Men's Highlight Video *Photo Gallery
Post-NYC News
*Paula Targeting London Gold In 2012 She can do it if she's healthy.
*Daniel Rono Remarks On His 3rd At ING NYC A big difference between NYC and many other top-level marathons is the lack of rabbits, and Rono mentions this was a big experience for him to actually have to race the whole time. His 3rd was the top Kenyan finish in both the men's and women's races.
*Radcliffe Wants Another Baby Before 2012
*Is A World Record Attempt In London Up Next?
*Two Die At Marathon
Lots Of Info On Kara Goucher's Great Debut
*Kara Goucher: Paula Radcliffe Is The Greatest Ever
*Queens Native Goucher Says 1st Marathon Was "Awesome"
*3rd Is A Win For Kara Goucher Both Goucher and her coach Alberto Salazar were pleased by the result and it looks like she's a marathoner now.
*Alberto Salazar's Pre-Race Advice For Goucher: "Have Faith."
News From New Zealand
*Athletics New Zealand May Review Whether Rod Dixon's 1983 Time Should Be Ratified As New Zealand Record Dixon claims the course wasn't short.
*Illness / Sore Throat Ends Kim Smith's Run Between 30km And 35km The article also talks about how 1983 champion Rod Dixon ran just over 3:30.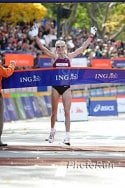 Women's Race: Paula Dominates Goucher Third
Paula Radcliffe showed why she's the best marathoner in the world as she dominated the women's field in the second half of the ING NYC Marathon. Radcliffe took a different strategy this year in NY. She led every single step of the way, but she said with the high winds her plan this year was to save something for the end and run negative splits and it showed. She poured it on the final six miles, winning by nearly two minutes. Radcliffe never looked back and said when she turned for the final quarter mile at Columbus Circle, she wasn't even positive she had the race won. American Kara Goucher ran up front for most of the race and had a successful debut in third in 2:25.53 (American debut record). Olympic silver medallist Catherine Ndereba, Dire Tune, Rita Jeptoo and Gete Wami were left in Radcliffe's wake, causing Wami to tie with Irina Mikitenko for the World Marathon title. The World Marathon Major race directors were then left to vote to break the tie. They voted for Mikitenko and just like that she got $500,000 and Wami got nothing.
*Radcliffe Doesn't Look Back En Route To 3rd Win
*Paula Destroys Top-Class Women's Field
*Mikitenko Awarded WMM Prize In Tie-Breaking Vote
*Women's Recap And Race Replays From UniversalSports.com
*Paula Post-Race Press Comments
On the boards: Wami gets nothing of World Marathon Prize while tying for spot #1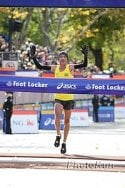 Men's Race: Marilson Gomes Dos Santos Storms From Behind To Win Coming into the 2008 ING NYC Marathon, Abderrahim Goumri had the distinction of being the top marathoner in the world who had never won a marathon (2nd in London in 2007, 3rd in London in 2:05:30 this year, and 2nd in NY last year). On Sunday in NY, he was clear of the field and on his way to what seemed to be his first marathon victory. However, savvy 2006 NY champ Marilson Gomes Dos Santos saved his best for last and stormed from behind in the final mile to overtake Goumri and get the win (afterwards Goumri said a missed fluid bottle might have caused him to run out of steam). Dos Santos ran 1:02 for the second half for a big negative split. Veteran Paul Tergat said he twisted an ankle on the course but returned to action with a fourth place finish. American Abdi Abdirahman led the American charge in 6th place as four Americans were in spots 6, 7, 8 & 10.
*Men's Recap and Race Replays From UniversalSports.com
*Gomes dos Santos Is Going To Disney To Celebrate
*NYT: New York Brazilians Say "Gomes who?"
On the boards: Nate Jenkins at NYC marathon?
UNBELIEVABLE: Marion Jones Gets On Oprah Winfrey Show And Continues To Say She Never Knowingly Took Drugs The fact that Victor Conte can tell you when and where she injected herself apparently is irrelevant.
Victor Conte Responds: "I Cannot Believe Marion Jones Continues To Lie." Conte is outraged, "Enough is enough. She knowingly used performance enhancing drugs and has already been to prison for lying about it in the first place." *AP Recap Of Marion Jones Lie-Fest Appearance On Oprah *Message Board Thread
NCAA XC Heats Up With Pre-Nats Leading The Way: *Meet Recap/Results


LRC Coverage: Chelanga Puts On A Show For The Ages As FSU's Kuijken Also Breaks Course Record, Washington Women Impress Liberty's Sam Chelanga had spectators and coaches alike shaking their heads as he took it out in 4:18 and never eased up until he got the course record. LRC breaks down all four races. Photos and more.
Terre Haute Newspaper: Chelanga Emerges As NCAA Favorite
Photos: LRC Photos: *White Women's Photo Gallery *White Men's Photo Gallery *Blue Men's Photo Gallery (sorry, no Blue Women's Photos as our flight was late). *Photos From Indiana State Site *More Photos
*Message Board Info On Pre-NCAAs
*Washington Women @ Prenats *CHELANGA DOES IT AGAIN!!! *Why Chelanga will not Win Nationals! *Pre-Nats Combined Results - Men *German Fernandez is a Serious Threat to Win NCAA Cross Country Nationals *Mark My Words: Chelanga Will NOT Win XC Nationals*Pre-Nats Predictions
Results: *Men White: (Chelanga, Stanford) Team Individual *Men Blue: (Tyson David, Alabama) Team Individual *Men JV/Open: (OSU, Fernandez) *Results *Women Blue: (Felnagle, Washington) Team Individual *Women White: (Kuijken, tie - Princeton, FSU) Team Individual
Not Everyone Goes to Pre-Nats
*How The Mighty Have Fallen: Arkansas Loses To Texas A&M At Chile Pepper Meet In Front Of Home Crowd
Sally Kipyego Leads Texas Tech To Chile Pepper Title Kipyego must have been going easy as she only won by 16 seconds.
*GTown Men Roll At Penn State National As D3 #1 Cortland State Comes 1 Point Shy Of #28 Villanova West Virginia put 4 in the top 9 to dominate the women's race.*LRC: Message Board Thread on 2008 PSU National *PSU National Photos
*#27 Arkansas Men Host Chile Pepper Festival The Hogs are in trouble this year, as despite the fact they've won 34 straight conference titles, they are apparently only the 3rd best team according to the rankings.
*#1 Oregon (#2 on Women's Side) Racing Mike Hodges Invitational
Pre-Meet News
*#2 Oklahoma State and German Fernandez Ready For Pre-Nationals The Cowboys don't like to race very often and they are racing their older guys but the fans will be pumped to learn that possible freshman boy wonder German Fernandez is racing.
*Craig Forys Having Fun Leading Michigan Into Battle The Wolverines will host Big 10s in two weeks.
2008 real,- BERLIN MARATHON - Watch Video Highlight or Race Replay *Results *Photos
Haile G. 2:03:59!!! Mititenko 4th Fastest Woman Ever Haile Gebrselassie made more history Sunday on the streets of Berlin. After going through the halfway point in 1:02:04, Haile continued to flirt with world record pace but was stalked by Boston runner-up James Kwambai. Haile threw down the gauntlet the last 7km to dispatch Kwambai and just dip under the 2:04 barrier. On the women's side, German star Irina Mikitenko ran a brilliant race, running a negative split to smash the 2:20 barrier and become the fourth fastest woman ever.
*Geb: "I can go faster."
*The Science Of Sport Analyzed Geb's Splits As The Race Unfolded link fixed
*Geb's Record in Berlin Is His 24th World Record (or 26th depending on who is counting)
*Mikitenko Moves Into Tie in World Marathon Majors Standings Gete Wami must finish 2nd or higher in New York to move ahead. If she doesn't, they will be tied (and tied in the tie-breakers) so they might share the title. *Washington Post Article on WMM
*Falk Cierpinski, son of Waldemer Cierpinski, 2:13 in Berlin
On the boards:
*Wanjiru's Olympics > Geb's WR
*Haile's Splits from Berlin. ... how far could you run with him??
*Live Message Board Thread

Men's 5k


LRC: Kenenisa Bekele Completes The Double In Style - By Running The Greatest 5k Ever Run Bekele was simply sensational as he arguably ran the greatest 5k in history. Pushing the pace throughout, he ran an Olympic record 12:57.82 thanks to a ridiculous 3:57.01 last 1,600m, 4:56.97 last 2k, 7:35.53 last 3k and 53.87 last lap. Unbelievable. He clearly enjoyed this one as he showed great emotion in the last 150m as he won his first global 5k and became the 1st man to complete the Olympic 10k/5k double since his countryman, Miruts Yifter, in 1980. *IAAF Recap of Race *Reuters Recap of Race
IAAF: Kenenisa Bekele Joins Legends By Completing Distance Double
Recommended Read: Bernard Lagat Goes Home Empty-Handed But Looking Forward To The Future The New York Times gets the scoop on what has been ailing the double world champion from last year. Apparently, after the US trials he developed a serious achilles problem. Throw in a viral infection before the 5k final and you've got big-time trouble. He stayed in it until 1,200m left. Even if he was 100% on his game, no way was he staying with Bekele on this special night. *Matt Tegenkamp Finishes 13th *Nic Bideau Shocked by Mottram's Failure *Bideau Hoping To Rebulid Mottram "We feel like it's just a couple days prior to Christmas and we've found it's been cancelled." *Mottram's Career At Crossroads
*Matt Tegenkamp's Comments

Wilfred Bungei Wins Men's 800m - The Kenyan's 10 years of training in Verona, Italy finally paid off in a big way as he led the race at 400m, 600m and 800m. It's been a long time coming for Bungei, who showed great promise when he was ranked #1 in the world 6 years ago, running 1:42.34, and when he was the heavy favorite 4 years ago. The article has a great photo of the finish. *IAAF Recap of Race *Reuters Article
*4 Years After Being Favorite In Athens, Bungei Takes Home Gold Alan Webb can take heart in this story.
4 x 400m Mania
US Men Set 4 x 400m Olympic Record
Sanya Richards Comes From Behind To Take Women's 4 x 400m
*At last: Richards, Felix, Wariner get their golds
*Wariner Doesn't Do Redemption

Friday *Results *Photos


Tirunesh Dibaba Outkicks Rival To Complete Historic Double A 59-second last lap gave Dibaba a victory in a crazy, crazy race that went out at 5:50 mile pace for 1k. As a result, she is the first woman to ever win the 5k/10k double and now can officially be considered the greatest female runner on the planet. IAAF Recap of Race
*Tirunesh Officially The Empress of Women's Distance Running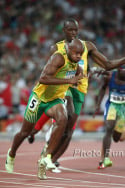 Bolt Completes Historic Triple - 3 Races & 3 World Records Plus 3 ridiculous margins of victory - 0.22, 0.66 and 0.96 seconds. It was great to see Asafa Powell get a gold as well. Trinidad & Tobago was 2nd as Japan got the bronze - that's right, Japan. It was Japan's 1st Olympic track medal in 80 years - yes, 80 years.
Bryan Clay Wins Decathlon Gold - The world's greatest all-around athlete got silver four years ago. Bolt is clearly the world's fastest athlete.
Jamaica Blows Women's 4 x 100m as Russian Wins
*Australia's Steve Hooker Wins Men's Pole Vault *Drug Cheat Win's Women's Long Jump
Another Great Tim Layden Article: Putting The So-Called US Track Debacle In Perspective The US will end up with more medals than Sydney and likely more medals than the home field Atlanta Olymipcs. Plus you can't blame the US system as there is no US system. Additionally, Britain spent over $1 million on their relays and neither 4 x 100m finished - nor did the unbeatable Jamaican women.

Thursday *Results *Photos
LaShawn Merritt Crushes Jeremy Wariner As US Goes 1-2-3 in 400m The much-anticipated 400m duel turned into a rout as Merritt ran great (43.75) and Wariner was off his game. David Neville got a surprise bronze.*LaShawn Merritt Dedicates Win To His Deceased Brother *Texas Paper on Wariner's Loss *Merritt Studied Video of Bolt's Race To Come Up With Game Plan *Dick Patrick On Merritt's Win
This Is What the Olympics Are All About: David Neville Dives For Bronze He was a surprise team member and an even bigger surprise for the bronze. A great story. We enjoyed seeing him at Track Town Pizza the day he made the team. Pizza and soda to celebrate. A class act.

*Veronica Campbell-Brown PRs & Defends Olympic 200m Crown Allyson Felix ended up in tears with the silver but we think given her struggles so far this year, her sub-22.00 clocking was a hell of a performance.

*US Drops Baton In Both 4 x 100m Relays No one should truly be shocked as the US men botched it for the 5th time in the last 12 global championships. On the plus side, we won't get the opportunity to get smoked by Jamaica in the final. *Britain (Thanks To Craig Pickering) Blows It As Well
*Tim Layden Looks At Struggling US Short Sprinters - Personally, we think Americans are spoiled by the US sprint domination and think the media is overblowing the US failures (and taking for granted our domination of the 400m hurdles and 400m). Plus the Jamaicans just have some big time stars. But it is the first Olympics that the US will not win any of the 100m, 200m or 4 x 100m for at least one sex.
*Washington Post Puts Proper Perspective on USA's Performance - 6 Medals in 3 Finals is Damn Good

*Dayron Robles Masters 110m Hurdles The Cuban makes the hurdles look so effortless - unlike anyone we've ever seen before. The US got 2nd and 3rd. It's too bad Liu Xiang wasn't in this race or it would have been a huge spectacle.
*Bryan Clay Leads Decathlon After Day 1
*Nelson Evora Wins One of Best TJs in History You had to jump farther than ever before to get a medal as 7 men broke 17 meters.
Wednesday *Results *Usain Bolt 200m Photos


USAIN BOLT 19.30!!! Lightning struck twice as Bolt ran a ridiculous time into a .9 headwind. More than a half second behind Bolt, the race was marred by the DQs of the 2nd and 3rd place finishers.
IAAF Recap of Race *Video of the Race
*Bolt Stakes His Claim as the Greatest Sprinter Ever A good article with a great conclusion: "Perhaps it is too much to hope that he has also banished the suspicions that have undermined the integrity of Olympic sprinting for so long. But when you look at him, at his 6ft 5in, 13st 8lb frame and at the articulation of his limbs as he devours the track, you might be forgiven for believing that he, more than any leading sprinter for several generations, might just be able to achieve such feats without artificial assistance. There is none of the sense of physical distortion created by the excess muscle that powered recent generations out of the blocks. He looks balanced and natural."
*London Times: Usain Bolt Leaves Beijing Spellbound Again Bolt was very nice to MJ's legacy. Bolt: "Michael Johnson revolutionised the sport," he said. "I just changed it a little bit."
*Tim Layden: Bolt's 19.30 Cements Greatness This is a good article that follows up Layden's remarkable pre-race article. Sports Illustrated Vault: MJ Was Shocked by His 19.32
*Christine Brennan: Bolt Becomes an Instant Legend
*Dutch Antilles: US 200m Protest Not in Olympic Spirit We agree with their sentiment and think in the future the IOC should automatically look for blatant lane violations so countries don't get blamed. "It's a pity for a big country like the United States to make such a small statement."
*Usain Bolt 400m Mania Erupts - Apparently He's Promised To Run the 400m in 42.5 in 2014 This isn't some BS article. This is an article by the IAAF where the 1983 World 400-meter Champion Bert Cameron says that Bolt has promised him he'll run the 400m in 2014. Cameron thinks he'll run 42.5. Insane.
Other Action From Wednesday
Men's 800:*Nick Symmonds Advances As Andrew Wheating Is Edged Out in Tough Heat and Christian Smith Fails to Advance * Eugene-Register Guard Article on 800m IAAF: Men's 800m - Round 1
IAAF: Melaine Walker Wins 400m Hurdles In Olympic Record Rojo's favorite 400m hurdler Sheena Johnson Tosta gets a much deserved silver after being denied a bronze by a drug cheat 4 years ago.
IAAF: Men's 110m Hurdles - Semi-Finals

Tuesday *Results *Nick Willis Photos!!


Men's 1,500m: Nick Willis Wins Bronze!!!!! (as Rashid Ramzi Wins Gold) The men's 1,500m final was thrilling for sure. In the end, former Michigan Wolverine Nick Willis had given hope to Westerners across the globe as he won New Zealand's first track medal in 32 years, as Kenyan Asbel Kiprop won the respect of Letsrunners across the globe for his sensational silver medal performance. Meanwhile, Rashid Ramzi won gold and it seems that most LetsRun.com viewers aren't happy as they all seem to think he is a drug cheat. *Honest question: why is everyone so sure Ramzi is doping? *RAMZI WON - WHENEVER THE US SEES SOMEONE [From Another Country Win] WE ACCUSE THEM OF DOPING *Ramzi should have been DQ'ed Video: *Men's 1,500m Final Video
LRC: Recap of Men's 1,500 Final, Men's 400m Semis
The top two in the world proved it in the 1,500m, while Nick Willis put together the best possible race to come away with the bronze. The 400m semis had no major casualties, as Wariner and Merritt made their expected statements and other main medal contenders got through.
*Legends Hail Willis' Bronze
*Willis Cries for Those Who "Sacrificed" for His Victory
*Willis Takes Coach's Advice and Gets Medal
*Pre-Race: Nick Willis' Road to Bronze Ran Through Ann Arbor
*Rashid Ramzi Wins 1st-Ever Gold For Bahrain
IAAF: Men's 1,500m Recap
IAAF: Former Banned Brit Christine Ohuruogu Wins Olympic Gold Sanya Richards felt a cramp and ended up 3rd
IAAF: Both LaShawn Merritt and Jeremy Wariner Impress In 400m Semis Both won and both ran fast. Who will win the final?
IAAF: Dawn Harper Focuses On Herself and Wins 100m Hurdles Olympic Title The JJK protege shockingly won after pre-race Lolo Jones failed to medal.
IAAF: Andrey Silnov Wins Olympic HJ Title The guy was only 4th at the Russian Trials but was added to the team at the last minute after some good European performances.
Mens' 200 Semis: Usain Bolt Wins Easily And Then Pours Powerade Down Wallace Spearmon's Back
IAAF: Women's 5,000m - Round 1
Monday: *Results *Photos Day 4 (Discus, w800, 10k medals, Steeple) *Day 3 Updated (Men's 10k, W. Marathon, W. Steeple, M. 1,500m semis, W. 100m)


LRC: Steeple, 800m Recap: A Kenyan Wins A Steeple For The Ages As Pamela Jelimo Sensationally Captures The Women's 800m The men's steeple had it all - an American leading more than halfway through and then 3 competitors side-by-side going into the final barrier (and one of them was not a Kenyan). In the women's 800m, the 18-year-old was simply sensational from start to finish as was her teammate Janeth Jepkosgei. IAAF: 18-Year-Old Sensation Pamela Jelimo Wins Women's 800m Title A year ago she had never raced the distance in her life. Now she's an Olympic Champion. Simply unreal. *IAAF: Men's 3,000m Steeplechase Recap
*IAAF: Angelo Taylor Electrifies Beijing and Wins His 2nd Olympic Gold in the 400m Hurdles as USA Sweeps Taylor shockingly won in 2000 out of lane 1. Let's hope the USA puts him on the 4 x 400m as he looked sensational. Two years ago, he was up laying electric cable at 5 a.m. in Atlanta. *Nice ESPN Article on Angelo Taylor's Resurgence
*IAAF: Isinbayeva Puts on a Show! Sets WR & Wins Olympic Title Jenn Stuczynski was 2nd. *Isinbayeva Talks Tons Of Trash About Stuczynski After Winning Gold
*IAAF: Irving Saladino Wins Panama's First-Ever Olympic Gold in Men's Long Jump
*IAAF:Recap of 2nd Round of Men's 200m
Sunday: *Results *Photos (Marathon, Men's 10k)
LRC: Kenenisa Bekele Sets Olympic Record in Men's 10k The men's 10k produced great drama as you had it all - a fast pace, Haile G in the medal hunt and more.
*Video: 3 Minute 10k Highlight
LRC: Historic 1st Women's Olympic Steeple Produces A World Record And an American Record as Well
*Video: *Steeple Final
LRC: Men's 1,500m Semis Produce Shocker As Bernard Lagat Fails To Advance The two-time World Champion didn't advance as he was edged by Nick Willis, the lone athlete with NCAA experience to make the final. *Bernard Lagat Fails To Advance *Nick Willis Makes 1,500m Final He becomes the first Kiwi to make a men's final in any track event since 1996. *Canada's Kevin Sullivan Fails To Make Final - Doesn't Want To Talk About Retirement *Nate Brannen Fails To Advance
*Video: *Men's 1,500m Semi #1 (Kiprop, Lomong, Brannen) *Men's 1,500m Semi #2 (Lagat, Ramzi, Willis)
*IAAF: Jamaicans Sweep Women's 100m Video: Women's 100m Final
*IAAF: Women's Steeplechase Starts its Olympic History with a World Record
*IAAF: Radcliffe: Looking ahead to London 2012
*David Epstein of SI: Night To Forget For US Runners - Swept in the women's 100m, zero men's 1,500m qualifiers, etc.
*Phil Hersh: *American Track Athletes Off To Slow Start - In addition to what's already mentioned, the US also has no LJ finalist or HJ finalists for the 1st time in history.
*Pre-Race Article on Lagat's Preparations - Lagat ran a 2:19 1k time trial last Sunday. This and Alan Webb's time trials prove that it's easy for runners to use them to get a false sense of raceworthiness. The article said Lagat was hoping no one noticed how he ran in London.
*More Lagat: Seattle Times: Lagat Fails To Advance



Saturday *Results *PhotosUSAIN BOLT 9.69 The men's 100 meter final was arguably the most anticipated sprint matchup in history. It more than lived up to the hype, not because of the expected 3-way matchup of Powell/Bolt/Gay, but rather due to the sheer brilliance of Usain Bolt. It was truly stunning. The question now is how fast can Bolt run in the 200m?
*Tim Layden (and Ato Boldon) on Usain Bolt Ato did another excellent job on the commentary. Can the other announcers defer and let him do the distances as well? He is knowledgeable and injects excitement.
*Usain Bolt Skipped Breakfast and Ate Chicken Nuggets for Lunch and a Snack Before the 100m Final
*Jamaica Prime Minister Planning Huge Homecoming for Bolt
*Usain Bolt and Jamaica Celebrate USA Today
*On the boards: 9.69 is Believable?

Friday: *Results *Photos
*Greatest Women's 10k Ever Dibaba Smashes Olympic 10,000m Record as Two Dip Under 30 Minutes! Flanagan Gets Bronze and American Record Tirunesh Dibaba got the one thing missing on her resume, an Olympic gold, and she did it in grand style. She outkicked Elvan Abeylegesse to win in 29:54.66 as they became the 2nd and 3rd women in history to break 30 minutes for 10k and the first since Wang Junxia's unbelievable 29:31.78, 15 years ago. Shalane Flanagan came from behind to smash her American record (30:22.22) and get the first American medal in a track event over 400m since 1992. In other action, the American men bombed in the shot put (many expected a US sweep, but Christian Cantwell was the only American on the medal stand), the American women bombed in round 1 of the 800m and the USA was the only country to have all 3 of its entrants advance to round 2 of the 1,500m (Manzano on time), but Bernard Lagat didn't look great doing it. We'll hopefully have a letsrun.com recap of these races later, but in the meantime the IAAF has event recaps: *Men's 1,500m Round 1 *Women's 800m Round 1 *Women's Steeple Round 1 Recaps (Willard and Barringer advanced)
More 10k: NY Times Recap on Dibaba's 10k Victory, Flanagan's Bronze * Washington Post Recap on Flanagan
On the boards: *TWO women under 30 minutes in the Olympic 10000m final A historic day.
*1,500m Heats Talk Here
*USA's Flanagan wins bronze in 10,000 meters USA Today *Flanagan shows American distance runners can compete with best ... ESPN
*IAAF Recap of Day 1 - Kara Goucher 30:55 PR
Shot: Poland's Tomasz Majewski Surprise Shot Put Winner
*US Shot Putters Come Up Short New York Times
8/8/08 Dazzling Opening Ceremonies Kick Off Beijing Olympics A reader abroad wrote us saying, "I thought it was mind blowing ... it's like China is saying: 'We are the next power' ... I'm telling you, it was the most amazing visual display I have ever seen on television. And I'm not even watching on an HD or anything. London must be shitting their pants because that was unbeatable. It was amazing ... It just went on for 4 straight hours." We agree.