2023 NYC Marathon Men's Preview: Who's the Favorite, Ed Cheserek Debuts, & Could Cam Levins Win?
The 2023 NYC marathon has some intriguing storylines in it but it's the shallowest major of the year
By
Jonathan Gault
This year's TCS New York City Marathon fields are very different. The women's race is absolutely stacked — the best in race history and one of the greatest assembled in the history of the sport. If you haven't read our women's preview yet, go ahead and do it right now. The men's race is more of a typical NYC field — a large diversity of nationalities with some premium East African talent at the top.
Initially, the headline showdown on the men's side was going to be the battle betweeen 2022 champ Evans Chebet and 2017/2019 champ Geoffrey Kamworor, but both withdrew last month. Instead, the field is led by Ethiopians Tamirat Tola (the 2022 world champ) and Shura Kitata, who has twice finished as runner-up in NYC but never won. Throw in a rising Cam Levins and the debut of Edward Cheserek, and there will still be some intrigue on the men's side, but this is without a doubt the shallowest men's major of 2023. Here are the men to watch in Sunday's field.
What: 2023 TCS New York City Marathon
When: Sunday, November 5. Elite race starts at 8:40 a.m. ET.
Where: New York, New York (course map)
*TV/streaming information *Full elite fields
The Three Guys Who Have Won Majors Before
Tamirat Tola, Ethiopia, 2:03:39 pb (2021 Amsterdam), 32 years old
Signficant wins: 2017 Dubai, 2021 Amsterdam, 2022 Worlds
Shura Kitata, Ethiopia, 2:04:49 pb (2018 London), 27 years old
Significant wins: 2017 Frankfurt, 2020 London
Albert Korir, Kenya, 2:08:03 pb (2019 Ottawa), 29 years old
Significant wins: 2019 Houston, 2021 New York
When looking for a winner, the first place to start is the runners who have won a major before. Seven of the last 10 NYC men's winners had already won a major when they won New York. Tola, Kitata, and Korir all fit that criteria, with Tola and Kitata particularly worth of note (though Korir is the only one of the trio to have won NYC before).
Article continues below player.
The world champion last year, Tola ran 2:03:40 in Valencia in December, then finished 3rd in London in April. He did drop out of his most recent marathon at Worlds in August, but it's worth noting he was in 3rd at 37k and dropped out in the final 5k once he was no longer in medal position. He quickly rebounded to win the Great North Run on September 10 by more than a minute in 59:58. Tola has some experience in NYC, but has had the least success of the trio in New York — Tolas was 4th in his two previous appearances in 2018 and 2019.  Tola has won 3 of his career 16 marathons.
Kitata was second in NYC a year ago and was also second in 2018, when he ran 2:06:01 — the third-fastest time ever in NYC. When he's on his game, he's one of the best in the world — he broke Eliud Kipchoge's long win streak by winning the 2020 London Marathon. But Kitata is coming off one of the worst marathons of his career as he was only 14th in Boston in April. Kitata has won 3 of his 18 career marathons.
Korir won NYC in 2021 — granted, against a very watered-down field that included just one man with a pb under 2:07 — and was 2nd in 2019, beating both Tola and Kitata in the process. A grinder, he most recently finished a solid 4th in Boston in 2:08:01 and will be a contender again on Sunday. Korir has won 5 of his career 15 marathons.
In my mind, there's a roughly a 65% chance one of these guys is your winner on Sunday, with the remaining 35% split between a few slightly longer shots. Let's get to them.
The Global Medalists
Abdi Nageeye, Netherlands, 2:04:56 pb (2022 Rotterdam), 34 years old
Maru Teferi, Israel, 2:06:43 pb (2022 Fukuoka), 31 years old
| | |
| --- | --- |
| Overall | |
| Comfort | |
| Cushioning | |
| Durability | |
| Appearance | |
| Value | |
Nageeye and Teferi have a lot in common. Both moved from East Africa to Europe as children (Nageeye from Somalia to the Netherlands when he was 6, Teferi from Ethiopia to Israel when he was 14). Both have earned global medals (2021 Olympic silver for Nageeye, 2023 World silver for Teferi). Both won a famous marathon in 2022 (Rotterdam for Nageeye, Fukuoka for Teferi). One more similarity: neither has won a World Marathon Major.
But if you've medalled at the Olympics/Worlds and won Rotterdam/Fukuoka, you're pretty damn close to winning a major. Both are coming off the World Championship marathon in August, where Teferi took silver and Nageeye dropped out after 25k.
It would be a pretty cool story if either man won as it took both of them a while to reach their current level: Nageeye did not break 2:10 until his sixth marathon; Teferi did not do it until marathon #10! New York will be career marathon #20 for Nageeye (and he's only won 1 of them) and #19 for Teferi (and he's only won 2 of them), and runners almost never win their first major that deep into their careers. But Nageeye and Teferi have also continued to improve throughout their careers. They have a shot.
The Former NCAA Stars
Cam Levins, Canada, 2:05:36 pb (2023 Tokyo)
Edward Cheserek, Kenya, debut
Though Levins was an NCAA champion on the track at Southern Utah — he actually beat out future Olympic medalist Paul Chelimo to win the 5,000 in 2012 — his triple sessions and mega-miles (170+ per week) suggested his body was built to withstand the pounding of the marathon. It took a few years, but Levins is now world-class, running a 2+ minute pb of 2:07:09 to finish 4th at Worlds last year, and following that up with another huge pb, 2:05:36 in Tokyo in March. He's run faster than any North American athlete in history.
No Canadian has ever won New York, and Levins will need an off day or two by the big guns if he is to break that drought. But Levins was only 14 seconds off the win in Tokyo in March, and he may not be done improving. Of the three men seeded above him in NYC, two are coming off DNFs (Tola and Nageeye) and the other is coming off a poor showing in Boston (Kitata). If Sharon Lokedi can win NY, why can't Levins?
Speaking of Lokedi, her partner Edward Cheserek is making his marathon debut on Sunday — something that is suddenly much more exciting after Cheserek took down 2:04 marathoner Bernard Koech to win the Copenhagen Half on September 17 in 59:11. While Cheserek has had a few standout performances since graduating from the University of Oregon since 2017 (3:49 mile, 27:23 10k), his professional career has largely been one of frustration following 17 NCAA titles in Eugene. In six pro seasons, Cheserek has competed in just two Diamond Leagues (finishing 15th and 7th) and never run at a global championship.
Throughout that time, Cheserek's desire had been to stay on the track, which was one of the reasons he split with coach Stephen Haas to reunite with his college coach Andy Powell. Based on what he had seen in training, Haas believed Cheserek was better suited for the marathon and told him as much. Now, after spending time training in Kenya — 2022 NYC champ Evans Chebet is a friend and occasional training partner — Cheserek has decided to make the leap.
"A lot of people have probably got in his ear and said, look you can be really good at this if you commited to it and trained for it," said Haas, who remains Cheserek's agent. "…He's going really, really well. I was super impressed with him when I was over in Kenya, his long runs, his ability to up his volume…I really think this is where he's gonna find himself as a pro runner and I think he's got a lot of years, a lot of races to come as a marathoner."
What is he capable of his first time out? New York is a tough course on which to debut, but Cheserek is an intriguing wild card. In the last two years, we've seen unheralded former NCAA stars hang around far longer than anyone expected on the women's side, with Viola Cheptoo almost stealing the race in 2021 and Lokedi winning it last year. The men's races have played out somewhat differently, but if this race goes slower and Cheserek is able to weather with the surges of the lead pack, he could be dangerous over the final miles.
Where does Cam Levins finish at the NYC Marathon?
Your vote has been counted. Thank you!
Where does Edward Cheserek finish at the NYC Marathon?
Your vote has been counted. Thank you!
Promising Talents that Would Need a Breakthrough to Win
Zouhair Talbi, Morocco, 2:08:35 pb (2023 Boston), 28 years old
Jemal Yimer, Ethiopia, 2:08:58 pb (2022 Boston), 27 years old
Based on what they've done in the marathon so far, both of these guys need to step up a level to actually win a major. But both have intriguing potential with Yimer being the much more likely winner.
Yimer formerly held the Ethiopian half marathon record at 58:33, though he has only finished 3 of his 5 career marathons. But he's in good form. Earlier in the year, he racked up good showings on the US road scene — winning Bloomsday in May, finishing 4th at Peachtree and winning the Utica Boilermaker in July before running 58:38 in the half in August.
Talbi, the former NAIA star for Oklahoma City who has run 13:18 and 27:20 on the track, was 5th in his debut in Boston in April, running 2:08:35 in against a strong field.
The Americans
Elkanah Kibet, USA, 2:09:07 pb (2022 Boston), 40 years old
Futsum Zienasellassie, USA, 2:09:40 pb (2023 Rotterdam), 30 years old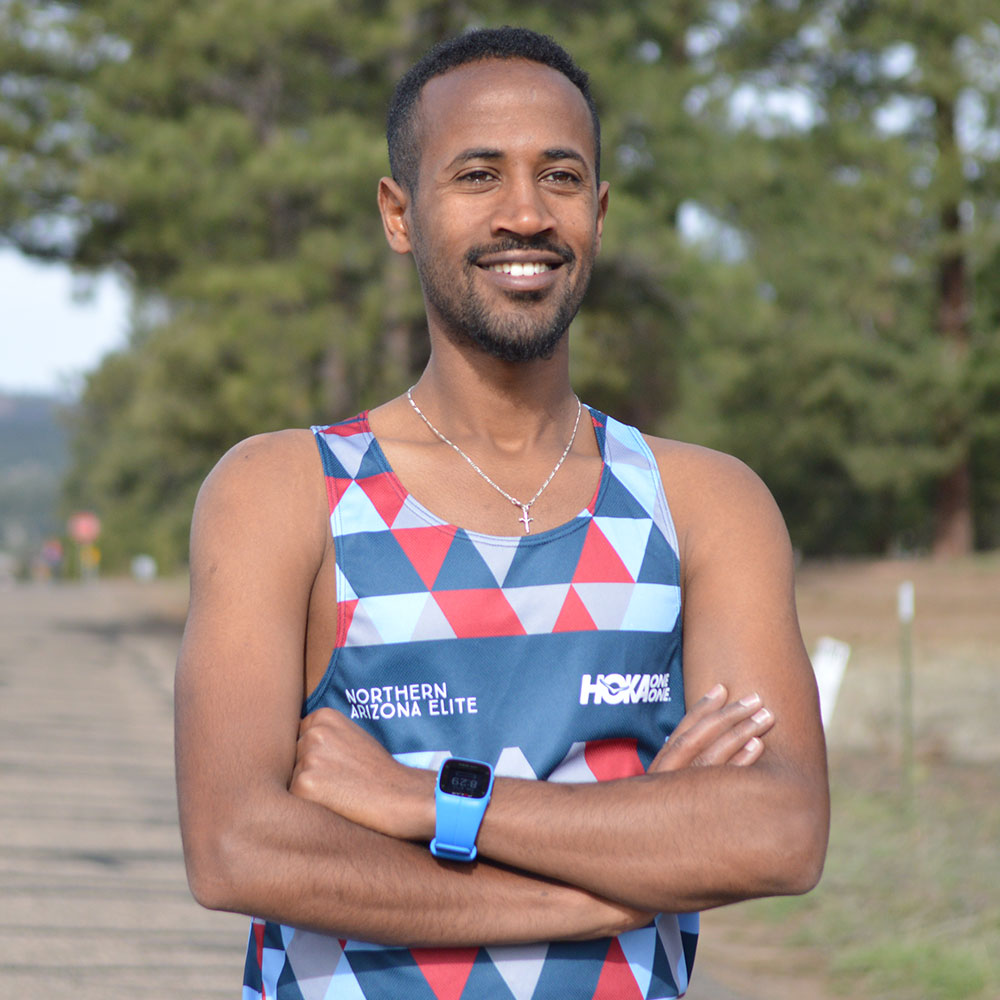 There are a few other US men in New York, including 2:10 guys Nathan Martin and Reed Fischer, but Kibet and Zienasellassie are the most intriguing. Kibet is 40 years old but has churned out a number of solid results recently — 4th at '21 NYC, 2:09:07 pb at '22 Boston, 2:10:43 at '23 Prague. Zienasellassie, meanwhile, has run two strong races to open his marathon career: 2:11:01 to win 2022 CIM, then 2:09:40 in April to finish 11th in Rotterdam.
Ben Rosario, executive director of Zienasellassie's NAZ Elite team, told LetsRun Zienasellassie is running New York in part because his idol, fellow Eritrean-American Meb Keflezighi, has a deep connection to the race, winning it in 2009. The other reason? To challenge himself in terms of his in-race decision making and get some reps in an unpaced race before the Olympic Trials.
"This is a totally different ballgame," Rosario said. "You step to the line, you have no idea what is going to happen. People could go out fast. People could go out slow. There could be surges. It's just the championship type of race that he needed in order to feel totally prepared for the Trials."
Rosario added that he believes Zienasellassie is better prepared now than he was ahead of his first two marathons.
"By design, both of those segments were pretty basic, didn't push the envelope too much," Rosario said. "This one has been even better than the first two."
And the winner of the shallow field is…
We'll make our official race picks after we talk to the stars at Thursday's press conference but we want to know you think will win so vote in the pole below.
Who wins the 2023 NYC men's race?
Your vote has been counted. Thank you!
It needs to be pointed out that there is no doubt that this field is quite shallow by World Marathon Major standards as shown in the table below which shows you the PBs of the top entrants in all of the majors this year.
| | | | | |
| --- | --- | --- | --- | --- |
| | Sub-2:04 | Sub-2:05 | Sub-2:06 | Sub-2:07 |
| 2023 NYC | 1 | 3 | 4 | 6 |
| 2023 Chicago | 3 | 6 | 8 | 9 |
| 2023 Berlin | 2 | 3 | 12 | 18 |
| 2023 London | 6 | 8 | 10 | 10 |
| 2023 Boston | 4 | 7 | 11 | 13 |
| 2023 Tokyo | 0 | 9 | 11 | 19 |
Only four guys in New York have a pb under 2:06. The lowest for any other major this year was eight. Yes, we know NY isn't a race about PBs and there are some guys like Cheserek (59:11) and Yimer (58:33) with quick half marathon pbs that make them intriguing, but PBs are normally are a very good barometer as to how good a marathoner someone is.
Talk about 2023 NYC on our world-famous messageboard: MB: 2023 NYC Men: Could King Ches or Cam Levins really win a major?
More: The Ultimate NYC Marathon Women's Preview: Fantastic Four Set to Wage War in Strongest NYC Ever The women's field is almost certainly the greatest in NYC history. We break it down for you.