2023 USA Steeplechase Previews: Bor and Jager Are Out, Can Coburn and Frerichs Keep It Going?
By
Robert Johnson
The 2023 Toyota USATF Outdoor Championships begin on Thursday in Eugene. We are previewing all of the mid-d and distance events for you and below are our steeplchase previews. If you missed any of our other previews, catch up now:
*Men's 800 *Men's 1500 *Steeples *Men's 5k/10k *Women's 800/1500 *Steeples *W5k/10k
Women's Steeple: Can Emma Coburn Win Her 11th US Title?
In hindsight, previewing the women's steeplechase at USAs the last decade has been pretty easy. Predict Emma Coburn to win and go from there. Coburn has won every US women's steeplechase title since 2014 — that's eight straight as there was no meet in 2020 — and every US steeple race she's ever run as she also won in 2011 and 2012 (she didn't run in 2013).
In 2023, Coburn will be going for for an incredible 11th title, but she doesn't enter as the US leader.
Article continues below player.
Here are the eight fastest Americans of 2023:
US Rank/World Rank / Time / DOB/ Race / Race Date
1 (10) 9:11.41 Courtney Wayment 4 Aug 98 8 Firenze 2 Jun
2 (16) 9:18.17 Emma Coburn 19 Oct 90 173/55 12 Firenze 2 Jun
3 (18) 9:22.99 Madison Boreman 10 Jul 98 1 Westwood CA 26 May
4 (19) 9:23.55 Krissy Gear 20 Jul 99 1 Walnut CA 6 May
5 (21) 9:25.03 Olivia Markezich 10 Aug 00 1 NCAA Austin TX 10 Jun
6 (26) 9:28.19 Gabrielle Jennings 15 Sep 98 1 Wien 17 Jun
7 (30) 9:32.10 Marisa Howard 9 Aug 92 160/53 4 Walnut CA 6 May
8 (31) 9:32.48 Colleen Quigley  20 Nov 92 173/59 1 Gresham OR 3 Jun
The 2022 NCAA champ Courtney Wayment, who was third at USAs and made the Worlds final last year, leads the US list by a lot at 9:11.41, which she ran at the Florence Diamond League. At some point, one would think that the 24-year-old Wayment will eventually surpass the 32-year-old Coburn at the top of the US ranks, but that near seven-second gap between Wayment and Coburn isn't dissuading me from picking Coburn to win the US title yet again this year.
Why do I think Coburn can still get the job done? Coburn's seasonal best is misleading. In both of her steeples this year, she's fallen. Yes, her fall in Florence was a minor one but that still costs you some time. More importantly, in Florence, Coburn was running ahead of Wayment until the very last lap when she cratered, perhaps in part due to the earlier fall.
At USAs, Coburn doesn't need to be on edge trying to run under 9:10 to be world-level competitive. She just needs to beat everyone else in the race. Only two of Coburn's 10 wins at USAs have been in sub-9:15 races. Admittedly, those two races were each of the last two years — 9:09.41 in 2021 and 9:10.63 in 2022. But if I was Coburn, I'd just relax for the first half of the race and then race the second half. Coburn has significantly better speed than Wayment. Coburn's 2023 has been far from great, yet she's already run 4:05.35 for 1500 in LA. Wayment has a 4:12.81 pb for the 1500 and has never broken 4:30 in the mile.
I expect both Wayment and Coburn to make the team so the question is who gets third. The big wild card is Olympic silver medallist and US record holder Courtney Frerichs (8:57.77 pb). The 30-year-old has only finished one race this year — a 4:18.60 1500 on May 6. But there is a good eason for that. She's on the comeback trail after having surgery in December to get 100% healthy.
Discount her at your own peril, however. She recently posted on Instagram that she ran a "practice PR." "Training has been coming together nicely and I'm excited for USAs next week!"
 

View this post on Instagram

 
Ok. That's game, set, match for me. There's your team.
Now if one of the Big 3 is off their game — and that's certainly possible for Coburn and Frerichs (I'd be stunned if Wayment doesn't make the team), there are a number of worthy candidates for Team USA. Former Colorado runner Madison Boreman, who was 4th at NCAAs last year and 9th at USAs, is having a great first year as a pro, having lowered her pb from 9:33.02 to 9:22.99. Considering Colorado grads' success in the women's steeple (Coburn, Jenny Simpson, Shalaya Kipp, and Val Constien have all made the Olympics in this event), it would be foolish to discount her.
Former Arkansas star Krissy Gear is also really blossoming in the steeple as a first-year pro for HOKA NAZ Elite. Primarily a miler/1500 runner in college (2nd in 2021 NCAA indoor mile), Gear lowered her pb from 9:38 to 9:23 in her only steeple this year, and she beat Wayment in that race.
Identical twin Olivia Markezich of Notre Dame (9:25.03 pb) enters USAs as the NCAA champ. She's been fantastic all of 2023 as she was 2nd in the flat 3000 at NCAA indoors behind Katelyn Tuohy.
Colleen Quigley, the 2015 NCAA champ and 2016 Olympian, has not run a US steeple final since making the team in 2019, but she has found a little bit of health at age 30 and ran 9:32.48 in her only steeple this year. She's also run 4:10.59 in the 1500. Quigley gets some grief on the messageboard for her interests outside of running but she is TOUGH and should not be discounted.
Rojo Prediction: While I know all streaks eventually have to come to an end, I don't think 2023 is the year Coburn is unseated.
1) Coburn 2) Wayment 3) Frerichs
PS. The Worlds standard is 9:23.00 but USATF is letting people chase until July 30 this year and many would get in via world ranking if they don't have the standard.
Men's Steeple: Who Will Take Advantage of Jager and Bor's Absence?
For the first time since 2011, the US men's steeplechase title this year will not be won by either Evan Jager (7 straight between 2012 and 2018) or Hillary Bor (3 straight — 2019, 2021, 2022) as both men are injured and not entered in the meet. It's a shame they aren't healthy as Jager had a resurgence last year and ended up 6th at Worlds while Bor, who was 8th at Worlds last year, ran 8:11 in Rabat earlier this year despite falling.
So who makes Team USA in 2023? It likely will be one of the six men entered who have run under 8:25 this year, with only 1.39 seconds separating the top 4.
The 6 Entrants Who Have Broken 8:25 This Year
1 (16) 8:16.23 Duncan Hamilton USA 14 Jul 00 1h2 West Sacramento CA 26 May
2 (17) 8:16.27 Anthony Rotich USA 20 Oct 90 174/60 9 Paris 9 Jun
3 (22) 8:17.47 Isaac Updike USA 21 Mar 92 180/64 2 Nice 17 Jun
4 (24) 8:17.62 Kenneth Rooks USA 21 Oct 99 1 Walnut CA 6 May
5 (39) 8:22.25 Mason Ferlic USA 5 Aug 93 188/68 1 Nashville TN 2 Jun
6 (42) 8:22.97 Benard Keter USA 25 May 92 1 Gresham OR 3 Jun
(None of those guys have the 8:15.00 Worlds standard but five of them would get in based on world ranking as of now and Rooks almost certainly will if he finishes in the top three at USAs).
Montana State's Duncan Hamilton has the fastest seasonal best of anyone entered at 8:16.23 and he was fourth last year so he's got a good shot at being top 3. But Hamilton himself has acknowledged he doesn't have a great kick so a win seems unlikely. At NCAAs, Hamilton was beaten decisively (6.01 seconds) by BYU's Kenneth Rooks. The 23-year-old Rooks, who was 6th at NCAAs last year and 10th at USAs, is undefeated on the year and one of his wins even came over Bor before Bor was injured. He's my favorite.
Speaking of favorite, one of my favorite NCAA runners from nearly a decade ago was Anthony Rotich, who won three straight NCAA titles from 2013-2015 for UTEP (he also won the 2014 NCAA indoor mile). Until June, his PR was still the 8:21.19 he ran to win 2013 NCAAs, but that changed on June 9 in the Paris Diamond League when he ran 8:16.27 — his first PR in 10 years. Rotich, who is a member of the US Army, has been rejuvenated since gaining US citizenship and certainly should be in the mix for top 3. Last year, he was 5th. He also made the US XC team earlier this year.
31-year-old Isaac Updike has only been top 8 at USAs twice (8th in 2019 and 5th in 2021) but he has the third-fastest seed time and has been in supreme form in 2023. He's got the fastest average seasonal best of anyone in the field as he's run 8:17 twice this year and 8:25 once. Plus he's run 3:39 in Europe. Updike, an Alaska native who ran for NAIA school Eastern Oregon, should not be discounted.
Former Michigan runner Mason Ferlic, the 2016 NCAA champ, is the #5 seed based on 2023 times. He made the Olympic team in 2021 but when he did that he ran 8:18 twice before USAs whereas this year he's run 8:22 twice.
Benard Keter has made the last two US teams and is hoping to make it three in a row in 2023. Last year, he went into USA with an 8:24 sb but stepped it up and ran 8:19 to qualify. This year, he's already run 8:22.97 after failing to break 8:30 in his first two steeples.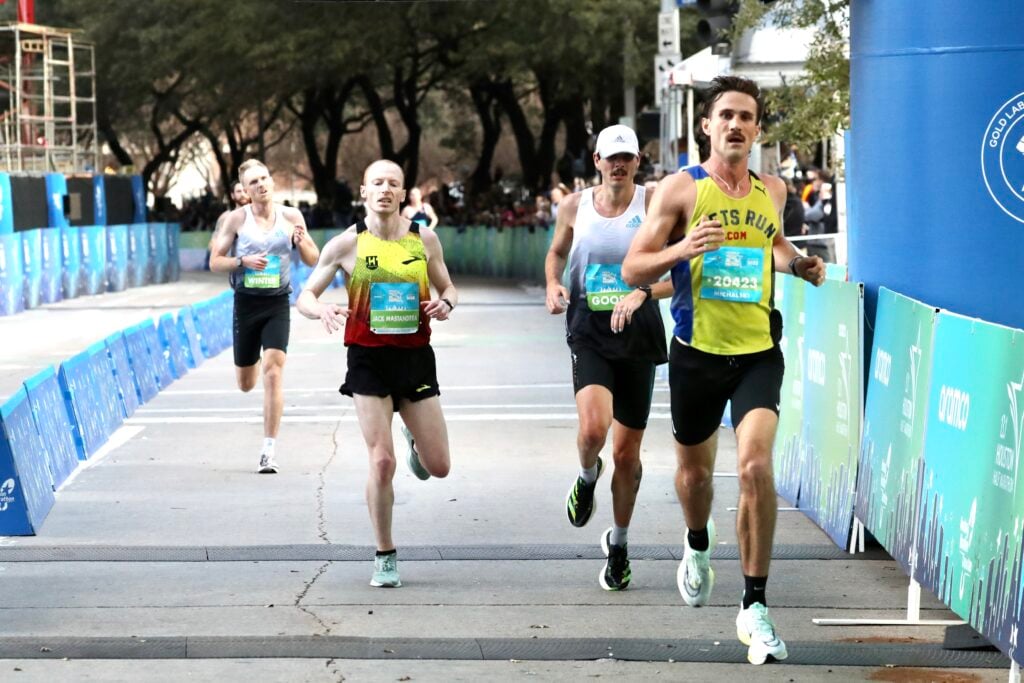 The fourth placer from the 2021 Olympic Trials — Dan Michalski — hasn't broken 8:25 this year (8:28.05 sb, 8:20.96 pb) but he's got a good excuse. After setting a LetsRun.com singlet half marathon personal best in Houston (63:39), he joined the Air Force. He went through basic training, where he graduated with honors, winning the top performer in the physical training component in his squadron of 600, but only was allowed to run a total of three times and never longer than 4 miles.
Rojo Prediction: 1) Rooks 2) Rotich 3) Keter
Have you read all of our 2023 USA Previews? Catch up now:
*Men's 800 *Men's 1500 *Steeples *Men's 5k/10k *Women's 800/1500 *Steeples *W5k/10k