Phenoms Katelyn Tuohy and Roisin Willis Shine at NCAA Indoors as Olivia Howell Wins Thrilling Mile
Willis Wins Round 1 of Battle with Juliette Whittaker
By LetsRun.com
March 11, 2023
For coverage of the rest of the NCAA meet, go to the front page or here: Complete 2023 NCAA Indoor Coverage
Article continues below player
Like our coverage from Albuquerque?
ALBUQUERQUE, N.M. –  The NCAA Track & Field Championships are a proving ground for the future stars of the sport. High school stars try to take the next step and continue winning against a tougher level of competition. Top international talents try to make a name for themselves after transitioning to a new country – and in some cases, an entirely new way of life. And some athletes, overlooked in high school, rise to the occasion and break through to an entirely new level. Winning at NCAAs doesn't guarantee professional success, but many of the sport's top current US pros made their name on the collegiate circuit.
The 2023 NCAA Indoor champs, as usual, delivered both individual brilliance and some intense racing with finishes that came down to the wire in multiple events. In the mile, Illinois' Olivia Howell earned a breakthrough victory, digging deep to overcome Arkansas' Lauren Gregory by .24 of a second after being passed on the final turn. The women's 800 was similarly tight as a star-studded race lived up to the hype, Stanford's freshman phenoms Roisin Willis and Juliette Whittaker going 1-2 (1:59.93 and 2:00.05, respectively) ahead of LSU teenager Michaela Rose.
The 3000m did not feature as much drama as it was a straightforward win for NC State's Katelyn Tuohy – her fourth NCAA title overall and her second of the weekend after winning Friday night's 5000m. But the fact that Tuohy was expected to win – and that she did so with ease, pulling away from defending champion Taylor Roe of Oklahoma State, who edged her for the title a year ago – shows the remarkable progress Tuohy has made over the last 12 months.
Below, recap, analysis, and interviews from the women's distance races on a terrific day of competition in Albuquerque.
Women's 3000m Katelyn Tuohy makes it look easy again
Hard to believe that NC State's Katelyn Tuohy had never won an NCAA indoor title until this year as she picked up the 3000m with ease to go with her 5000m title on Friday.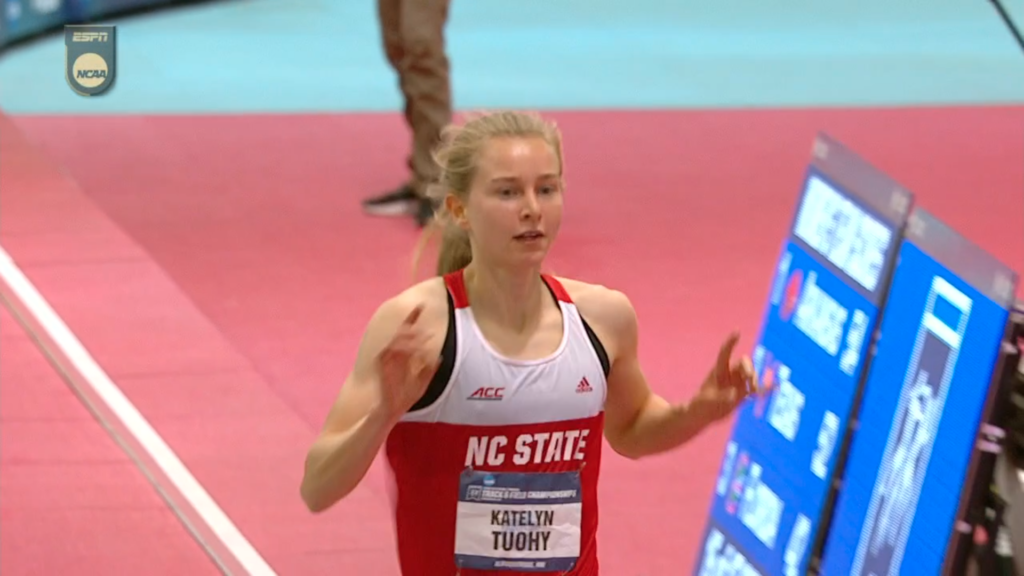 Tuohy went to the front with just over 900m to go and began to increase the pace. After a 35.32 and 34.31 lap to get to 400m only defending champ Taylor Roe of Oklahoma State was within a second of her. But after Tuohy ripped a 33.68 the next lap at the bell she was nearly 2 seconds up and she kicked home with a 33.05 final lap to get the win in 9:10.07. Roe didn't have much of a kick the final lap and was passed for 2nd by Olivia Markezich of Notre Dame, who had the fastest last lap of the day (30.99).
(Race video below results)
Quick Take: Katelyn Tuohy is climbing the list of all-time greatest NCAA distance runners
With her win in the 5k on Friday, Tuohy became the ninth woman since 2000 to win NCAA titles in cross country, indoor track, and outdoor track. Her win in the 3k tonight brings her total haul to four individual championships, tied for fourth among that stellar group of nine.
Women to win NCAA XC, indoor, & outdoor titles since 2000
Sally Kipyego, Texas Tech (9): 2006 XC, 2007 i5k, 2007 i3k, 2007 o10k, 2007 XC, 2008 i5k, 2008 o5k, 2008 XC, 2009 i5k
Abbey Cooper, Dartmouth (7): 2012 o5k, 2013 i5k, 2013 i3k, 2013 o5k, 2013 XC, 2014 i5k, 2014 i3k|
Karissa Schweizer, Missouri (6): 2016 XC, 2017 i5k, 2017 o5k, 2018 i5k, 2018 i3k, 2018 o5k
Katelyn Tuohy, NC State (4): 2022 o5k, 2022 XC, 2023 i5k, 2023 i3k
Molly Seidel, Notre Dame (4): 2015 o10k, 2015 XC, 2016 i5k, 2016 i3k
Kim Smith, Providence (4): 2004 i5k, 2004 i3k, 2004 o5k, 2004 XC
Dani Jones, Colorado (3): 2017 i3k, 2018 XC, 2019 o5k
Betsy Saina, Iowa State (3): 2012 i5k, 2012 XC, 2013 o10k
Angela Bizzarri, Illinois (3): 2009 o5k, 2009 XC, 2010 i3k
If Tuohy wanted to, she could have the opportunity to surpass Kipyego's total of nine NCAA titles. At the end of the 2022-23 school year, Tuohy will still have two seasons of cross country and indoor eligibility remaining as well as one season of outdoor eligibility. The question is whether Tuohy decides to stick around to use all of it. With her NIL deal with adidas, some of the financial pressure of turning pro has been removed, but she could stand to make a lot more as a full professional – one source told us the NIL deals signed by recent collegiate track athletes are much smaller in value than full endorsement deals. And as a pro, the competition is better, though there is nothing stopping Tuohy from racing pros while a collegian or going to Worlds. Tuohy clearly is thriving while being on an NCAA team, and if she stays in college, you are an all-time great if you run 14:45. If you run that as a pro, you're barely inside the world top 20.
Tuohy said post-race that she and coach Laurie Henes did take some time to acknowledge how far she's come in the last 365 days. Last year at NCAA indoors, she was 2nd in both the 3k and 5k and had never won an NCAA title. Now she seems unbeatable. She credited it to staying healthy.
Women's 800: Roisin Willis edges Whittaker in battle of phenoms 
Round 1 goes to Roisin Willis. 
The first NCAA battle between the three teenage American 800 phenoms lived up to the hype. In the end, the teen phenoms went 1-2-3. Stanford's Roisin Willis, the World U20 champ, was your winner in 1:59.93 as her Stanford teammate, Juliette Whittaker, the US HS record holder, was second in 2:00.05, with LSU's Michaela Rose third in 2:00.85.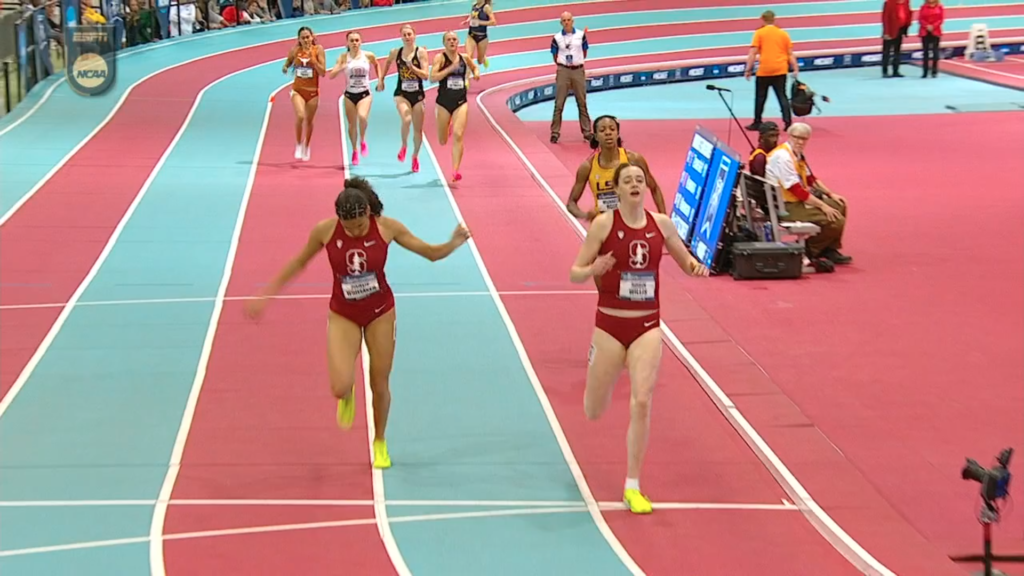 Willis took the first 200 out in 28.31 but Rose took the lead at 300 as the top 3 broke away, hitting 400 in 58.96 and 600 in 1:28.58 with Rose leading throughout. Rose led all the way until the final 50 when coming off the final turn she ran out of gas. Willis took the lead and then just held off Whittaker, who had the fastest last lap (30.93 to Willis' 31.03 and Rose's 32.28) but didn't win as she had to run extra ground as she was in third for most of the lap.
Rose, unlike so many runners, did a great job of staying on the rail throughout the final lap. Had she drifted wide, it's possible Whittaker could have gotten the win with an inside pass.
Race Video *Results w/ splits
Quick Take: The future of US women's 800m running is very bright
Entering NCAAs, the teenage trio of Willis, Whittaker, and Rose were the class of the field on paper. But none had ever run an individual event at an NCAA championships before. How would they handle the championship stage? Absolutely brilliantly. Willis and Whittaker played key roles in Stanford's victorious DMR on Friday, and today they went 1-2 with Rose a competitive 3rd. They were very clearly the three best runners in the NCAA, with fourth-placer Claire Seymour (who always seems to come up big at NCAAs) finishing more than two seconds behind.
Willis' winning time of 1:59.93 puts her #2 on the all-time college list, with Whittaker at #3 (2:00.05) and Rose now at #4 (2:00.18 from earlier this season). 
But Willis, Whittaker, and Rose aren't among the fastest collegians – they were some of the fastest American women in the 800 this year, period. Willis finished the indoor season as the US leader with Whittaker #2. Rose's 2:00.18 sb ranks her #4 in the US this year – just .02 behind US indoor champ Nia Akins. The competition will be more fierce outdoors, however. The US's top four 800 runners last year – Athing Mu, Raevyn Rogers, Ajee' Wilson, and Sage Hurta-Klecker – combined to run just one 800 this indoor season.
The good news for Willis is she is only 18-years-old, Whittaker and Rose only 19. The bad news for them? Athing Mu, the Olympi and World Champion is only 20-years-old.
Quick Take: Whittaker ran out of room but was pleased with how she raced
Few events are more tactically challenging than the indoor 800 meters, which offers high speed, tight turns, and limited real estate. Whittaker and Willis were running about the same speed over the final 100 meters, but Willis had position over Whittaker as both tried to pass Rose on the final turn. With Rose in lane 1 and Willis on the line between lanes 1 and 2, Whittaker was not in an ideal spot to pass. 
Instead, Whittaker chose to wait until the home straight to make her move. She wound up running out of room to catch Willis, but was still pleased with how she ran – finishing 2nd behind one of the fastest runners in NCAA history.
"Once you get around that turn, the line's right there," Whittaker said. "I definitely didn't want to have to go out to lane 2 or even 3 for that end, so I just tried to save my kick for that last straightaway. And luckily, I had something left. So I'm happy about that."
Quick Take: Whittaker and Willis love training with each other
Whittaker and Willis have been racing each other for more than three years and as they rose through the ranks of the sport, each breaking high school records (Willis in the indoor 800, Whittaker in the outdoor 800), they struck up a friendship. Whittaker said she wound up choosing Stanford in part because Willis was going there, and midway through their freshman year, being teammates has been even better than they could have imagined.
"I don't think I truly understood how amazing it would be to have a teammate like her pushing me in every workout," Whittaker said.
On the track, the two are quite different. Willis is a 400/800 type who likes to push from the gun; Whittaker is more of an 800/1500 runner who likes to make her move midway through the race. Willis is better at speed sessions, Whittaker strength work. And they don't run every rep together – sometimes Stanford coach J.J. Clark has them run the same workout but separates them on certain reps so they can learn paces without relying on each other. But together, they've been able to push each other to be the best they can be, and the results have been spectacular.
"There's days where we finish a rep and we're just like, wow I'm so grateful you're my teammate," Willis said. "Because we're doing things in practice that are pretty special."
Quick Take: Stanford is 800 U
Stanford's JJ Clark was already the most accomplished 800m coach in the NCAAs. But after leaving Tennessee and coaching at UConn, he wasn't coaching NCAA or USA champions. That definitely has changed and should appear to be the case for a few more years as the future of the 800 is very bright at Stanford.
Women's Mile: Olivia Howell comes out on top after great duel with Lauren Gregory
Illinois's Olivia Howell, who only was the 20th fastest miler in the NCAA this year during the regular season and only got into the meet after several women didn't enter the mile, won a thrilling mile over Arkansas' Lauren Gregory as Howell won in 4:34.00 to Gregory's 4:34.24.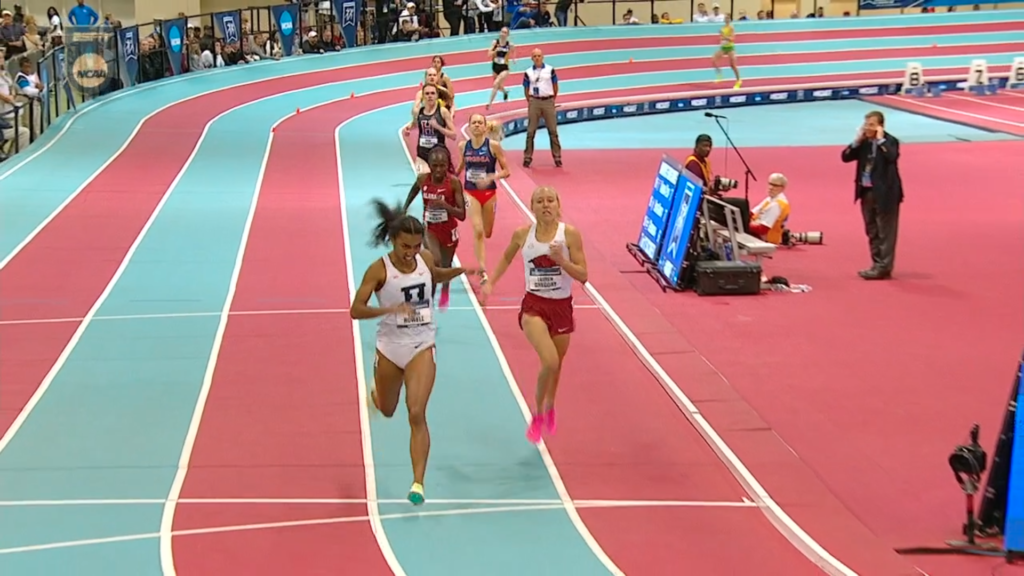 Heading into the last lap, Gregory tried to take the lead from Howell but Howell repelled her, only for Gregory to take the lead on the final turn. Howell dropped back but then came back on Gregory to win on the final straight after a 31.17 final 200.
Howell, who was competing in her fourth NCAA 1500/mile final, was far from an unknown. She was actually the top returner from last year's race in 5th. And even though she won all three of her mile races this season, she came into NCAAs somewhat overlooked due to her 4:33.77 season's best which ranked her only 20th nationally, meaning four women had to scratch just for Howell to make it into the meet. Howell said she didn't fret about being on the bubble, and once five women did indeed scratch, Howell took full advantage.
As for the dramatic finish, Howell said that when Gregory tried to pass entering the final turn, she knew she could either try to fight her off or, failing that, stay close and not get dropped. Howell chose the latter option, trusting herself to respond in the home straight.
"I knew I still had a little bit left in me," Howell said.

Race video *Results/Splits
Lauren Gregory had no regrets whatsoever and Arkansas won the team title thanks to her heroism
If at first you don't succeed, try, try again. Gregory came to Arkansas as a big-time recruit but she certainly didn't find instant success. The three-time Colorado XC 5A state champion and four-time HS state champion on the track (2 x 3200, 1 x 1600 and 1 x 800) was 3rd at NXN in 2016 and had HS pbs of 2:10.94 for 800, 4:41.11 for the mile and 10:05.26 for the 2 mile.
Yet, when she first showed up at NCAAs in 2017 in cross country, she finished 252nd. The next year she went back and dropped out. As a sophomore, she did place 7th in the 3k indoors and 10th in the mile but she didn't make it outdoors. As a junior, she was just 72nd in XC before COVID wiped out NCAA indoors and outdoors in 2020. So in her first three years of college, Gregory had never finished higher than 7th in track or 72nd in XC.
We compiled all those stats this afternoon thinking Gregory would be an individual NCAA champ but she came up a little bit short. Still, she had a spectacular weekend as she also split 4:31 in the DMR yesterday and took Arkansas from 6th to 2nd, which proved instrumental in their team title.
When we asked her what impact the DMR had on her today, she said, "None at all. That's what I wanted to do. [Coach Lance Harter] left it to my choice and that's what I wanted."

In terms of tactics, Gregory also had no regrets, "I'm not upset about second. I will take a race any day and that tactically I wouldn't change a thing. I just didn't have the final push," said Gregory. "It's just sad to be done. It's just sad."
"[Tactically] that's exactly how I hoped it would play out. So when it got going, I was like, 'Ok we're going.'"
If Gregory had won individually today, it would have been interesting that a former NCAA 10,000 participant won her first NCAA title in the mile. When we asked her what direction she'd be planning to do outdoors, she said 1500 and 5k was what she was thinking, but acknowledged she may not be able to do either.
"I have some health concerns so outdoors is a maybe," said Gregory who was visibly limping in the awards area and instead of walking away ended up jumping on a guy's back and being carried away. She was later spotted in a boot.
Our interview with Gregory came early in the meet before Arkansas ended up winning the team title by just four over Texas. If Gregory didn't run the DMR last night on a badly injured foot, she might have won the mile today but Arkansas wouldn't be team national champs.
Lauren Gregory at NCAAs
2017-2018
XC: 252nd
Indoors: DNC
Outdoors: DNC
2018-2019
XC: DNF
Indoors: 10th mile, 7th 3k
Outdoors: DNQ (Dnf in regional 5k)
2019-2020
XC: 72nd
Indoors: Cancelled
Outdoors: Cancelled
2020-21
XC: didn't compete (XC was held right after indoors. Did indoors)
Indoor: 2nd in DMR. 2nd in 3k.
Outdoor: 21st in 5k
2021-22
XC: 19th
Indoors: 3rd 3k, 4th 5k
Outdoors: 5k – 5th. 10k DNF.
2022-23
XC: No eligibility
Indoors: 2nd DMR. 2nd mile
Outdoors: TBD
Be a fan and talk about the meet on our world-famous fan forum / messageboard.
For coverage of the rest of the NCAA meet, go to the front page or here: Complete 2023 NCAA Indoor Coverage