Men's NCAA Recap: Houser Wins the Mile for Washington, 800 DQ, Messaoudi Denies Drew Bosley
By LetsRun.com
March 11, 2023
For coverage of the rest of the NCAA meet, go to the front page or here: Complete 2023 NCAA Indoor Coverage
ALBUQUERQUE, N.M. –  The 2023 NCAA Indoor Track & Field Championships concluded with the Arkansas Razorbacks taking home the men's team title. But this is LetsRun.com and our focus is on the distances and the final day saw controversy in the men's 800m, a University of Washington runner fittingly taking home the men's mile, and Drew Bosley still waiting for NCAA title #1.
Quick distance recaps below with race videos and results. We've now updated the article with analysis and post-race interviews.
Men's Mile: Luke Houser (Only Their 5th Fastest Miler of the Year) Gets It Done for Washington
2023 has been the year of the University of Washington in the men's mile and that continued in the men's mile final at NCAA Indoors as Luke Houser got the win in 4:03.33, edging Isaac Basten of Drake, who put on a late charge and finished in 4:03.36. NCAA leader Anass Essayi finished third and NCAA outdoor 1500m champion Joe Waskom was fourth.
Article continues below player.
The fact Houser was only the 5th fastest Washington Husky in the mile this year shows how good the Huskies have been as Houser was 5th at NCAAs last year outdoors.
After a slow opening 609m (1:37.4), Brian Fay of Washington started pushing the pace and led at 809 (2:07.4). Houser would take the lead on the inside just before the completion of 5 laps (2:38.29) and never gave it up.
Houser, with his smooth running style, controlled the race perfectly from the front the rest of the way as the more credentialed Waskom and Essayi were making mini moves behind him. Each of the 3 laps Houser led was faster than the one before, as he went 29.80, 28.9, and 26.4 to get the title. Waskom tried to get the lead from him before the final turn, but Houser just held him off. The last 100m it looked to be all Houser until Drake's Isaac Basten made a furious charge in lane 1 and nearly snuck by for the win. Houser had no idea he was there as he was more focused on Eassyi and Waskom who had been on his outside.
Race Video: 
Quick Take: Yet another reminder – the fastest way to the finish is in lane 1
Last year, Ole Miss' Mario Garcia Romo only had the sixth-fastest final lap but still won the NCAA mile title. Why? Because he didn't have to navigate any traffic on the final lap and as a result could run the shortest distance to the finish line. Front-running can be risky in a 1500 outdoors, but NCAA indoor finals are often tactical, and in those situations, having the lead with 400 to go can be a tremendous advantage as you aren't running any extra distance. Houser closed in 26.39, which was only the fourth-fastest last lap in the field. But to beat someone running a 26.39 for almost exactly 200 meters, you have to run 26.39 minus whatever gap you had at the bell, minus the penalty for running extra distance when you pass someone. That means you have to run the equivalent of much faster than 26.39, and not many NCAA athletes can do that at the end of a mile final.
Quick Take: Houser and Waskom are both Washington natives who have gone on to win NCAA titles at their local school
When Washington put eight guys under 4:00 in the mile for the second time this season last month, we pointed out that a number of their athletes were fairly old by NCAA standards or had broken 4:00 before enrolling at UW. But the two guys to have actually won NCAA titles, Waskom and now Houser, are both 21-year-old Washington natives – Houser from Woodinville, Waskom from Snoqualmie. The two have been racing each other since middle school – in fact, Houser didn't even win his conference meet as a high school senior because Waskom beat him. While both were fast in high school (Waskom had a 4:06 1600 pb, Houser had a 4:08 mile pb), neither was a phenom.
For the two of them to both win NCAA titles for their home state university is pretty cool. The team culture is clearly quite special at UW, as the guys were screwing around and trying to distract Houser during his post-race victory interview.
"We are so stoked that Luke won today," Waskom said. "Obviously we wanted to win, but I am so fucking happy for my boy."
As for Houser, winning was always the goal and he said he had good momentum after being behind the guys earlier in the year. 
Quick Take: Andy Powell had no idea which of his guys was going to win today but was incredibly proud of how they ran
Powell thought all four of his finalists today had a shot to win on the right day. The plan was to get their guys to the front by 1000 meters and for Houser to take the pace at that point. From there, Waskom's job was to get onto Houser's shoulder and fight off anyone trying to pass, trying to protect a Washington 1-2. Things were looking good at 1200 as UW was running 1-2-3 with Houser, Waskom, and Fay, but Waskom and Fay could not quite hold on and UW had to "settle" for 20 team points and a 1-4-5-8 finish – the first time one school has had four All-Americans in the mile in the same year.
Powell has coached some special mile groups in the past – the 2010 Oregon team that went 1-2-3 in the NCAA 1500 and the crazy-deep 2015 Oregon team that included Edward Cheserek, Eric Jenkins, Sam Prakel, Colby Alexander, Johnny Gregorek, Daniel Winn, Will Geoghegan, and Blake Haney. Powell said that squad was great because it really bought into the team mentality, and he said that's one of the reasons this year's UW squad has been so good as well.
"I never thought, in 2015, that I would ever see anything remotely close to that again, honestly. I knew that was a really special thing. So to have something similar is really great."
Powell punted on answering who would win a 4xmile between the 2010, 2015, and 2023 squads (he said the older teams could have run similarly fast times with the shoes and tailored races the 2023 team has enjoyed). We wish we had a time machine so we could settle that question.
Quick Take: Isaac Basten was proud yet devastated to finish 2nd
Basten prides himself on his tactical ability and he ran a pretty smart race today in his fourth NCAA final. In this race last year, Basten was 5th but said he never put himself in position to make a move to win. At NCAA outdoors three months later, Basten moved too soon and as a result went from 3rd to 10th in the final 100. Tonight, Basten timed things almost perfectly but ultimately ran out of track at the end of the race and had to settle for second.
Basten said it came down to a move he didn't make, where he tried to pass Waskom but could not get around and had to dip back inside (Basten said the move was with 150 to go, but it looked like closer to 220 to go). Because of that, Basten had to run the final lap on the rail, and while he saved distance, he also found himself blocked by Waskom until the home straight. Once free, Basten came storming down lane 1 and came just shy of nipping Houser at the line.
Basten regretted not moving harder to pass Waskom and put himself in better position to challenge for the lead, saying his fear of moving too hard, too early as he did outdoors was still lingering. But the result was an attempted move that only served to waste energy.
"Those moves aren't good in running," Basten said. "You can't half-commit to a move."
Overall, Basten still ran a smart race – if the rail opened up just a hair earlier, we'd be praising him for a tactical masterclass – but he really, really wanted to win this race. Right before we interviewed him, we heard Basten say, to no one in particular, that this race would haunt him the rest of his life.
Men's 800: Yusuf Bizimana wins a wild one after Navasky Anderson is DQ'd
The men's 800m offered drama from start to finish…and then some more once everyone crossed the finish line. The opening pace was hot: Clemson's Tarees Rhoden hit 200 in 24.01, then NCAA outdoor runner-up Navasky Anderson of Mississippi State took over and hit 400 in 50.55.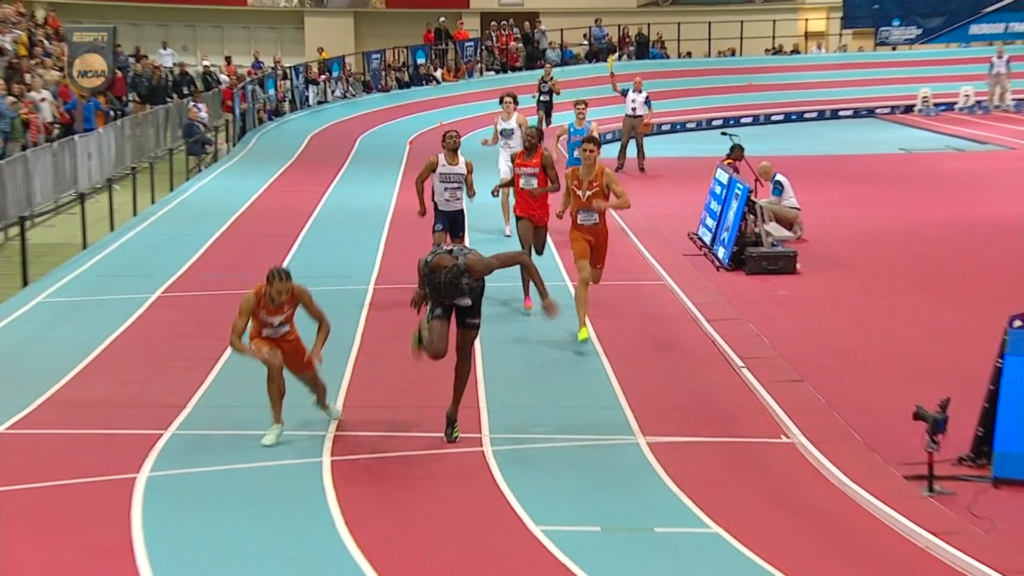 At that point, the big question was whether Anderson could hold on. He hit the bell with a 7-meter lead but Texas' Yusuf Bizimana was closing fast. Anderson, who was tying up mightily in the final meters, drifted out from lane 1 to 3 to hold Bizimana off and was ultimately DQ'd after Bizimana finished in lane 4. Anderson's time had been 1:45.90 before it was wiped out; Bizimana clocked an outright pb of 1:46.02 as his Texas teammate Crayton Carroza got up for 2nd in 1:46.78.
See the dramatic finish for yourself below:
Race video: 
Quick Take: The DQ was the right call
NCAA Rule 7, Section 5, Article 3c states: The referee, after consulting with the appropriate officials, shall disqualify a competitor who veers to the right or to the left so as to flagrantly impede a challenging runner or forces the challenging runner to run a greater distance.
(The NCAA rulebook defines "impeding" as "preventing or obstructing the progress of a competitor along the competitor's established course.")
It's hard to argue that didn't happen here. Within the span of seven steps, Anderson veers from lane 1 to lane 3, which in turn forces Bizimana out to lane 4. There wasn't contact, but Anderson caused Bizimana to alter his established course and run a greater distance. 
The sad thing is Anderson probably would have won if he'd just stayed in his lane and run to the finish line, though it would have been close. We do know the rulebook needs a softer penalty than a DQ. He should have been placed 2nd instead of expelled from the results.
That being said, we've been thinking recently that maybe there should be a new rule: if you have the lead coming off the turn and don't finish the race in lane 1, you are automatically DQ'd. Think about it, there is no reason for the race leader to leave lane 1 unless they are trying to impede someone else.
But that would make racing a little more boring as you wouldn't see people winning races with inside passes or the Tokyo drift.
Discussion: DQ!!! in 800?!! or Great Racing? 
Quick Take: Yusuf Bizimana is really enjoying his new training under Edrick Floréal and the "hybrid workouts" he's getting
The Brit Bizimana has a bit of an endurance background as the first race he ever ran outdoors for Texas was actually a 5000 (14:12 and he won it at the Texas Relays) but now that Pete Watson has left for Boston College, Bizimana is training under Texas head coach Edrick Floréal and working on getting his "speed up."
"At the end of the day, he's like, 'The 800 is a sprint event. You've got to have speed, you've got to have strength and you've got to have guts. And that's what Coach Flo gives me," said Bizimana, who was full of praise for his ex-coach Watson who brought him to the NCAA.
Quick Take: We were the ones who had to tell Anderson he was DQ'd
Regardless of what the results say, he should be very proud of running a gutsy race.
Quick Take: Will Sumner was a total non-factor but he didn't let that impact his 4 x 400
Sumner, who nearly broke the US HS record last year when he ran 1:46.53, went out in 4th at 200 but by 400 (52.45) he was 7th and he'd end up last in 1:51.46. However, at the end of the meet he came back and anchored Georgia's 4 x 400 with a 44.76 (his 400 pb last year was 45.78).
Men's 3000: Fouad Messaoudi denies Drew Bosley
Duncan Hamilton on Montana State served as the pacesetter for most of this, more than keeping it honest, running 4:12 for the first 1600 at altitude. Drew Bosley, the NCAA record holder in this event, took over with 600m to go and tried to get his first NCAA title after his 3rd place in the 5000m yesterday.
He got a little separation on the field the final lap, but Fouad Messaoudi of Oklahoma State was close enough and kicked hard the final straight to get passed Bosley and get the win in 7:48.10 as Bosley settled for 2nd in 7:48.34, just ahead of Jackson Sharp of Wisconsin as Casey Clinger got 4th after his runner-up in 5000m.
Race video
Quick Take: The collegiate record holder Bosley wanted to win but was very proud of his race and the improvement he's made
"I feel really good. I'm sure everyone saw it. I poured my heart into that one…A year ago at this meet, I was holding on for dear life to score a point for my time and a year later I'm consistently competing at the tip of the spear of the NCAA and I'm not going anywhere," said Bosley, who then praised the NAU culture. He said he was super inspired by Nico Young's 4th place finish in the 5000 last night (Bosley was 3rd) as Young stepped up for NAU despite having a hampered buildup.
Prior to this race Fouad Messaoudi was confident even though he'd never run in the NCAAs individually before and he delivered
Prior to this race, we bumped into Oklahoma State coach Dave Smith and asked him if his DMR guys had a shot in the 3k and he said that both of his guys were talking about winning it. Messaoudi, who gave Oklahoma State a big lead on the 1200 leg the day before, was very confident and acting like it would be a dual meet with his teammate Ryan Schoppe. Schoppe ended up only 14th but Messaoudi delivered in his first NCAA individual track appearance. Messaoudi, 22, had run 3:38 before coming to Oklahoma State but last year in his first year at the NCAA level he didn't run individually at NCAAs. He ran just the DMR indoors and then was 13th in the 1500 at Regionals (top 12 go). A 12th place showing in XC showed he was much better this year and now he's an NCAA champ.
Be a fan and talk about the meet on our world-famous fan forum / messageboard.
For coverage of the rest of the NCAA meet, go to the front page or here: Complete 2023 NCAA Indoor Coverage