Heather MacLean World Leading Mile, Woody Kincaid Keeps Train Rolling- New Balance Indoor Grand Prix Distance Recap
By LetsRun.com
February 4, 2023
BOSTON – The 28th edition of the New Balance Indoor Grand Prix made its debut on Saturday at The TRACK at New Balance, a beautiful new indoor facility in Boston. While the action on the track was hot, the best news for track & field fans may have been that the facility was nearly packed with roughly 4,000 spectators. Officially, the meet was a sellout. In reality, there were still a few empty seats. But by US track standards, the crowd was great and meet director Mark Wetmore told us ⅔ of the crowd consisted of first-time ticket buyers.
The biggest story at the meet was two-time 200m world champion Noah Lyles upsetting Trayvon Bromell in the 60m, and showing this may be the year he really does attempt the 100-200 double at Worlds. We recap that race here.
LRC Noah Lyles Edges Trayvon Bromell in 60m at NBIGP as He Begins Chase of 100/200 Double in 2023
New Balance star Sydney McLaughlin-Levrone only ran 7.33 seconds in the 60 and missed the final, but she talked about her 2023 training situation and plans – find out all the details here.  
There was also a world indoor best in the women's 500 meters as the Netherlands' Femke Bol ran 1:05.63 to smash the previous record by more than six-tenths of a second.
We break down the distance action below.
Women's Mile: Heather MacLean Wins Thriller in World-Leading 4:23.43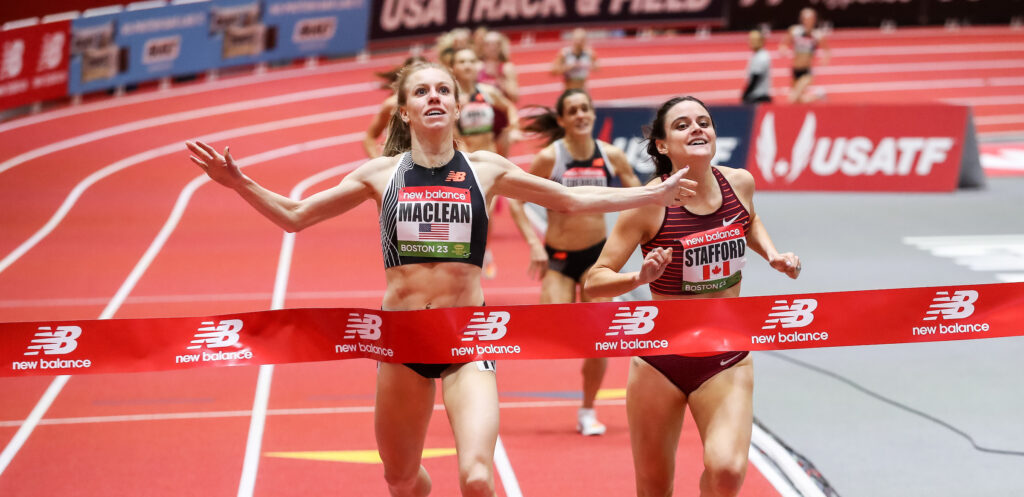 2022 US leader at 1500 Heather MacLean got a nice win on her home track in a world-leading 4:23.43 after a great battle with Canada's Lucia Stafford on the final lap.
Article continues below player.
MacLean led after the rabbit dropped out at 800 (2:10) and kept the lead until the final turn. Stafford went by but MacLean had just a little something left to battle back on the final straight to get the win and world leader.
QT: MacLean starts off her miling season where she left off in 2022
No American woman was running better than Heather MacLean in the 1500 at the end of 2022. That still appears to be the case. And that is a good thing for MacLean as this year she is doing it without her normal training partner Elle St. Pierre, who is out due to pregnancy.
This was a particularly meaningful win for MacLean. She grew up 25 miles north of Boston in Peabody, went to college at UMass, and now runs professionally for New Balance Boston and as a result had a lot of family in the house today. 
But her connection with The TRACK goes deeper. She ran the 1200 leg when her New Balance team broke the DMR world record at the first meet here in April 2022. Plus MacLean's father, Robert, was an ironworker in Boston, and his union, Ironworkers Local 7, helped build this track. Robert died exactly six years ago today and MacLean honored that anniversary with a win.
On the boards: MacLean is back and smoking! 
QT: Lucia Stafford is back training with college coach Terry Radchenko
Stafford was already considering leaving the Bowerman Track Club last year when her older sister Gabriela DeBues-Stafford departed, and eventually decided to reunite with college coach Terry Radchenko. Now based in Toronto, Stafford – who ran a Canadian record at 1000 meters last week – feels she is in a good place though she was disappointed not to hold off MacLean today.
QT: Emma Coburn makes return to racing in first race since the death of her mother, will be racing World XC in Australia
The past month has been very emotional for Emma Coburn as her mother Annie lost her battle with cancer.  This was the first race for Emma since the death of Annie. Emma said she's in better shape than this performance (4:28.84) showed but we're not going to criticize anything she did today and this whole thing deserves more than a blurb. Good news for Coburn fans, she and Heather MacLean will be on the US 4x2k team at World Cross Country in Australia. Emma's dad will be joining her on the trip as well.
Men's 3000m: Woody Kincaid keeps the train going
Woody Kincaid, fresh off his 5000m American record last week in Boston (and a quick return trip to Flagstaff), kept the ball rolling as he blasted a 25.79 final 200m to get the win convincingly in 7:40.71 ahead of former DII star Christian Noble, who had his most notable result as a pro. The top 8 all set PBs in this race but Kincaid will face a stiffer test next week in the Millrose 3000. He said he plans to still run The TEN in California on March 4.
QT: Holding serve by winning races is a nice thing for Woody Kincaid
With the Bowerman Track Club, Woody Kincaid rarely was the center of attention. But he came into this race as the favorite and he delivered with a convincing win with a nice kick. Let's see how fast he can go in Millrose. Is racing three weeks in a row too much?
Men's 800: Mariano García wins as Isaiah Jewett runs 1:45.75
World Indoor champ Mariano Garcia of Spain got the win in 1:45.26, but the bigger news for American fans was that Olympian Isaiah Jewett was second in 1:45.75. After his breakout 2021 Olympic year, Jewett only managed to run 1:45.68 outdoors last year so this indoor pb was a great way to debut in the 800 in 2023 (he had run a 600 and a 400 and 4×400 before this).
QT: Great opener for Jewett
Jewett made his name as a front-runner in college at USC but today he let Garcia lead and tried to come back on him late. It didn't quite work, but Garcia had to run fast to beat him and 1:45.75 indoors is nothing to sneeze at for an indoor opener. Jewett also convincingly beat US indoor/outdoor champ Bryce Hoppel (4th in 1:46.58) – a good sign for Jewett, not so much for Hoppel.
Men's Mile: Neil Gourley has great final straight to beat Sam Tanner
Kiwi star Sam Tanner blasted off the final turn and opened a little daylight on the field, but Neil Gourley of Great Britain wasn't done yet and managed to claw back past Tanner right at the line for the win. The two had some great duels in 2022, with Gourley winning at the Sound Running Track Meet and USATF Distance Classic before Tanner came back with head-to-head wins at the Pre Classic and Commonwealth Games. Gourley is now 1-0 in their rivalry in 2023 but Tanner will have a chance to even the score next week at Millrose.
QT: Good racing – up next how: fast can they go at Millrose?
Tonight's time wasn't crazy-fast. This was just an old-fashioned race. Tanner only arrived from New Zealand on Wednesday after going from temps in the 80s in the NZ summer to temps in the negatives in Boston's coldest weekend of the year. That didn't stop him from warming up for this race outside (while very bundled up) and racing well.
QT: Young pros Hobbs Kessler (4:05.01) and Cruz Culpepper (4:02.08) bomb
Unfortunately, we were not able to talk to Hobbs Kessler after this one, but the budding US star, who ran 7:39 for 3000m last week, was never a factor. His agent Mark Wetmore said he had been a little under the weather this week.
Women's 800: Ajee' Wilson Shows Her Poise
Just like last week in the 1000m at the Armory, Ajee' Wilson was gapped with a lap to go. This time Kaela Edwards had the lead. No problem, as Wilson kicked by Edwards thanks to a 30.08 final lap to get the win in 2:00.45
QT: Up next Wilson's 10-year winning streak is on the line at the Millrose
Wilson hasn't lost at the Armory since her first year as a pro in 2013. Her 10-year undefeated streak will be put to the test next weekend at Millrose where she is slated to race Athing Mu at 600 meters. Wilson was a late addition to the field this week, but will Mu actually make her 2023 debut at Millrose? Mu had been considering running the 500 here against Bol but ultimately opted to open up at Millrose instead.
Women's 3000: Laura Muir Wins
The Brits went 1-2-3-4 in this one as Laura Muir got the win in a modest (by her standards) 8:40 her pb is 8:26).
High School Boys' Mile: Rocky Hansen turns back sub-4:00 milers
Rocky Hansen, the North Carolina record holder in the mile (4:00.76), kicked by Connor Burns on the final lap to get a nearly two-second win in impressive fashion in 4:01.11. Burns, who broke 4:00 as a junior last year, led much of the race and said he will attempt to break Hobbs Kessler's indoor high school mile record (3:57.66) next week against the pros at Millrose.
QT: Aaron Sahlman says focus is high school 800m record
Sahlman, the NXN cross country national champion of Newbury Park High School, wants to go sub-4 this year but said his primary goal is getting the longstanding national high school record of 1:46.45.
Girls' High School Mile: Sadie Englehardt Wins
16-year-old Sadie Englehardt showed why she's one of the top runners in the country with the win.
Women's 500: Bol gets world best
The 500 meters isn't run often, so when you put one of the top quarter-milers in the world in the event, the world best is naturally going to be something to shoot at. The Netherlands' Femke Bol, running in a new orange New Balance kit, didn't just break the world best of 1:06.31 (set by Russia's Olesya Krasnomovets-Forsheva in 2006), she obliterated it, clocking 1:05.63 to take more than six-tenths of a second off the mark.