Unofficial US Club Pro Cross Championships Today in Austin
"A True Cross Country Course" "I'm Scared People Are Going to Fall Over"
by LetsRun.com
December 1, 2022
Sound Running's Fitness Bank Cross Champs are today in Austin, Texas.  It is a World Athletics Cross Country Tour Gold Label Meet, and the only stop on the tour in the United States.
Article continues below player
The meet is also serving as an unofficial club cross country championship for US training groups as the On Athletics Club headlines and HOKA NAZ Elite, Taylor Made Elite, Hansons Brooks, Tinman Elite, Puma Elite, American Distance Program, and Altra Roots Running are all sending teams. Next week is the USATF Club Cross Country Championships but those are only open to US citizens.
Individually reigning USA Cross Country Champ Alicia Monson headlines along with former World Championship bronze medallist Emily Infeld and former NCAA XC Champs Whittni Orton Morgan and Edna Kurgat. On the men's side, former NCAA XC Champs Morgan McDonald and Pat Tiernan and Edwin Kurgat are in the field, along with former NCAA XC runner-ups Wesley Kiptoo and Joe Klecker.
*Entries Here *Full World Athletics Preview Here *Message Board Thread *Meet Broadcast at 5:20 eastern on Runnerspace
The Course – "I'm Scared People Are Going to Fall Over", "A True Cross Country Course"
Despite Austin being in the Hill Country, the course is very flat. Both the men and women will run 8k, and the course is essentially five loops just under a mile each. That may sound a bit boring, but the most interesting topic of discussion at the press conference for the meet Wednesday at The Running Event (the trade show for running specialty stores being held in conjunction with the meet) was the course.
How can that be?  The course has some rocky sections without the best footing and also some hay barrels that the runners can jump over or run up an embankment if they want to go around.
Morgan McDonald of the OAC said they were walking up to the course and looking at a section of terrain they didn't think was on the course. He said they thought "Wow, that looks terrible, and then we realized that was the actual course."  He added he doesn't "mean that in a bad way" but that the course is "very different to any course I've run on in the US. It reminds me of back home (in Australia)."
"It's going to be an actual cross country race where people go out there and are running very hard. I'm pretty scared people are going to fall over. I think the fittest people are going to win," he said.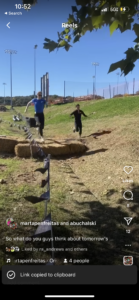 Update: Here is a photo of the course and an Instagram video.
LetsRun.com has not seen the course, but spoke to meet Director Jesse Williams about it. He said his crew is still manicuring it and cleaning it up, so the rocky sections won't be as bad as what Morgan and his team saw, but that there is a section with hay barrels that runners can jump over or if they want to skip them they can run up a little embankment and go around them. He thinks the women will be more likely to go around them than the men.
Commonweatlh Games 1500m champion Ollie Hoare, who is running his first XC race since his 18th place finish at the 2019 NCAA XC Champs, said, it's a "true cross country course where half the section you're fearing for your life and the other half you're trying to push."
Tough Standards for 10,000m Qualifying for Worlds
Another topic of conversation was the tough automatic qualifying standards for the 10,000m for the 2023 World Athletics Championships in Budapest, Hungary. The automatic qualifying standard is 27:10 for men and 30:40 for women. Five US men and four US women have EVER run faster than that. Athletes can also qualify by world ranking points in the 10,000m and World Athletics has said, "the top eight athletes in the world cross country rankings not otherwise qualified through other pathways will be considered qualified for the 10,000m."
To qualify via the cross country rankings placing high in a Gold Label race like this one is very beneficial (and athletes would need two other cross country scores to get a cross country ranking). Some of the athletes hoping to qualify for the 10,000m were under the impression that cross country points apply to their 10,000m ranking, but we think that is incorrect. The big takeaway is the World Athletics Ranking system is a work in progress and qualifying for the 10,000m at the 2023 World Championships in Budapest may be a mess.
*Sound Running XC Champs Discussion
*MB: Cross champs course?
(Press Conference video blow)