Amos Kipruto Breaks Through With 4:21 25th Mile to Win 2022 London Marathon
By Jonathan Gault (in London) and Robert Johnson (In the US)
October 2, 2022
LONDON – 30-year-old Kenyan Amos Kipruto took the lead in the 24th mile and then used a 4:21 25th mile mark to erase all doubt as he went on to win the 2022 TCS London Marathon men's race today in a 2:04:39. It was Kipruto's first major victory in the first marathon to feature six sub-2:04 men on the start line.
The runner-up ended up being a guy without a sub-2:04 pb and a guy who wasn't even listed as an entrant on the London website before the race – 29-year-old Ethiopian Leul Gebresilase. That's not to say that Gebresilase isn't credentialed. He has a 2:04:02 pb and had run 2:04 in his last three marathons, but only a race as stacked as London would fail to mention he was going to be racing.
Article continues below player
Gebresilase ran 2:05:12 for second as Olympic and World championship bronze medallist Bashir Abdi of Belgium ended up third once again in 2:05:19 with Kinde Atanaw of Ethiopia 4th in 2:05:27.
The great Kenenisa Bekele, the former world record holder and Olympic champion at 5000 and 10,000, made history in finishing 5th. After leading at halfway (62:14), Bekele, 40, ran with the leaders almost until 35k. In the end, he hung on and set a masters world record of 2:05:53, breaking the mark of 2:06:25 that Spain's Ayad Lamdassem ran earlier this year in Seville.
The Race
The seven men with pbs at 2:04:02 faster ran together for the first 20 miles and pretty much throughout they were on 2:04 pace as they hit 10k in 29:26 (2:04:12 pace), 20k 59:12 (2:04:54 pace), and 30k in 1:28:49 (2:04:56 pace). The 20th mile (5:04) was the slowest of the race and the reinjection of pace in the 21st mile (4:42) proved too much for Bekele to handle as he gave up seven seconds. However, Bekele never threw in the towel and at mile 23, he was still just seven seconds back as miles 22 and 23 were modestly run in 4:54 and 4:52.
In the 24th mile, Kipruto, who came into London after having run 2:03:13 to finish 2nd in Tokyo in March behind Eliud Kipchoge, decided it was time to make his move and no one could match his 4:36, 4:21, 4:37 (plus a 61 for his final 385 yards – that's 4:38 mile pace) on the way home.
Results and full analysis appear below.
Quick Take: Kipruto ends his drought with breakthrough victory
Kipruto was our pre-race favorite, but the one concern was that he had never won a race as big as London. In 12 previous marathon starts, he had won just twice – his debut at 2016 Rome (2:08:12) and 2017 Seoul (2:05:54). But Kipruto had also logged some impressive podium finishes at majors, including a bronze at the 2019 Worlds and a pair of runner-up finishes behind Eliud Kipchoge at 2018 Berlin (Kipchoge's first WR) and 2022 Tokyo (when Kipruto ran 2:03:13 despite making a wrong turn).
Kipruto's coach Claudio Berardelli told us Kipruto's training ahead of London went even better than it did for Tokyo, so it's not a huge surprise that he won today. Even though this was his first major victory, Kipruto certainly has a claim on the "Best marathoner not named Eliud Kipchoge" label and will almost certainly end the year as our #2 ranked marathoner.
Fun fact, Kipruto is one of seven men who have broken 2:04 in the marathon more than once.
Most Sub-2:04 Marathons
Eliud Kipchoge 6
Wilson Kipsang 4
Kenenisa Bekele 2
Dennis Kimetto 2
Amos Kipruto 2
Birhanu Legese 2
Emmanuel Mutai 2

Quick Take: 4:21 is the fastest mile split we can remember seeing in a marathon
London has seen some great marathoners run some crazy splits through the years, but we can't remember anything like Kipruto's 4:21 25th mile (unless you count Yehualaw's 4:43 for mile 24 in the women's race today). Back in 2018, the men's leaders went mad and ran 4:22 for the first mile. But you can at least understand how that happens – everyone is fit and excited, someone gets carried away, and the rest of the field follows. To do it late in the race with the title on the line is a different thing entirely. Many marathoners – including Kipruto – rarely touch 4:21 pace in training.
MB: Amos Kipruto ran a 4:21 25th mile today to win London. Is that the fastest mile in marathoning history? 
So how does one run 4:21 that late in the marathon? Well if Kipruto is in 2:02 shape right now and was on 2:05:15 pace at 35k, he likely had a lot left in the tank (though his coach Berardelli was still worried at that point – "to be honest I was a little bit concerned when I realized that the race was getting slower. Amos is very good with a constant pace.") And a common refrain about the super shoes is that their added cushioning save your legs compared to traditional flats, allowing top athletes to close harder than before. 
Berardelli said there is no simple answer.
"It's a combination of many things," he said.
Kipruto trains in one of the strongest groups in Kenya. His training partners include the last two Boston champs, Benson Kipruto and Evans Chebet. Both are running fall marathons (Chicago for Kipruto, NYC for Chebet) and have been keeping up with Amos Kipruto in training.
"I'm expecting good things," Berardelli said.
Quick Take: Kenya > Ethiopia (on the men's side)
Kipruto's win means Kenya has now won all four World Marathon Majors so far in 2022 on the men's side (Kipchoge won Tokyo and Berlin, Evans Chebet won Boston). Could a Kenyan man win Chicago and New York and complete the sweep?
That's TBD. But Kenyan fans will be overjoyed with this victory. There were seven men in the elite field with a realistic shot at winning: five Ethiopians, Bashir Abdi of Belgium, and Kipruto. For the lone Kenyan in the field to beat all of the Ethiopians is a big deal.
"It means a lot to me," Kipruto said. "It gives me a lot of morale now."
Quick Take: Another third-place finish for the "Bronze Man"
Bashir Abdi has become known as the "Bronze Man" after his bronze medals at the 2021 Olympics and 2022 Worlds, and he couldn't help but smile after today's race as he was 3rd again in 2:05:19. Abdi wants to win a major eventually, not just finish on the podium, but said he still felt tired after Worlds 11 weeks ago and was therefore proud to post another strong result today.
"It's been a very long season," Abdi said. "I was not fresh today, so I'm happy to close my season with a third-place here in London."
Quick Take: Bekele said injuries limited his preparation, but was still disappointed not to run better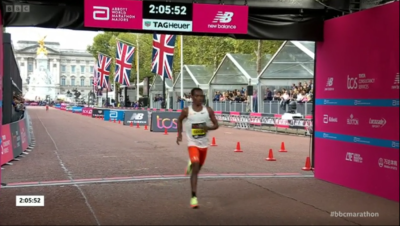 Bekele said earlier this week that he missed some training ahead of last month's Great North Run. He revealed today that, starting about three months ago, he was forced to take six weeks off due to injury to his back and "joints" (he pointed to his knee). Still, Bekele, who ran with the leaders through 30k before falling back, was disappointed to take 5th in 2:05:53.
"Of course, I'm not really happy," Bekele said. "But it's okay. This preparation is short preparation. I couldn't expect this result. I expect better even if the preparation is short. I know my talent, I know my capacity."
Bekele was also asked about the next time he will race Kipchoge – a matchup that had the marathon world salivating in London in 2020 before Bekele withdrew on the eve of the race. Bekele, more than three years removed from his 2:01:41 in Berlin, admitted that there is no point hyping up a Bekele-Kipchoge race until he accomplishes something to merit that hype.
"First I have to show something," Bekele said. "To say I will meet Kipchoge on this time or that, before that, I have to run a fast time. I have to check myself. This is not enough, now."
Quick Take: Brett Robinson runs 2:09:52 pb but still searching for answers for rib problem
Brett Robinson and his coach Nic Bideau believe he has the potential to run the fastest marathon ever by an Australian (currently 2:07:51 by Rob de Castella in Boston all the way back in 1986). After all, Robinson has run 59:57 for the half – almost a minute faster than any other Australian.
The problem is, when Robinson gets deep into a marathon, he always develops a pain in his ribs, similar to a cramp, even though it's something he never experiences in training. It has been so consistent in his races that it has even infected his subconscious.
"I'm kind of the whole marathon just waiting to see if it happens or not," Robinson said. "Even two nights ago, I was dreaming about it."
Robinson and Bideau have tried everything to solve it, including flying to Portland for new exercises in this buildup with strength coach David McHenry, but shortly after 25k (which Robinson passed on pace for 2:08:38), the pain struck again. Robinson was able to fight through it and still run a 63-second pb of 2:09:52 in 8th, becoming the sixth Australian to break 2:10. But the rib issue continues to hold Robinson back from the major breakthrough he believes he is capable of.
Talk about 2022 London on our world-famos fan forum / messageboard
Mile by mile splits for Evans Kipruto
| | | |
| --- | --- | --- |
| Mile1 | 0:04:47 | 4:47 |
| Mile2 | 0:09:33 | 4:46 |
| Mile3 | 0:14:17 | 4:44 |
| Mile4 | 18:55 | 4:38 |
| Mile5 | 0:23:35 | 4:40 |
| Mile6 | 028:25 | 4:50 |
| Mile7 | 0:33:08 | 4:43 |
| Mile8 | 0:37:56 | 4:48 |
| Mile9 | 0:42:41 | 4:45 |
| Mile10 | 0:47:27 | 4:46 |
| Mile11 | 0:52:14 | 4:47 |
| Mile12 | 0:57:01 | 4:47 |
| Mile13 | 1:01:43 | 4:42 |
| Mile14 | 1:06:22 | 4:39 |
| Mile15 | 1:11:09 | 4:47 |
| Mile16 | 1:15:58 | 4:49 |
| Mile17 | 1:20:47 | 4:49 |
| Mile18 | 1:25:37 | 4:50 |
| Mile19 | 1:30:32 | 4:55 |
| Mile20 | 1:35:36 | 5:04 |
| Mile21 | 1:40:18 | 4:42 |
| Mile22 | 1:45:12 | 4:54 |
| Mile23 | 1:50:04 | 4:52 |
| Mile24 | 1:54:40 | 4:36 |
| Mile25 | 1:59:01 | 4:21 |
| Mile26 | 2:03:38 | 4:37 |
| Finish | 2:04:39 | 1:01 |
The splits come from London organizers but they didn't list splits for 4, 6, or 8 so we used the other leaders splits. They had no splits for any of the leaders at mile 15 so it is estimated.