WTW: Woody Kincaid Celebrates Too Early, Elle St. Pierre is Pregnant, Is Bekele Done or In Shape, and It's Time To Stop Rewarding People Who Skip the Diamond League Final
The Week That Was in Running, September 5 – 11, 2022
By Robert Johnson
September 12, 2022

Each week, we try to make the sport more fun to follow by putting the prior week's action in perspective for you. Past editions of our Week That Was weekly recap can be found here. Got a tip, question or comment? Please call us at 844-LETSRUN (538-7786), email us, or post in our forum.  
If you missed our coverage of the 2022 WANDA Diamond League final in Zurich, catch up now: 2022 Weltklasse Zurich Diamond League Final.
Article continues below player
I also don't address the 2022 New Balance 5th Avenue Miles, but you can watch them below.
Women's Race 5th Avenue

Men's Race 5th Avenue
Post-race analysis and interviews here.
****
It's time to end the Worlds wild card for those who don't compete in the Diamond League final
We've long said that track & field needs more meets that matter and LetsRun.com long ago determined that the Diamond League matters. Just as an NFL-focused website would never blow off a Sunday slate of NFL games, we'll never do that to the Diamond League.
We just wish all of the stars of track & field felt the same way. After bemoaning the fact that US stars like Sydney McLaughlin and Athing Mu didn't turn out for the Diamond League final, I decided to compile some participation stats. There were 17 events per sex in the Diamond League this year and the turnout on the men's side was pretty good. 12 of the 17 male Eugene world champions (70.6%) showed up and competed in the Diamond League final and two-thirds of them (66.7%, 8 of 12) won in Zurich.
For the women, the turnout was less impressive. Just 9 of the 17 Eugene world champs (52.9%) competed in Zurich. The success rate was the same — 66.7% won the DL title (6 of 9).
Here is how it broke down.
Eugene World Champs That Competed in DL Final
Men
 
 
200
Noah Lyles
Won it
110H
Grant Holloway
Won it
400H
Alison dos Santos
Won it
800
Emmanuel Korir
Won it
1500
Jake Wightman
Ran 800 and finished 3rd
Steeple
Soufiane El Bakkali
Won it
5000
Jakob Ingebrigtsen
Ran 1500 and won
HJ
Mutaz Essa Barshim
6th in HJ
PV
Mondo Duplantis
Won it
TJ
Pedro Pichardo
2nd in Zurich
SP
Ryan Crouser
2nd in Zurich
Discus
Kristjan Ceh
Won it
Women
 
 
100
Shelly-Ann Fraser-Pryce
Won it
200
Shericka Jackson
Won it (also 2nd in 100)
100H
Tobi Amusan
Won it
1500
Faith Kipyegon
Won it
5000
Gudaf Tsegay
3rd in 5000, 6th in 1500
LJ
Malaika Mihambo
4th in Zurich
TJ
Yulimar Rojas
Won it to finish off undefeated season
SP
Chase Ealey
Won it to finish off undefeated outdoor season
Javelin
Kelsey-Lee Barber
2nd in Zurich
Eugene World Champs That Didn't Compete in DL Final
Men
 
 
100
Fred Kerley
DNC — injured
400
Michael Norman
DNC – only ran one 400 after Worlds (44.11), but did run two 200's
LJ
Wang Jianan
Didn't compete on DL circuit all year (only 3 meets total)
Javelin
Anderson Peters
Did not compete after CGs after being thrown off a boat and assaulted
10,000
Joshua Cheptegei
Did not run. Injury kept him out of Great North Run, but he also didn't have points for DL final.
Women
 
 
400
Shaunae Miller-Uibo
DNC. Ran Monaco and NACACs after Worlds but skipped DL final
400H
Sydney McLaughlin
DNC – Hasn't competed in a Diamond League since 2019 Zurich.
800
Athing Mu
DNC after Worlds
Steeple
Norah Jeruto
DNC after Worlds
10,000
Letesenbet Gidey
DNC after Worlds. Marathon debut is Dec. 4 in Valencia
HJ
Eleanor Patterson
Didn't qualify but did compete in CGs and Brussels
PV
Katie Nageotte
DNC after Worlds
Discus
Feng Bin
DNC after Worlds. No DL meets all year. Only one meet besides Worlds.
Moving forward, I know of one rule change I'd make. World champions should forfeit their bye into next year's Worlds unless they compete in the Diamond League final. 
Personally, I think the whole bye-into-Worlds thing, particularly for world champs, should be abolished. It kills off much of the excitement of the US championships when someone like Christian Coleman or Grant Holloway can show up and then just scratch before the final. Or maybe USATF should put its foot down and say we're not going to put you on the team unless you make the US final and give an honest effort in the final. A bye for the Diamond League champions at least rewards people who are supporting the sport and not just focusing on themselves.
###
Next year's Diamond League season is supposed to begin on April 29 in a yet-to-be-determined location in China. Given China's insane zero-COVID policy — and the fact that the 2023 World Indoors in China just got postponed to 2025 — I'd put the odds of it happening at less than 50%.
***
2022 Great North Run: Two totally different ways of winning
The winners of Sunday's Great North Run, which returned to its traditional point-to-point course this year for the first time since 2019, were Hellen Obiri (67:05) and Jacob Kiplimo (59:33). They achieved their victories with contrasting styles.
Kiplimo ran a big negative split. He hit halfway in 28:54 with Olympic 10,000 champions Selemon Barega and Kenenisa Bekele right with him. 28:54 is basically 61-flat pace (60:58) but Kiplimo ended up blasting the second half as he won in 59:33, which means he ran the final 6.9 miles after 10k at 4:26.7 mile pace — that's 58:16 half marathon pace. Of course, considering Kiplimo's world record is 57:31 and there was a wind helping them, and the second half is 20m downhill (which helps you by more than 10 seconds), that's far from a shock.
What was surprising was the way the women's race was run. Obiri hit 10k in 31:41 — which is 66:51 pace. But her winning time was 67:05. So the leading women slowed down over the second half despite the wind and elevation drop.
##
Bekele, who turned 40 on June 13, ended up running nearly dead-even as he finished in 61:01. What does that mean for his fitness heading into the London Marathon in three weeks? It's hard to know for sure and a lot of it depends on his goals.
Whenever Bekele is healthy enough to train and race, that's a good sign as he may be the greatest distance talent to ever live on planet Earth.
And if Bekele was just trying to run marathon effort the whole way as he's focused on the marathon, then he did that pretty darn well — though I'd still have wanted to see him pick it up during the easier second half. 
But if Bekele was going all-out and is dreaming of contending for the win in London, this result wasn't good as the leaders in London might go out at a similar effort.
If Bekele is content to try to run in the second or third pack in London and go for the masters world record (2:06:25), it was a decent result, but when has Bekele ever done anything like that? He's probably still dreaming of the outright world record, not the masters world record, but at some point he needs to be realistic with himself.
👑 L'info du jour ! Combat au sommet hier au semi-marathon Great North Run entre recordman du monde et champion olympique 🤜🤛 Victoire écrasante de Jacob Kiplimo (🇺🇬) avec une moyenne affolante de 2:49/km sur les 21 kilomètres 💨 Podium 100% Nike ! pic.twitter.com/utp8kx1l1M

— RUN'IX (@RUN_IX) September 12, 2022
MB: What's the masters (40+) marathon World record? 
MB: Great North Run 2022 – Bekele in shape? 
****
Woody Kincaid's massive kick gets him a European win / Woody Kincaid gets lucky / Pro coaches, please have your athletes read this column weekly
Often we give out free coaching advice at LetsRun.com but apparently it's not being absorbed by enough American athletes. Just 2.5 weeks after American Alicia Monson lost the Lausanne Diamond League because she didn't lean at the line and started to celebrate early, another American, Woody Kincaid, almost cost himself a victory by pulling a similar stunt.
At the final World Athletics Continental Tour Gold meet of the year in Zagreb on Sunday, the men's 3000 came down to a massive sprint finish with seven guys battling for the win. Woody Kincaid — who has a massively good kick even in European races — went from 7th to 1st in the final 200 thanks to a 25.6 final 200 that gave him the win in 7:38.83.
However, Kincaid failed to contemplate the possibility that someone might have an even bigger last 100 than him, and it nearly cost him the race. As Kincaid was out in lane 3 celebrating his win just before the line, world U20 1500 champ Reynold Kipkorir Cheruiyot of Kenya was charging hard on Kincaid's outside, almost in lane 4. After Kincaid crossed the finish line, he threw his arms up in despair as he thought he'd blown it but the photo finish gave him the win by 0.001.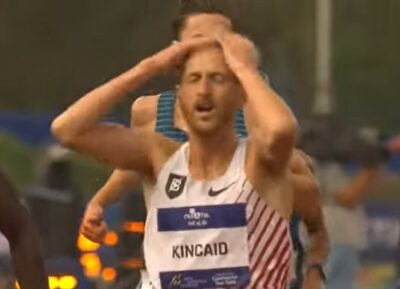 Repeat after me. In a sprint finish, never let up before the line and never celebrate early.
Below you can watch the final 300 and some nice head-on replays.
Farther back in that 3,000, 17-year-old Dutch star Niels Laros ran 7:48.25 to finish 10th and smash the European U18 record of 7:56.4 set by East Germany's Hansjorg Kunze in 1976. It was Laros' second European U18 record in two weeks as he also ran 3:39.46 for 1500 on August 30 in Lucerne. The previous record of 3:39.92 was set by some guy named Jakob Ingebrigtsen back in 2017.
Incredibly, neither of those may be Laros' best event. On August 23 in Oordegem, he ran 1:46.3 for 800m. But that's not the European U18 record as Great Britain's Max Burgin ran 1:45.36 in 2019.
In other Zagreb results, Olympic and world champ Soufiane El Bakkali came up well short of Mahiedine Mekhissi-Benabbad's 5:10.68 world record in the 2000m steepelchase world record as he ran 5:14.06 (#3 all-time).
*Full Zagreb Results
*Woody Kincaid Wins 3000m Thriller In Zagreb 
*MB: Kincaid MF Woody 
****
Elle St. Pierre is pregnant
Last week, Tokyo Olympic finalist Elle St. Pierre, the 6th fastest American 1500 runner in history, posted on Instagram that she's pregnant and is due in early March.
That means St. Pierre was a couple of weeks pregnant when she finished 3rd at USAs on June 25 and more than a month into her pregnancy when she was eliminated from the semis of Worlds on July 16 (you can mess around with an online conception calculator here).
After St. Pierre ran 3:59 at Pre on May 28, it was surprising to see her only finish 3rd at USAs, but now it all makes sense. In hindsight, St. Pierre gave us all a hint when I interviewed her after her semifinal at Worlds as she said, "I'm not really feeling myself these days. I still made it to the semifinals of the World Champs not feeling myself so it's pretty good."
The interview struck me as odd at the time as she had been holding back tears but seemed happy and called the result pretty good even though she was an Olympic finalist. 
The good news is if St. Pierre wants to continue to be a world-class athlete after giving birth, she's very likely to be able to do so. Recently researchers including Dylan Wykes and Trent Stellingwerth published a paper looking at how pregnancy impacted 42 elite distance runners and they concluded, "In the 60% of participants who intended to return to equivalent performance levels post-pregnancy, there was no statistical decrease in performance in the 1-to-3 years post compared to pre-pregnancy, and 46% improved performances post-pregnancy."
If St. Pierre is looking for role model moms to emulate, there are plenty to choose from. Shelly-Ann Fraser-Pryce just concluded the greatest season ever for a women's 100 runner while Faith Kipyegon won Worlds and almost broke the 1500 world record this year. Back in the day, Paula Radcliffe famously won the New York City Marathon just 10 months after giving birth.
More: Impact of Pregnancy in 42 Elite to World-class Runners on Training and Performance Outcomes
****
Recommended Reads / Listen
For recommended reads from other weeks, go here.
***
Quotes Of The Day And Last Week's Home Pages
To see the quotes of the day from last week or last week's home page or any home page, go to our archive page.
***
Got a tip, question or comment? Please call us at 844-LETSRUN (538-7786), email us or post in our forum.