World Leaders by Ingebrigtsen & Korir Highlight 2022 Diamond League Final
By LetsRun.com
September 8, 2022
The 2022 Diamond League season came to a close in Zurich on Thursday with day 2 of the Diamond League final at the Weltklasse meet at Letzigrund. Norway's Jakob Ingebrigtsen (3:29.02 in the 1500), the Dominican Republic's Marileidy Paulino (48.99 in the 400) and Kenya's Emmanuel Korir (1:43.26 in the 800) both ripped world leaders as Noah Lyles (19.52 in the 200), Shericka Jackson (21.80 in the 200), and Shelly-Ann Fraser-Pryce (10.65 in the 100) all managed quick sprint times despite headwinds.
Faith Kipyegon (57.75 final 400) destroyed all comers to win the women's 1500 as Mary Moraa made it an 800 sweep for Kenya by running 1:57.63 to win her first DL title. In the field, Yulimar Rojas and Mondo Duplantis closed out dominant campaigns with victories as American Kara Winger won her first DL title by throwing 64.98m to win the javelin.
A full recap and analysis of all 26 Diamond League finals appears below starting with the distance events.
Distance Events
Women's 1500: Faith Kipyegon closes in 27.8 to win in 4:00.44 1500!!
No one was interested in going with the rabbits in the women's 1500. The world's greatest women's 1500 runner Faith Kipyegon led the race through modest opening splits of 66.2, 2:13.1 and 3:18.38. Might Kipyegon be vulnerable in a tactical race?
Absolutely not. Kipyegon put the hammer down and DESTROYED the field over the last 200 which she covered in a 27.8 (her FAT last 300 was 42.06 and last 400 was 57.75), even though she let up a little bit before crossing the line in 4:00.44. Ireland's Ciara Mageean proved her 3:56 win in Brussels last week was no fluke as she won a tight 3-way battle for "best of the rest" in 4:01.68 over Ethiopians Freweyni Hailu (4:01.73) and Diribe Welteji (4:01.79).
Quick Take: Faith Kipyegon is the GOAT for a reason
In her last Diamond League race in Monaco on August 10, Kipyegon went after the world record and came just .30 short, running 3:50.37 to crush the field. Tonight she chose the opposite approach, coming through 800 in 2:13.1 (as opposed to 2:02.6 in Monaco) but the result was the same as she totally crushed everyone, running her last lap in 57.75 and her last 200 in 27.8.
There's a reason why Kipyegon is the greatest female miler the world has ever seen. She can blast everyone from the front or she can sit and kick, and in either race she's way better than everyone else. What a runner.
If you're wondering why Kipyegon didn't take another crack at the WR after coming so close in Zurich, Kipyegon said her legs were tired at the end of a long season.
"It was a strong field, and I was hoping that when I pushed, they would come with me and it would be a tough race," Kipyegon said. "I enjoyed it anyway, but it was really funny because I honestly believed they were coming with me so it almost felt that I was running on my own towards the end."
Quick Take: Ciara Mageean backs up Brussels win with another fine effort
The 30-year-old Irishwoman Mageean surprisingly won in Brussels last week in a huge pb of 3:56 and she beat everyone again (except from the GOAT Kipyegon) by closing very quickly (58.68 last lap, 28.8 final 200). 
Men's 1500m: Ingebrigtsen rules with world leader
Come on you didn't expect anything else did you?
Jakob Ingebrigtsen ran away from Timothy Cheruiyot over the final 100m to get the win in a world-leading 3:29.02 thanks to a 54.86 final lap. 
The pacer Matthew Ramsden hit 800 in 1:51.4, but it was uneven after a 54.1 first lap. He tried to make it 1000m but couldn't quite do it and then Ingebrigtsen was in front. He led at the bell and on the backstretch Ingebrigtsen, Abel Kipsang, and Cheruiyot pulled away from everyone else. Ingebrigtsen and Cheruiyot eased away from Kipsang around the turn and heading into the final straight Ingebrigtsen glanced over his shoulder and he was already pulling away from Cheruiyot. He would glide away down the homestretch and put his hand up in celebration as he improved on his world-leading 3:29.05 from Lausanne.
Quick Take: What does this mean for 2023?
Coming into this one, we said we wanted to see Ingebrigtsen run 3:28 or 3:27 to give us the confidence that Jakob would have the fitness to run away from Jake Wightman at 2023 Worlds if Wightman is in the same form he was in in Eugene this year. 
In today's race, the splits were very similar to Worlds and Jakob did close better and run faster than Wightman did at Worlds. And Jakob's time today (3:29.02) was better than Wightman's at Worlds (3:29.23).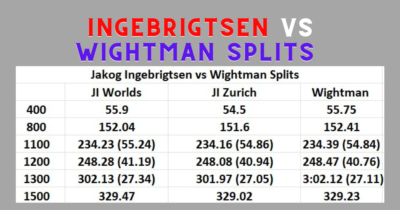 Women's 800m: Moraa goes wire-to-wire
With Athing Mu taking her annual post-Worlds/Olympics vacation, Kenya's Mary Moraa took advantage of Mu's absence and won the Diamond League title in 1:57.63 today ahead of Jamaica's Natoya Goule (1:57.85). American Sage Hurta, who was on Moraa's shoulder as they rounded the final turn, ended up third in 1:58.47. Olympic and World Championship silver medallist Keely Hodgkinson was a non-factor in the final 100 and ended up 5th in 1:59.06.
The race
No one went with rabbit Olivia Baker of the US who went out way too hard (55.9). Kenya's Mary Moraa, who has famously run some wild splits this year, ran a very smart and measured race behind Baker as she was the top racer from start to finish, hitting splits of 27.21, 57.67, and 1:28.24.
Quick Take: What a season for Sage Hurta
Hurta was a disappointing 7th in the US final, but overall her first full year as a professional has been a smashing success as she has PR'd four times in the 800 this year, three times in the 1500, and now has finished 3rd in the Diamond League final.
Some at LetsRun were skeptical of Hurta's decision to focus on the 800 given her strength as 1500 runner (she has run 4:01 this year and was the NCAA mile champ at Colorado in 2021) and the presence of Mu, World Indoor champ Ajee' Wilson, and Olympic bronze medalist Raevyn Rogers all in the event domestically. But Hurta has proven to be one of the best in the world in the event, finishing 2nd, 2nd, and 3rd in her last 3 DL appearances and finishing the year at #8 on the world list (1:57.85). She's broken 1:59 five times in 2022 after never having done it before this year.
She's also running like she belongs as she was right on Moraa's shoulder around the final turn tonight but didn't have enough to challenge her in the home straight.
Looking ahead to 2023, Hurta will have an easier go of it in the 800 as the US will have four spots at Worlds thanks to Mu's bye as world champ.
Men's 800: Korir repeats by going from 5th to 1st
World and Olympic champion Emmanuel Korir was only in 5th place in this one with 200 meters to go but closed better than anyone to repeat as Diamond League champion in a world-leading 1:43.26. Worlds bronze medalist Marco Arop of Canada made the first major move in this one, opening up the race with a surge on the backstraight after a 50.4 first lap, and the field began to string out. Korir was only 5th with 200 to go and only 4th coming off the turn after trying to pass Jake Wightman, but it didn't matter as he erased Arop's four-meter lead with a quick 25.86 final 200. Arop took 2nd in a season's best 1:43.38 with Wightman 3rd in 1:44.10, his second-best time ever.
Quick Take: When he's on his game, Korir is the best in the world and this race showed why
Korir only won two races in 2021, but they were the two biggest races of the year: the Olympic final in Tokyo and the DL final in Zurich. His win rate improved this year as he won four of his eight races, and once again he won the two biggest, Worlds and the DL final.
Clearly, Korir knows how to run his best when it matters most, but it helps to have a margin of error. Korir ran most of the final two turns in lane 2, which you might think would hurt his chances. But he still ran 25.86 for his final 200 even with the extra distance. When you're that good, you don't need to run your best race to win.
Quick Take: This was still a down year in the 800
It was nice to finally see a quick 800 as no one had broken 1:43.5 before tonight and two men did it in Zurich. But Korir's 1:43.26 will still go down as the slowest world-leading time since the late Mbulaeni Mulaudzi of South Africa ran 1:43.74 to lead the world in 2007.
Men's 3000 Steeple: El Bakkali earns first Diamond League title
Entering tonight's race, Morocco's Soufiane El Bakkali had won almost everything in his career, but a Diamond League title was still missing from his resume. El Bakkali patched that hole tonight as he capped a perfect 2022 campaign by easing to victory over the final lap.
The pace wasn't very quick through 2k (5:27.90) when the pacer stepped off, leaving a group of eight led by 2021 World U20 champ Amos Serem of Kenya. El Bakkali was content to stay in the middle of the pack until it was time to strike, seizing the lead on the back straight of the penultimate lap and then opening his stride on the home straight to stake himself to a five-meter lead at the bell.
On the final lap, Worlds 4th placer Getnet Wale made a good effort to keep the gap from growing, moving into second with 200 to go. But he was struggling over the barriers, losing ground with every one, as El Bakkali eased over them, and after the final barrier El Bakkali had enough of a cushion to celebrate, raising his arms to pump up the crowd as he won in 8:07.67.  Wale had to give everything he had just to hold off Kenya's Abraham Kibiwott for 2nd.
Quick Take: El Bakkali is a cut above everyone else in the steeplechase right now
Early in the year it looked as if we would have a back-and-forth battle between El Bakkali and Ethiopia's Lamecha Girma this year in the steeplechase. El Bakkali beat Girma by just .01 at the DL opener in Doha and both men broke 8:00 in a thriller in Rabat in June.
Since then, however, El Bakkali has asserted himself, leaving no doubt who was the best at Worlds and dominating the event since then (Girma hasn't competed since Worlds).
While today's win was something of a formality, El Bakkali said it still meant a lot to him. He had finished second in the last four DL finals by a combined seconds.
"I am very satisfied that I finally got it," El Bakkali said.
El Bakkali's runner-up finishes at the Diamond League final
Women's 3000 steeple: Getachew takes down Yavi in a thriller
There are 28 barriers and seven water jumps in a steeplechase, and one of the biggest challenges of the event is ensuring you have the energy to navigate all of them even when your body is screaming with fatigue on the last lap. That's a challenge Winfred Yavi of Bahrain is still figuring out as for the second time in a major final this year, she fell out of contention late in the race. 
At Worlds in July, Yavi was 2nd entering the final water jump and challenging Norah Jeruto for the win but lost momentum with a poor clearance and wound up out of the medals in 4th. And tonight in Zurich, Yavi dictated the final kilometer of the race but stumbled over the final barrier, allowing Worlds silver medalist Werkuha Getachew to sprint away to victory in 9:03.57. Yavi had to settle for second in 9:04.47 with American Emma Coburn fading to 7th in 9:20.00 after running with the lead pack until the penultimate water jump.
The race went out at an honest pace, 3:01.20 at 1k, but as Coburn took over the pace slipped and at 2k (6:08.31), there were still six women in the lead pack. Yavi took over just before three to go and began picking it up, and by the bell it was down to her and two Ethiopians, Getachew and Zerfe Wondemagegn. Yavi and Getachew broke away on the back straight and Yavi continued to lead until the final barrier when she landed awkwardly, giving Getachew an opening to steal the win.
Coburn had a rough final kilometer (3:11.5) as she lost 16 seconds on the leaders over the final two laps.
Quick Take: Where does Emma Coburn go from here?
Having earned three global medals during her career, Emma Coburn is used to running near the front of the biggest steeples in the world, not finishing as an also-ran. The problem for Coburn is the event reached new heights in 2022. It's not like Coburn ran horribly for all of 2022 as her 9:07.93 seasonal best from Monaco was her 7th fastest race ever, but 9:07 fitness isn't good enough to be competitive in 2022. The event has moved on. 2022 was a record year for the women's steeple both in terms of the # of sub-9 performers and sub-9:10s. At a minimum, you need low-9:00 fitness to be competitive (Coburn's pb is 9:02.35).
Sprint Events
Women's 400m: Paulino joins sub-49 club
With world champ Shaunae Miller-Uibo sitting this one out, World and Olympic silver medalist Marileidy Paulino of the Dominican Republic entered this race as favorite and delivered in outstanding fashion. Leading off the turn, Paulino put the hurt on the field in the home straight, pulling away to win in 48.99 – a world leader and an improvement on her 49.20 pb from last year's Olympic final. In so doing, Paulino became just the 12th woman in history to break 49.
The women's 400 has the potential to be one of the best events in track next year if Miller-Uibo sticks around and Sydney McLaughlin and Athing Mu add it to their repertoires.
Men's 400m: Kirani James wins 3rd DL title
After winning the 2011 Diamond League title in Zurich as a teenager, a 30-year-old Kirani James is once again the Diamond League 400m champion after running 44.26 tonight (he also won the title in 2015). James led American Vernon Norwood slightly coming off the turn but Norwood would fade and instead it was another American, Bryce Deadmon, mounting a late challenge from lane 3. Deadmon ran down Norwood but could not get James and had to settle for second in a season's best 44.47.
It's worth noting that in the pre-programme that Wayde van Niekerk, the world record holder and 2016 Olympic champ, ran a seasonal best 44.39 — his first sub-44.50 time in more than five years, since he won Worlds in 2017 in 43.98.
Women's 100m Hurdles: Tobi Amusan caps amazing year with DL title
Amusan was the breakout star at the World Championships where she ran a world record 12.12 in the semifinal (and then a wind-aided 12.06 to win gold in the final). She ran 12.45 in her last two races and was beaten in Lausanne but she got back on track here with a 12.29 to get a comfortable win over Tia Jones in 12.40.
Jones was a two-time world junior champ and is the US high school record holder who turned pro out of high school in 2019. 
Final, Wind -0.3
Men's 110m Hurdles: Holloway holds on
The plot for the men's 110 hurdles final was the same one we've seen play out all season long: American Grant Holloway got a bullet start, but would he be strong enough over the final three hurdles to hold on for the win? 
This time, the answer was yes. Holloway immediately strode out to a lead of a couple meters over red-hot Jamaican Rasheed Broadbell, who ran 12.99 to defeat Holloway in Lausanne two weeks ago. Broadbell came for Holloway hard but Holloway held form well enough over the final hurdles to hold on and run 13.02 to Broadbell's 13.05, winning his first Diamond League title in a quick time considering the 1.0 m/s headwind.
Final, Wind: -1.0
Women's 100: SAFP runs her 'best' race ever

Jamaica's Shelly-Anny Fraser-Pryce closed out the greatest women's 100 season in history with yet another quick victory, as she won the Diamond League final in her first-ever appearance in Zurich in 10.65 (-0.8), a record 7th sub-10.70 showing in 2022.
Prior to this year, the most anyone had gone sub-10.70 in a given year was just 4 (Elaine Thompson-Herah last year, Flo-Jo did it three times in 1988). Only 20 wind-legal sub-10.70s have ever been run and SAFP produced 7 of them this year.
SAFP destroyed the field as Shericka Jackson was second in 10.81 and Marie-Josee Ta Lou third in 10.91.
If you factor in for the wind, SAFP's mark today was her best performance of the season.
Converting today's mark to sea level and a 0.0 wind, SAFP's time is equal to a 10.61. If you gave her a 2.0 tailwind, it's equivalent to a 10.50 — just 0.01 off the world record. SAFP initially wasn't going to run this race as she wanted to be there for her son's first day of school but the school schedule was changed so she was able to compete. Given her form, someone should set up a race with a tailwind for her so she can get that long sought-after 10.5 clocking.
SAFP's Sub-10-7s in 2022
10.67A -0.4 Nairobi 7-May
10.67 +0.5 Paris 18-Jun
10.67 +0.8 Eugene OR 17-Jul
10.66 +0.5 Chorzów 6-Aug
10.67 +1.3 Székesfehérvár 8-Aug
10.62 +0.4 Monaco 10-Aug
10.65 -0.8 Zurich 8-Sep
@realshellyannfp in 2022 ?
She didn't improve her 10.60 PB set in 2021, but if you look at corrected perfs from wind & altitude she has done it twice at 36yo👀👇
PB corrected: 10.62 set today @ Zürich DL final
2002: 8 perfs ≤ 10.76🔥
Career: 19 perfs ≤ 10.76🔥
SIMPLY THE BEST👏 pic.twitter.com/j4gkcnXj0H

— Patrick Secchi (@secchi62) September 8, 2022
Final, Wind: -0.8
Men's 100m: Trayvon Bromell Caps Season with DL Win
The men's 100m often is the marquee event in track and field but we hadn't had a Diamond League men's 100m in over a month. Perhaps that was best with world champion Fred Kerley out with injury and Olympic champ Marcell Jacobs calling it a season after Europeans.
None of that mattered to Trayvon Bromell, who capped his comeback from injury with the Diamond League title with a comfortable win in 9.94, as he was the only guy under 10.00.
When healthy, Kerley was the fastest and most consistent 100m runner this year, but after that the most consistent was Bromell, so it was fitting he won the DL title.
Final, Wind: -0.3
Women's 400m Hurdles: Bol wins 5th DL of the year to repeat as DL champion
With Sydney McLaughlin skipping the entire Diamond League season, the second-best hurdler in the world Femke Bol has dominated the series in 2022 and capped off her campaign with her 5th DL win of the year tonight in Zurich to win her second straight Diamond Trophy. Former world record holder Dalilah Muhammad ran Bol close through 300 meters and was much improved from her 7th-place showing in Lausanne two weeks ago, but she still faded to 4th in 53.83. Bol ran unchallenged in the home straight, and though her 53.03 winning time was tied for her slowest on the DL circuit this year, it was still enough to give her the victory by a comfortably .69-second margin.
l
Men's 400m Hurdles: Dos Santos finishes year unbeaten
With no Karsten Warholm or Rai Benjamin in this race, the win was a formality for world champ Alison Dos Santos. He did it in style, running 46.98, his third sub-47 of 2022, to move to a perfect 9-0 on the year.
Women's 200m: Jackson crushes field
World champ Shericka Jackson followed up her runner-up finish in the 100 with a dominant win in her specialty event 79 minutes later, running 21.80 into a 0.9 headwind to destroy the rest of the field. No one else came within half a second of Jackson as American Gabby Thomas was 2nd in 22.38.
Final, Wind: -0.9
Men's 200m: Lyles completes a season for the ages
When Noah Lyles runs a 200m race, the question no longer is whether he is going to win but how much he is going to win by. After a dominant campaign that saw him collect wins at the World Championships and in Diamond Leagues in Doha, Monaco, and Lausanne, Lyles was his brilliant self once again on Thursday night, steaming clear of the field by the end of the turn and cruising home for the win in 19.52 seconds, breaking the meet record of 19.66 set by Usain Bolt 10 years ago. Canadian Aaron Brown was a distant second in 20.02.
That was not the only record of Bolt's that Lyles broke tonight as his run was his fourth sub-19.6 clocking of the year – the most in history, and one more than Bolt's legendary 2009 campaign that included the 19.19 world record.
Lyles won all 12 of his races this year, including prelims, and broke 20 seconds in all of them. His slowest time in a final was the 19.86 he ran in his season opener in Clermont back on May 1, and his average time in finals was 19.59 – a time only eight men in history have ever run.
Final, Wind: -0.6
Field Events
Men's Triple Jump: Diaz wins with pb
Cubans won five Diamond League triple jumps this year, including tonight's final where Andy Diaz Hernandez claimed victory after a 17.70m pb (into a 0.8 headwind) from round one held up over world champ Pedro Pablo Pichardo's 17.63m. Even though Diaz Hernandez won eight of his nine meets this year – including three Diamond Leagues – he didn't compete for Cuba at Worlds, though.
Women's Triple Jump: Rojas completes perfect season
World record holder Yulimar Rojas dominated this event as she has all season, going 15.28m in round two, which held up for the win. Ukraine's Maryna Bekh-Romanchuk was a very creditable 2nd with a best of 14.96m.
Women's High Jump: Mahuchikh leads Ukrainian 1-2
A week after clearing a world-leading 2.05m in Brussels, Ukraine's Yaroslava Mahuchikh came through again to take the victory with a best of 2.03m on her final attempt (she had already wrapped up the win with a clearance of 1.97m). She took three attempts at 2.06m but missed them.
Men's Discus: Ceh closes out stellar season with win
Slovenia's Kristjan Ceh has been the best in the world this year in the discus, winning all four regular-season DL events, winning Worlds, and throwing a world lead of 71.27m earlier this year to crack the top 10 all-time. He closed out a terrific campaign with a dominant win in the DL final, throwing 67.10m in the final round to win by a meter and a half over Austria's Lukas Weißhaidinger. 
Women's Discus: Allman wins
2020 Olympic champ Val Allman finished off a great 2022 campaign by beating 2012 and 2016 Olympic champ Sandra Perković in the women's discus with a second-round throw of 67.77. Perkovic threw 67.31 in round 5 for second. In 2022, Allman won 9 of her 11 competitions on the year and threw over 70 meters twice, including a 71.46 American record in April.
Men's Pole Vault: Duplantis bounces back
A week after his shocking defeat to Ernest John Obiena in Brussels, world champ Mondo Duplantis was back to his usual self in Zurich as he won the competition by clearing 5.91m without a miss, then set the bar to 6.07m and cleared that too. His 2022 season, in which he set the overall world record three times – including in both the World Indoor and World Outdoor finals – will go down as one of the greatest in the history of the sport.
Men's Long Jump: Tentoglou wins it
Olympic champion and world silver medalist Miltiadis Tentoglou won three of the four regular-season DL meets and won the final as well, leaping 8.33m in round five and then 8.42m in round six to clinch the victory as American Marquis Dendy finished 2nd (8.18m).
Women's Long Jump: Vuleta wins
Two-time world Indoor champ Ivana Vuleta of Serbia won her fourth DL title (and second in a row) by leaping 6.97m into a 0.7 headwind in round one, a mark that would not be beaten all night. Her third round (6.76) and 6th round (6.62) were also good enough to win as Sweden's Khaddi Sagnia was second at 6.55.
Men's Javelin: Chopra comes out on top
Olympic champ Neeraj Chopra followed up his win in Lausanne with another victory in Brussels, throwing 88+ meters twice tonight, his best an 88.44m effort in round 2.
Women's Javelin: Winger earns the bye; will she use it?
American Kara Winger capped the greatest year of her career by claiming the Diamond League title to go with World Championship bronze and an American record of 68.11m in Brussels. Unlike those two meets, where Winger came through clutch in round six, her fifth attempt was the big one tonight as Winger got out to 64.98m to outdistance world champ Kelsey-Lee Barber of Australia.
Winger, 36, now has a bye to next year's World Championships in Budapest. The question is whether she will use it: she has repeatedly said 2022 will be the final season of her career.