What to Watch For During the 2022 Fall Marathon Season – Gidey Debuts, Farah Returns, Kipchoge Chases the WR (Again)
By Jonathan Gault
August 11, 2022
After the Chicago Marathon's announcement on Thursday morning, the elite fields for the 2022 fall World Marathon Majors season — Berlin, London, Chicago, and New York — are mostly set. We've yet to see a full field for Berlin, and there are always a few last-minute scratches and additions as athletes are sidelined by/recover from injuries. But we now have a good idea of what to expect this fall.
Track season is far from over — we still have the European Athletics Championships in Munich (August 15-21) and three more Diamond Leagues to come. But for those who can't wait until September, here's a look ahead to the biggest marathon storylines of the fall.
Article continues below player
Quick reminder of the dates: Berlin is on September 25, followed by London (October 2), Chicago (October 9), and New York City (November 6)
How do the majors stack up?
Not all marathons are created equal. One of our favorite exercises at LetsRun.com is to compare marathon fields against each other to see where the best athletes are competing.
Typically, the London Marathon — known to have the highest elite budget of the six majors — comes out on top in this exercise. Is that the case again in 2022?
Let's start with the men's fields (I only looked at NYC, Chicago, and London since the full Berlin field isn't out yet).
Going by personal best, it's no contest. London has three of the four fastest men in history in Kenenisa Bekele (2:01:41 pb), Birhanu Legese (2:02:48 pb), and Mosinet Geremew (2:02:55 pb) and eight sub-2:04 men in all. That's a record for a single marathon, and it's way more than New York and Chicago, who have just one sub-2:04 man each.
| | | | | | | | |
| --- | --- | --- | --- | --- | --- | --- | --- |
| | Sub-2:02 | Sub-2:03 | Sub-2:04 | Sub-2:05 | Sub-2:06 | Sub-2:07 | Sub-2:08 |
| 2022 New York | 0 | 0 | 1 | 4 | 5 | 8 | 11 |
| 2022 Chicago | 0 | 0 | 1 | 5 | 7 | 8 | 10 |
| 2022 London | 1 | 3 | 8 | 10 | 11 | 11 | 11 |
But pbs don't tell the whole story. If a guy ran 2:03 in 2015 but is only in 2:12 shape now, that's not very helpful. So let's look at LetsRun.com's 2021 marathon world rankings and see where the top 10 are competing this fall.
1. Eliud Kipchoge — Berlin
2. Bashir Abdi — London
3. Lawrence Cherono — currently provisionally suspended by AIU
4. Benson Kipruto — Chicago
5. Sisay Lemma — London
6. Titus Ekiru — none announced yet
7. Seifu Tura — Chicago
8. Tamirat Tola — London. Update: Tola withdrew from London today.
9. Abdi Nageeye — New York
10. Albert Korir — New York
So Berlin has one top-10 guy from last year, Chicago and New York each have two, and London has three two. New York also snagged Boston Marathon champion Evans Chebet, who would definitely be in our top 10 if we were grading right now.
The verdict: London is still the race to beat — the depth is simply unparalleled with eight sub-2:04 guys.
#WCHOregon22 men's marathon champion Tamirat Tola has withdrawn from #TCSLondonMarathon, @LondonMarathon reported today.

"It is with great regret that I am unable to run this year's TCSLM," he said. Unfortunately, since the World Champs I have had problems with muscle fatigue." pic.twitter.com/5Q17hOF42S

— David Monti (@d9monti) August 12, 2022
Here's how the fall majors stack up on the women's side by personal best (again omitting Berlin):
| | | | | | | | |
| --- | --- | --- | --- | --- | --- | --- | --- |
| | Sub-2:17 | Sub-2:18 | Sub-2:19 | Sub-2:20 | Sub-2:21 | Sub-2:22 | Sub-2:23 |
| 2022 New York | 0 | 2 | 3 | 4 | 5 | 5 | 9 |
| 2022 Chicago | 0 | 1 | 1 | 1 | 4 | 4 | 4 |
| 2022 London | 1 | 5 | 8 | 9 | 10 | 11 | 11 |
Just as on the men's side, the depth in London this year is unprecedented. London features five women with pbs under 2:18, a record for a single race: world record holder Brigid Kosgei (2:14:04 pb), coming off a 2:16:02 victory in Tokyo in March; 23-year-old Ethiopian Yalemzerf Yehualaw, who set the debut record with her 2:17:23 win in Hamburg in April; plus the top three from London last year in Joyciline Jepkosgei (2:17:43 pb), Degitu Azimeraw (2:17:58 pb), and Ashete Bekere (2:17:58 pb). The eight sub-2:19 women is also an all-time record, and double the combined total of New York and Chicago.
Chicago, meanwhile, features a very shallow field for the second year in a row. In 2021, Ruth Chepngetich (2:17:08 pb) was the only woman in the field with a pb under 2:20 (unsurprisingly, she won the race). Once again in 2022, Chepngetich is the only sub-2:20 woman running Chicago, though Chicago has at least rounded out the field with a trio of women (Celestine Chepchirchir, Vivian Kiplagat, and Haven Hailu Desse) who have each run 2:20 and won a marathon within the last 12 months. Still London had 5 women who have broken 2:18, Chicago has just four women who have broken 2:23.
Here's where LetsRun's top 10 from our 2021 world rankings are racing this fall:
1. Peres Jepchirchir — New York
2. Joyciline Jepkosgei — London
3. Angela Tanui — no fall marathon announced yet (finished 6th at Worlds last month)
4. Brigid Kosgei — London
5. Degitu Azimeraw — London
6. Ashete Bekere — London
7. Hiwot Geberkidan — London
8. Nancy Jelagat — no fall marathon announced yet
9. Gotytom Gebreslase — New York
10. Molly Seidel — no fall marathon announced yet
So London has five of the world's top 10 last year, New York has two, and Chicago doesn't have any. At least Chicago has Chepngetich, who would definitely be in the top 10 now after her win in Chicago last year and Nagoya this year.
The verdict: London is not just the class of this year's fall major field; it will be one of the deepest marathons ever on both the men's and women's sides.
What will the world records be at the end of the year?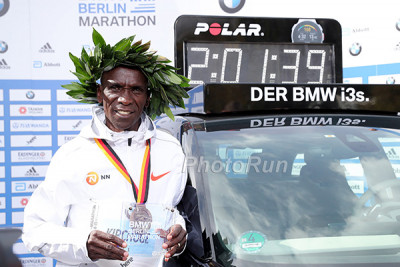 Fans clamoring to see Eliud Kipchoge race in the United States for the first time since 2014 will have to wait at least one more year, as despite publicly stating his goal to win all six majors, Kipchoge passed up New York this fall (which he has never won) to run Berlin, a race he has already won three times. Why? He wants to run fast.
Hasn't he already done that?
Well, yeah. Kipchoge's 1:59:40 could last for decades unless another runner can convince someone to pour millions into a specially-designed record attempt. Kipchoge also owns the official world record of 2:01:39. When he set it, a certain writer predicted it would take 15 years until someone challenged Kipchoge's mark. In reality, it only took a year: Kenenisa Bekele ran 2:01:41 in Berlin in 2019. While those two men are way out ahead of everyone else — #3 all-time Birhanu Legese (2:02:48) is over a minute back — Bekele's 2:01:41 showed everyone else that Kipchoge's WR is not completely untouchable. But it also showed Kipchoge that there's more meat on the bone.
Kipchoge is a better marathoner than Bekele. He doesn't appear to be slowing down (he just ran 2:02:40 in Tokyo in March despite running off-course midway through). If he gets a good weather day on a fast course like Berlin, how much faster can he go? Could we see a sub-2:01? That's what Kipchoge will be looking to find out in September.
Kipchoge may not be the only record-chaser this fall. After battling injuries in 2021, Brigid Kosgei returned to her old form in Tokyo in March by running 2:16:02, and after the race said she believes she is capable of running 2:13 or even 2:12 if she can stay healthy. London will still be plenty entertaining (perhaps more entertaining) without a world record attempt by Kosgei, but it's something to keep in mind this fall.
A clash of champions in New York; can anyone challenge Kosgei in London?
The most exciting possible matchup this fall would have been a race between Peres Jepchirchir, who never loses marathons anymore, and world record holder Brigid Kosgei. Granted, we saw that matchup a year ago at the Olympics in Sapporo, with Jepchirchir pulling away from Kosgei for gold in the final two kilometers, but Kosgei wasn't 100% healthy for that one. Perhaps they'll duel somewhere next spring.
But we will still have some titanic clashes on the roads this fall. Jepchirchir is returning to New York to defend her title, and she will take on Ethiopia's Gotytom Gebreslase in a battle of the Olympic and world champions. Gebreslase took up the marathon less than a year ago, but she impressed by winning her debut in Berlin last fall and so far in 2022 has run two pbs: 2:18:18 to finish 3rd in Tokyo in March, then 2:18:11 to win Worlds in July. Has she improved enough to challenge Jepchirchir, or will Jepchirchir win her sixth consecutive marathon?
The other big-time showdown can be summarized as Brigid Kosgei vs. everyone in London, because you can't exactly ignore 2:17 women like Joycline Jepkosgei, Degitu Azimeraw, and Ashete Bekere. But I'm most excited to see her race the woman we've dubbed Y-squared: Ethiopia's Yalemzerf Yehualaw.
Yehualaw is one of the greatest marathon prospects in history. She has run 29:14 for 10k on the roads (on the track, only Letesenbet Gidey and Sifan Hassan have gone faster) and 63:51 for the half marathon (only Gidey has gone faster). She ran 2:17:23 in Hamburg in April, the fastest debut ever in a race she won by almost nine minutes. She faces a monumental challenge going up against an all-time great in Kosgei, but she may have the best shot of anyone in the London field to challenge her.
Big-time debuts
A quick look at the three debuts I'm most excited for this fall:
Letesenbet Gidey (Valencia)
Did you forget about this? Back in May, it was announced that Gidey will be making her marathon debut in Valencia on December 4. Considering she is the world record holder in the 5,000, 10,000, and half marathon, and considering the 24-year-old Gidey is still smack in the middle of her prime (she just won the 10,000 world title last month), this will be one of the most heavily-anticipated debuts of all time.
Hellen Obiri (New York)
Obiri finished just behind Gidey at Worlds, taking silver in the 10,000, and earlier this year ran 64:22 for the half to put her #5 on the all-time list for that distance. Now she's making her marathon debut in New York — and she'll do so under the guidance of a new coach, Dathan Ritzenhein, as Obiri is moving to Boulder to become the first marathoner in the On Athletics Club.
MB: Hellen Obiri is going to move to the US to train for 2022 NYC Marathon, why?
Conner Mantz (Chicago)
Mantz won't turn as many heads internationally, but from an American perspective, his debut in Chicago is must-watch. The 25-year-old is the best American marathon prospect since Galen Rupp, and he's making his debut relatively early, which is a smart decision. Mantz has been competitive on the track domestically, finishing 5th in the Olympic Trials 10k last year and 4th at USAs in the 5k this year. But he's never going to be a major factor internationally on the track.
In the marathon, however, if you are one of the top 20 guys in the world you are still be a big deal. Who knows if Mantz can get there, but his skillset suggests a bright future over 26.2 miles. He's a two-time NCAA XC champion (the first American to do that since Bob Kennedy 30 years ago) and relishes putting the hurt on others, epitomized by his win at the 2020 NCAA XC champs where he put 22 seconds on the field over the final mile of a brutal course in Stillwater. After turning pro, he ran 60:55 to win the US Half title in December 2021 and is now ready for the challenge of the full marathon. And in Chicago, he'll have a chance to run very fast if the weather cooperates.
Can Mo Farah & Galen Rupp bounce back?
I wonder if Mo Farah regrets trying to return to the track for the 2021 Olympics instead of sticking with the marathon. Ostensibly, he had a better shot at gold on the track than in the marathon, where it was clear Farah wasn't on the same level as Eliud Kipchoge. But Farah then failed to even qualify for the Olympics on the track while his training partners Abdi Nageeye and Bashir Abdi went 2-3 in the marathon in Sapporo. Bad timing with illness and injury on Farah's behalf may have rendered it a moot point, but at 39, he's back for one more go-round over 26.2 miles in London.
Farah's last showing at the distance — 2:09:58 for 8th in Chicago — went poorly, but he posted some impressive results before that, finishing 3rd in London and winning Chicago in 2018. Can he recapture that old form in October? His 2022 didn't start brilliantly with a defeat to club runner Ellis Cross at the Vitality London 10,000 in May, but it would be foolish to write off Farah entirely.
It's also possible that London is Farah's last race as a professional runner. He could keep collecting appearance checks for a few years if he wanted to, but would he do that if he doesn't feel he can be competitive with the world's best?
Farah's former training partner Galen Rupp probably won't be retiring anytime soon but he'll also be looking to bounce back after a 2022 season that has seen him finish a well-beaten 7th at the US 15K champs in March and 19th at Worlds in the marathon in July. His buildup for that race was hampered by a back injury and a bout of COVID, but Rupp said after the race he believes he has turned a corner and is expecting a much smoother buildup for his NYC debut. At 36, he should still have a few years of quality marathoning left in his legs, but as Farah and Rupp have learned, it becomes harder to stay healthy with each passing year.
Rupp is less than a year removed from a runner-up finish in Chicago. Can he string together enough healthy training to contend in New York?
Emily Sisson and Aliphine Tuliamuk return to the marathon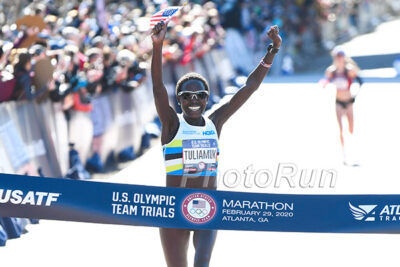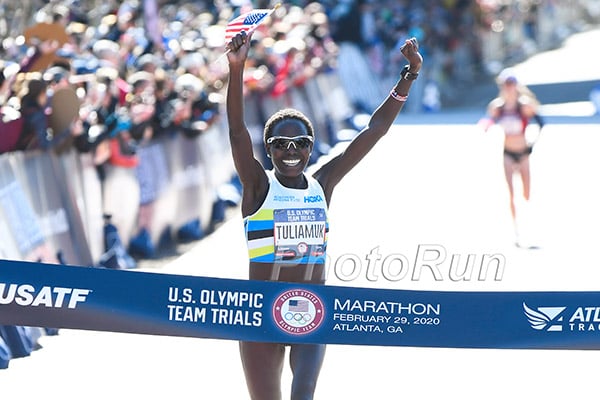 Aliphine Tuliamuk is one of America's best marathoners; her victory in the 2020 Olympic Marathon Trials proved this. But US fans haven't had the chance to see her finish a marathon since then. She took off the rest of 2020 in order to give birth to daughter Zoe in January 2021, then was forced to drop out of the Olympic marathon at halfway due to a hip injury. Tuliamuk has been back and healthy in 2022, winning the US 25K champs and the Bolder Boulder in May, and now she'll take on a quality US field in New York that also features Sara Hall, Des Linden, and Emma Bates.
The 2020 Trials is also the last time we saw Emily Sisson run a marathon. Sisson didn't finish that one — she's not a great hill runner and the course in Atlanta was nothing but hills. Sisson was supposed to run New York last year but withdrew due to injury, and now she's set to make her marathon debut in Chicago and organizers are already hyping it up (the press release said Sisson "could put the American Marathon record in jeopardy").
Thing is, Sisson is good enough to justify the hype. She ran 2:23:08 in her debut at 2019 London, crushed everyone in the Olympic Trials 10,000 last year, and in May set an American record of 67:11 in the half marathon. If all goes well in her buildup, Sisson should be able to run something very fast in Chicago.
No sign of Keira D'Amato and Molly Seidel…yet
Two top American names were absent from the flurry of field announcements this week: Keira D'Amato and Molly Seidel. D'Amato, who just finished 8th in the World Championship marathon as a last-minute replacement for Seidel, told LetsRun she will "definitely" be running a fall marathon but likely won't announce it until the end of August. She's slated to run the Falmouth Road Race on August 21.
Seidel, meanwhile, hasn't raced since dropping out of the Boston Marathon in April and it's possible she skips the fall marathon season entirely. Seidel was supposed to run the World Championship marathon on July 18 but withdrew after developing a sacral stress reaction. In addition, Seidel has been trying to get a therapeutic use exemption for her ADHD medication — something currently banned in-competition by WADA. We may not see Seidel on the roads again until that situation is resolved.
Talk about the fall marathons on our messageboard / fan forum.
*MB: 26.2 fans, these are the storylines you want to pay attention to this fall according to Jonathan Gault