The Meaning of 2:01:39: With His Berlin Masterpiece, Eliud Kipchoge Has Brought the Era of World Record Chases to a Close
By Jonathan Gault
September 20, 2018
In the span of two hours, one minute, and thirty-nine seconds on Sunday morning in Berlin, Eliud Kipchoge changed the sport of running. This seems true, even if, as I watched it happen, it felt hard to articulate exactly how, beyond saying that he ran really, really fast. So I've spent the last four days thinking: how is the sport of running different now than it was at dawn on Sunday?
If Kipchoge's 2:01:39 represented the end of an era — and I think it did — then I would describe the period that just concluded as the Era of World Record Chases. Consider that from December 7, 1981, to September 27, 2003 — a span of almost 22 years — the world record was lowered by a total of 2:40. From September 28, 2003, to the present — a period of not even 15 years — the record has been reduced by 3:59, during which time the sub-2:05, sub-2:04, sub-2:03, and sub-2:02 barriers have all fallen by the wayside.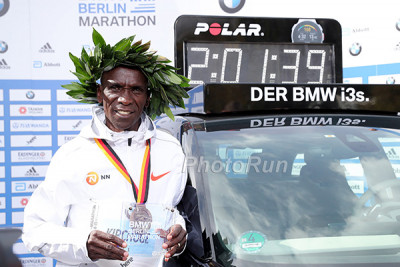 The reasons for this dramatic improvement are not hard to deduce. There is far more money in big-city marathons than there was back in the '80s and '90s. As a result, more runners from East Africa — the world's breadbasket of distance runners — have been encouraged to take up the sport, and more of those runners have been turning to the marathon than ever before. In 2008, Dennis Kimetto was a Kenyan cattle farmer who casually ran around four miles a day. Had he born 15 years earlier, Kimetto may have lived his entire life as a cattle farmer; instead, he was discovered by fellow marathoner Geoffrey Mutai, who invited Kimetto to join his training group. Within six years, Kimetto had broken the world record.
Article continues below player.
With marathon riches as an incentive, more and more of the hidden East African talent has been found. And for the last 15 years, the marathon world record has been the exclusive domain of the East Africans — the last six record holders have all been from either Ethiopia or Kenya, and that trend seems likely to continue: the fastest anyone from outside of those two countries has ever run on a record-eligible course is 2:05:27.
The result of this influx of East African talent to the marathon is that the men's marathon world record has been broken with regularity, six times since 2007, while the men's distance world records on the track have ossified — no one has broken a WR in the men's 1500, 3k, 5k, 10k, or 3k steeple since 2005.
But even in the context of that improvement, Kipchoge's 2:01:39 makes no sense. As the world record gets faster, the rate of improvement should decrease. Yet after taking four years to go from sub-2:06 to sub-2:05, five years to go from sub-2:05 to sub-2:04, and six years to go from sub-2:04 to sub-2:03, it took only four years to go from sub-2:03 to sub-2:02. Kipchoge's 78-second improvement on the existing record was the largest improvement in over 50 years.
What about the shoes?
So why the big improvement? Well, there are two important developments since Kimetto's record: the emergence of Kipchoge as the greatest marathoner in the world and the release of Nike's Vaporfly racing shoes. And at the moment, we can't say for sure exactly how much each development was worth.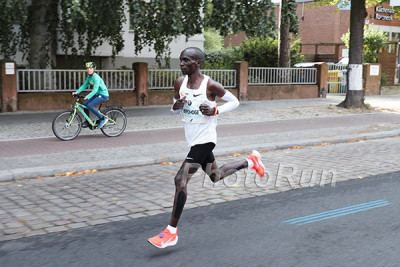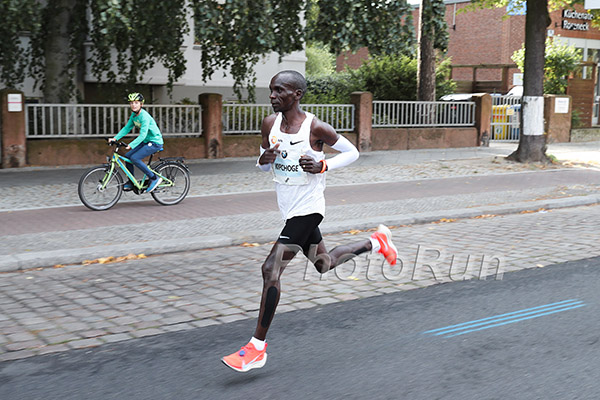 As sports scientist Ross Tucker pointed out after the race, the New York Times conducted an extensive study using Strava data that concluded that the Vaporflys were more than one percent faster than the next-fastest shoe. If that is true, then that explains essentially the entire improvement on the record — Kipchoge improved Kimetto's record by 1.07%, which would mean that Kipchoge and Kimetto were equal talents racing in unequal shoes. In fact, if you go by the NYT study, you could actually argue that Kimetto is the superior runner. The Vaporflys were one percent faster than the next-fastest shoe in the study, but they were about 2.5% faster than the adidas Adizero Adios — the shoes Kimetto ran during his world record run.
There are counterarguments, of course. Kipchoge and Kimetto are both elite runners, not recreational runners on Strava. While Kipchoge's three fastest times (2:01:39 at 2018 Berlin, 2:03:05 at 2016 London, 2:03:32 at 2017 Berlin) all came in the Vaporflys (or a prototype version), his next-fastest time, a 2:04:00 at 2015 Berlin, came in shoes that were literally falling apart, so how important are shoes, really? And if the shoes are really worth so much, why aren't more Nike athletes running insane times?
The shoes have only been on the market since 2017 (though Kipchoge and a few other athletes raced in a prototype version in 2016); in a few years we will have a better sample size from which to draw conclusions about their importance. Personally, I think Kipchoge is a generational marathon talent and deserves the lion's share of the credit.
And if that's true, then the upshot of Kipchoge's 2:01:39 is that the era of record-chasing is now over. For the past decade, the storylines at every Berlin Marathon centered around whether the top men could break the world record. In recent years, the Dubai Marathon has devolved into a series of science experiments: send 20 Ethiopians out on world record pace and seeing how long they can hold on. At the London Marathon, the pursuit of the world record occasionally overwhelmed a race that annually attracts the world's best marathon field. In 2013, eight men came through on world record pace in London, only for all of them to fall apart; Tsegaye Kebede ended up winning with an almost three-minute positive split of 61:34/64:30. Just this past April, nine men hit halfway in an absurd 61:00 — almost a minute under WR pace — and only Kipchoge (61:00/63:17) and runner-up Shura Kitata (61:00/63:49) could manage sub-2:10 pace for their second halves.
Not that all of this was necessarily a bad thing. Those ridiculous first-half splits may have deprived us of the fastest possible finishing time, but there was something strangely beautiful about seeing the world's best marathoners humbled as they hit the marathon wall just like the rest of us. In most marathons, a lead of a minute or more means game over; it's a lot more interesting when you know the leader went out way too fast and a major blowup could be coming.
But still, the world record was close enough that maybe, just maybe, there was a chance every time. 2:02:57 is a monster performance, but it was never viewed as untouchable; in the four years since Kimetto ran it in 2014, four men had come within 30 seconds of the mark. If you were one of the world's best marathoners and you were on a fast course, the world record was always a slight possibility. Now Kipchoge has moved the goalposts so far that there is no hope for anyone else. World record pace is now 60:49 per half marathon, yet no one has ever gone out faster than 61:00 in a marathon. And no one, save for Kipchoge in Berlin, has ever broken 61:00 in the second half of a marathon.
To put it differently, Kipchoge's average pace for the marathon is faster than any other human being has ever run for either half of a full marathon.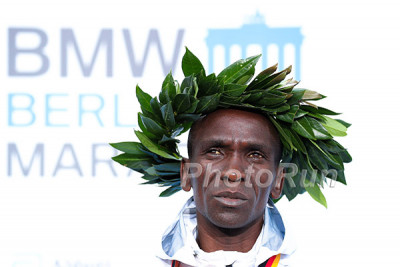 The result is that, unless your name is Eliud Kipchoge, the world record is off the table for the time being. There will still be some world record buzz whenever Kipchoge races, but it won't be the same. For one, Kipchoge has the record now; asking whether he can break it again just isn't as exciting as asking if he can break it for the first time. For another, 2:01:39 represents a monumental task, even for Kipchoge — remember, in his previous 10 marathons, he never ran faster than 2:03:05. For Kipchoge to run faster would require him to maintain (or increase) his current fitness level and find another race with near-perfect conditions. Considering Kipchoge only runs two marathons per year, for that to happen before Kipchoge's inevitable decline seems unlikely.
What next for Kipchoge?
I'm sure Kipchoge would like to add a second Olympic gold medal to his resume, but we're still 23 months out from Tokyo. What should he do in the interim? He could try running some races he's never done before, like Boston or New York, but victories there won't change much. No, for a man who thinks as big as Kipchoge, 2:00:00 seems like the obvious next mountain to climb, a barrier that transcends the sport.
But barring a significant technological breakthrough, Kipchoge will never break 2:00:00 in an IAAF-certified marathon. That would require improving his existing PR by 100 seconds, which seems impossible given he just ran an 86-second PR to clock 2:01:39. With a few tweaks (more even splits, better pacemakers), it is possible he could have run even faster in Berlin this past weekend, but nowhere close to 2:00:00. And better pacemakers may be hard to find — remember, Kipchoge's 1:26:45 split at 30 kilometers was a world record for that distance. Back in 2011, Moses Mosop, fresh off his 2:03:06 marathon in Boston, ran 1:26:47 for that distance on the track, in an attempt specifically geared to break the WR. Finding anyone other than Kipchoge to keep that pace for anything close to 30 kilometers will be difficult.
I would not be surprised that, after falling less than one second per mile short in Monza last year, Nike contracts Kipchoge for Breaking2: Part II (Breaking22?) in 2019. And who could blame Kipchoge for trying it? What is more appealing: to return to London and stomp the same guys you've already beaten or to try become the first human to run 1:59?
For everyone else, Kipchoge's 2:01:39 now occupies the same space as Paula Radcliffe's 2:15:25. For most of the past decade, Radcliffe's record was viewed as so untouchable that no one even spoke about the possibility of breaking it. Only in 2018, 15 years after Radcliffe set the record, has that begun to change, with Mary Keitany in London making the first concerted effort to break it (and falling well short). I suspect it will take a similar amount of time until someone else emerges to challenge Kipchoge's record.
And that's okay. No one's going to break the world record in Boston (because technically, you're not allowed to break the WR in Boston) or New York, but we still watch those races for the drama they bring, the challenges of the courses, and head-to-head competition. None of that is going away. Heck, we may actually see more of it in places like Berlin, Dubai, and London now that the runners are no longer slaves to a world record chase.
I am open to the possibility that I am wrong. Perhaps Kipchoge's 2:01:39 opens the eyes of the rest of the world to what humans are truly capable of in the marathon, in the same way that Kipchoge's 2:00:25 may have let him know that 2:01:39 was attainable. Perhaps marathoners begin going out in 61:00 with regularity and one day, one of them manages to hold on. Perhaps Nike's shoes really are magic, or someone comes up with a new innovation to shave minutes off the pros' marathon times.
But I don't see it. I suspect Kipchoge, like Radcliffe before him, is a freak talent, and Berlin 2018 was his magnum opus, proof of what he can do in the best conditions. Now that we live in a 2:01:39 world, the Era of World Record Chases is over.
---
Talk about this article on the LetsRun.com fan forum / messageboard. MB: MB: Gault's Kipchoge article is great.