Norah Jeruto Wins Her 1st Steeplechase World Title In Style – 8:53.02 Championship Record
By LetsRun.com
July 20, 2022
(Do you want a daily podcast from the LetsRun.com crew discussing the inside scoop from Eugene? Support independent journalism and join the LetsRun.com Supporters Club today. Plus you get big savings on running shoes.)
EUGENE, Ore. – Norah Jeruto, world champion.
It was clear last year that Kazakhstan's Jeruuto was the best women's steeplechaser on the planet and now she has the title to prove it. A year after being barred from running the Olympics as her switch of allegiance from Kenya to Kazakhstan hadn't gone through, Jeruto didn't let her first opportunity to compete on the global stage go to waste as she won a much-deserved gold in a championship record 8:53.61.
Article continues below player.
Jeruto had to work for this one as she led from virtually start to finish at championship record pace, and yet heading into the final water jump, it was any of four women's race. As the leading quartet approached the pit, Bahrain's Winfred Yavi, who had the world lead at 8:56.55 coming in, was moving up and looked like she was going to challenge Jeruto for the lead. But Yavi got too close to the barrier and lost all momentum as she two-footed the landing and went from 2nd to fourth where she'd remain (9:01.31).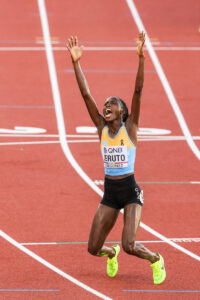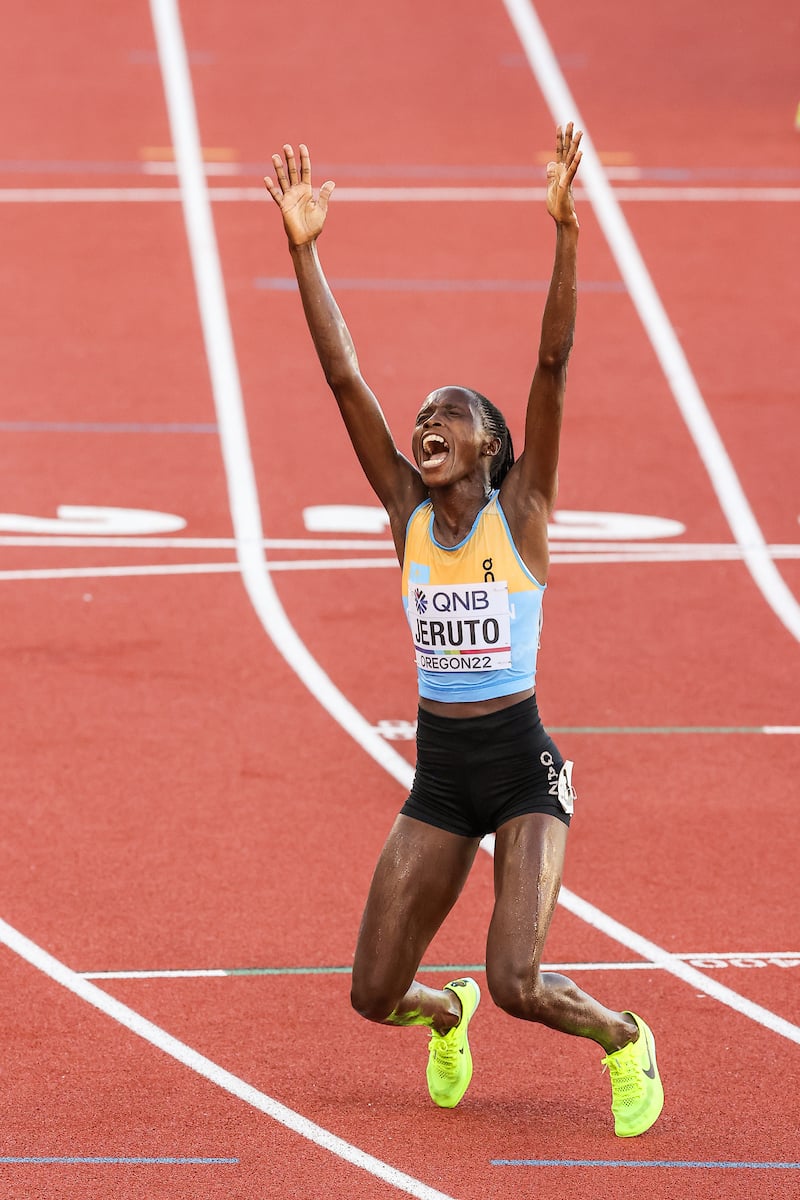 The beneficiary of Yavi's struggles on the last water jump were two Ethiopians. Werkuha Getachew, who burst onto the scene last year out of nowhere at age 25 and ran the fastest women's 800 time in Ethiopian history (1:56.67) but then didn't run the Olympics, came into Worlds with a 9:07.81 pb but left with an Ethiopian record of 8:54.61 (#4 all-time) which got her silver. 20-year-old Mekides Abebe, the previous record holder, moved up one spot from the Olympics last year and took the bronze, breaking 9:00 for the first time in the process in 8:56.08. The race was historically fast as it marked the first time three women had ever broken 9:00 in the same race and it would have been four if not for Yavi's struggles on the last water jump. There were national records for Ethiopia, Albania (Luiza Gega, 5th in 9:10.04), and Great Britain (Aimee Pratt, 7th in 9:15.64).
The US's streak of medalling in the women's steeple was snapped as after medalling in 2016, 2017, 2019, and 2021, the Americans were well back in this one. Courntey Frerichs was the top American in sixth (9:10.59 sb) as Emma Coburn was 8th in 9:16.49, with Courtney Wayment 12th in 9:22.37.
Results
Norah JERUTO KAZ 8:53.02 CR
Werkuha GETACHEW ETH 8:54.61 NR
Mekides ABEBE ETH 8:56.08 PB
Winfred Mutile YAVI BRN 09:01.3
Luiza GEGA ALB 9:10.04 NR
Courtney FRERICHS USA 9:10.59 SB
Aimee PRATT GBR 9:15.64 NR
Emma COBURN USA 09:16.5
Marwa BOUZAYANI TUN 09:20.9
Alice FINOT FRA 09:21.4
Peruth CHEMUTAI UGA 09:21.9
Courtney WAYMENT USA 09:22.4
Celliphine Chepteek CHESPOL KEN 09:27.3
Maruša MIŠMAŠ ZRIMŠEK SLO 09:40.8
Gesa Felicitas KRAUSE GER 09:52.7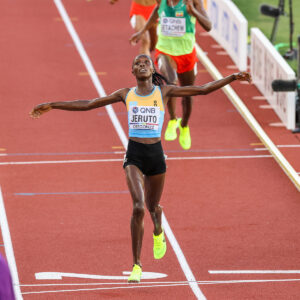 Quick Take: Jeruto gets a well-deserved gold medal
Jeruto has been a Kazakh citizen since December 2018 but did not get the opportunity to compete at the 2019 Worlds or 2021 Olympics because World Athletics had not yet approved her transfer of allegiance. She's been the best steepler in the world last year and hasn't lost a steeple since August 2019, so to see her status finally validated with a gold medal is only appropriate.
Often when an athlete changes nationalities, money is involved. The country gets prestige by winning medals at major events, and the athlete gets rewarded financially in return – sometimes with life-changing money that may not have been available to them if they represented their native land. Jeruto said she would receive a bonus from Kazakhstan for the gold but declined to share how much and was uncomfortable discussing the exact reasons behind her decision to switch to Kazakhstan.
Quick Take: This race was crazy fast
Considering Jeruto ran 8:53.65 at Pre last year, 8:57.97 at Pre earlier this year, and 9:01.54 in the prelims on Saturday, it was no surprise that she ran fast tonight – 8:53.02, the #3 time in history. But it was a surprise that she had company on the last lap, with three other women all hitting the water jump close behind her.
In the end, Werkuha Getachew (8:54.61) and Mekides Abebe (8:56.08) both joined her in the sub-9:00 club – the first sub-9:00's ever by Ethiopians. Abebe's time was the 10th-fastest ever run yet it was only good for third place. Even if Frerichs had run her American record of 8:57.77, it would only have placed her 4th.
Quick Take: Have the DSD regulations begun to affect the steeple?
Last year, Werkuha Getachew emerged from nowhere to run an Ethiopian record of 1:56.67 at the Ethiopian Olympic trials at the age of 25. But she mysteriously didn't run the Olympics and then took up the steeple to start 2022. She has improved at a remarkable rate, going from 9:41 in her opener in March to 9:07 at Pre and now 8:54 at Worlds.
Why would a healthy athlete who ran 1:56 in her first year running the 800 switch events? Many suspected it was because Getachew was DSD – i.e. XY chromosomes with testosterone levels in the male range.
Getachew told us that she chose to move to the steeple to follow in the footsteps of Ethiopia's long distance legends.
"Like the Ethiopians that come from the middle distance and they go into the long distance like many heroes, Gebrselassie, Abebe Bikila, many more others," Getachew said. "I am following them."
Quick Take: Courtney Frerichs was relatively pleased with 6th
Frerichs said she would have had to have been in the shape of her life to medal today, and while that wasn't the case right now, she's happy with the gains she has made since the start of the season and is looking forward to race some Diamond Leagues later this year.
"I think I've made a ton of progress and I'm actually in a really good place," Frerichs said.
Quick Take: Emma Coburn thought she was in sub-9:00 shape ahead of tonight's race
Coburn was disappointed with her second straight subpar showing in a global final. After bronze in 2016, gold in 2017, and silver in 2019, Coburn was DQ'd in Tokyo last year and was only 8th in 9:16 tonight.
"I feel like a broken record because I've said this a few times now, but I thought I was fitter than this," Coburn said. "And apparently I'm in 9:15 shape or 9:10 shape. I thought I was in 8:50 shape."
Coburn said she and husband/coach Joe Bosshard overhauled her training following the disastrous end to last season.
"A lot of our training from 2017 to 2021 was just tweaking things here and but like just amping it up from what we had done the previous year," Coburn said. "And I think 2021, I amped it too much."
This year, Coburn deliberately shied away from trying to rip "banger" workouts and felt that the sum total of her training in terms of volume and consistency was some of the best of her career and that her 9:10 run to win USAs was the best she's ever run at that meet. It's possible that Coburn heads to Europe for the rest of the DL season and rips a fast time. But if she remains stuck in the 9:10s as she has so far this year, she will have to sit down and evaluate what went wrong. Again.
Courtney Wayment post-race interview
Talk about the action on our world-famous fan forum / messageboard.