Men's Steeplechase Qualifying – Favorites Cruise: Are Evan Jager and Conseslus Kipruto Back?
By LetsRun.com
July 15, 2022
EUGENE, Ore. — The men's steeplechase kicked off the running events at the first evening session of the 2022 World Athletics Championships. The top 3 seeds all won a heat and all the favorites advanced to the final, plus two former greats with question marks surrounding them, Conseslus Kipruto of Kenya and Evan Jager of the US.
The top 10 entrants on time advanced to the final, the first person to miss was Ryuji Miura of Japan who is the 14th fastest on the 2022 lists.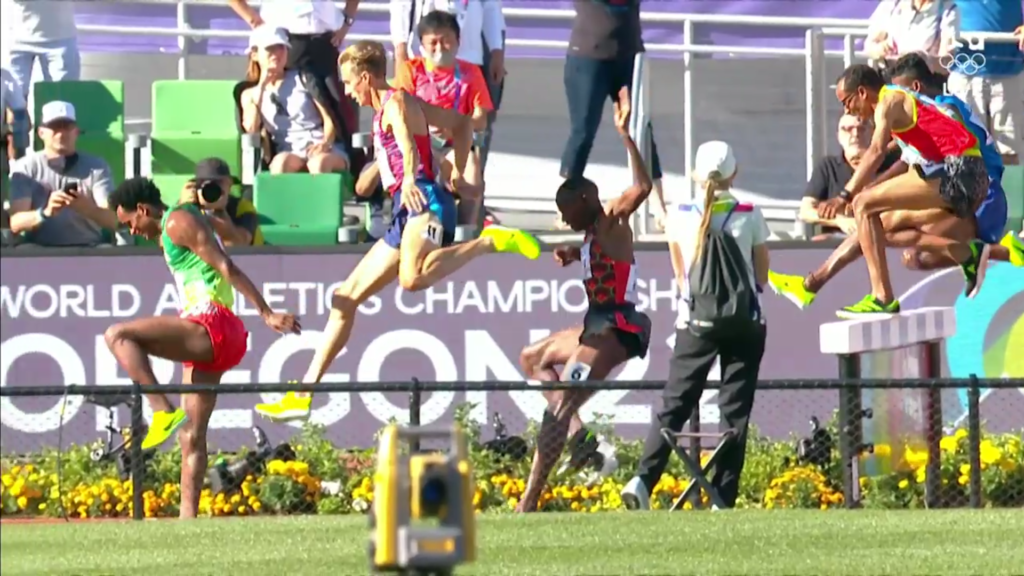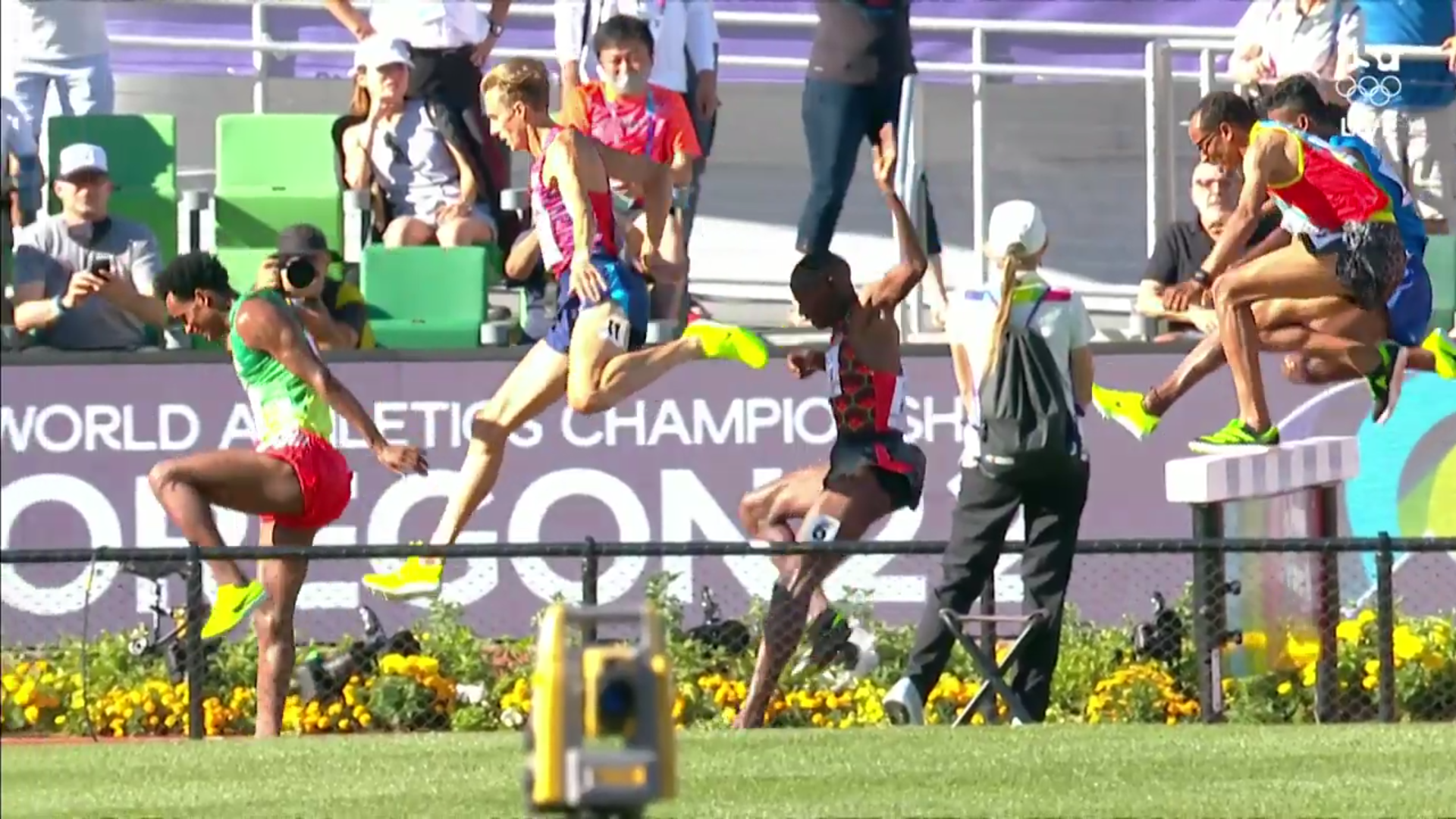 Article continues below player
Heat #1 – El Bakkali kicks as expected, Wale advances on time
With three heats and only the top 3 automatically advancing to the final, plus the next 6 fastest times, the most pressure was on heat #1, as they were running blind not knowing what times the other heats had run. Plus the heat featured 3 of the top 5 fastest in 2022, including Olympic champ and world leader Soufiane El Bakkali, and world #4 and #5s Abraham Kibiwot and Getnet Wale.
The biggest news was Wale didn't make the final automatically, finishing 4th, but he would end up advancing on time.
Benard Keter. the only American to make the Olympic final last year, was in contention the entire way but would fade to 7th the final 200 and miss the final.
Heat #2 – Conseslus Kipruto still has a burst of speed
Conseslus Kipruto is a 3-time World and Olympic champ, but he missed the 2020 Olympics after not finishing a race in 2021, after being arrested on child defilement charges. This year he has run 8:08.76, but many question marks surround him. Can he contend once again?
After the final barrier tonight, the answer looked to be no with Kipruto in 4th with the top 3 only advancing on time. Then Kipruto put on a burst of speed no one else showed tonight to cruise into the second qualifying spot. Will that be enough to contend in the final?
The US champ, Hillary Bor, snagged the third auto qualifying spot to make up for not making the Olympic final.
Heat #3 – Evan Jager Still Has Something
After this heat, Jager said the plan was to take the lead the final 800 if it was slow, but Jager was to the front right at the beginning as he knew how fast the other heats had gone. Jager was on the front nearly the entire way until the bell when he got passed. Heading into the final barrier,  Jager was battling with 2022 world #3 Hailemariuym Amare of Ethiopia and 2021 Olympic bronze medallist Benjamin Kigen of Kenya. Just when it appeared Jager might be in a real battle for the third spot, he blew by Kigen who had an atrocious water jump and would fade to 7th. Jager would finish .10 behind Amare in 2nd.
Quick Take: Evan Jager says he's gaining confidence and he feels now like he did at the beginning of his career when he was "hoping for a medal if everything goes well"
After running 13:13 indoors in February, Jager said it made no sense that he only opened at 8:34 in the steeple but said ever since the Portland Track Festival he's been gaining confidence each week. In particular, he got a lot of confidence in the prelims of the US champs where he was able to move through the field without much trouble.
Interestingly, he said he's now in a similar situation to early in his career where "he's hoping for a medal if everything goes well" as compared to expecting a medal and hoping for gold in his peak. Jager's wife Sofia is pregnant and expecting their first child in September. Jager said that his excitement for that is building as his is excitement for running but the two are "completely separate" as he's always been very good at compartmentalizing.
Jager was sporting a lightning bolt in his left ear. He said that some of the girls on the Bowerman Track Club wore it to practice and Woody Kincaid asked him what he thought about it and if he'd wear it if he bought a pair and got his own ear pierced. Jager, who got his ear pierced in HS, said yes and Kincaid got the earrings but never followed through on getting his own ear pierced.
Jager was asked about his thoughts on his coach Jerry Schumacher taking the University of Oregon job and relocating to Eugene but said he is focused on his own race right now and would talk about Schumacher after the final.
Quick Take: Hillary Bor was pumped to make it back to the World Championship final
Bor won a Diamond League last year in Gateshead as well as his second straight US title but was not at his best in Tokyo, finishing just 6th in his heat and failing to make the final. He was so disappointed with the result that he considered quitting the steeple altogether and moving to the roads.
But the 32-year-old Bor decided to come back to the barriers in 2022 and he's glad he did as he won his third straight US title and has now qualified for his third global final. Bor said his failure to make the final in 2021 could actually be traced back to the pandemic the year before.
"2020 was a blessing and a curse," Bor said. "Me and my brother (13:00 5k guy Emmanuel Bor) overtained the whole of 2020 and we made a mistake, we didn't take time off going into 2021. I remember at the Olympic Trials, my legs were sore the whole time."
Afterwards, Bor reviewed his workouts and realized they had been "too intense, too extreme." This year he hasn't been going to the well as much in training and it appears to have paid off in races.
Quick Take: Benard Keter did his best
Keter shouldn't have any regrets after this one. He put himself in position to make the final but was outclassed over the final 100 in a tough heat. He wound up 7th in heat 1, missing the final on time by .88 of a second, running 8:21.94.
Top 10 Entrants on Time and Results
Soufiane EL BAKKALI MAR 7:58.28 – Won heat 1 in 8:16.65
Lamecha GIRMA ETH 7:58.68 – Won heat 2 in 8:19.64
Hailemariyam AMARE ETH 8:06.29 – Won heat 3 in 8:18.34.
Abraham KIBIWOT KEN 8:06.73  – 3rd in Heat 1
Getnet WALE ETH 8:06.74 – 1st time qualifier from heat 1
Conseslus KIPRUTO KEN 8:08.76 – 2nd in heat 2
Ahmed ABDELWAHED ITA 8:10.29 – 6th in heat 1, 2nd to last time qualifier
Hillary BOR USA 8:12.19 -3rd in heat #2
Leonard Kipkemoi BETT KEN 8:12.34 – 2nd in heat #1
Avinash Mukund SABLE IND 8:12.48  Q – auto qualifier after finishing 3rd in heat 3 (8:18.75)
SUMMARY Results