5 Thoughts on Paris Diamond League – Shelly-Ann Fraser-Pryce Still Has it, Winfred Yavi 8:56 Steeple
By LetsRun.com
June 18, 2022
The 2022 Meeting De Paris Diamond League meet is in the books. Held on a very hot evening in Paris (94 degrees at start), Winfred Yavi of Bahrain and Shelly-Ann Fraser-Pryce had the performances of the night. Yavi destroyed the field in the steeple, running 8:56 to become the 4th fastest of all-time while Fraser-Pryce blasted a 10.67 to tie her own world lead from May in Nairobi.
In the other distance action, France's Benjamin Robert pushed his way between two guys on the home stretch to win the 800 in a pb of 1:43.75 and Selemon Barega dominated the 5000, getting the win in 12:56 despite the heat.
Article continues below player
The biggest sprint surprise was South African Luxolo Adams lowering his PB from 20.31 to 19.82 (#4 in the world this year) to get the win in the 200, as Devon Allen got another win in 13.16, and Shaunae Miller-Uibo went out hard in the 400, rigged up at the end, and still won in 50.10.
Full 2002 Paris results here. Our big 5 thoughts below.
1. Shelly-Ann Fraser-Pryce still has it.
SAFP destroyed the field in the 100 to win in 10.67. She had already run 10.67 this year but that was at altitude in Nairobi. She is looking great.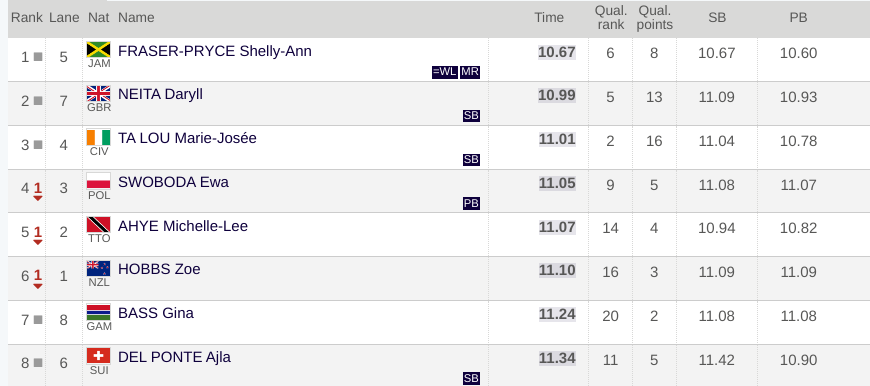 2. Winfred Yavi soloes an 8:56 steeple to move to #4 all-time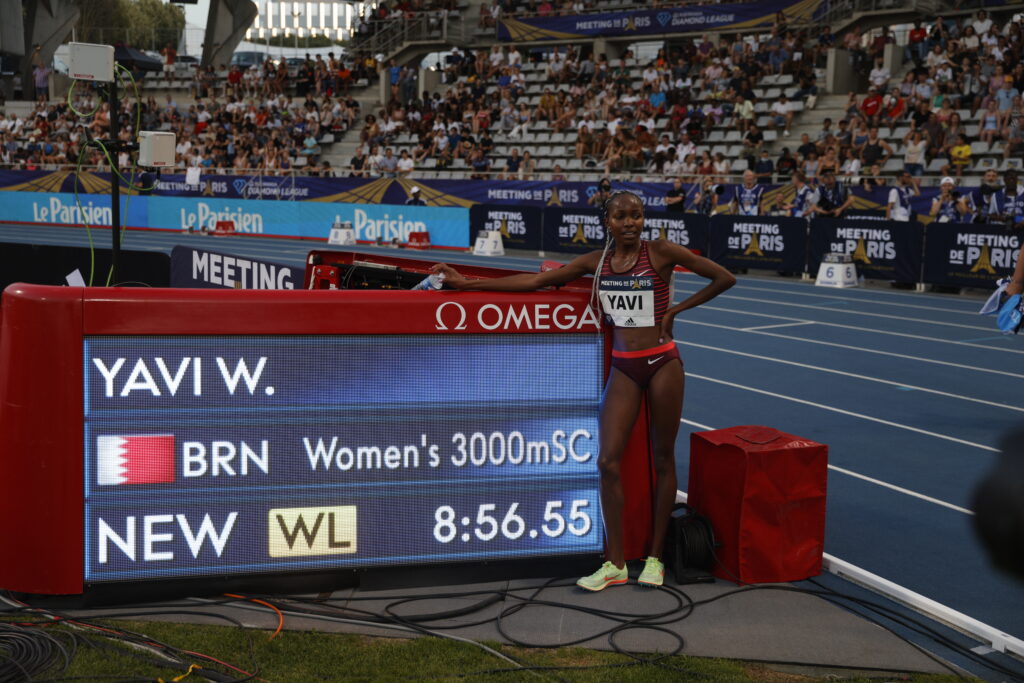 Yavi of Bahrain via Kenya had already run 8:58.71 this year to get second at Pre, but tonight she took it to another level. Running solo after the rabbit dropped out a little after one kilometer, she ran 8:56.55 to become the 4th fastest of all-time.
Super, super impressive.
The two surest medal threads at Worlds in the steeple are now two Kenyans who represent other countries. Norah Jeruto, who won at Pre, represents Kazakhstan and Yavi runs for Bahrain.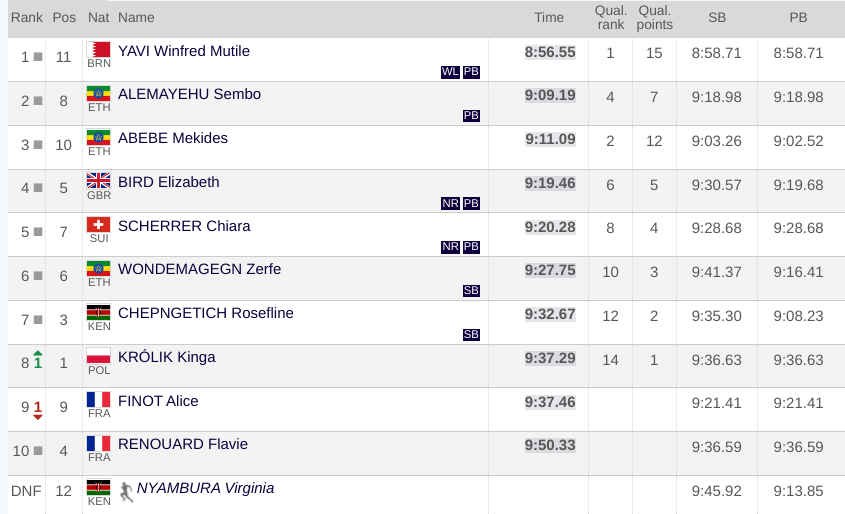 3. The 800 is wide open
In the 800, France's Benjamin Robert split two guys at the end of the home stretch to get the win in a PB of 1:43.75 as Peter Bol of Australia got second in an Oceania record of 1:44.00, as seven guys finished within one second of the winner.
Robert's time made him the third guy under 1:44 this year. Just for reference, 13 guys had run 1:43 last year before Tokyo and 13 did it in 2019 before Worlds at Doha.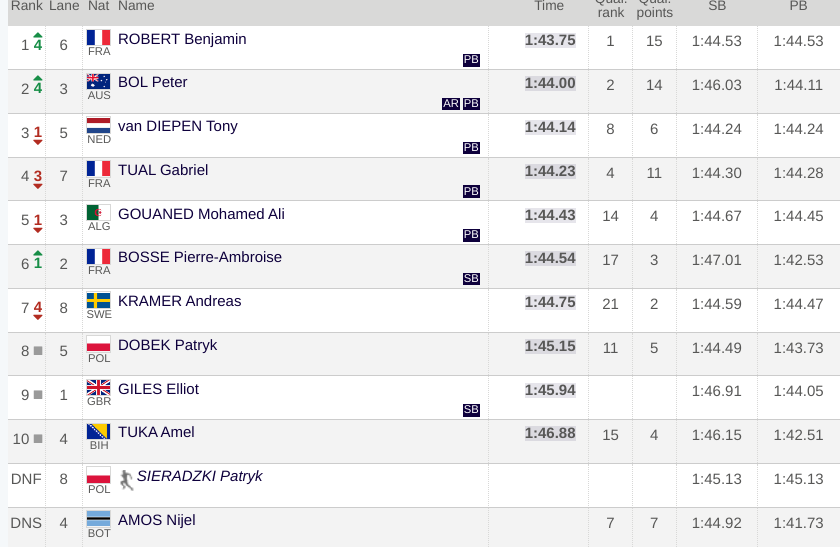 4. Andre De Grasse still has a lot of work to do/Luxolo who?
De Grasse reached the pinnacle of the sport with the gold at 200 in Tokyo last year. He was fourth tonight in 20.38, more than a half a second behind the biggest surprise of the night, Luxolo Adams of South Africa, who won in 19.82. De Grasse did win the 100m in Oslo two days ago in 10.05, but has not finished better than 4th in a Diamond League 200 this year. De Grasse does have seven Olympic and World individual medals to his name, so it would be foolish to write him off, but he's got a long way to go with Worlds a month away.
As surprisingly poor as De Grasse's run was tonight, surprisingly good was the run by Adams. Adams' lifetime best before tonight was 20.31 back at the South African champs at the end of April. It's not like he had been in a big block of training and had a breakout race tonight. Three weeks ago he raced a 200 and ran 20.45, 2 weeks ago 20.35, and last week 20.33.
Now he's run 19.82 and is a Diamond League winner.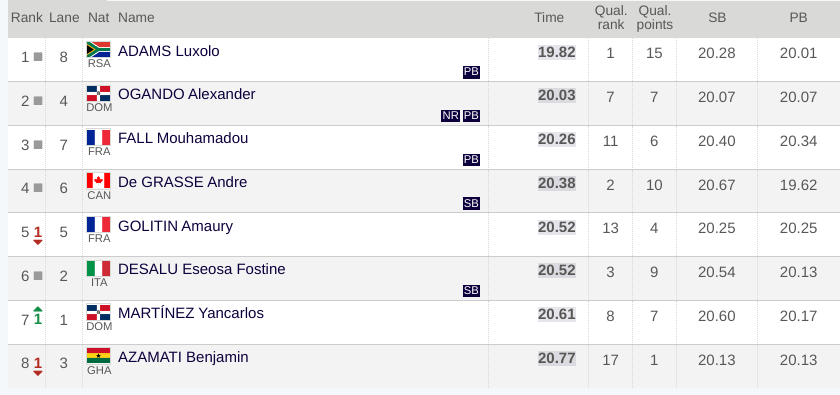 5. Christian Taylor isn't his former self
Taylor is arguably the greatest triple jumper ever, but blew out his Achilles last year and was prevented from going for his third straight Olympic gold. Tonight he had a season's best, but it was only 16.54, good for 7th place. He's jumped over 17 meters every year since 2010. We often don't appreciate greatness until it's gone.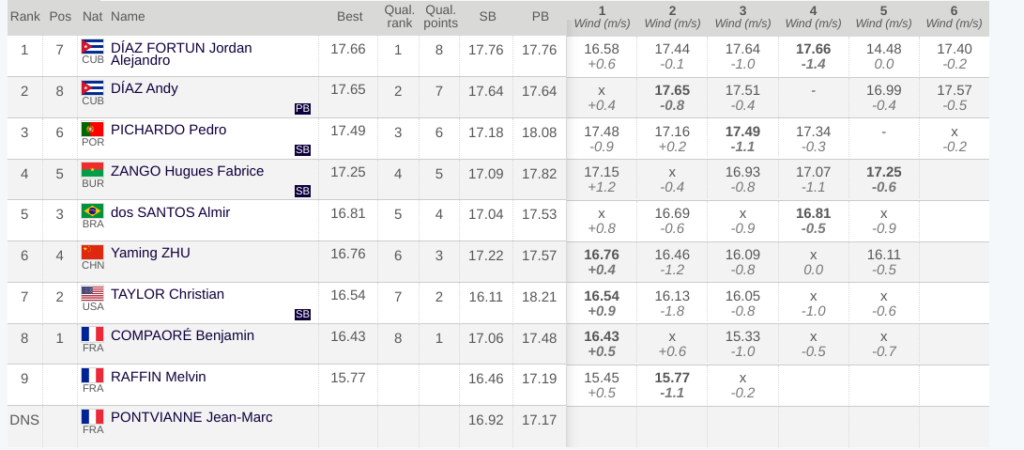 More Paris videos: