Marcell Jacobs Edges Christian Coleman By .003 in Dramatic Men's 60m Final at 2022 World Indoor Championships
By Jonathan Gault
March 19, 2022
BELGRADE, Serbia – It's hard to create much drama in a race that lasts under seven seconds, but Marcell Jacobs and Christian Coleman found a solution in Saturday night's 60-meter final at the 2022 World Athletics Indoor Championships: run a race so brilliant and so tight that it takes an extra 80 seconds to figure out who won.
The name that popped up first on the scoreboard, after an agonizing wait, was once again Marcell Jacobs. For the second time in eight months, the powerfully-built Italian is a global champion, adding the 60-meter crown to the Olympic 100m title he won in Tokyo in August. Suddenly, Jacobs is one win away from unifying the world's three biggest sprinting titles (Olympic 100, World Outdoor 100, World Indoor 60) for the first time since Maurice Greene in 2000.
That opportunity will come in July in Eugene, but let's focus on the here and now and one of the greatest 60-meter races you will ever see. Heck, this may just have been the greatest. I mean seriously, how many iconic 60m races can you think of?
Three thousandths of a second 🤯

100m Olympic champion Lamont Marcell Jacobs takes gold in the men's 60m final after just edging out Christian Coleman at the finish

Canada's Bolade Ajomale finished seventh pic.twitter.com/k6MxX7iORE

— CBC Olympics (@CBCOlympics) March 19, 2022
Coleman got his traditional fast start and held the lead until the dying meters when Jacobs, his upright form gliding down the fast, bouncy track, suddenly appeared and dipped perfectly for the line as Coleman did the same. Too close to call on first look, the two men agonized for almost a minute and a half until the results were revealed, sending Jacobs into a spread eagle victory pose on the blue Belgrade track as the Stark Arena crowd – which had consistently supported Jacobs with the largest cheers of the night – erupted in delight.
The margin was razor-thin, both men given a time of 6.41 seconds officially. It came down to a margin of thousandths – three thousandths of a second, to be precise, with Jacobs at 6.407 to Coleman's 6.410. That's all that separated the two best sprinters on the planet tonight.
Article continues below player.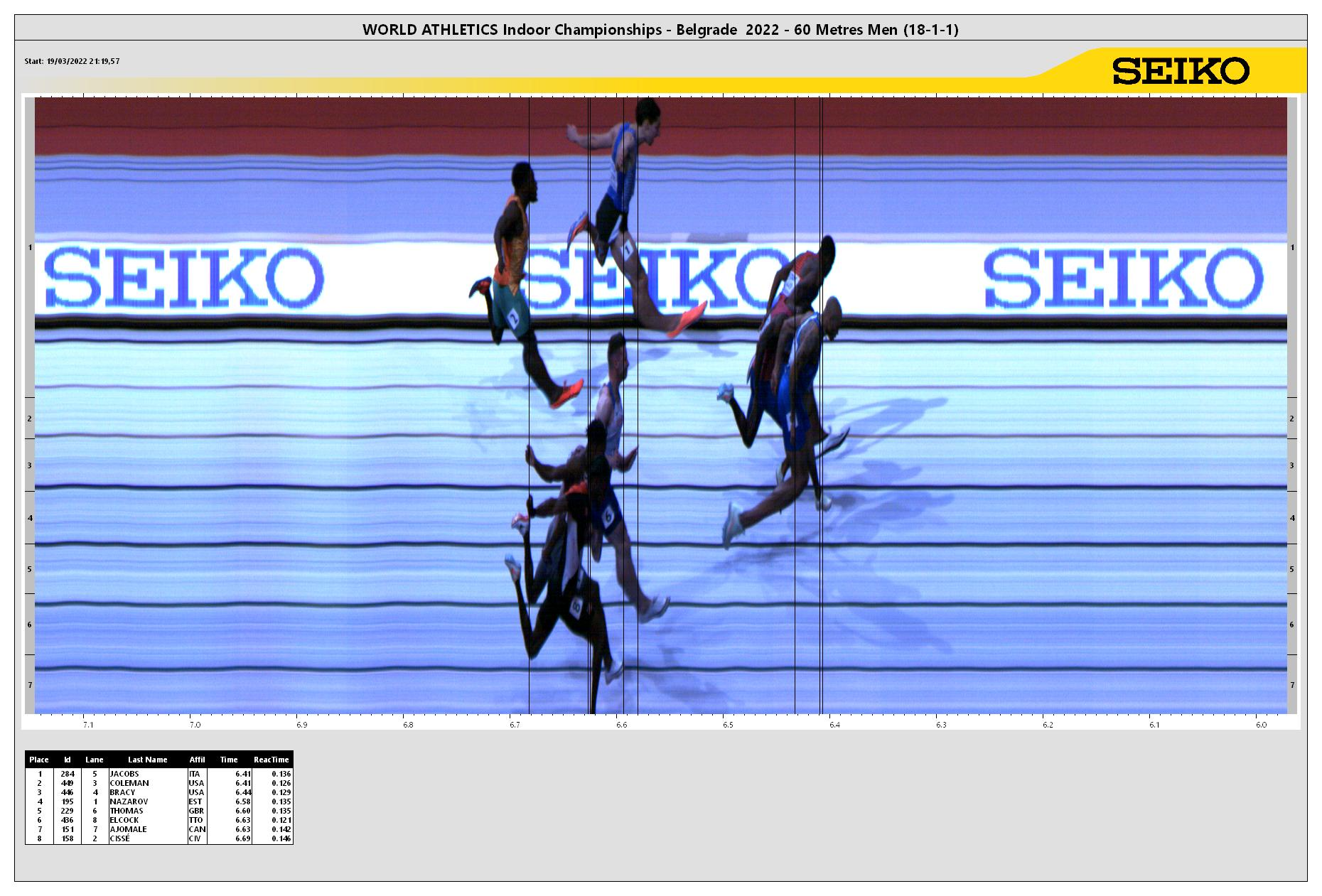 But this was about more than a close finish. It was about a showdown that lived up to the hype, one in which Jacobs dropped down into Coleman's specialty, an event in which he is the reigning world champion and world record holder, and handed Coleman his first loss over 60 meters in six years.
"I was so motivated by the fact I could run together with the reigning world champion and reigning world record holder," Jacobs said through a translator. "This gave me a strong motivation and I am really happy to have been competing close to him. I came here just to be as close as possible to Christian and being the winner of such a great race really gives me a lot of happiness."
Greatness All Around
There were so many things to like about tonight's race. First, that Coleman and Jacobs, the world and Olympic champions outdoors, even decided to show up at all for a meet that runners of their stature often choose to ignore. Then there were the times – Jacobs' 6.41 was the fastest since Coleman ran 6.37 at this meet four years ago and puts him in a tie for 4th all-time, while American bronze medalist Marvin Bracy also cracked the all-time top 10 with his 6.44. And beyond that, there was what tonight's outcome said for the sport. Tonight's race was important of course, but the biggest prize on offer in 2022 will be awarded on July 16 in Eugene, and the storylines could hardly be more compelling, Jacobs looking to complete the Triple Crown of sprinting as Coleman looks to avenge his defeat tonight (and defend the title he won in 2019) in the first World Championships staged on US soil.
Now if you're the skeptical sort, you may not be as excited for a showdown between a man who just came back from an 18-month ban for missing drug tests and another who has transformed from injury-prone long jumper into unbeatable sprinting machine at the age of 26. Those are the facts, and track fans will interpret them as they will.
Jacobs' clutchness, however, requires no interpretation. Back in August, Jacobs ran a personal best of 9.84 in the Olympic semis and a European record of 9.80 in the final to win gold. Tonight, he repeated the feat, going 6.45 in the semis and setting a European record of 6.41 in the final. Jacobs credited his competition for bringing out the best in him. Remember, back in Tokyo that 9.84 came in a race where two other men ran 9.83 (he made the final on time) and he needed every inch of his 6.41 to win gold tonight.
"When you compete in the championships, the most important events, you have opponents of the highest value," Jacobs said. "On this occasion, it was the first occasion this year I ran without thinking to my time."
Jacobs' run tonight was also proof that he's planning on sticking around at the top of the world's sprinting ranks. Eyebrows were raised when Jacobs skipped the rest of the 2021 season after winning the 100 and 4×100 titles in Tokyo last year, but it's clear now that Jacobs is a force and he's here to stay. 
"When you win two gold medals you cannot win by chance," Jacobs said, referring to his Olympic golds.
Coleman Gracious in Defeat
Coleman, for his part, was magnanimous in defeat. He mentioned multiple times about how "fun" it was to race against Jacobs and was grateful for the opportunity to race for a medal again after his year in purgatory in 2021.
"I can feel myself getting better and better with each race," said Coleman, who noted he had to take some time off due to injury following his run at the Millrose Games on January 29. "To have a season's best and silver medal and get a silver medal against a world-class medal, it means a lot."
Coleman did not run quite like his world record self of 2018, but he still produced a season's best in the final. In the final meters, however, Coleman was straining (just slightly) as Jacobs was purring along at top speed, and that accounted for the difference in a tight race.
"I feel like I could have been running a little bit smoother," Coleman said. "I didn't really see him because he was two lanes over. I kind of felt Marvin more than I did Marcell, but I definitely saw him at the line and we both dipped and I honestly had no idea who had won."
Looking ahead to the outdoor season, it is often said that the men's 100 meters is an event that sells itself. But it is a whole lot easier to sell when you've got a compelling rivalry. Jacobs vs. Coleman has that sort of potential. And if tonight was the opening act, just think what could be in store for the encore.
| POS | BIB | COUNTRY | ATHLETE | MARK |
| --- | --- | --- | --- | --- |
| | 284 | ITA | | |
| | 449 | USA | | |
| | 446 | USA | | |
| | 195 | EST | | |
| | 229 | GBR | | |
| | 436 | TTO | | |
| | 151 | CAN | | |
| | 158 | CIV | | |