Donavan Brazier Caps Wild Day By Making World Championship Team in 400m
By LetsRun.com
February 27, 2022
SPOKANE, Wash. – After being reinstated to the men's 400-meter final at the 2022 USA Indoor Track and Field Championships, reigning world outdoor 800m champion Donavan Brazier made the most of it. Coming off the final turn, he was in last – fourth – in section two of the two-section final. But Brazier was gaining and just before the line he got past Marqueze Washington to take second in his heat behind  Trevor Bassitt, the small school star from Division II Ashland University, who won the US 400m title today.
The question then was, "Did Brazier run faster than 46.41, which is what Trevor Stewart ran to win the first section?"
Article continues below player
Like our coverage from Albuquerque?
Answer: Yes. Brazier's time was 46.14. Since that was faster than the World Indoor standard of 46.50, he will head to next month's World Championships in Serbia in the individual 400 and as a member of the 4×400 relay pool.
Brazier ran the 400 like an 800 runner
Brazier ran the 400 like an 800 man this afternoon as he got off to a slow start in lane 6. Bassitt, running on his inside, quickly made up the stagger and never looked back, going on to get the win in 45.75. At 22.17, Brazier had the second-slowest split of the nine finalists and was way behind Bassitt (21.36),  but Brazier's final 200 was easily the fastest of the night and the only under 24 seconds (23.97, next best was 23.35).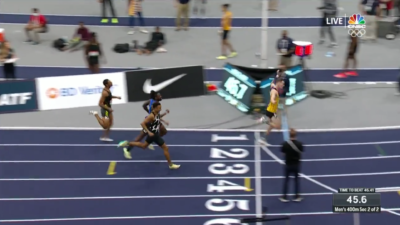 The race capped a wild 24 hours for Brazier. Yesterday, around half an hour after he won the second of four 400m heats, Brazier was told he had been disqualified for a lane infraction. He lodged an appeal, during which meet officials showed Brazier footage of the foul. He says that none of the angles he was shown showed a violation of the rules.
"The head judge was just so adamant about, no we saw it, we all saw it," Brazier said. "And I looked back at the video, I called all my friends, and nobody saw what the hell they were talking about."
Brazier stayed up until 3 am doing stuff "I'll keep off the record"
Brazier thought his indoor season was over, so he stayed up late last night. Brazier said he was up until 3 a.m.
"I did a lot of things I wouldn't usually do before a race that I'll keep off record," Brazier said. "But I'll be safe for drug testing, just know that."
When Brazier did go to sleep he was frustrated and pissed off for a number of reasons. First, because he believed he had been unfairly DQ'd. Second, because he had not been informed of the DQ in a timely fashion, meaning it was too late for him to run the 800 prelims. And third, because the 6 a.m. flight home he had been trying to switch to was full, meaning he would have to stay in Spokane for the rest of Sunday.
It was a good thing he did. Around 11:00 a.m., just three hours before Brazier's race, he received a call that he had been reinstated after the Jury of Appeals reviewed NBC footage and determined Brazier had not committed a lane infraction after all.
(More on how and why Brazier was DQ'd and reinstated here: LRC Why Was Donavan Brazier Disqualified at 2022 USATF Indoors? And Why Was He Reinstated?)
Brazier had to be convinced to run today
Even after his reinstatement, Brazier did not want to run today. The call this morning had come while Brazier was in the midst of downing a plate of waffle and sausages at a downtown restaurant, and he did not feel he would be able to perform at his best on such a quick turnaround.
But his coach Pete Julian convinced him to run, and after a pb of 46.14, here we are. Donavan Brazier will run the 400 meters in Belgrade.
"I had good momentum the past two months, three months training and then it all went downhill after yesterday's race," Brazier said. "So to come back like this, it's nice."
Trevor Bassitt makes HISTORY!

He is the first collegian since 1990 to be a national champion in the men's 400m event! #USATFIndoors pic.twitter.com/vK2venwU3t

— NBC Olympics (@NBCOlympics) February 27, 2022
Quick Take: This situation wound up working out, but this was almost a total disaster
If Donavan Brazier had gotten his wish this morning and made it onto the 6 a.m. flight, this would have been an utter disaster for USATF. If that flight wasn't full, Brazier would have been back in Portland and unable to run today's final even though he was not determined to have committed a foul.
The right outcome seems to have been reached in this case, but we still have some major questions about the appeals process. Brazier appealed and it was declined. Yet after reviewing NBC footage, he was reinstated. What prompted the Jury of Appeals to review that footage? And did they do this for every athlete who was DQ'd yesterday (there were nine of them between the 400 and 800 meters)? Sadi Henderson was also reinstated in the 800 final, but no explanation was given for why.
While we're on the subject, if there is a DQ – and there were a bunch of them at this meet – USATF needs to note in the results what rule was broken. That is standard practice at World Athletics events but not at USAs.
Furthermore, this episode demonstrates why it is critical for officials to reach a timely decision when it comes to DQs. Brazier left the meet yesterday believing he had no chance to run today and was nowhere close to properly prepared to race today. Brazier was still able to summon a brilliant performance, but not every athlete will be as fortunate going forward.
Quick Take: Trevor Bassitt wins one for the little guys
Four years ago, one of the biggest stories of World Indoors from a US perspective was Drew Windle, an alum of DII Ashland University in Ohio, who earned a silver medal in the 800m in Birmingham. In 2022, Ashland will again have the opportunity be represented at World Indoors as current Ashland student Trevor Bassitt won the 400 today comfortably in 45.75.
If he is to run in Belgrade, it will come a week after the NCAA DII championships in Pittsburg, Kansas, where the versatile Bassitt could run up to five events (he is the reigning champion in the 60 hurdles and 200m and was third in the 60m last year).
All our 2022 USATF Indoor Coverage here