2022 USA Indoors Rest of Meet: Brazier DQ'd From 400, Reinstated a Day Later; 800m Finals Are Set
By LetsRun.com
February 26, 2022
Update: Sunday update: 3/4th of a day later, Brazier has been put into the final.
SPOKANE, Wash. — Day 1 of the 2022 USATF Indoor Championships is in the books. There were two distance finals, which we recapped in separate articles (men's 3000 here, women's 1500 here). In other action, the biggest story was the disqualification of Donavan Brazier in the men's 400 meters after he had looked good in winning his heat to advance to the final. We recap that below, as well as the men's and women's 800m prelims and the rest of the meet.
Article continues below player
Like our coverage from Albuquerque?
Men's 400m Prelims: Brazier is DQ'd
Sunday update: 3/4th of a day later, Brazier has been put into the final.
In November, World Athletics issued new rules to address the spate of lane infringement disqualifications that have affected recent major championships. Those updates were an improving on the harsh (and selectively-enforced) current rules, but didn't solve all potential issues. Today's 400-meter prelims at USAs exposed one of the weaknesses of the new rules as Donavan Brazier — who had also been DQ'd for lane infringement at World Indoors in 2018 — was disqualified after initially running 46.68 to win heat 2 and advance to tomorrow's final.
CNBC highlighted what it believed to be Brazier's violation — two consecutive steps on the outer lane line on the back straight of the first lap.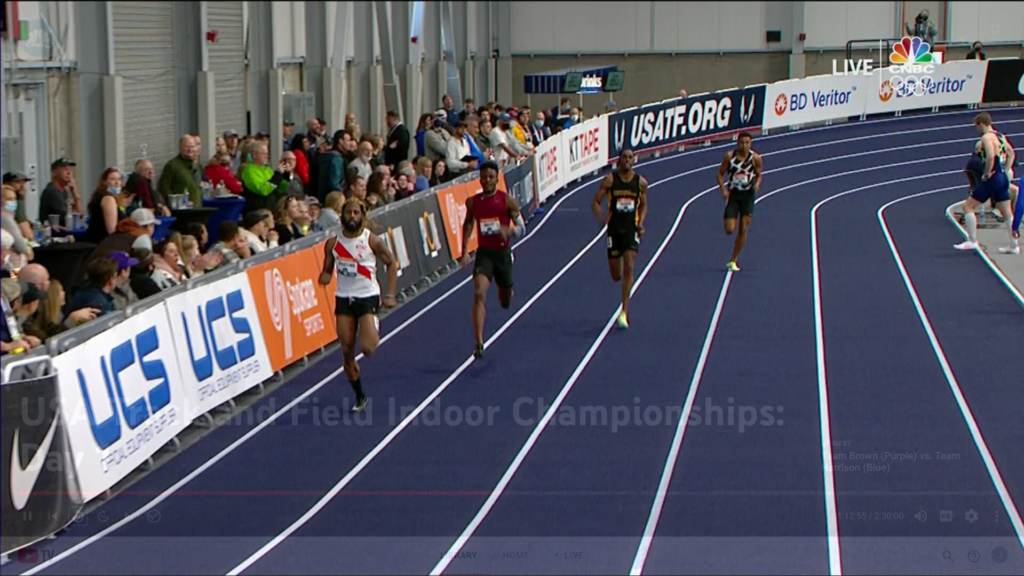 Brazier's agent Mark Wetmore told LetsRun that they appealed the decision but the appeal was denied, so he will not be in Sunday's final — unfortunate for Brazier, who had a good shot to achieve his goal of being selected for the relay pool for the 4×400 at World Indoors.
Quick Take: This is one of the most ticky-tack DQs we've ever seen
If Brazier was DQ'd for the incident above (Wetmore told us he was still waiting on more information from USATF), then that is truly a joke. By the letter of the law, any athlete who takes two consecutive steps on the lane line before the cut-in is disqualified. But look at the second photo above. Brazier is running on the outside of the lane on a straightaway, so he's not gaining any advantage. And he's not interfering with anyone else because he's in last place. The rulebooks need to have a place for common sense, because there's no way that should be a DQ. Instead, one of the most exciting talents in America doesn't get to run tomorrow's final. That's a loss for the sport.
Correction: Initially we wrote we thought the letter of the law said an athlete could be DQd for running two steps on the lane line even if it was the outside of the lane, and that this was a dumb rule. We were incorrect. The rules explicitly say an athlete shall not be DQd for running on the outside of their lane. Rule 17.4.2 says, "An athlete, or in the case of a relay race, their team, shall not be disqualified if the athlete: steps or runs outside their lane in the straight, any straight part of the diversion from the track for the steeplechase water jump or outside the outer line of their lane on the bend;"
We talked to Brazier before he learned he had been DQ'd and he was pleased with his run and excited to see what he could do in Sunday's final: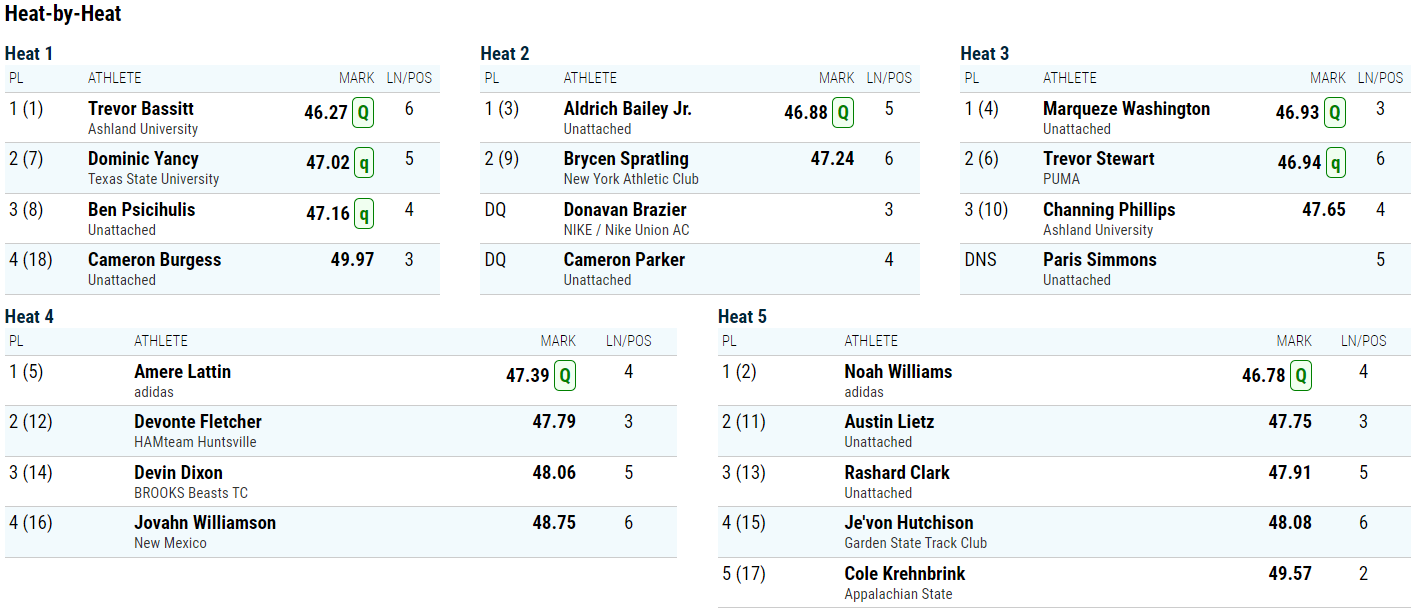 Men's 800m Prelims
The men's 800m prelims went mostly to form as the expected favorites all advanced, including four of the six men with the world standard. The most interesting heat was the first where two of the overall favorites, Bryce Hoppel and Isaiah Harris, were set against each other. Only the heat winner gets an automatic spot in the final, so these two duked it out over the final lap with Hoppel having the better finish to win in 1:46.87 to Harris' 1:47.14. Those were the two fastest times of the day although not far behind was heat 4 winner and Cinderella story, Shane Streich. Streich won his heat handily in 1:47.16, well ahead of Craig Engels, who ran most of the race way behind in third and was more than a second and a half from advancing on time.
The biggest casualty of this race was actually the man who didn't get to run it: Donavan Brazier. Brazier was a DNS as he believed he had advanced to the 400m final earlier in the meet. By the time he had learned of his DQ in the 400m, it was too late to declare for the 800m (which started just 46 minutes after the 400). This is a double tragedy as not only do we not have Brazier in tomorrow's 400m final, but he didn't get a chance to run the 800m either.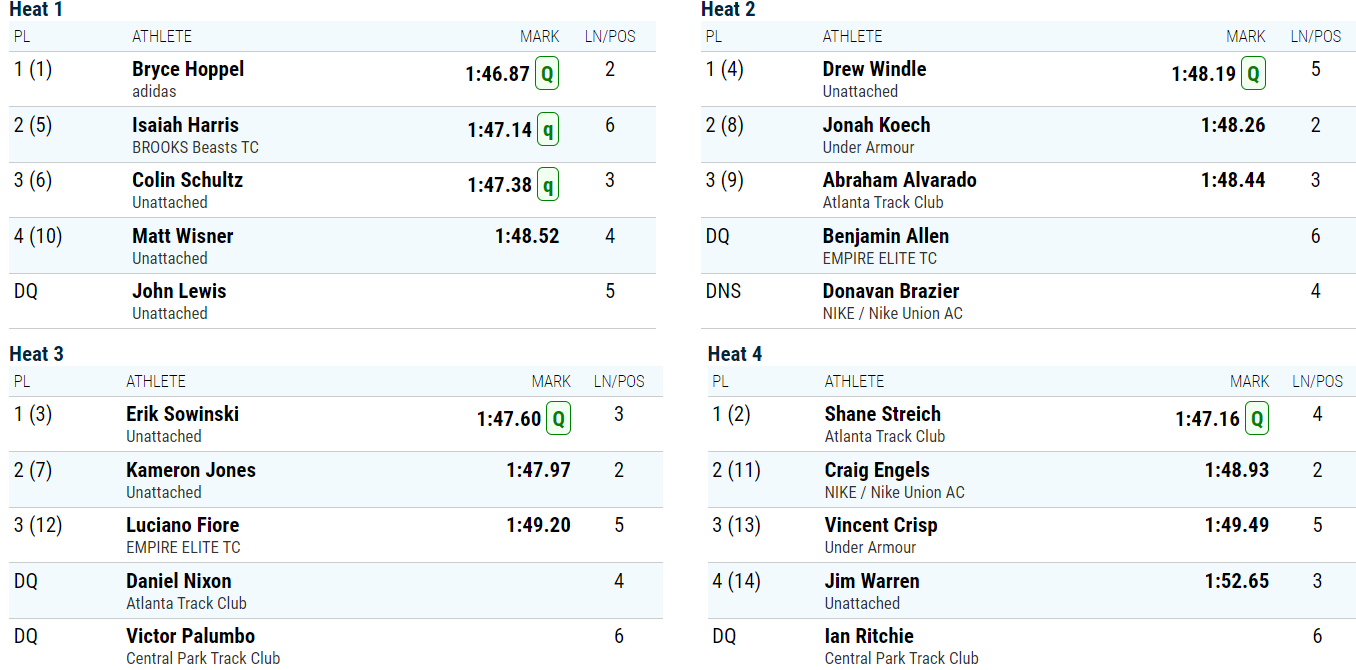 Quick Take: Erik Sowinski will run his 15th US final on Sunday
Sowinski made every US final, indoors and outdoors, from 2013 through 2018. He made two more indoors in 2019 and 2020 and made it again today to take his career total to 15 (including nine straight indoors). At this point, Sowinski paces more than he races (he's quickly become one of the world's most sought-after rabbits), but he has run 1:46.26 this year, won his heat today, and knows how to position himself indoors. He won't be favored to make the team on Sunday
"I'm excited to rub elbows with those guys and see what happens," Sowinski said. "I think I have just as good a shot as anybody out there.
Quick Take: Drew Windle back in his first US final in four years
Four years ago, Drew Windle surprised everyone by earning a silver medal in the 800 at World Indoors. Since then, however, the now 29-year-old had not even made it back to a US final, let alone a world final. Windle, whose Brooks contract expired at the end of 2021 (he is still training under Brooks Beasts coach Danny Mackey) believes it has been a mental issue, saying his training has gone well but he has been struck with crises of confidence while racing against tougher fields.
Windle understands why he was dropped but is hoping he can convince a sponsor to take him on for the rest of 2022.
"If you run like dogshit for four years, it doesn't matter if you're a world silver medalist indoors," Windle said. "I just didn't do my job. So no hard feelings."
Women's 800m Prelims
There were two DQ's in the women's 800, notably Sadi Henderson, who, like Brazier, initially qualified for the final but was later DQ'd for a lane infringement. Otherwise, the event went largely to form, with Brooke Feldmeier, Olivia Baker, and Ajee' Wilson winning the three semifinals. The biggest casualty was 16-year-old high schooler Sophia Gorriaran, who entered with the #2 seed time at 2:00.58 but could only manage fourth in heat 3, missing out by .08 of a second.

Quick Take: A coaching switch has rejuvenated Brooke Feldmeier
The 26-year-old Feldmeier has been one of the surprises of the indoor season as she ran an overall pb of 2:00.92 in her season opener in January. She had not raced since (she had another race lined up but had to scratch due to illness) but looked terrific today in powering away to win the first heat by over a second. Feldmeier switched coaches from Terrence Mahon to Trevor Painter (coach of British superstar Keely Hodgkinson) in October and said it's had a huge effect on her training and results.
Quick Take: Nia Akins shocked herself by making the final
Akins, the NCAA runner-up for Penn in 2019, has had a rough winter to this point, getting COVID and running only 2:08 and 2:04 in her two races. As a result, she wasn't expecting much today but surprised herself by running an sb of 2:02.18 to finish second in heat 3 and make the final.
Women's 400m Prelims
There were only eight women entered in the women's 400m prelims which meant that all they had to do was finish to earn a spot in Sunday's final. However, their prelim result was still important as Sunday's final will be run in two heats, so their finish today would give them a spot in the 'A' section, as well as a preferable lane assignment. 2018 NCAA 400m champ and Tokyo Olympian in the 4×400 relay Lynna Irby advanced with the fastest time, winning heat 2 in 52.49. Three-time world 4×400 gold medalist Jessica Beard was the next fastest, winning the first heat in 52.79.

Men's High Jump
JuVaughn Harrison tied his season's best to get the win in 2.28m. Tomorrow he'll try to repeat his impressive feat from the Olympic Trials as he aims to win the HJ-LJ double.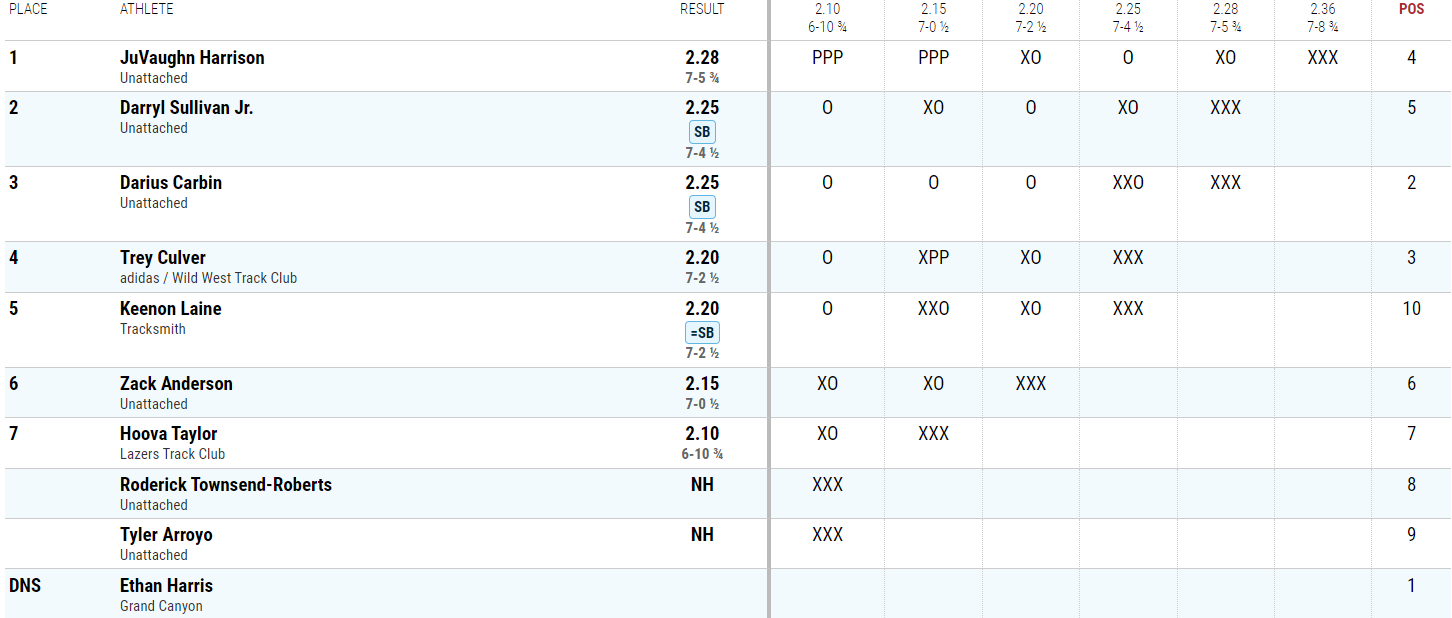 Men's Pole Vault
Tokyo Olympic silver medalist Chris Nilsen got the win with 5.91m over Olympic 4th placer KC Lightfoot (5.86m). Nilsen had a scare as he had two misses at 5.86m (whereas Lightfoot got over on his first), but got over on his third attempt and then cleared 5.91m without any misses. He took three unsuccessful attempts at 6.03m, which would have broke his own 6.02m US indoor record.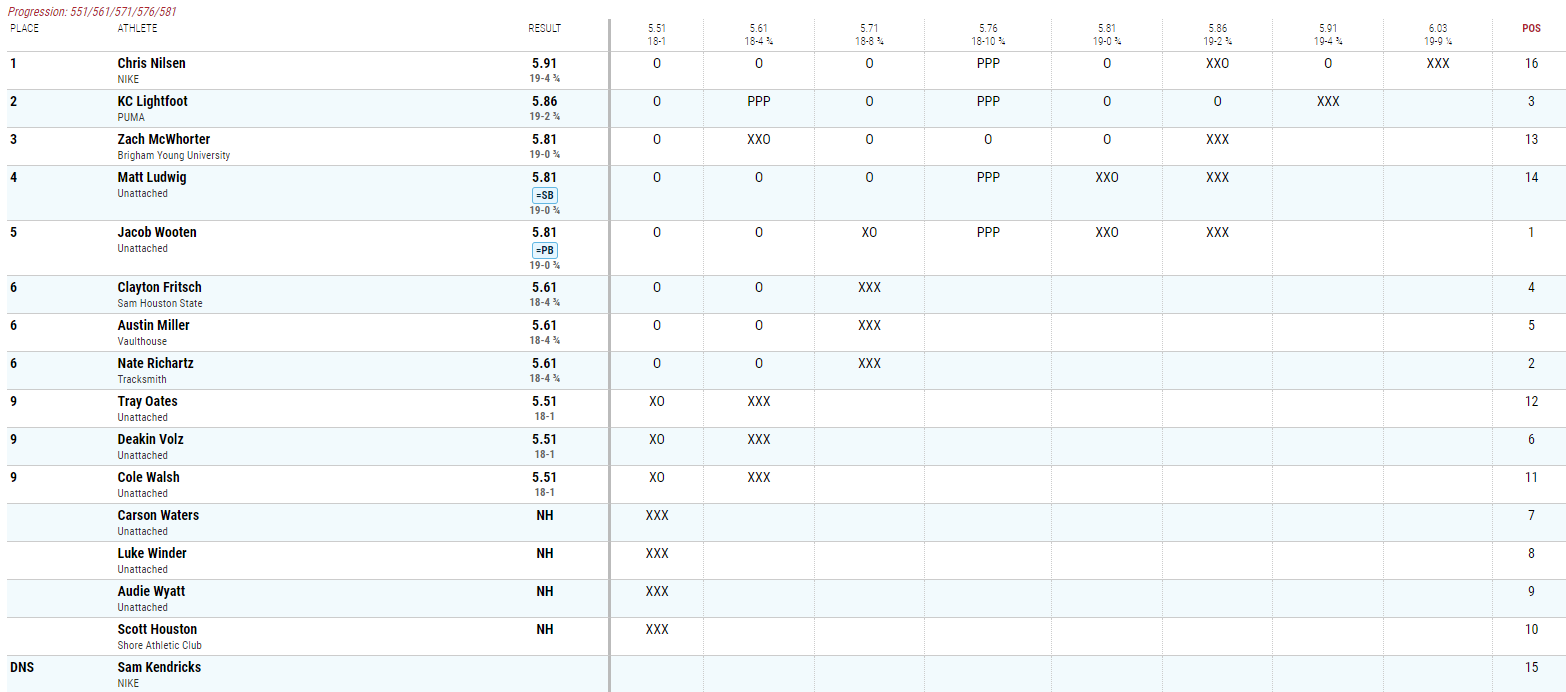 Women's Long Jump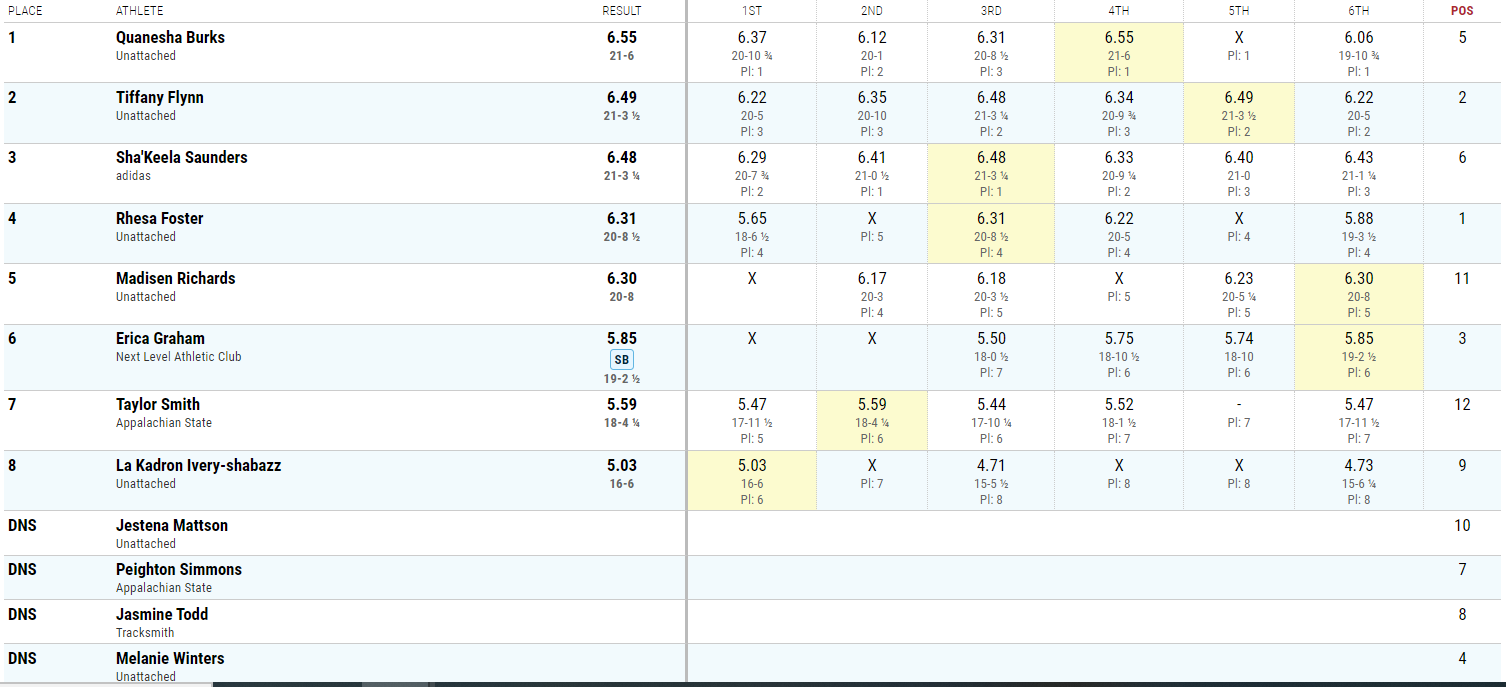 Women's Shot Put
Maggie Ewen threw a world lead of 19.79m.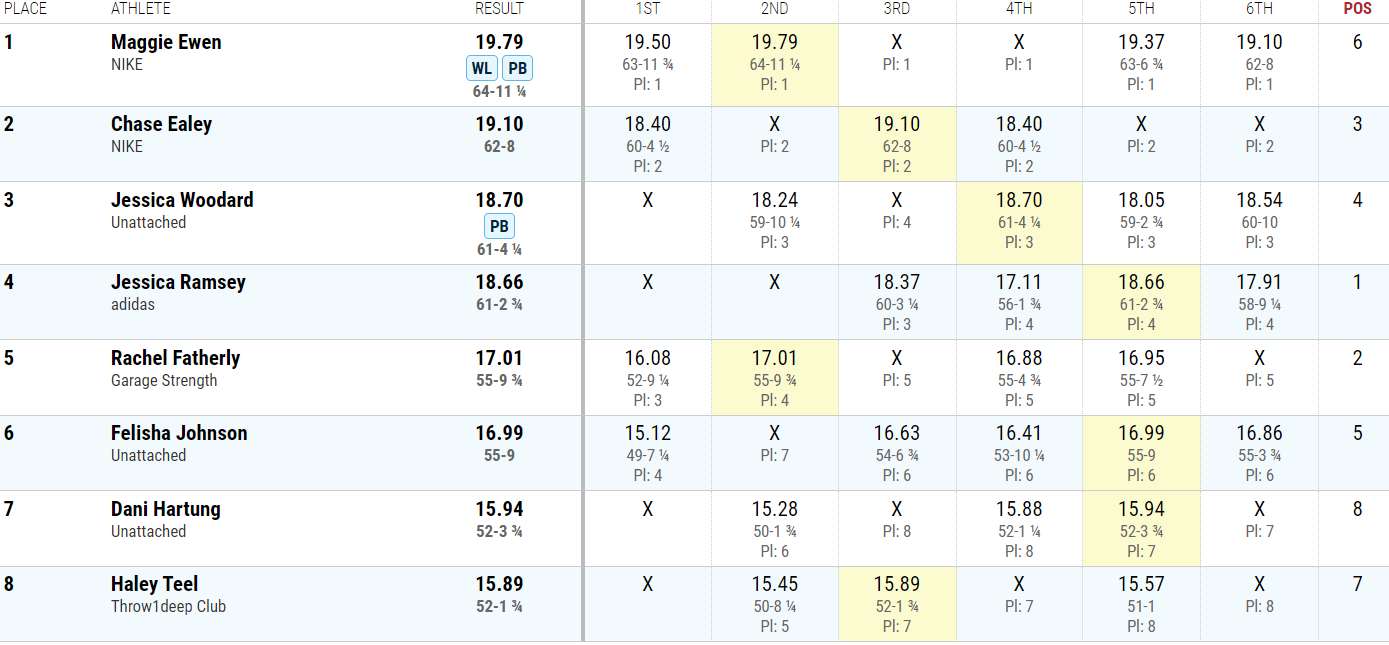 Women's Pentathlon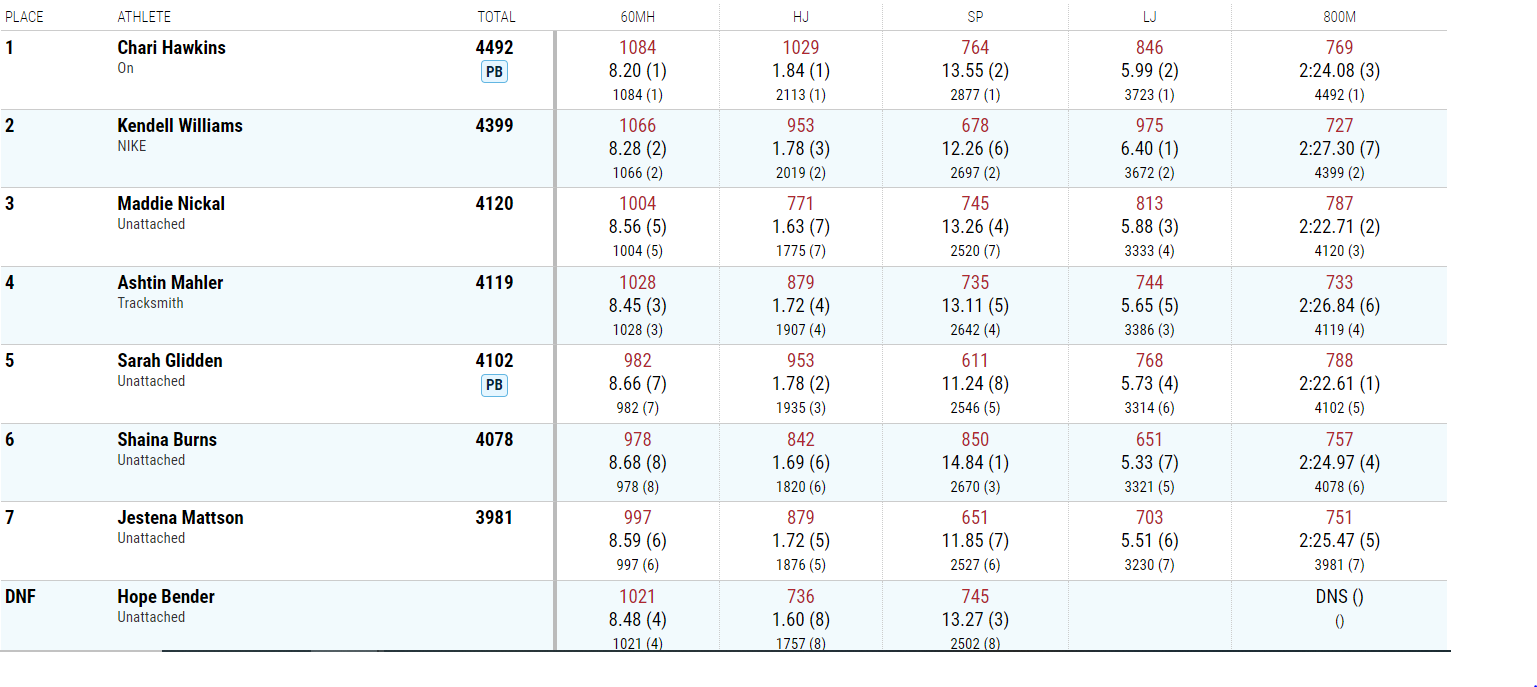 Men's Heptathlon