2022 USA Indoors: Heather MacLean Pulls a Shocker to Win 1500, Elle Purrier St. Pierre Misses Team
By LetsRun.com
February 26, 2022
SPOKANE, Wash. — With 200m to go, the women's 1500m at the 2022 USATF Indoor Championships in Spokane looked to be going exactly to form. The heavy favorite and known front-runner, Elle Purrier St. Pierre, had led wire-to-wire with her top challenger, Josette Norris, following the entire way in second. But a crazy finish saw Tokyo Olympian Heather MacLean go from fifth to first over the final 120m and take an upset victory in 4:06.09. Behind her, Purrier St. Pierre was relegated to the first woman off the Worlds team as Norris nipped her at the line, 4:06.13 to 4:06.14.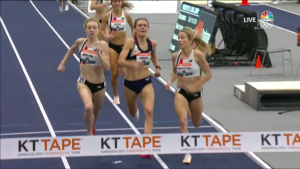 The Race
After taking the field through a slower first full lap of 35.6, Purrier St. Pierre started to ratchet down the pace with 200m splits of 33.74, 33.63. 33.10 and 32.29. Behind Purrier St. Pierre, Norris hung off her shoulder the entire way with MacLean in third and the rest of the field strung out in a line behind them. Then with two laps to go and again before the final lap, Norris made a move to try to pass Purrier St. Pierre, but both times, Purrier St. Pierre surged to prevent her from passing.
Purrier St. Pierre's surge brought her through a penultimate lap of 31.54 while behind the top two, Dani Jones and Cory McGee had passed MacLean, who sat in fifth (almost a full second behind Purrier St. Pierre) at the bell. Going into the final 100m, it was Purrier St. Pierre still holding off Norris, but MacLean put in an explosive kick to pass McGee and Jones and then went wide on the final turn to come even with Purrier St. Pierre and Norris. MacLean beat them in the final straight, closing her final 200m in 29.71 (final 400m of 61.68) to win in 4:06.09 for her first national title. She finished .04 ahead of Norris, who barely beat out Purrier by .01. Behind them, McGee was the best of the rest in 4:07.27.
Results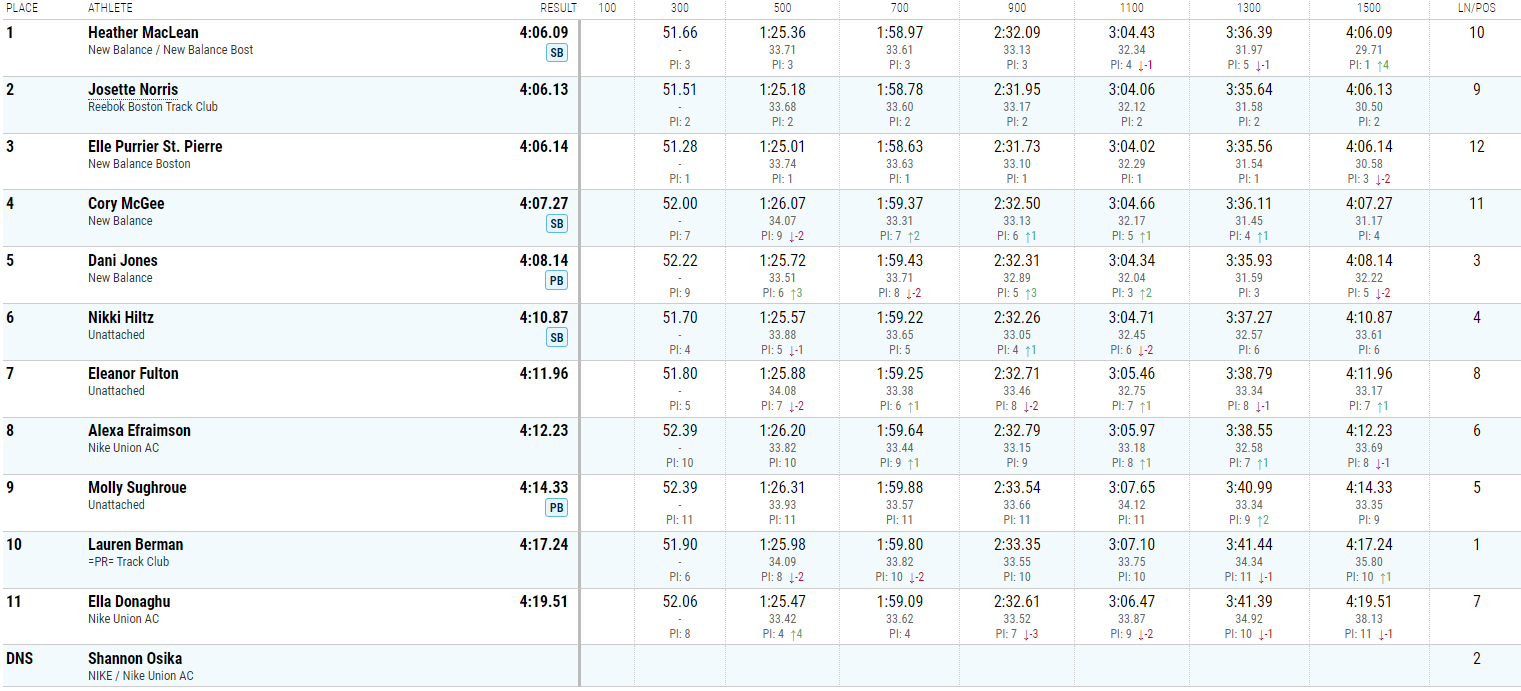 Quick Takes
MacLean's Big Kick
MacLean knew Purrier St. Pierre, whom she trains with as a member of New Balance Boston, would likely try to lead the race, and her instructions from her coach Mark Coogan were simply to stay in striking distance.
Article continues below player.
"I had to trust my kick; trust that I had it in me the last 200m," MacLean said on the CNBC broadcast.
And she definitely did as she had by far the fastest last lap, which helped her make up the deficit and pass four women over the final 120 meters. She closed in 29.71 compared to Norris' 30.50 and Purrier St. Pierre's 30.58.
It cannot be understated how big of an upset this was. Before the race, LetsRun's Jonathan Gault ran a poll with 85% of respondents picking PSP, 12.8% picking Norris, and just 2.7% taking "the field," which included MacLean.
And how about this: per Tilastopaja, Purrier St. Pierre and MacLean had raced each other 15 times before today. Purrier St. Pierre had won all 15. Considering Purrier St. Pierre beat MacLean by more than eight seconds a month ago at Millrose, that seemed unlikely to change in Spokane.
But MacLean had had a harder time than most bouncing back from last year's Olympics. She underwent surgery in the fall, and while she declined to go into detail, it made her preparation for the 2022 season more difficult.
"I got an organ removed," MacLean said. "Everybody has to guess which one, I'm not telling you. I was a little set back and it was a big recovery from last year."
After running down a pair of sub-4:00 women over the final 120m today, MacLean appears to be back and better than ever.
A Streak Comes To An End
Summer of 2019. That's the last time that Purrier St. Pierre lost a 1500m or mile race to another American woman. Since then she has had a streak of great 1500m/mile races which included her 4:16 American record at Millrose 2020, her Olympic Trials victory last year, and her Millrose mile win earlier this season. But all good things must come to an end, and here Purrier St. Pierre didn't run fast enough to drop the field and got beat in a kick.
Front-Running May Have Cost Purrier St. Pierre
While there are some advantages to front-running, such as controlling the race and being able to run the shortest distance possible by sitting on the rail, it's not a stretch to say that breaking wind for the rest of the field cost Purrier St. Pierre at least a hundredth of a second and a spot on Team USA today (or perhaps that hundredth came from her look over her right shoulder just before the line when she saw MacLean was coming). Maybe had she let Norris take the lead with two laps to go, she could have saved more for the kick rather than zapping some energy with two surges. On the other hand, maybe having to pass in the final lap would have cost her even more time and you can't fault Purrier St. Pierre for going with a strategy that has served her well against American competition the last two years.
The bigger issue wasn't that Purrier St. Pierre chose to lead; it's that she wasn't able to produce the same sort of brilliance that powered her to those Millrose wins or the US title last year. Why exactly that was was unclear as she did not stop to talk in the mixed zone. Though she wore kinesiotape on her right foot, Purrier St. Pierre's coach Mark Coogan told LetsRun that she's not injured and that the tape was merely a precaution after her foot injury last year. Perhaps it is as simple as a bad race at the wrong time.
Fortunately for Purrier St. Pierre, she will have a shot at redemption tomorrow as she's also entered in the 3000 meters.
Josette Norris Is Going to Worlds
Norris was expecting Purrier St. Pierre to lead as usual, but was surprised the pace wasn't a little faster. When the pack was still together with 400 to go, Norris tried to surge to break free of the chasers but couldn't get around Purrier St. Pierre. It wound up coming down to a kick, and she had just a little more than PSP down the stretch.
No matter how things played out, Norris is on her first World Championship team and she will go home knowing that she truly earned it. While Norris making the team isn't a shock anymore given she ran 3:59 and finished third in the Diamond League final last year, the fact that the US is sending Norris and MacLean as its 1500 team to Belgrade would have seemed crazy barely a year ago. At the start of 2021, Norris was a virtual unknown with a 4th-place finish in the NCAA 5000 as a senior in 2019 her most notable accomplishment. MacLean had at least finished 7th in the USA 1500 final in 2019, but she was not viewed on the top tier of US milers. Today, against a very strong field that featured all three 2021 Olympians, MacLean and Norris went 1-2.
Discuss the race and the rest of the meet on our world famous message boards: