2022 Millrose Men's Recap – Geordie Beamish Sneaks by Teare, Hoare Takes Down Kerr
By Karl Winter
January 29, 2022
The 2022 Millrose Games are in the books. We've got recaps of the men's races below, you can find video highlights here, and our women's recap is here. The biggest story on the men's side was everyone thinking Ryan Crouser broke the world record in the shot put but that not being the case due to a measurement error. That gets its own story here.
We start with the distance races and while the Wanamaker Mile is the headline event at Millrose, the 3k was the most entertaining, so it gets to go first.
Article continues below player
Men's 3000: Geordie Beamish sneaks past Teare and Hocker
While new Nike pros Cole Hocker and Cooper Teare battled each other on the final lap of a quick 3K, OAC's Geordie Beamish saw his opportunity.
Beamish flew past on the inside in the final 100 meters, running a 25.71 final lap to win in 7:39.50, a national indoor record for New Zealand.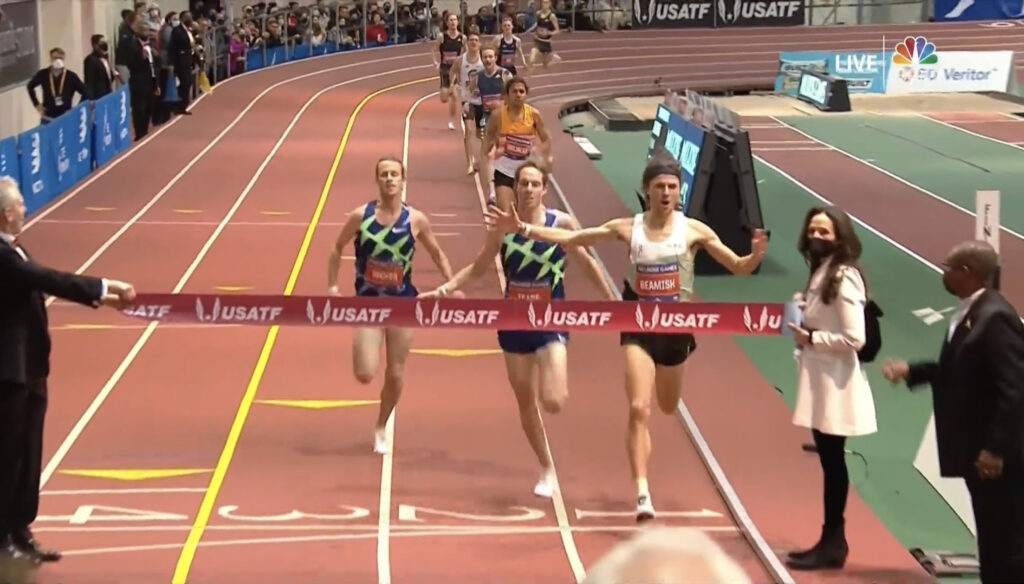 "I knew Cooper and Cole were going to be kinda focused on each other, probably going to drift wide," Beamish said. "I was pretty confident that if I stuck to the inside line, I'd have the slimmest of chances there."
In a race full of collegians and young professionals, third-year pro Beamish continued his strong indoor campaign, edging Teare and Hocker, who ran personal bests of 7:39.61 and 7:39.83 for second and third, respectively. 
Teare took the lead with about 150 meters to run and kept Hocker at bay, as Hocker attempted to move up on the outside — both ran 26-second bell laps. Beamish came less than a second short of Ryan Hill's meet record.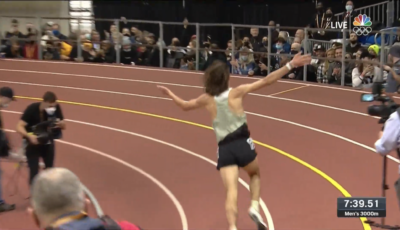 The top ten runners in the race all ran personal bests, as new professionals Luis Grijalva (Hoka) and Conner Mantz (Nike) both took turns up at the front and went 7:41.21 and 7:41.43 for fourth and fifth, respectively.
Canadian steeplechaser John Gay led five laps in the middle of the race and kept the race honest before fading to ninth in 7:45.34. Mantz was up on Gay's shoulder with three laps to go before Grijalva took the lead with 400 meters to run. Grijalva took the bell in the lead at 7:13.09 and Beamish was back in fifth at the time, but he followed Teare and Hocker past Grijlava and Mantz.
Drew Hunter was sixth in a personal-best 7:42.63. Iowa State's Wesley Kiptoo was never a factor and finished 11th in 7:55.53.
3k results: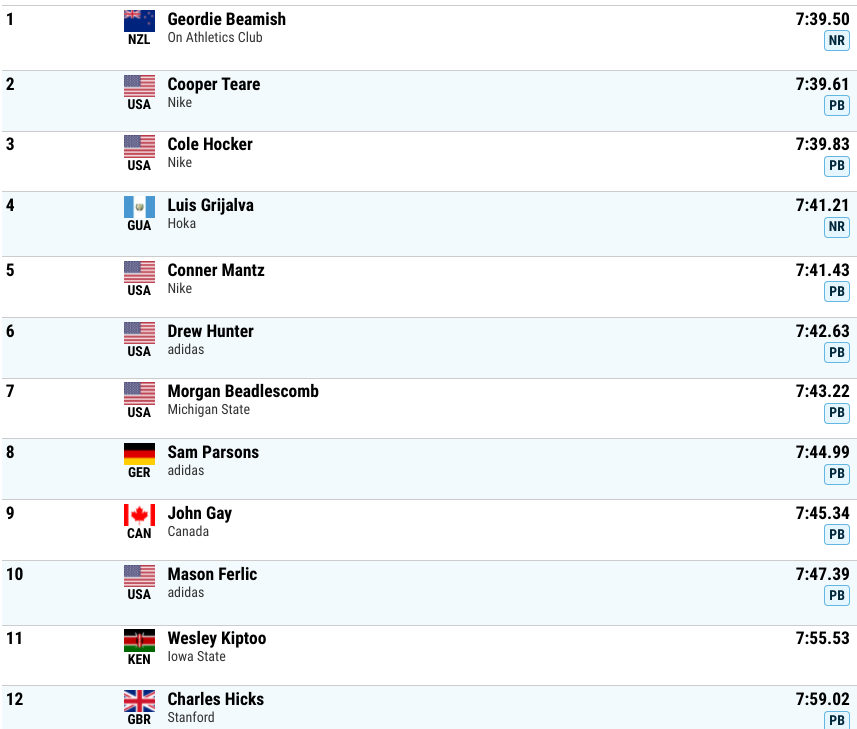 Men's Wanamaker Mile: Hoare completes big day for OAC, taking down Kerr
Ollie Hoare followed his On Athletics Club teammates' wins in their respective 3000-meter races at the Millrose Games (Alicia Monson in the women's race and Geordie Beamish in the men's) by taking down Olympic bronze medalist and college rival Josh Kerr in the men's Wanamaker Mile.
A race billed as a showdown between Hoare and Kerr delivered, as Kerr took the lead from Hoare with a lap and half to run. Hoare battled back and blasted past Kerr in the final 100 meters to take the win in 3:50.83, an Australian indoor record and a personal best in the mile.
Kerr finished second in an indoor personal best of 3:52.27. The race was Kerr's first since the Olympic final, while Hoare ran four races after the Olympics, including a fast 13:09.96 indoor 5000 in December.
The biggest surprise in the race came from Empire Elite's Colby Alexander, who ran with the leaders the whole way and went 3:52.84 for third. Alexander crushed his indoor and outdoor mile personal bests in the process — his previous PB was an outdoor 3:54.94 from August of 2016.
Nike Union Athletics Club's Craig Engels was in third place ahead of Alexander until about 500 meters remaining, when he fell apart entirely. Engels' final quarter mile was 66.28 seconds and he finished tenth in 4:01.30.
A few races within the race developed behind the aforementioned four, who broke away after three laps. Sam Prakel beat Johnny Gregorek as both ran 3:55, Ole Miss' Mario Garcia Romo (the lone collegian in the field) beat fellow Spaniard Mariano Garcia to 3:57.98 to 3:59.61, and 18-year-old adidas athlete Hobbs Kessler edged 38-year-old Very Nice Track Club teammate Nick Willis 3:59.66 to 3:59.71 (and likely was just pacing Willis).
Olympian Clayton Murphy was last in 4:05.
The latter result was significant, as Willis broke four minutes in the mile for the 20th consecutive year, an unmatched streak, after falling short in his attempt on New Year's Day.
Men's 800: Hoppel runs down Saruni in final 50 meters
Olympian Bryce Hoppel kicked off his 2022 campaign with a victory, kicking past Michael Saruni in the final 50 meters to win the race in a world-leading 1:46.05.
"I knew I kind of had it," Hoppel said. "It didn't feel like too much of a race (early on)."
World outdoor champ Donavan Brazier was absent from this race, as he opted to run the 400, but Hoppel beat a strong field including Saruni (African indoor record holder who ran 1:43 to win Millrose in 2019), Olympians Isaiah Jewett, Jose Tonatiu Lopez, and Charlie Hunter, and new Brooks Beast Isaiah Harris.
Hoppel led the racers through the first two laps in 52.17, lagging behind the pacer, but Saruni made a big move with about 350 meters remaining. Saruni seized the lead and only Hoppel could cover the move. Coming off the final turn, Saruni tied up and Hoppel eased past for the victory.
Saruni went 1:46.32 for second, Harris closed well to run 1:46.49 for third, while Lopez, Hunter and Jewett faded to sixth, seventh and eighth, respectively.
Men's 400: Taylor wins, Brazier third
Race headliner and 2019 World 800-meter champion Donavan Brazier finished third in the men's 400 meters in his first race since running the Olympic Trials on a broken leg.
Brazier was a distant third at halfway but surged back toward the leaders on the back straight. New Balance's Vernon Norwood held him off and Brazier didn't have another move on the home straight, finishing third in an indoor pb of 46.55.
Jamaica/Puma's Christian Taylor led wire-to-wire for his first professional win, beating Norwood 46.38 to 46.45.
Paralympian and Champion athlete Hunter Woodhall, the first double amputee to run at the Millrose Games, was fourth in 50.39.
Mens' 400 Results
Men's 60M hurdles: Allen wins in 7.51
Devon Allen got his seventh consecutive head-to-head win against Daniel Roberts, running Roberts down over the final two hurdles to take the first race in the professional section of the Millrose Games.
Roberts was quickest out of the blocks and the first to the first three hurdles, but Allen took the lead at the fourth hurdle and ran 7.51 (0.02 off his personal best) to Roberts' 7.53.
Allen's time is second in the world currently behind Florida State collegian Trey Cunninghman, who ran 7.47 earlier in the weekend.
In his return to short sprinting after serving an 18-month suspension for whereabouts failures (3 missed drug tests), world record holder Christian Coleman got off to his trademark fast start and held off Trayvon Bromell by a hundredth of a second to win the men's 60m in 6.49.
"I felt good in my preparation," Coleman said on the NBC broadcast after the race. "[…] I was ready to roll."
Coleman's winning time of 6.49 is a far cry from his 6.34 60M world record, but he looked sharp in his first official 60 since winning the world title in March of 2018 and established himself as the favorite for this year's World Indoors in Belgrade, Serbia.
"I wouldn't say any nerves. I was definitely anxious," said Coleman of his first major 60m matchup since the 2020 USATF Indoor meet which he won in 6.37, but had the result invalidated due to his anti-doping suspension.
Ronnie Baker, a 6.40 man, was third in 6.54, while Olympic 200M bronze medalist Noah Lyles ran 6.62 for fourth after a slow start. Lyles' pb is 6.57.
2022 Millrose Game Coverage (Click here for all the coverage):