Ryan Crouser DID NOT Break the Shot Put World Record at Millrose
by LetsRun.com
January 29, 2022
For as long as 90 minutes, the world thought shot put Olympic champion Ryan Crouser had done the unthinkable — obliterate his own indoor world record by 56 centimeters and surpass his own outdoor world record in the process.
Article continues below player.
Crouser's second throw of the competition was measured at 23.38 meters, a mark that stunned the track and field world — but ultimately turned out to be completely incorrect. A 23.38 would have been the longest throw in the history, one centimeter beyond Crouser's 23.37 outdoor world record, set at the 2021 US Olympic Trials and more than half a meter farther than his indoor world record of 22.82.
The mark however did not stun the audience or Crouser. LetsRun.com posters habs, who was at the meet, said there was little reaction from Crouser and initially the mark was just announced. The put landed well short of the world record mark which was marked off on the infield. After about a minute, habs said the announcer said, "A new world record" and the crowd cheered.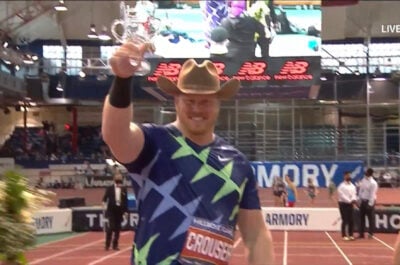 The mark remained on the live results site until well after the meet ended, but officials announced afterward that the laser system used to measure throws in the competition malfunctioned, causing a throw that was likely in the 22.50 meter range to register as 23.38.
At about 5:20 p.m., the results were wiped from the site, and the entire shot put event listed as "cancelled."
It would have been even more astounding considering it was Crouser's first competition of the season and he tempered expectations beforehand, saying he was in a heavy training block and was testing a new training plan at the pre-meet press conference.
The NBC Sports broadcast showed little of the competition live and did not interview Crouser after the throw.
Crouser said immediately after the throw he knew there was an issue with the measurement system, but inconceivably this was not conveyed to the crowd, the TV audience, and was put in the results system.
(Our interview with Crouser is below and is still processing)
Crouser fouled three times in his first four throws before an apparent 22.76 on his fifth throw, which would've been just six centimeters short of his actual indoor WR of 22.82, if legit.
On the original results page, five of the six competitors had thrown personal bests, indicating that the laser system malfunctioned throughout the event, not just on one throw.
Discuss here: Crouser did not break WR in shot put