2022 Millrose Women's Recap – Purrier St. Pierre and Monson Millrose Wins #2, Ajee Wilson 16 in a Row
By Karl Winter
January 29, 2022
Below we recap the women's portion of the 2022 Millrose Games. You can find video highlights here, and our men's recap here.
We start with the distance races.
Women's Wanamaker Mile: Purrier St. Pierre wins again, Mu DNFs
Elle Purrier St. Pierre defended her Millrose Games title but did not threaten her indoor American record in the women's Wanamaker Mile, running 4:19.30 to put away Josette Norris on the final lap.
The biggest question of the race — how fast could Olympic 800-meter champion Athing Mu run — went unanswered, as Mu ran with the leaders for seven laps, but stepped off the track with about 250 meters remaining.
Article continues below player.
Mu ran in fifth or sixth for most of the race, behind reigning American 1500-meter champ in Purrier, Germany/Nike's Konstanze Klosterhalfen (second to Purrier in the 2020 edition of this race), Norris (a sub-four 1500 runner), and Australia/Nike's Jessica Hull (a 1500-meter Olympic finalist).
Purrier led wire-to-wire, going through the half mile mark in 2:09.74 and adding a surge with about 300 meters to go. Norris was in hot pursuit as Purrier made the move, with Klosterhalfen holding onto third and a gap back to Sage Hurta. 
Purrier surged again at the bell and gapped Norris, making the finish far less climactic than her finishing kick and 4:16.85 American record in February of 2020. Norris ran a personal best for the full mile in 4:20.81 for second, while Klosterhalfen was third in 4:22.59, well behind the 4:17 she ran at Millrose in 2020.
UAC's Shannon Osika and OAC's Hurta were in the mix throughout, eventually finishing fifth and sixth in 4:24.19 and 4:25.45, respectively.
Further down the results, UAC's Ella Donaghu ran 4:30.27 in her second professional race, while reigning NCAA 1500-meter champ and new adidas pro Anna Camp Bennett had a rough race, finishing last in 4:37.58.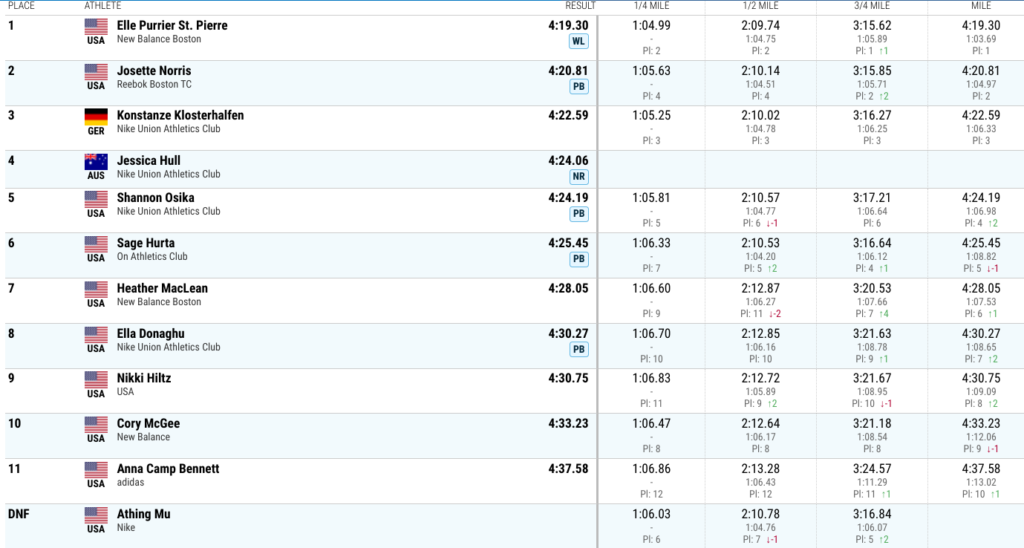 Women's 3000: Monson pulls away from Kelati, breaks meet record
On Athletics Club's Alicia Monson became the first woman to win the Millrose Games women's 3000 meters twice, breaking the meet and facility record in the process.
Monson won the race as a collegian in 2019 in 8:45.97 but ran much faster today, running a world-leading 8:31.62 and pulling away from Under Armour Dark Sky's Weini Kelati over the final two laps.
It was the second victory for Monson over Kelati in January, as the pair went 1-2 at the USATF Cross Country Championships in San Diego on Jan. 8.
Monson ran a very even race, clicking off 34-second laps of the 200-meter Armory track and slowly putting away the field in the process in a wire-to-wire to win. Kelati clung to Monson until the last two laps, when Monson stepped on the gas and quickly opened a three-meter gap.
Kelati ran a personal-best 8:33.72 for second, while Hoka athlete Lauran Galvan broke Mexico's indoor national record and went 8:42.29 for third.
Galvan and New Balance's Dani Jones attempted to go with the leaders in the first half of the race, but Jones would fade to seventh in 8:54.06 (still a personal best).
New adidas pro Whittni Orton Morgan ran 8:56.43 for ninth in her first professional race, but was beaten by fellow new adidas pro Elly Henes (fifth in 8:49.52) and former BYU teammate Courtney Wayment (sixth in 8:50.05).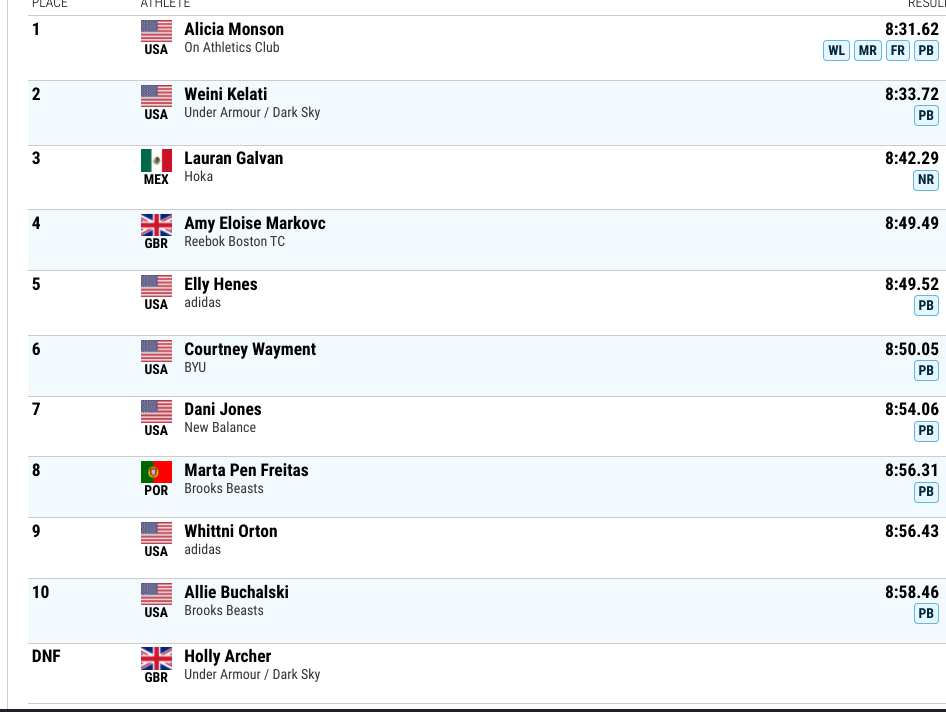 Women's 800: Ajee' Wilson continues Armory winning streak
Ajee' Wilson made it 16 consecutive victories at the Armory, as the New Jersey native won the women's 800 in 2:01.38 to stretch her nine-year winning streak in the facility.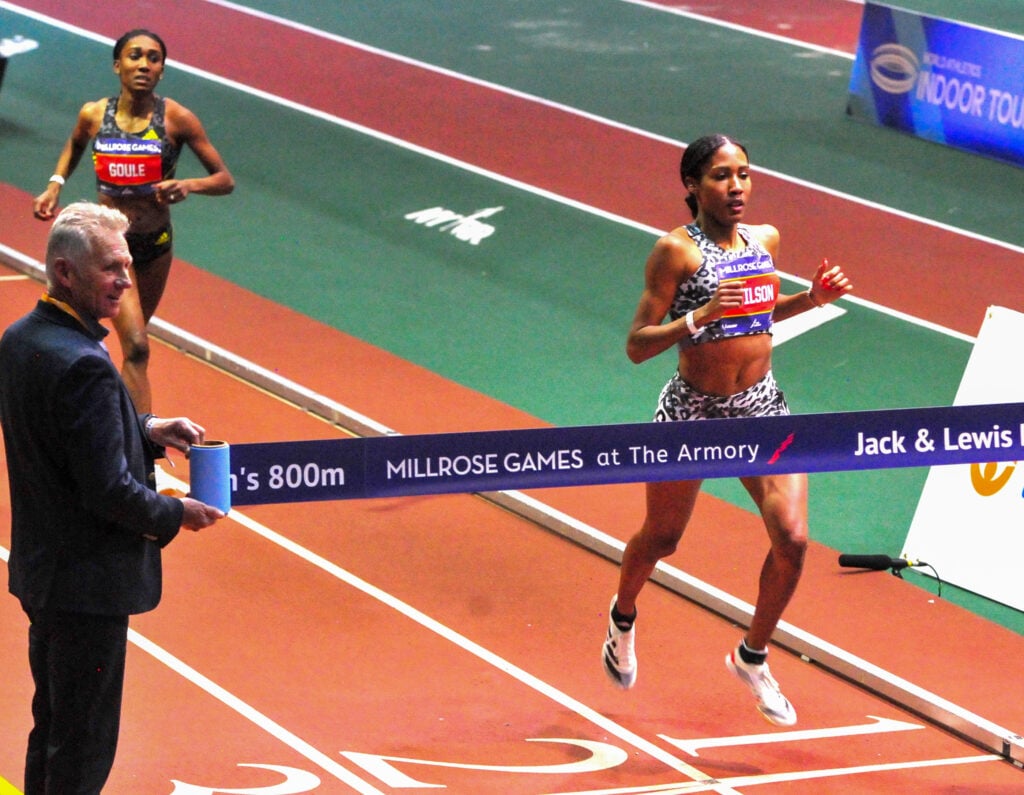 Wilson took the lead from Atlanta Track Club's Olivia Baker with 300 meters to run and did not relinquish it, beating Jamaica/adidas' Natoya Goule (2:02.14 for second).
Wilson won for the sixth time in eight years at Millrose, as she broke her own American indoor record with a run of 1:58.29 at the previous edition of the meet in 2020.
Reigning NCAA champion Michaela Meyer made her professional debut in a Nike kit and finished third in 2:02.94.
High school stars Roisin Willis and Sophia Gorriaran ran 2:03.28 and 2:03.66 for fourth and fifth.

Women's 400: Jonathas wins
Tokyo Olympic semifinalist Wadeline Jonathas took the victory in 52.51, leading at the bell and pressing on the back straight to beat Jessica Beard (52.95).
Jonathas and Beard were the only athletes in the race to get under 15 seconds in the final 100 meters.
Olympic 800m bronze medalist Raevyn Rogers stumbled with 50 meters to run and had to settle for fifth place.

Women's 60M hurdles: Britany Anderson upsets Americans
Jamaican Britany Anderson took down a strong American field with a personal-best 7.91, moving up in the back half of the race.
Bahamian Devyn Charleton started strong and ran a personal-best 7.95 for second, while American Tonea Marshall was third in 7.99.
Olympic 100M hurdles silver medalist Keni Harrison and 60M hurdles world leader was only fourth in 8.00.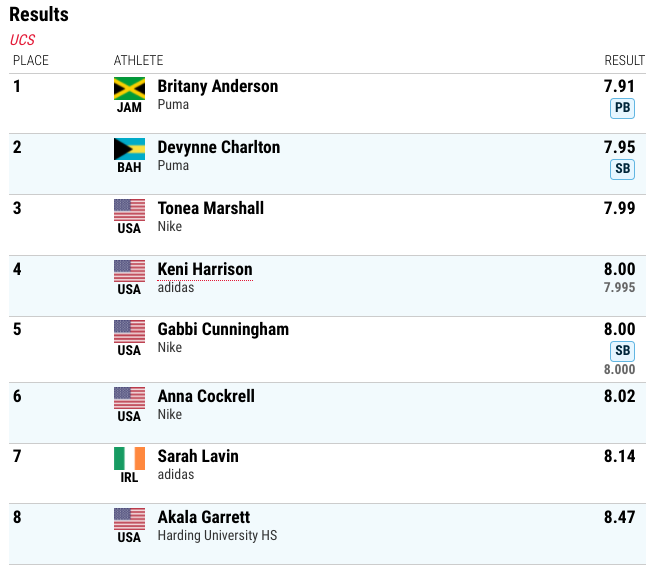 Women's 60M: Shawnti Jackson – Batman's daughter – breaks US HS 60m record
2018 NCAA champion Aleia Hobbs (adidas) closed down the leaders in the final 40 meters to get the women's 60 in 7.11, but the big story was that high school junior Shawnti Jackson, of Raleigh, NC, ran 7.18 for third place to break the girl's indoor high school national record of 7.19 held jointly by Ashley Owens (2004 at altitude) and Tamari Davis (2020).
Jackson, the daughter of 2005 world 400mh champ Bershawn 'Batman' Jackson, came in with a pb of 7.24. 
Full race video:
For more on Jackson, read this TFN profile of her from earlier in the week: Shawnti Jackson Has Multiple Dashes To Choose From
Women's Pole Vault: Sandi Morris defeats training partner and Olympic Champ Nageotte
Morris' new training situation is going well.

Women's Long Jump Tara Davis Wins on 1st Jump

2022 Millrose Game Coverage (Click here for all the coverage):